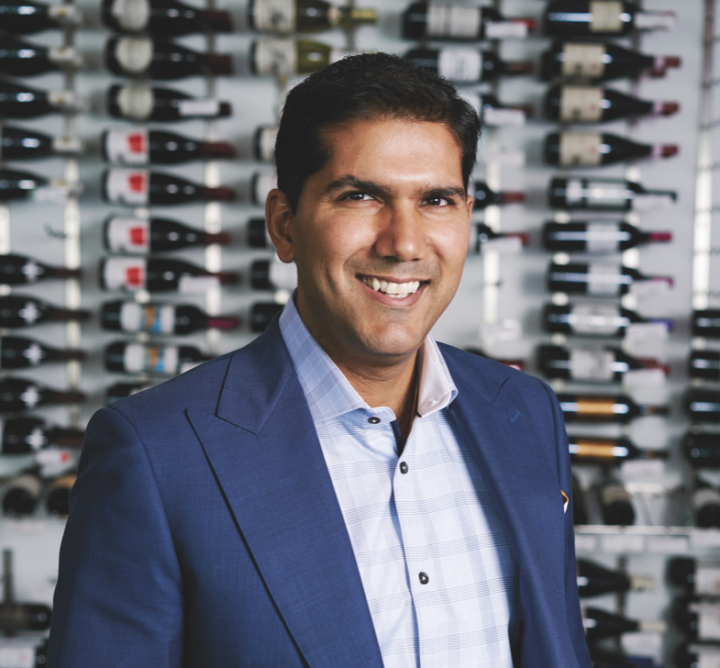 Wine Chateau's commitment to using modern technologies to enhance its business remains as strong today as it has ever been. With four stores in the Garden State and a booming online component, the New Jersey retailer continues to embrace new ways to attract customers, both in its home market and by using savvy online strategies to expand its reach across the country. For his ability to tailor digital marketing strategies to fit his business, Wine Chateau CEO and president Saurabh Abrol has earned the 2017 Market Watch Leaders Alumni Award for "Best Marketing."
Abrol, who has a computer science degree from the New Jersey Institute of Technology, joined his father's small beverage alcohol retail store in 1999 while still in college. He launched the website, Winechateau.com, in 2004, transforming the local operation into a national wine retail powerhouse. Today, Wine Chateau's annual revenue equals roughly $36 million, with the online retail component comprising half of total sales. Abrol's father, Arun Abrol, is still involved in the business and holds the title of COO.
As the growing organization's leader, Saurabh Abrol spends much of his time working on marketing and advertising strategies and future planning. "Things are changing so quickly these days," Abrol says. "I work on day-to-day marketing strategies, how we retarget customers and get new customers versus return customers. The internet is always a challenge because laws change on a daily basis. We continue to look for innovative marketing efforts to gain more customers and increase sales and product selection year over year. The majority of our marketing efforts go to online shoppers."
Keeping Current
Wine Chateau makes a huge commitment to its online retail business, which nets $18 million in annual revenue. Over the last couple of years, Abrol has revamped the company's entire back-end system and e-commerce platform, and he redesigned the website as well. He works with a team in New York City on web development and design and maintains an in-house staff for marketing. Abrol says much of the redesign was aimed at attracting millennials and adds that a lot of his marketing work focuses on the younger legal-drinking-age demographic. For instance, he places Wine Chateau ads on websites like Google and Bizrate.com that appeal to the millennial crowd, which has been crucial to broadening the store's online reach. Winechateau.com stocks roughly 12,000 wine SKUs, and Abrol is always looking to expand the selection to bring in more customers.
Abrol's online marketing initiative has a three-tiered approach. First, he aims to acquire new customers by advertising on big-name websites like Google, as well as on shopping comparison engines and blogs. The next step is customer retention—making sure his site is dynamic enough to keep shoppers browsing and entice them to make purchases. Lastly, he focuses on retargeting shoppers after they leave Winechateau.com. These efforts include special Wine Chateau advertisements that offer incentives for people to return to the site.
"Once a customer comes to the site, we try to make sure they don't leave right away," Abrol says. "And once they do leave, the question is how to get them back to our site. If a customer is browsing another website, they'll see an ad on that site that says, 'Come back to Wine Chateau' and offers a coupon. We use banner and text ads and coupons."
Along with this, Wine Chateau uses social media platforms for marketing. People who log on to their social media accounts within a certain radius of Wine Chateau's New Jersey stores will see the company's ads. In addition, the business has a mobile website and its own mobile application that people can download to place wine orders. The app is available nationwide, as Wine Chateau can ship wine across the country. The company sends email blasts and uses email marketing for the customers in its rewards program. While technology is the focus, Wine Chateau also mails printed flyers to homes near its four stores seasonally.
"Technology is a very important part of our business," Abrol says. "We're always trying to stay on top of trends in technology and take advantage of the new innovations that are out there. We innovate with our marketing strategies to find new ways to gain customers." He notes that digital marketing and branding are very important because they increase brand value. "We also do a lot of social media advertising on Facebook and Instagram, and we think local advertising is very important," Abrol continues. "Customers recognize our brand and go to our website to make a purchase."
Bringing It Home
The website and online technologies take up a lot of Abrol's time, but he hasn't forgotten his brick-and-mortar stores. Wine Chateau operates four locations in Central and Northern New Jersey, and Abrol says he's looking to add as many as six additional units in the Garden State and possibly expand to other states as well. The stores average 10,000 square feet and stock roughly 8,000 SKUs. Company-wide, wine makes up 40 percent of total sales, with spirits and beer splitting the remainder at 30 percent each.
"The majority of stores in New Jersey are smaller, so we're able to house a lot more inventory and selection for wines, spirits and beers than our competitors," Abrol says. Wine Chateau carries roughly 4,000 wine SKUs, 3,000 spirits SKUs and 1,000 beer SKUs. Technology is also important in the stores, and each of the locations is equipped with several high-tech elements that cater to savvy shoppers.
Instead of traditional signage, Wine Chateau locations feature digital television screens that list the products that can be found in each aisle. The stores also have a handful of tablet stations positioned throughout that customers can use to get more information about wines, spirits and beer. The tablets are equipped with scanners so pricing information and tasting notes about each bottle are readily available, and they also offer links to recipes and food pairing suggestions. Similarly, Wine Chateau's employees use tablets for inventory management and to increase stocking and payment efficiencies.
"Human interaction is still very important for customers in our stores," Abrol says. "We hold weekly staff trainings and we rely heavily on our supplier and distributor relationships for training on their products. We also host weekend consumer tastings, mostly for wine, but we dabble in spirits and beers as well."
California Cabernet Sauvignons perform well for Wine Chateau, and Abrol adds that Argentine Malbec is also moving fast these days. He says premium labels get a lot of attention both in stores and online, pointing to selections by Stag's Leap Winery and Cakebread Cellars. Winechateau.com highlights wines like the 2015 The Stag North Coast Cabernet Sauvignon ($19.99 a 750-ml.), the 2013 William Hill Napa Valley Cabernet Sauvignon ($38.99) and the 2014 Doña Paula Estate Malbec ($12.99).
Single malt Scotch and Bourbon whiskies garner a lot of attention from Wine Chateau's spirits consumers, and Abrol says Johnnie Walker labels are particularly popular. The company showcases myriad spirits online, though it only ships spirits within New Jersey. Featured brands include Johnnie Walker King George V ($299 a 750-ml.), the whey-based New Zealand vodka Vdka 6100 ($27.09) and Martell Cordon Bleu Cognac ($109.95). For beer, craft labels dominate sales, and the top-performing brews change regularly. Wine Chateau doesn't sell beer online.
"We have low-standing display racks in our stores so that when customers walk in they can see the entire store from any angle," Abrol says. "This gives our stores an open feel and allows the bottles to be presented in a nice way. People usually drive from a little further out to get to our stores, and our demographics have become slightly younger. Our average shopper age two or three years ago was about 48, but now the average age is about 42."
Showcasing diversity in the world of beverage alcohol, Abrol also operates the whisk(e)y bar and lounge Le Malt near his retail store in Colonia, New Jersey. The on-premise venue emphasizes brown spirits and offers a variety of specialty cocktails, tapas and light fare, as well as wine and beer. Abrol says he uses the lounge as a way to introduce his retail customers to products they normally wouldn't commit to buying by the full bottle in his stores. The venue boasts an encyclopedic whiskey menu that ranges from Scotch and Bourbon to Japanese, Indian and Taiwanese labels, and it also offers a roster of cigars. "The lounge is doing well because our customers want to try something new," Abrol says. "It attracts higher net-worth customers because of its upscale concept."
But the main focus continues to be online sales. "With the new website, we're able to get new customers more efficiently, as well as keep existing customers on the site for longer," Abrol says. "When customers do leave the site, we can retarget them to bring them back. It's going great. We keep evolving with new technologies and we upgrade our systems every year." Indeed, innovation is the key to Wine Chateau's success.