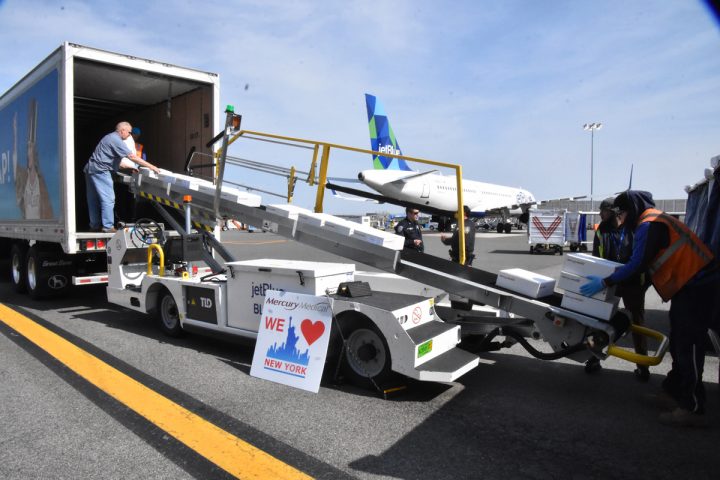 The change crept quietly, and then rushed in like a silent oncoming train. By mid-March, a stunned nation was isolating at home, witnessing scenes of darkened businesses and deserted streets as local governments ordered shutdowns across all but the most essential services. In the beverage alcohol world, the lockdown of the on-premise became a devastating blow. Bars and restaurants shifted to takeout and delivery in a survival plan that would generate only a fraction of normal income.
But as business activity slowed to a trickle, some segments of the economy—very notably supermarkets, drugstore chains, and independent beverage alcohol retailers—suddenly saw unprecedented sales spikes. Faced with long stays at home, people began stocking up on supplies, including beer, wine, and spirits. During the week ending March 14, spirits sales in Nielsen channels jumped by 26.4% from the same period in 2019, while wine grew by 27.6% and beer (including flavored malt beverages and ciders) was up 14%. The trend only accelerated from there, with spirits rising by a whopping 75% in the week ending March 21, wine by 66%, and beer by 42%. The momentum continued through the week ending April 4, with wine's dollar sales up 32% and spirits rising by 33%. Wine sales ended March over 30% higher than March 2019, while spirits sales were up 33% in the four weeks through April 4. Premium and ultra-premium spirits outperformed the mid- and value tiers, though all were up by double digits.
"Looking back at the first three weeks of February, our week-by-week total wine sales in grocery, mass, and drug channels were trending at plus or minus 2%-3%, which is basically what the overall category was doing," said David Bowman, executive vice president of Jackson Family Wines, who oversees the company's larger brands including Kendall-Jackson, La Crema, and Murphy-Goode, speaking in late March. "The lower end was declining, and above-$10 was continuing to grow, with above-$20 rising even faster. But overall, the category was trending at plus or minus 2%-3%. Then suddenly the week of March 14 saw the huge spike."
Citing data from Catalina Marketing, which covers most of the U.S. grocery, mass, and drug channel sales for wine, Bowman said total wine category dollar sales were up 41% for the week ended March 14, while Kendall-Jackson rose by 61% across all its labels, and La Crema soared by 85%. In this buying spree, Bowman saw the rush to Kendall-Jackson and La Crema as a matter of people choosing tried-and-true brands. "One of the first thoughts in the consumer's mind was to simplify," he said. "Everybody was looking to simplify their lives, so they're buying brands they trust—that they know will deliver every time. It's been a flight to safety, and you've seen it across many product categories. They're bringing home the wine, food, and other goods they can depend on."
At liquor stores around the country, the sales spikes were eye-popping. "During the week ending March 14, we saw a 62% increase in overall sales, and a 300% increase in local delivery and pickup orders," said Gary Fisch, owner of New Jersey-based retailer Gary's Wine & Marketplace, which operates four locations in the Garden State and one in California, with annual sales of $55 million. During the week of March 21, Gary's was averaging 1-2 delivery requests a minute. Top brand requests were for Kendall-Jackson Chardonnay, Tito's vodka, Whispering Angel rosé, and Santa Margherita Pinot Grigio.
The 2-unit Sparrow Wine & Liquor Co. in Hoboken, New Jersey, which does annual sales of $10 million, saw similar jumps. "We had probably our busiest string of consecutive days ever—definitely busier than Christmas and New Year's," said owner Armando Luis. Like Fisch, Luis estimated that delivery orders were up by around 300%, adding that Sparrow's customers were generally stocking up on wine and beer more than spirits, with Josh Cellars and Kendall-Jackson "flying off the shelves."
Exit 9 Wine & Liquor Warehouse in Clifton Park, New York, just outside of Albany, saw business quadruple in less than a week. "It all started on March 12, and then it just went crazy," said owner Mark O'Callaghan, whose one-unit operation does more than $18 million in annual sales. "We sold out of just about every staple you can imagine. The weekly numbers were about 400% higher than what we normally do at this time of year, and our online pickup and curbside delivery went through the roof. We usually have one or two deliveries a day, and suddenly we jumped to doing about 40-50."
In Louisville, Kentucky, Westport Whiskey & Wine also experienced major sales spikes, even amid reduced store hours and canceled tasting events. "We saw a lot of traffic—particularly from tourists who came to do the Bourbon Trail only to learn that the distilleries were stopping tours," said owner Chris Zaborowski. His customers were stocking up on beer as well as everyday mid-tier products, with curbside pickup sales spiking sharply. Westport also promoted its "Grab-n-Go" bags of themed, pre-picked selections of wine, spirits, or beers. The wines are mainly mid-tier selections packaged in tote bags of 6 bottles priced at least 15% less than shelf prices. Other Grab-n-Go offerings include cocktail kits for the Margarita and Old Fashioned, as well as a Great American Bourbon Tasting Kit inspired by Whisky Advocate's recent special issue on tasting clubs.
Like Westport, many retailers shortened their opening hours or went to delivery or curbside pickup only as sales continued to soar. New York City retailer Astor Wine & Spirits was among the first to convert fully to delivery and in-store pickup before switching to delivery only, with wine buyer Lorena Ascenci noting that customers were buying a wider variety of products than usual. "The average ring has been higher because we see people buying wine and spirits together," she said, with wines at the $20 tier seeing the biggest increase. Fellow New York City retailer Sherry-Lehmann kept its store open to walk-in traffic while following all CDC guidelines, but reduced its hours to 12-5 p.m. Delivery traditionally has constituted a major part Sherry-Lehmann's business model, so it's been well positioned in the crisis.
The 42-unit Binny's Beverage Depot chain in the Chicago market kept all of its locations open, with the schedule slightly curtailed and an hour set aside for elderly and vulnerable customers, but was encouraging customers to order online for in-store pickup or delivery through Instacart. Binny's and other Chicago retailers said the sales mix was essentially unchanged, but the quantities were far higher. "The guy who once came in for a bottle or two of Jack Daniel's was now taking home a case of six bottles," said another local retailer. "More people were buying wine by the case too."
Minneapolis-based Haskell's, with 11 stores and annual revenues of $65 million, saw business rise by 50% over normal March levels, said chairman and CEO Jack Farrell. "It was like a hurricane in Florida, with people rushing to stockpile everything," Farrell said. At single-store Minneapolis retailer Surdyk's, meanwhile, hours were limited to 12-6 p.m., with deliveries coming to the fore as elsewhere. "Our deliveries through Drizly and Amazon Prime, as well on our own trucks, spiked by more than 40%," said co-owner Melissa Surdyk. "People have been using curbside pickup as well."
In California, The Wine House in Los Angeles moved fully to delivery and curbside pickup by the third week of March, while shortening its business hours by 2-3 hours a day. Other major California retailers, including BevMo and K&L Wine Merchants, also went to pickup and delivery only. "We've been busy pulling orders—the phone volume has been crazy," said The Wine House co-owner Glen Knight, noting that distributors have been replenishing inventories on a near-constant basis. Knight's customers were focused on mid-tier wines at under $25, as well as spirits at all price points. But the biggest demand was in the spirits section, Knight added, particularly for gin, Tequila, and whiskies.
San Francisco-based Ferry Plaza Wine Merchant & Wine Bar and Mission Bay Wine & Cheese remained open to foot traffic, albeit with limited hours. "The change has been pretty significant," said Peter Granoff, owner-partner of both locations as well as the Oxbow Cheese & Wine Merchant shop in Napa. "We limited our in-store traffic and emphasized curbside pickup, online sales, and local delivery. But our wine bars, which are an important part of all three businesses, of course went away completely."
Gary's Wine & Marketplace opened a store in the Napa Valley last October, occupying the former retail space of Dean & Deluca on St. Helena Highway, and business was impacted by the valley's tourism downturn. "We transitioned to curbside pickup and local delivery as we did in New Jersey, but the Napa Valley doesn't have a similar population base to support it," said Fisch. "So we're working closely with local wineries, who've also been impacted, to promote buying opportunities through our e-commerce site, Garysnapa.com. We're optimistic that the growth of the e-commerce side will allow us to maintain a presence in the Napa Valley through the crisis. We've also expanded our local delivery zone to offer 2-hour delivery in St. Helena via the website and our mobile app."
But some retailers never experienced the initial surge. Downtown Spirits, located near Amazon's corporate campus in the heart of Seattle, normally does a brisk corporate sales business. But after Seattle was hit early by the Covid-19 outbreak, Amazon closed its offices on March 4 and other companies soon followed suit, reducing the store's corporate delivery business by 90%. "Seattle became a ghost town—we were getting few walk-in customers," said owner Marques Warren. But home delivery jumped by 29% from March 8-14, and then skyrocketed by 105% the following week. "Drizly has been the bright spot," Warren added. "Rings have also been higher, and skew more toward spirits."
E-Commerce Soars
Perhaps the most stunning industry development for the long term has been the rapid acceleration of the e-commerce channel. "Grocery has only started to invest in curbside and home delivery in the last couple of years," said Bowman of Jackson Family Wine Estates. "If you go back 15-20 years, we saw the spectacular failures of Peapod, Webvan, and other attempts. But as Amazon started to train the consumer, it opened up a new avenue for grocers and other retailers to think differently about home delivery and e-commerce. If anything, this shared experience with Covid-19 will accelerate trends that were already starting to catch on. It will be transformational for e-commerce and home delivery. We won't go backward."
At e-commerce retailer Wine.com, demand more than doubled in the month of March, and in the early days of April had accelerated to three times the year-earlier pace. "We're selling and shipping over $1 million of wine a day, equivalent to around 50,000 bottles," said Wine.com CEO Rich Bergsund. "New customers are trying us at five times our normal rate, and they're joining StewardShip, our annual free shipping membership program, at three times the normal pace." Wine.com's delivery carrier, FedEx, is visually confirming over-21 status, eliminating the need for the adult signature process.
In March, Wine.com customers purchased a total of 21,000 different types of wines and 1,700 spirits, choosing "bottles from all over the world, not just what they would normally buy at their grocery or liquor store," Bergsund added. Wine.com has also staffed up, hiring over 300 new workers in six states to keep pace with demand and increasing operating hours in its warehouses to avoid crowding. Founded in 1998, Wine.com last year saw annual revenue rise by $20 million to hit the $150-million-mark.
Online local delivery platforms also saw notable increases. At delivery provider Drizly, sales spiked two-fold from the weeks before the crisis broke, and the average customer spend jumped by 30%, the company said. Drizly's merchandise value was up 500% from the year-earlier period, with order value 50% higher on average, and has continued to see its biggest sales ever on each Friday since March 20. The spike has been driven mainly by new customers, who've been accounting for about 40% of orders, compared to a normal level of 15%. New buyer sales were up 1,200% through the week of April 3, the company said. Drizly also expanded its California partnership with BevMo in March, adding the markets of Bakersfield, Fresno, Stockton, Modesto, Napa Valley, and Palm Springs, while also boosting its coverage in Los Angeles, San Francisco, and San Diego. The company's alliance with BevMo now covers 145 stores across California.
Orders have also surged at Minibar, the online delivery platform that partners with retailers in 16 states and Washington, D.C., with CEO Lindsey Andrews noting that rush days were up by as much as 80%-130%. Minibar's average order value has been $88, compared to a normal level of $72. "Sales were coming primarily from existing users who were stocking up," Andrews added, with wine sales comprising 56% of the site's orders (up from a typical share of 49%) and spirits at 34%, with beer comprising the remainder.
"The increase in online purchases has been unprecedented," said Devaraj Southworth, CEO and co-founder of Thirstie, the New York-based e-commerce platform that works with hundreds of retailers around the country. "Our retail partners have told us that for the first time ever, a majority of their sales were coming from online purchases." Thirstie's average order size nearly tripled as people became concerned about supply meeting demand. "We've seen all brand categories pivot hard into the e-commerce space," Southworth added.
Marshaling Forces
While retailers coped with the surge in business, the nation's wholesalers faced the daunting task of keeping the supply chain moving. The second tier went into rapid-execution mode. "We established an executive-level task force to coordinate coronavirus-related business continuity plans and monitor the situation as it unfolded," said Southern Glazer's Wine & Spirits CEO Wayne Chaplin, the nation's largest spirits and wine distributor with revenues of $19 billion last year. Tom Cole, president of Republic National Distributing Co. (RNDC), quickly vowed to "continue to serve our customers and suppliers, while protecting the health and welfare of our communities in full compliance with government guidelines." And Breakthru Beverage president and CEO Greg Baird said his company was staying focused on keeping the supply chain moving. "Breakthru established a cross-functional task force to evolve policies and prioritize activities as the outbreak occurred," he noted, with near-constant communication to assess situations.
The nation's top distributors had begun deploying e-commerce technologies only recently, but the timing proved fortuitous. Southern Glazer's Wine & Spirits (SGWS) is now in 28 states with its SG Proof e-commerce platform, Sgproof.com, which also has a component for its sales force that's operational in 26 states. SG Proof generated revenue of $140 million in its initial 12-month period ending March 1, 2020, according to SGWS chief commercial officer John Wittig, and while it's been initially targeting independent accounts, the platform is expected to start servicing national accounts within a few months. RNDC is active in e-commerce through its partnership with online distributor LibDib as well as its own eRNDC initiative. At press time, LibDib was present in five states—California, Colorado, Florida, New York, and Wisconsin—with licenses pending in another 11 markets. The eRNDC platform offers 30 million product lines, and will reach 80% of RNDC customers by end-July. And Breakthru's various e-commerce initiatives include a partnership with online platforms SevenFifty and Provi, a Trident Almanac app focused on craft offerings and the rollout of SAP software across the business.
Jackson Family Wines has kept busy at the second tier through its wholly owned California distributor, Regal Wine Co. "At Regal, we've spent a lot of time trying to make sure that our retailers have access to our products and that their inventories are flush," said Jackson Family's Bowman. "It's not because of any actual shortages. It's literally been about getting the products on the shelf and keeping them replenished."
Suppliers Pivot
At the supplier tier, companies mobilized rapidly as the crisis ramped up. Visitor facilities at wineries and distilleries were shuttered, but production mostly continued, with safety guidelines mandating new cleaning routines, social distancing, and other measures. Nearly all distilleries transitioned part of their output toward making hand sanitizer. "We've been moving through unprecedented times," noted Jonathan Yusen, president and managing director of North America at William Grant & Sons, adding that his London parent company set up a global coronavirus task force to coordinate its response across the business.
Supplier companies with large-scale brands were showing major sales spikes thanks to their presence in mass retail channels. At Constellation Brands, where the off-premise represents 85%-90% of depletions volume for its beer, wine, and spirits brands, growth was robust. "We saw IRI dollar sales growth for our beer business increase to 24% in the 4-week period ending March 22, versus 12-week and 52-week trends of 17% and 12%, respectively," said Constellation president and CEO Bill Newlands. "For our wine and spirits power brands—which include The Prisoner, Kim Crawford, Meiomi, Robert Mondavi, High West, and Svedka, among others—we saw accelerating growth of 23% in the latest 4-week period versus 12-week and 52-week trends of 7% and 4%."
Companies with more of an on-premise skew faced more daunting hurdles. San Francisco-based spirits importer and producer Hotaling & Co. has a portfolio that includes import brands Nikka, Kavalan, Lot 40, and Luxardo, as well as domestic labels Old Potrero whiskey and Junípero gin. The company does about 40% of its business in the on-premise, and moved quickly to redeploy its resources. "Within a week of San Francisco sheltering in place, we delivered updated second quarter plans to our distributors that detailed how we're pivoting," said president and CEO Dan Leese. "We worked quickly to develop more robust retail programming that emphasized home delivery, online sales, and drive-through pickup."
Hotaling also boosted its focus on home mixology, working with its buyers to create home cocktail kits with recipes for its brands. Even with the initial surge in mainstream buying, "consumers are still eager to experiment with international styles like ours," Leese said. The company's gin and whiskies educational program, normally conducted in person, was transitioned to digital, with educational tastings of six gins and six whiskies from different parts of the world, and tasting mats providing links to an e-commerce platform where consumers can purchase the products.
For America's craft distillers, the situation generally was the most difficult among all players at the supplier tier. Forced to shutter their visitor centers, the craft players were robbed of their most vital marketing and sales weapons. A survey by the American Craft Spirits Association in late March collected data from over 150 of the nation's 2,000 craft distilleries, showing that roughly two-thirds of them would be forced to close within three months unless they received government assistance. Just under a third said they wouldn't be able to stay open for more than a month.
Among the more mid-tier domestic distillers, Newport, Kentucky-based New Riff Distilling said sales were showing resilience. "We're doing better than those smaller, true craft operations who rely significantly—and sometimes nearly exclusively—on activities like gift shop sales, tours, and events, as well as on-premise customers," said New Riff co-founder Ken Lewis. "Our event center, gift shop, and Aquifer bar have all been closed, of course, but they represent a fairly small percentage of our business. Our livelihood, like that of all mid-sized-and-above players, comes from distributor sales. With distilleries in Kentucky defined as essential businesses and most remaining open showing significantly increased business, it's more than making up for the on-premise closures."
On the production side, New Riff is almost at normal levels, and has been getting product into the pipeline. "We're at nearly full operation, and, thankfully, shipping everything we've put into a bottle—I say nearly full operation because we're following all CDC protocols and have a handful of production workers self-isolating," Lewis said, noting that the facility is also dedicating part of its production to making hand sanitizer. New Riff's annual production is at 8,000 barrels, and its volumes reached 23,000 cases last year.
Charity Efforts Galore
Throughout the crisis, the industry has undertaken countless charitable efforts. Companies from across the industry—producers, distributors, and bartenders' organizations—have mobilized to aid those hardest-hit by the crisis.
Constellation pledged more than $2.5 million to support the National Restaurant Association Educational Foundation Restaurant Employee Relief Fund, the U.S. Bartenders' Guild (USBG), and first responders across the U.S. In early April, Campari America announced a $1 million donation to Another Round, Another Rally, a non-profit raising emergency funds for hospitality workers facing economic hardship due to crisis. Bacardi-owned Patrón Tequila split $1 million among three charities: Another Round, Another Rally; Children of Restaurant Employees (C.O.R.E.); and the James Beard Foundation. In many cases, the support targets families, employees, and owners in the bar and restaurant business, offering financial assistance, medical supplies, food, and more to the industry while most bars and restaurants are shuttered.
Meanwhile, Beam Suntory and Southern Glazer's announced a joint donation of $1 million to the USBG Foundation Bartender Emergency Assistance Program and the Restaurant Workers Community Foundation. Beam Suntory also began working with its other distribution partners, including Major Brands, Badger Liquor, Fedway Associates, Allied Beverage Group, Empire Distributors, Best Brands, and Horizon Beverage Group, to provide donations on a local basis.
Diageo made a $1 million donation to the USBG Bartender Emergency Assistance Program to support bartenders who've lost their jobs during the crisis, while also pledging to enable the creation of more than 8 million bottles of hand sanitizer by donating up to 2 million liters of alcohol to manufacturing partners. Pernod Ricard donated $500,000 to the USBG National Charity Foundation and agreed to match outside donations up to $100,000 through March 30. Pernod also dedicated capacity at its Ft. Smith, Arkansas manufacturing facility, Rabbit Hole Distillery, Smooth Ambler Spirits, and TX Whiskey Distillery to producing hand sanitizer.
New Riff Distilling also joined in the outpouring, turning over part of its production to making hand sanitizer for first responders and public health agencies throughout greater Cincinnati, which sits directly across the Ohio River from the distillery. "I think we're all living proof of the adage that in good times and bad, the alcohol business is the place to be," said Lewis. "We're thankful for our blessings, and for being a part of such a dynamic, fortunate and—as we're all witnessing in so many ways—charitable industry."
---
Additional reporting by Terri Allan, Kevin Barry, Jessica Beebe, Shane English, Julia Higgins, Daniel Marsteller, and H. Lee Murphy.