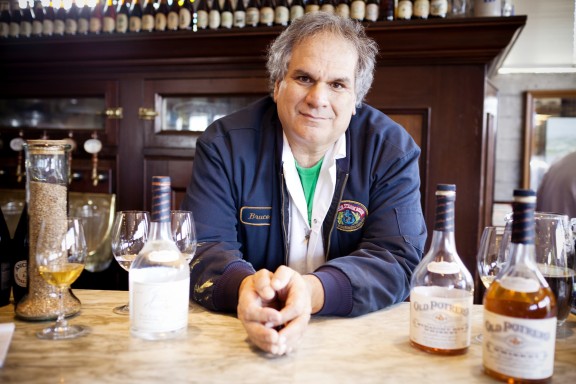 With the current craft spirits boom, it's easy to forget that 20 years ago, the United States had zero pot-still whiskies and very few rye whiskey options—let alone the cornucopia of choice today's consumers enjoy. But that scenario didn't faze Fritz Maytag, who hatched a plan to revive America's first native spirit at Anchor Brewing Co. in San Francisco. Maytag had already initiated the craft brewing movement in the 1970s with the restoration of Anchor Steam beer, and he wanted to further recreate historical beverages through distilling.
"At the time, there was no interest in rye whiskey," says Bruce Joseph, who joined the company as a brewer in the 1980s and is now the head distiller at Anchor Distilling Co. "Rye was an important whiskey in the United States, but it had been forgotten. But the interesting historical basis appealed to Fritz, so he became very enthused and threw himself into it." In 1993, Maytag and Joseph began experimenting on a German pot still and released the first Old Potrero rye at 13 months old in 1996.
In the years that followed, Anchor would add to its reputation by making a gin and a genever—also created using a 250-liter pot still in a tiny section of its Potrero Hill brewhouse. The company's established credentials and craft philosophy led to a 2010 acquisition by Tony Foglio and Keith Greggor, former Skyy Spirits executives who had purchased Preiss Imports two years earlier and were looking to build a larger spirits portfolio. They bought the whole company—both the brewery and the distillery—from Maytag, who then retired. Since the sale, Anchor has released three additional products—a hops-infused vodka, an Old Tom gin and the seasonal Christmas Spirit—and continues to increase production.
Historical Roots
Creating the country's first pot still–made whiskey in decades was no easy task. Maytag researched 18th-century distilling techniques at the Library of Congress and brought his findings back to the Bay Area. "We did tons of experimenting, but luckily we had no timetable to release a product because we were supported by the brewery," Joseph explains. "Being able to make things and throw things away was a huge advantage." The distilling team's brewing experience contributed to the process too. "Coming from a craft beer background, where you're dealing with really hoppy or malty things, rye's a good way to get into whiskey," he says. "It's just such a riot of flavor."
The early experiments included using different kinds of barrels for aging and led to the creation of three Old Potrero whiskey expressions, all made with 100-percent malted rye. Old Potrero Single Malt Straight rye whiskey ($69.99 a 750-ml. bottle) averages 4½ to 5 years old and is aged in new charred oak barrels, while Old Potrero 18th Century Style whiskey ($69.99) spends two and a half to three years in toasted oak barrels. Both expressions may include a small amount of older whiskey as well. Old Potrero Single Malt Hotaling's whiskey ($99.99) varies in age, resting in reused charred oak barrels. The name comes from San Francisco's 1906 earthquake and fire, which local merchant A.P. Hotaling & Co.'s whiskey warehouse managed to survive unscathed.
Because of its position as a craft beer leader, Anchor got significant attention when it first released Old Potrero. "We took a lot of criticism for selling what was seen as a high-priced whiskey that was only aged 13 months," Joseph says. "At that time, 'older is better' was a theme running through whiskey. We didn't necessarily believe that." Old Potrero's average age has grown since then, but Joseph stands by the original release. "People are starting to get that age isn't everything," he notes. Old Potrero also differs from conventional whiskies because of its limited production. "When you're small, you can celebrate your barrel variation," Joseph explains. "It's almost like a vintage." The company labels each Old Potrero bottle with a batch code so consumers know to expect slight variations.
Just a year after bottling the first Old Potrero, Anchor released Junípero gin ($29.99 a 750-ml. bottle), which uses sourced neutral grain spirit since the distillery is too small for a column still. "We didn't know very much about gin," Joseph says. He and the others working on the project tasted dozens of gins to get an idea of what botanicals they wanted to use. Their aim was to create "a gin that appeals to gin drinkers," which wasn't a big market at the time. But Maytag—a Martini fan—insisted. "He didn't want flavors that were too round and subtle," Joseph explains. "He wanted that crispness and boldness that stands up well in a Martini." After months of experimentation, Junípero hit the market in 1997.
Maytag soon brought the team his next idea: genever. Joseph had never tasted the spirit, so he went to a bar to try some and then spent eight years tinkering with the recipe before bottling Genevieve genever ($49.99 a 750-ml. bottle) in 2007. That same year, cocktail historian David Wondrich published the book "Imbibe!," which sparked an interest in early gin cocktails that called for genever. "The timing was pretty good," Joseph notes.
Since the 2010 acquisition, which formally split the distilling side from the brewery, Anchor has ramped up spirits production and expanded its offerings. In 2013, the hops-flavored Hophead vodka ($29.99 a 750-ml. bottle) hit the scene after a long period of development to ensure that the hops didn't result in an overly bitter or sulfurous taste profile. That same year, Anchor released White Christmas, a clear spirit distilled from the brewery's Christmas ale. It returned as Christmas Spirit ($49.99) in 2014 and is slated to become a perennial part of the lineup.
In late 2014, the company began rolling out Anchor Old Tom gin ($29.99 a 750-ml. bottle). Although Maytag and his team had extensively researched the first few historical spirits they created, Joseph took a different approach with this one. "After doing some reading, I found that the Old Tom tradition is all over the place," he says. "I didn't want to bring any preconceived notions. I just wanted to make an interesting sweetened gin—just do it our own way." The resulting gin relies on star anise and licorice root, along with the plant extract stevia, to provide a natural botanical sweetness.
Pioneering Portfolio
The trailblazing mind-set that drove Maytag to create spirits before there was demand for them carries over into Anchor Distilling Co.'s wider portfolio, which encompasses a variety of products from around the globe, many of which are unique in the market. The collection includes Novato, California–based Tempus Fugit liqueurs, which have been recreated from historical recipes; Luxardo Maraschino liqueurs and cocktail cherries, imported from Torreglia, Italy; the spirits range of London-based Berry Bros. & Rudd; and a host of Scotch, American and world whiskies, including The BenRiach Scotch, Seattle's Westland brand, Nikka whisky from Japan and the Taiwanese Kavalan label.
Director of education Alan Kropf oversees the portfolio's marketing, taking a nontraditional approach that relies heavily on brand storytelling through digital and social media. "We're seeing a sea change in the world of spirits," he says. "It's happening both culturally and commercially. At Anchor, we have a portfolio that people want to learn more about, and it's my job to facilitate inspired and authentic connections around those products."
Kropf's efforts have typically targeted retailers and mixologists, but he's incorporating more consumer-focused elements going forward. "The trade really gets what we're trying to do," he explains. "They can be ambassadors for us. For a lot of consumers, the craft spirits category is a brand new world that they're exploring for the first time." Sampling plays a big role in Anchor's consumer outreach. "Our motto has long been 'liquid to lips,'" Kropf says. "These products stand on their own. We just facilitate the connections."
At Astor Wine & Spirits in New York City, the strategy pays off. "People equate the Anchor brand with quality," says spirits buyer Nima Ansari. "It's also something that you can't get anywhere else. Anchor is definitely an innovator." Along with a wide selection of Anchor's overall portfolio, Astor stocks Junípero, Hophead and Old Tom and receives a small allocation of Old Potrero, which sells out quickly.
Ansari points to the portfolio's diversity as a strength. "Anchor is trying to be as comprehensive as possible without being redundant, and the company has not only been able to pick up some of the most important distilleries along the way, but it's managed to stay ahead of trends too," he notes. "There aren't many other portfolios doing that. Anchor is consistent and able to execute its mission effectively, so it's not a surprise that the company has been so successful and attracted such high-quality producers at the same time."
Building Brands
Constrained by its location within the brewing facility, Anchor's distillery has barely grown in size over the past two decades. "Production with those space limitations is like trying to keep your head above water," Joseph says. But the company has gradually increased distribution, and some Anchor products are now available nationwide. "We're slowly ramping up," says Anchor Distilling Co. president Dennis Carr, who was promoted from senior vice president of sales in April. "For the last several years, Old Potrero was limited to just three states, but now it's in eight to 10 states." Volume leader Junípero depletes roughly 6,000 nine-liter cases annually, while Old Potrero is around 1,500 cases and the other labels are smaller. The volume for Anchor's own products totaled 9,900 cases out of 112,000 cases depleted by the company's whole portfolio in 2014. The overall leader, Luxardo Maraschino liqueurs, accounted for 23,000 cases; when including the Luxardo cocktail cherries, the brand's total volume equaled 47,500 nine-liter case equivalents last year. Another big category is whisk(e)y, which in 2014 made up 25 percent of sales by volume and 40 percent by value, led by The Glenrothes single malt Scotch at 10,000 cases.
Since the 2010 acquisition, Anchor has steadily added brands to its portfolio and has seen organic growth of 25 percent to 30 percent annually, and Carr says the company will focus on developing its existing brands going forward. "We're really starting to amplify some of our current products," he explains. He projects depletions of 140,000 cases for this year, with a goal of doubling that number within five years. "It's a good size for us to continue being entrepreneurial brand builders, as well as to have a voice in the trade," Carr explains. "If we were just a standalone brand company, we wouldn't have that seat at the table. The challenge is staying focused and managing the whole portfolio."
To ensure each brand gets the attention needed to thrive, Anchor breaks down its portfolio into three subcategories: whiskies, liqueurs and modifiers, and other spirits. "The target consumers and the way these three categories go to market are sometimes quite different," Carr notes. The company currently does 65 percent of its business on-premise, and Carr wants to increase off-premise share, especially in Anchor's exceptionally strong whisk(e)y portfolio. "As whisk(e)y continues to grow, I'd anticipate that percentage to shift because home consumption is so much a part of that category," he says.
This growth strategy includes a more calculated approach for Anchor's in-house products. "Up to this point, we haven't put a lot of emphasis on strategic planning of our own brands, and that's going to be a focus going forward," Carr explains. Anchor intends to construct a new facility on San Francisco's Pier 48. Although still in the planning stages, the building will likely house the bulk of the brewing operations, along with a restaurant and visitors center, and the distillery will remain on Potrero Hill, where it will have room to expand. Although the plan is a few years from fruition, Anchor is already looking ahead. This summer, the distillery is getting a new wash still that will double its capacity.
Carr looks forward to being able to release more Old Potrero, but is cautious about expanding too quickly. "The business is moving fast, and it's my job to make sure Anchor is moving faster," he says. "Growth is important to us, but so is keeping to our roots. We want to grow without losing our authenticity. That's the most important thing."