The Washington wine industry is in transition, but it's also having a "coming-of-age" moment that could define the industry for the future. That's according to Jeff Cox, wine, beer, and spirits merchandiser for Seattle grocery chain PCC Community Markets. "The wine business in Washington is not that old, and some of the people who were pioneers in this business are now passing those businesses on to their kids," he says. "There's been a trend in Washington with younger people coming in, especially in places like [Columbia] Gorge and increasingly in Walla Walla and places in the Yakima Valley, where rather than try to make big extracted wines that wow people from the get-go, we're seeing a lot more sense of place, and people taking advantage of higher altitudes or farming for freshness. While the sales of those are an undercurrent at present, that may end up being a harbinger of what Washington can become famous for." 
Cox isn't alone in his assessment of the current fluidity of the market. "I'm excited about some the newer wineries that are approaching winemaking a little differently and maybe introducing some new varietals that haven't been in the marketplace much in Walla Walla," says John Blair, general manager at Walla Walla's Dunham Cellars. 
Of course the biggest transition underway in Washington is the evolution of its largest producer, Ste. Michelle Wine Estates. The Woodinville-based company accounts for about half of all wine produced in Washington and owns eight of the top 15 wine brands from the state. The current demand for Washington wines has prompted changes from new owners, Sycamore Partners, who purchased the company in 2021. The company made some significant management changes shortly after taking the reins, and in 2022 purchased Oregon's A to Z Wineworks, solidifying its role as the top wine producer in the Pacific Northwest. Earlier this year, though, Ste. Michelle undertook some cost-cutting measures that upended the status quo in Washington state. With sales significantly off their peak, in early August the winery told growers it would cut its grape purchases by about 40% over the next five years.
"We have started conversations with our grower partners in eastern Washington to adjust our grape supply to better align with demand and enable us to focus on crafting the highest quality premium wines from Washington," Ste. Michelle Wine Estates said in a statement. "Our long-term relationships with our growers are extremely important to us, and while this is a difficult process, these proactive measures are necessary for the ongoing health of our business as well as the health of the overall Washington wine industry."
The move comes against a backdrop of sluggish sales for leading brands from Ste. Michelle Wine Estates and other Washington wineries. Four of the company's top five brands lost volume in 2022, including leading brand Chateau Ste. Michelle, which was down 9% to 2.78 million cases, and 14 Hands, the second-largest Washington wine brand, which dropped 10.5% to 1.08 million cases, according to Impact Databank. The leading 15 wine brands from Washington—of which Ste. Michelle owns eight and rival Precept Wine owns four—combined for a 6.6% decline to 6.43 million cases in 2022. That's off about 1 million cases from 2017 and reflects a steady decline for the category over the past six years.
Toby Whitmoyer, Washington president of Ste. Michelle Wine Estates, acknowledges that the wine industry overall "has had a bumpy couple of years," but says he's excited about the direction of the business. "I'm encouraged that our company and the industry are very committed to regaining momentum," he says. "The more we focus our attention and resources on continuing to create a quality product, the bigger and brighter the spotlight is on Washington wines overall."
Brandon Rice, owner of Quincy, Washington-based RM Wineries LLC, says the retrenching by Chateau Ste. Michelle opens opportunities for other wine producers. "Ste. Michelle obviously has been doing a great job of getting wine on the shelf for a long, long time," he says. "Retailers still need diversity on their shelves, it can't all be California or imported wines. There is opportunity for other Washington wineries to get out there and try to gain that shelf space.
Cox agrees. "Chateau Ste. Michelle shrinking as much as it is, that's more than a ripple, it's more like a tsunami" he says. "But's it also an opportunity for Washington to show its potential for really high-quality wines that exist here."
In the Wings
RM Wineries has six individual wine brands that Rice says capture the essence of Washington wine's style. The company is focused on Caliche, an all-white line that includes Albariño, Pinot Gris, Sauvignon Blanc, and Riesling, all priced at about $16 a 750-ml. While not buying into the "light' wine movement, Rice notes that the wines offer "clean fermentations, straight to bottle, no added sugar, no added anything." At a slightly higher price point ($19), the company's Alki line includes Chardonnay, Merlot, Cabernet Sauvignon, and a red blend. 
Those varietals are all well-known among American consumers, something that Dunham Cellar's Blair thinks can be detrimental to Washington's cause. "We don't have that singular grape that we all rally behind," he notes. Right now in the Dunham Cellars portfolio, the 2022 Sauvignon Blanc ($22 a 750-ml.) is in high demand, while sales of the company's Rosé ($22) are tapering off. Dunham Cellars also sees strong ongoing demand for its two red blends: Three Legged Red ($20) and Trutina ($32). 
While Washington doesn't have a signature varietal, experimentation among some smaller wineries is generating excitement. Ole Thompson, wine director for the two-location Downtown Spirits in Seattle, says he still sees huge demand for established wineries such as Andrew Will Winery, Leonetti Vineyards, L'Ecole No. 41, and others, but he's also enthused by a new crop of vintners making waves. Thompson says some of the newer players are moving toward more sustainable farming methods and are also more willing to experiment with lesser-known varietals. "Our consumers are definitely responding," he says. "I have some great examples of wines that sell that are not the wines you typically expect to see— things made with Piquepoul or Sémillon or Albariño." 
Cox also notes the varietal shift. "I'm starting to see people in Washington embrace Merlot," he says. Also, people are working with Albariño and Piquepoul here, and those are starting to gain some attention. It's changing the way people think about Washington. We're not shying away from putting [those varietals] on the floor, and it's paying off for us."
Thompson says regional affiliations are also shifting. "We're also seeing some regions other than Red Mountain and Walla Walla, places like Prosser, Snohomish County, and Woodinville where there are lots of new winery startups," he says. "For every Ste. Michelle and Charles Smith and House Wine, there are 50 or 100 little wineries that maybe don't even make it outside the state. It's a lot of fun to see small startups come along."
Some standouts at Downtown Spirits include Tirriddis Blanc de Gris Traditional Method Pinot Gris ($35 a 750-ml.), Tirriddis Traditional Method House Rosé ($28), the 2020 Grosgrain Vineyards Carignan, ($38), and the 2021 Grosgrain Vineyards Skin-Contact Les Collines Vineyard Sémillon ($30). Ryan Aguirre, beverage and service director for Woodinville restaurant The Herbfarm, is keen to list some of the newer, more esoteric Washington wines on the restaurant's nine-course, chef and sommelier-selected tasting menu. He typically strikes a balance between old and new.
"I was a little hesitant because I wasn't sure if they would land with people but then I just took a risk," he says. "We have this huge advantage where we just pour wines for people and they're pairing with the thing that we're serving, and it was so well received. But in establishing a tasting menu, you have to kind of strike that balance of giving people what they expect, like the big bold red styles and … sparkling wine. If you gain their trust by pouring things that you know they're going to love, you can sneak one or two things into the lineup that they might really enjoy as part of the pairing. It's part of the fun—creating these menus and honestly using our platform as a way to feature not just the progressive styles, but these really awesome people that are making incredible wines." One recent menu featured the 2021 Grosgrain Skin Contatct Sémillon and 2021 Esja Wines Grenache (a complete nine-course pairing is $305).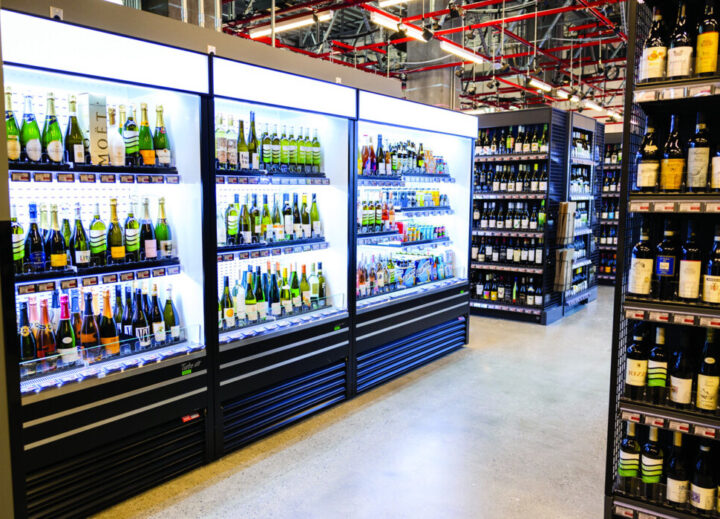 Recruitment Strategies
Perhaps surprisingly, Aguirre says the demographic for those tasting events has shifted post-pandemic, now primarily attracting diners in their 20s and 30s rather than an older clientele. But bigger picture, the Washington wine industry is lamenting the lack of newer, younger consumers coming into the fold. Andrew Browne, Precept Wine CEO and founder of Browne Family Vineyards, says the company is very committed to tasting rooms for the Browne Family line. Ownership of Browne Family Spirits has been a catalyst for accessing the younger consumers and, in some cases, helping to convert them to wine. In the tasting rooms, "we offer cocktails that might have a sparkling wine [component]," Browne says. "While they're at the bar, we offer them a flight of wine and challenge them to find something that they like in the wine space. That's a real easy entry barrier point."
Another key approach for Precept Wine comes with the brand called Do Epic Shit. "We actually put that on a wine label, and we think that for young people it's a fun, easy, attention-grabbing point," Browne says. "A $20 bottle of Do Epic Shit maybe convinces them to not necessarily go instantly over to the vodkas or other spirits." Browne says the humorous approach could "persuade young people to give wine a shot. We've still got to make a great product. I just think we need to as a wine industry be a little bit more out of the box."
Chateau Ste. Michelle's Whitmoyer says the company has a multi-pronged approach to attracting younger consumers to the portfolio and to wine overall. In addition to leveraging the power of powerhouse brands like Chateau Ste. Michelle and 14 Hands, Whitmoyer sees promise in newer offerings like the Liquid Light line of lower-calorie wines and the launch next year of 14 Hands Unicorn Mythical Sweet Bubbles and 14 Hands Sweet red blend, building on the recent success of 14 Hands Unicorn Rosé Bubbles. "This is part of our direct efforts to introduce our wines to a new audience," Whitmoyer says. More new products will likely be forthcoming. "We want to find new category disruptors via microtargeting and experimentation," he adds. "We want to seed the brands that will become the stars of the industry in the next decade."
Marketing efforts are also evolving to capture a younger consumer demographic, Whitmoyer adds. "We're marketing our brands to the next generation of consumers by engaging with them through their passion points," he says. "That is why Chateau Ste. Michelle created an industry leading national sponsorship with Live Nation, the world's leader in live music entertainment." 
Amidst the recruitment of new consumers, some producers are trying to achieve the correct pricing balance for Washington wines. With the state's largest producer cutting back on its grape purchases, it's likely fruit will be more readily available. Many in the industry believe producers would be well-advised to stick to a price point of at least $15 for the vast majority of their brands. "Our goal is not to go south on price," says Browne, speaking specifically of the Browne Family Vineyards brand. "Our goal is to stay at $20 for our 'Mendoza Line,' and then we're going to just wow the hell out of the wine drinking community."
Browne says there is "magic at $19.99," and that will be the starting point for his family's label. "We think that in a few years we're going to be able to not just maintain, but increase the quality side of our proposition and have a $20 bottle of Washington Cabernet Sauvignon or a red blend or a number of different varietals really be able to stand out on the shelf and taste like a $30 bottle of wine," he explains. That said, Precept Wines also has several lines priced below $20.
Not everyone is convinced that super-premium wine prices are sustainable, especially at a time when overall volumes are on a downward trend. Blair of Dunham Cellars, for example, sees some trading down happening within the portfolio, although all the winery's offerings carry a $20-plus price tag. He says "a bit of economic fraying" is making consumers more cautious in their purchasing.
Whitmoyer says consumers' willingness to spend varies based on their financial situation. "Inflation is a big factor in that, though overall we see the wine category improving slightly—especially for wines under $11 a bottle," he says. "In terms of long-term trends and demand, we believe consumers will want to indulge and afford the little luxuries. So, we anticipate further growth in premium wine spend."
Regardless of how pricing evolves, the effort to recruit new consumers to the category is front and center for most marketers. Browne says exposing consumers to what Washington has to offer is crucial. That can be in the form of tastings and experiences, both on the road and in the tasting rooms in Washington wine country.
"We need, collectively as an industry in Washington State, to continue to offer tasting rooms and continue to ask people to come in the door so they can hear our stories," Browne says. "We want to open the door for young people to feel comfortable coming into a winery and falling in love with wine like the previous generations. If we stay committed, the quality story that we're going be able to tell for the next number of years is amazing."