Any fears of a potential Covid-19 retail hangover dissipated quickly this year as retailers continued seeing strong sales—driven by larger average rings and e-commerce—allowing many to ramp up new technology spending and expansion plans. "We expect more growth with larger baskets and bigger sales across the board," says Ted Farrell, president of 11-unit Haskell's in Minnesota. "We've seen a trend of fewer transactions but sales numbers are going up."
While retail beverage alcohol sales usually start the year slowly, 2021 picked right up where 2020 ended. "Historically, everybody swears our industry off for January, and then around Valentine's Day we see everybody getting back on the wagon," Farrell says. "We had a 10%-15% increase in sales for the month of January compared to 2020."
Los Angeles-based Hi-Lo Liquor Market experienced a 90% sales increase in its two stores in January compared to 2020. "We have a very dynamic inventory," Lowe says. "We're bringing new wines, beers, and spirits monthly, and weekly. But growth drivers have been brown spirits, cocktail ingredients, RTDs, and mezcal," says founder Talmadge Lowe. Hi-Lo typically stocks 15-20 mezcal labels, with Madre mezcal ($56 a 750-ml.) the company's bestseller in the category. "Mezcal has a unique flavor we haven't seen in spirits before," Lowe says. "It's really good in cocktails."
Spirits sales in the 1.75-liter size are popular at Haskell's. Tito's ($26), Captain Morgan ($23), and Svedka ($15) were the leading brands in the large format. "Magnums account for 65% of overall spirits sales," Farrell says.
Hi-Lo features a customer favorite signature in-house collaboration single barrel Bourbon—Hi-Lo + Savage & Cooke: The Burning Chair Bourbon ($70 a 750-ml.). "We bought a barrel from Savage & Cooke and it's been doing very well," Lowe says.
Wine sales also remain brisk. Top-selling wine brands at Haskell's include Kendall Jackson Chardonnay ($11 a 750-ml.), Lockwood Cabernet Sauvignon ($25), and Silver Beach Sauvignon Blanc ($12). Red wines are experiencing exceptional growth at Hi-Lo, according to Lowe, with popular sellers including Glou, Glou Red ($33) and Love You Bunches Orange ($26).
Pliny the Elder Double IPA ($7.50 a 500-ml. bottle) from Russian River Brewing Co. is also a Hi-Lo customer favorite. "We have a robust beer program that's doing very well for us," Lowe says.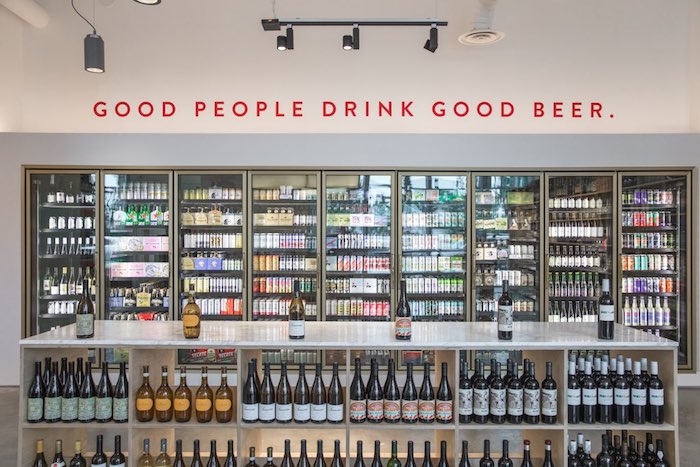 E-Commerce Surge
The online shopping surge has retailers investing in websites to support growth. "Our online sales have skyrocketed, with 2020 up 200%-300%," Farrell says. "Therefore, our 2021 business spending is to improve our websites. With the high demand we have seen throughout Covid-19, there were some things lacking. We're hoping to have it up and running by mid-May."
Hi-Lo ships beverage alcohol to California consumers and is looking to expand shipping nationwide. "In addition to adding some upgrades to our website, in 2021 we're also going to be working with a company to help us keep compliant with different states," Lowe says. "We're going to put money into marketing our offerings to states outside of California."
Haskell's and Hi-Lo are also both looking to expand. While Haskell's is looking to add to its 11 stores in the Twin Cities area, Hi-Lo plans to open its third and fourth stores in the Los Angeles area. "If we can get two more stores open this year, that will double our retail footprint in southern California," Lowe says.