In general, the word "bitter" often has a negative connotation, implying that something is unpleasant to eat or drink. But in reality, many of the things we enjoy every day are bitter, notes Jonathan Wells, bar manager at Gadabout in Chicago. "Coffee and tea both have bitter elements to them, dark chocolate and certain citrus fruits have it as well, and let's not forget the various herbs and spices that we add to our food that have the same bitter quality," he says. "We enjoy them all because bitter adds balance to other flavors." 
With this in mind, it's not much of a stretch that today's consumers are embracing bitter flavors in their cocktails more and more. "Just the fact that we can offer cocktails that feature bitter liqueurs shows that the palate of the general public is evolving," says Carlos Quinonez, head bartender at Columns in New Orleans. "Some see bitter liqueurs as an acquired taste, but people today are more explorative and accepting of new and interesting flavors." 
Sother Teague, beverage director at Amor y Amargo in New York City, notes that consumers are indeed moving away from overly sweet drinks. "Taste, like fashion, is cyclical. We're long past the days of syrupy cocktails and the pendulum is swinging toward drier and more bitter flavors," he says. "It's a perfect time for these liqueurs to come back to the forefront and reclaim their old glory." 
Bartenders and mixologists have long loved bitter liqueurs—some of which date back centuries—and they've played an important role in bringing about a resurgence of these products on modern cocktail menus. "We've been doing the leg work, putting in the hours to develop cocktails and menus that seek to accentuate the category, and that's because nobody appreciates bitter liqueurs more than we do," notes Nico Diaz, a mixology consultant who helped develop the Prohibition-style cocktail menu for Descendants Brewing Co. in Milford, New Jersey. 
Andrew Olsen, national beverage director for J. Rieger & Co. distillery in Kansas City, Missouri, echoes this sentiment, noting that as consumers have grown more curious, bartenders have been there to share their knowledge. "Bartenders are staying in tune with all this excitement around bitter liqueurs and providing an opportunity for guests to explore and experience, therefore creating more popularity for these products," he says. "Brands are built in bars, and bartenders are the essential link that connects flavors to loyal customers."
Classic Entry Points
As recently as ten years ago, many U.S. consumers would likely be hard-pressed to name a bitter liqueur brand offhand, but today Aperol and Campari—both bitter aperitifs from Italy—are hugely popular and well known. Olsen jokingly refers to Aperol as "the gateway drug" to bitter liqueurs, while Jake Niederhauser, bar manager at Tavernetta in Denver, says the Aperol Spritz, a blend of the aperitif with Prosecco and club soda, has significantly helped adapt the American palate to enjoying more bitter cocktails. 
Diaz believes the Negroni—a mix of Campari, gin, and sweet vermouth—should get most of the credit. "The bitter liqueurs category is less niche than ever, and I trace this back to the marketing campaign executed by Campari that focused on the Negroni, a cocktail that has earned its place alongside the Old Fashioned and Manhattan in regards to popularity, starting in craft cocktail bars in major cities and then trickling to smaller markets and neighborhood bars," he says. "Whereas there was once a noticeable lack of amari and aperitifs on back bars and cocktail menus, they're now ubiquitous." 
The Negroni has grown so popular and commonplace that now bartenders are adding their own spins on the classic to keep things interesting. At the Hotel Magdalena's Pool Bar in Austin, Texas, food and beverage director Eric Hastings' Moontower Negroni ($15) features Campari, Citadelle gin, and both Dolin Dry vermouth and Liquid Alchemist Prickly Pear syrup in place of sweet vermouth; at Daisies in Chicago, former beverage director Kevin Murphy's Night Vision ($12) comprises Campari, Carpano Antica Formula sweet vermouth, and carrot juice in place of gin; and at Amor y Amargo, Teague's Waterproof Watch ($17) blends Aperol aperitif instead of Campari, Cocchi Americano Rosa aperitif instead of sweet vermouth, Beefeater London Dry gin, plus a dash of Dale DeGroff's Pimento Aromatic bitters. 
"I love both Aperol and Campari, and I use them interchangeably in everything from Spritzes and Garibaldis to Jungle Bird-style mezcal cocktails," Diaz notes. "A key reason I use the two so much is their versatility. As modifying agents, they both play so well with practically every base spirit—rum, Bourbon, you name it." At Descendants Brewing, the Knock Twice ($12) mixes Campari, Vago mezcal, fresh-pressed pineapple juice, B'Lure butterfly pea flower extract, lime juice, and simple syrup. 
"Most people get introduced to bitter liqueurs through Aperol or Campari, so they're still the most popular with our guests, but as we gain their trust, we're introducing them to other brands like Cappelletti and Ramazotti, which are starting to gain popularity as well," says Coy Bryant, lead bartender at The Elysian Bar in New Orleans. "Lately we've been using Cappelletti a lot—it strikes a good balance between sweet and bitter and plays well with other ingredients." The Mama Quilla ($12), which Bryant created along with bartender Scott Smith, features Cappelletti aperitif, La Caravedo Torontel Pisco, Giffard Crème de Pamplemousse Rose pink grapefruit liqueur, and lime juice. Bryant's Blithe Spirit ($12), meanwhile, comprises Suze, a bitter and herbal gentian liqueur, Contratto aperitif, Exclave Rye whiskey, and Demerara simple syrup.
More To Explore
Education is a big part of the bar program at Elvie's in Jackson, Mississippi, according to beverage director and sommelier Brandi Carter. "Being in a small market, a lot of people haven't heard of anything outside of Campari and we enjoy introducing guests to new things," she says. "Lillet Rouge and Cocchi Rosa are two of my favorites that we use as the backbone of a couple of our cocktails at Elvie's." Her Lady Grey ($12) mixes Lillet Rouge aperitif, house-made Earl Grey lavender liqueur, and lemon juice, while the Corpse Reviver No. E ($12) is her version of the classic Corpse Reviver No. 2, blending Cocchi Americano Rosa aperitif, Beefeater London Dry gin, Cointreau orange liqueur, and lemon juice, topped with a Grande Absente absinthe-soaked cherry. 
"At Tavernetta we emphasize classic and modern classic cocktails while adding small tweaks and updates, such as using apertivos and amari to add depth of flavor and pay homage to our Italian aesthetic," Niederhauser says. "In our house Paloma, we use Cappelletti, which both highlights the grapefruit flavor and brings balance to the cocktail, making it incredibly refreshing and almost savory." The drink ($14) was created by Niederhauser and features Cappelletti, Cimarron Blanco Tequila, grapefruit and lime juices, agave syrup, and a pinch of salt. "And then our house Penicillin uses Amaro Lucano, which accentuates the ginger while also adding baking spice and expanding the richness of the drink." Also created by Niederhauser, the drink ($14) blends Amaro Lucano, The Famous Grouse Blended Scotch, lemon juice, house-made ginger and honey syrups, and a Laphroaig 10-year-old Scotch float. 
At Frasca Food and Wine in Boulder, Colorado, bar manager Evan Nolting similarly uses a bitter spirit to punch up a classic recipe. "In the Piazza Grande, I use Ramazzotti amaro and balsamic vinegar to help create balance in a riff on the classic Vieux Carre," he says. "Ramazzotti's botanical blend is driven by kola nut, the same flavoring used to create Coca-Cola, resulting in a background note of cola flavor. This helps create a feeling of 'I like this but I don't know why' for each guest who enjoys one." The Piazza Grande ($16) comprises Ramazzotti, Rittenhouse Rye whiskey, Pierre Ferrand 1840 Original Formula Cognac, Cocchi Di Torino vermouth, Hans Reisetbauer Plum eau de vie, balsamic vinegar, and Peychaud's bitters. 
Gadabout's Wells notes that classic recipes, such as the Manhattan, often make a good starting point when experimenting with bitter liqueurs. The Garfield ($14) by beverage manager Josh Martinez is one such drink: It blends Cappelletti Sfumato amaro, High West Double Rye whiskey, Demerara syrup, and Regans No. 6 Orange bitters. "Cappelletti Sfumato is made from rhubarb and has a smoky taste that's fun to add into cocktails," Wells adds. Similarly a twist on the Manhattan, the August in Manhattan ($13) at Descendants Brewing Co. features Nardini amaro, Grand Marnier orange liqueur, Widow Jane Applewood Rye whiskey, and The Bitter Truth Jerry Thomas' Own Decanter bitters.
Layers Of Flavor
Within a single bottle of amaro, aperitif, or other bitter liqueur there's often dozens of herbs, spices, and/or plants blended together with sugar and spirit to create something truly distinct and packed with flavor. "Bitter liqueurs are unique from other spirits when it comes to making cocktails because they already are cocktails as they each contain spirit, sugar, water, and bitters," Amor y Amargo's Teague says. "I jokingly think of it like this: 'I'm tasked with making lasagna but every layer of the lasagna is a lasagna.'" While some may find this frustrating, Teague finds it fascinating. His Cubist ($17) blends Suze liqueur, Dolin Dry vermouth, Brennivin aquavit, and The Bitter Truth Olive bitters. "This drink is basically an augmented Martini utilizing the crisp, dry caraway flavor of Brennivin aquavit as the backbone, with the Dolin adding light floral notes and the Suze bringing a grassy bitterness to the finish line," Teague says. His Zipper Skin ($17), meanwhile, mixes High Wire Distilling Southern amaro, Bigallet China-China liqueur, Evan Williams Single Barrel Bourbon, and Cocktail Punk Smoked Orange bitters. "Southern amaro is a Dancy tangerine and black tea amaro and China-China is a quinine liqueur flavored with bitter orange and orange oil—they come together beautifully in this cocktail that drinks like the wealthier cousin of the Boulvardier," he says. 
Frasca's Nolting makes a similar observation as Teague, referring to bitter liqueurs as being like RTD cocktails. "Adding one into a cocktail is like having two drinks for the price of one," he says. "Bitter liqueurs allow for bartenders to add depth of flavor and unique character to classic cocktails and their own creations." His Curtain Call ($16) comprises Cocchi Dopo Teatro vermouth amaro, Suntory Toki whisky, house-made Champagne lavender syrup, and lemon juice. "As more bitter liqueurs make their way into the American market and as many more are being made right here in the States, we've never had more products to taste and experiment with," Nolting adds.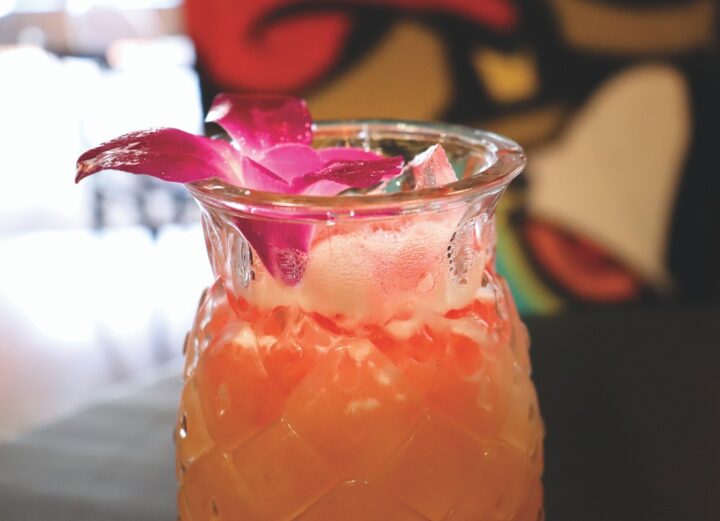 Indeed, between the array of imported amari and aperitifs and the booming U.S. craft liqueurs category, it's an exciting time for fans of bitter. "Just as education around spirits has evolved, the consumer palate has changed to embrace adventure, and this adventurous spirit has inspired a thirst for more understanding of what bitter is, and how wide the category of bitter spirits is," J. Rieger's Olsen says. "I'm really excited about what's happening with coffee bitters and amaro right now. We opened the door in 2016 with the launch of our bitter coffee liqueur Caffè Amaro, and it's really powerful to see how coffee carries a flavor profile that builds trust with someone who may be new to the world of bitters." At the distillery's Monogram Lounge, bartender Derek Branham's Quick Hit ($11) features Caffè amaro, house-made orgeat syrup, cold brew coffee, and the guest's choice of either J. Rieger Premium Wheat vodka or Kansas City whiskey. 
Similarly featuring a bitter coffee liqueur, Quinonez's Lavender Cold Press ($14) at Columns comprises Jägermeister Cold Brew liqueur, Suntory Toki whisky, cold brew coffee, honey syrup, Bar Keep Lavender bitters, and Bittermens Hellfire Habanero shrub. "Bitter liqueurs can be herbaceous, minty, spicy, sweet, and the unique thing is that you can use them in a cocktail to build on any of those notes—it can be very rewarding when done well," Quinonez says. "I truly enjoy all bitter liqueurs, from Montenegro amaro to Campari to Pimm's No. 1 to Jäegermeister—each one leaves a different impression." 
Gadabout's Wells notes that in Chicago, bartenders and consumers alike have a love-hate relationship with a local bitter liqueur called Jeppson's Malört. "Its overly bitter taste stays on your palate long after you try it, and it's seen as a challenge for bartenders to use it to make an amazing tasting cocktail, while keeping the bitter element but toning back that overwhelming taste." Head bartender Lee Hawkridge's The Northerly Island ($14) aims to do just that: It mixes Jeppson's Malört, Kalani Coconut liqueur, Elizabeth allspice dram, guava purée, lemon and lime juices, housemade allspice, clove, and ginger syrup, Bittercube Blackstrap bitters, saline solution, ginger ale, and Peychaud's bitters. "Bitter liqueurs bring lots of flavor, and when used correctly they help mellow out sweetness, balance citrus notes, and can elevate smells and tastes in your cocktails," Wells adds. "I personally feel sad it took me so long to understand what bitter can bring to a cocktail."