Over the years, blended Scotch whiskies, a staple of home bars and retail shelves, have fallen in prominence as American consumers reach for a wider variety of whiskies, with some notable exceptions such as category leader Johnnie Walker, the recently revived Dewar's, and rising players like Monkey Shoulder and smaller artisan label Compass Box. Indeed, blended malts are still a force in the market. The largest change has been the fall of budget-priced blended Scotch and a shift toward more premium offerings. 
Headwinds have cost the category 2 million cases since 2000 in the U.S. market, though things have stabilized thanks to premiumization, with the leading players bolstered by limited releases like Johnnie Walker's Game of Thrones tie-ins and Dewar's more recent line of cask-finished whiskies. Last year was an unusual year for Scotch whiskies overall, but blends held steady at 5.75 million cases, with half of the ten largest brands growing—enough to boost the overall top ten by 1% to just under 4.7 million cases. For the first time since 2018, blended Scotch grew while single malts fell. A combination of tariffs—which were finally suspended this past March—and larger economic issues from the Covid-19 pandemic created disruption in the typically more ascendant single malt market, while leaving the top of the blended category relatively unscathed. 
Though data for 2021 is incomplete, there are signs that single malts are already beginning their bounce back. For the first half of this year, exports jumped 31% to £1.97 billion ($2.71 billion) with volume up 42% to 642 million bottles, according to the Scotch Whisky Association. While the rebound so far has been quite strong, import value is still down, with the group reporting that value is down 10% compared to the first half of 2019.
Here's Johnnie
Diageo's Johnnie Walker leads all Scotches in the U.S. and globally. Last year, the iconic brand inched forward by 0.5% to 1.86 million cases in the U.S. In the last decade, through a combination of innovation and pushing for premiumization, the giant managed to buck the trend of the blended Scotch market, adding roughly 250,000 cases since 2010. While growth was sluggish in calendar 2020, Diageo reported that Johnnie Walker's U.S. sales were up 19% for its fiscal year ended June 2021. 
"In our Scotch strategy, we clearly see opportunities for continuing to build Johnnie Walker and Buchanan's and accelerating the growth of malts," said Diageo CEO Ivan Menezes in a recent investor call. "But even within blends, on Johnnie Walker, the top end is where we're seeing acceleration. And we've got some very exciting plans on Blue Label where again we see good growth but we believe we can get significant growth on Blue and Gold and Green and the higher marques of Buchanan's." 
While Johnnie Walker's flagships—Red and Black on the more affordable side of the spectrum and Blue at the luxury end—are staples on shelves and backbars across the country, Diageo consistently offers limited releases and innovations to keep Johnnie walking. In May of this year, Diageo introduced Johnnie Blonde in test markets. The whisky is primarily intended for blending in simple cocktails like whisky and cola or whisky and lemonade, and comes at an entry-level price of $25 a 750-ml.
Though Diageo aims to offer a Johnnie Walker expression for every consumer, the company isn't shy about celebrating its history with high-end blends, often pulling whiskies from defunct distilleries from its vast stores. Last year, Johnnie Walker celebrated its 200th anniversary with a series of whiskies starting at $75 for the John Walker & Sons Celebratory Blend and ranging up to $1,000 for the John Walker & Sons Bicentenary Blend. 
On the tourism front, brand owner Diageo has been investing big, with the opening of its giant Johnnie Walker Princes Street visitor center in Edinburgh, Scotland in September. The eight-floor facility offers consumers two tours, two bars, and a retail shop, plus space for private events. The new space is part of a $250 million investment in Scotch tourism that Diageo calls the Four Corners of Scotland, and will eventually include new visitor centers at the four key single malt distilleries contributing to the main Johnnie Walker blends—Glenkinchie, Cardhu, Caol Ila, and Clynelish. 
Though Johnnie Walker is its leading blend, Diageo also oversees two other leading players. The current growth leader is Buchanan's, the third largest blend in the U.S. Last year, the brand grew 9% to 605,000 cases, the second strongest growth rate for any of the top ten blends. The brand has tripled in size since 2010 amid strong outreach to the U.S.'s Hispanic communities. Buchanan's has had a long running partnership with musician J Balvin, which has included special edition bottlings, Spanish-language ads, and virtual meet-and-greet opportunities during the pandemic. Diageo also owns J&B, which has not seen the success of Diageo's other major blends. Last year, the brand continued its slide, dropping 4% to 120,000 cases and carrying on a multi-decade slump that began in the 1980s. 
Innovation Rising
Behind Johnnie Walker is Bacardi-owned Dewar's at just over 1 million cases. While Dewar's has often struggled over the last decade, Bacardi and the Dewar's team have responded by doubling down on innovation at approachable price points, whether with 750-ml. releases of younger whiskies or 375-ml. bottles of its most mature spirits for its Double Double collection. 
Since 2019, Dewar's has released a series of 8-year-old cask-finished blends, starting with a rum cask Scotch and covering mezcal-finished, Port-finished, and, most recently, a Mizunara oak cask-finished blend. These releases are overseen by Dewar's master blender Stephanie Macleod. "With any type of finishing, we want to make sure the wood doesn't dominate the whisky's flavor," she told Market Watch sister publication Whisky Advocate this summer. For Macleod, using younger blends is a point of pride and a way to show that age isn't the only path to quality and complexity. 
In addition to its line of cask-finished editions, Dewar's launched the Champion's Edition 19-year-old earlier this year. The limited release is a tie-in with the U.S. Open golf tournament, and celebrates the tradition of having a whisky after playing 18 holes. The partnership names Dewar's as the official whisky of the Open and, according to Brian Cox, vice president of Dewar's for North America, there will be new limited editions for each year of the partnership, including the 2022 Open in Brookline, Massachusetts and the 2023 Open in Los Angeles. 
Of the two other leading blended Scotches bottled in Scotland, 2020 was a mixed bag. Pernod Ricard's Chivas Regal has continued to decline, dropping 3.8% to 256,000 cases last year, though it remains the fifth largest blend in the U.S. by over 100,000 cases. Edrington's the Famous Grouse was a bright spot in the category, up 4.5% to 147,000 cases. 
Two of three U.S.-bottled blended Scotches declined last year, continuing an overall downward trend for this budget-focused portion of the market. The largest of the three, William Grant & Sons' Clan MacGregor, dropped 4.1% to 328,000 cases. Though its decline has been slow, the brand has slowly lost footing since 2005. Sazerac's Inver House was also down last year, to 130,000 cases. The sole bright spot for budget U.S.-bottled blends was Shaw-Ross' Old Smuggler, which rose by 0.7% to 136,000 cases. Though growth was anemic, Shaw-Ross's managing director Bruce Hunter was pleased with the brand's performance, noting that it over-indexes in the on-premise, which was substantially disrupted throughout 2020. "It's a bar Scotch, but it serves a purpose and we do very well with it," he says.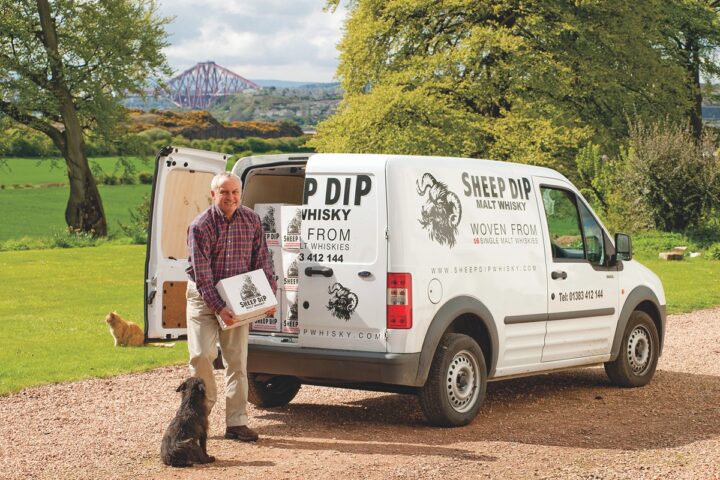 The Case For Blended Malts
William Grant & Sons' Monkey Shoulder, a blended malt Scotch, is both a success story for a young brand and a beacon for how the category can draw in new consumers. While consumer interest in more traditional, lighter blends continues to wane, drinkers are increasingly taking notice of blended malt whiskies. Monkey Shoulder, the tenth largest blended Scotch in the U.S. at 104,000 cases, is the leader among the growing blended malt category. Last year, the brand was up nearly 30% and, overall makes up more than half of the 180,000 cases of blended malt whisky imported to the U.S. for 2020. 
William Grant & Sons' launched a new marketing campaign for Monkey Shoulder in September, aiming to show consumers that Scotch can be approachable and fun. The "Stick It to Stuck Up" push is centered on a partnership with actor Joel McHale that will target digital dating apps like Tinder as well as other social platforms including Snapchat, Instagram, and Facebook. 
While Monkey Shoulder is the largest blended malt in the U.S., the category is increasingly vibrant, with bottlers like Compass Box offering high-end whiskies and brands like Sheep Dip carving out space among entry-level whiskies. Compass Box, which is particularly transparent about the components of its blends, releases a combination of year-round whiskies like the Peat Monster and the Spice Tree, alongside a consistent stream of limited editions. Most recently, the company released Compass Box Canvas, a blend of whiskies from Tomatin, Glenburgie, Glen Elgin, and Imperial that was finished for three years in casks seasoned with Vino Naranja, a Spanish fortified wine made with orange peels. 
Sheep Dip, currently a small player in the blended malt market, was recently taken over by Shaw-Ross International. Right now, according to Hunter, the brand needs exposure and an education push to make inroads. "We're starting out slow," he says. "We're going into a few markets to really educate the salespeople, to educate the retailer, and make this a fun project for our people." He added that he expects to see an uptick in retailer interest when the affordable blend is pitched alongside Shaw-Ross' portfolio of single malts.