Scotland's whisky producers have certainly noticed the rapid rise in popularity of American Bourbon, both in the United States and the rest of the world. Their response has been to create new Scotch whisky offerings and line extensions with American-style labels that feature cask-strength, small-batch and limited-edition designations. Most blended Scotch might still be priced under $23 and include such smooth-tasting brands as Cutty Sark and Clan MacGregor, but the future lies in the current creative experiments at prices above $30.
Compass Box Whisky Co.'s best-selling label, Peat Monster, is bottled at 46-percent alcohol-by-volume (abv) and retails for $65 a 750-ml. bottle. This summer, the company began offering its Peat Monster Limited Edition Cask Strength at 57.3-percent abv, packaged only in 1.75-liter bottles and retailing for $150. Connoisseurs have been abuzz about the launch since day one.
Earlier in the year, Pernod Ricard USA launched Chivas Regal Extra, aged in Sherry casks and yielding what vice president of Scotch whisky Wayne Hartunian calls "a rich and full flavor." Retailing for close to $40 a 750-ml. bottle, the new label neatly fills a gap between Chivas Regal 12-year-old ($30) and 18-year-old ($70). The price jumps significantly for the next expression in the portfolio—Chivas Regal 25-year-old at $300. Chivas Regal Extra is now in a half-dozen U.S. cities. "Extra is likely to expand to more markets soon," Hartunian says. "We have the stocks."
There's a bit of irony in these high-alcohol, high-priced offerings. Blended Scotch—originally developed for the U.S. market after World War I—deliberately exhibited a light, easy-drinking style that wasn't far removed from the familiar Canadian and Irish imports. Richer and darker Scotch whiskies didn't appear on these shores until the 1960s, and even then, aged single malts took a long while to find a following.
Today the old blending recipes are being turned upside down as a younger generation seeks bolder flavors. Smooth and bite-free is now viewed as lacking authenticity. "Those Scotch types were popular back in the '60s and '70s precisely because of their lightness of flavor," says Compass Box founder and whisky maker John Glaser. "Now people are demanding more taste. Scotch makers need to produce a much wider range of styles to satisfy the greater diversity of consumers."
Compass Box follows that reasoning. The company's 40-percent abv Asyla expression ($54 a 750-ml. bottle) is blended to be light and soft, while its Compass Box Spice Tree ($69) has a bit more bite. There's also Compass Box Orangerie ($50), a whisky that's infused with Navalino oranges, with notes of Indonesian cassia bark and Sri Lankan cloves. Meanwhile, the brand's Oak Cross offering ($59) blends only malt whiskies and is aged in new French oak.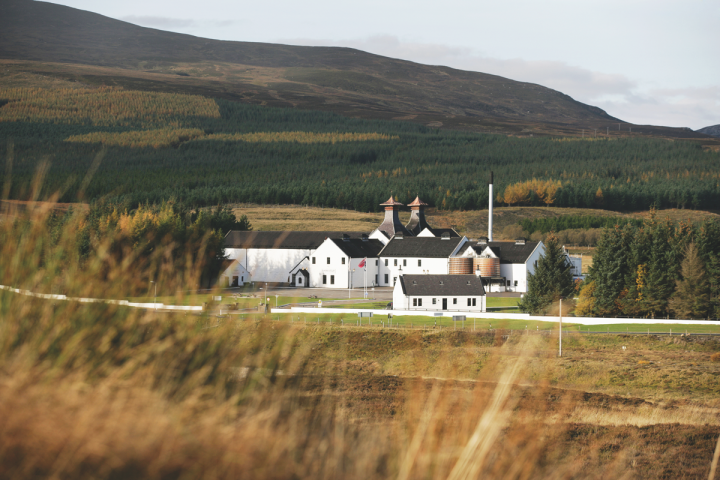 Emphasizing Innovation
None of the more experimental variants is making its way onto the Scotch best-seller list, however. The blended Scotch segment continues a slide that's gone on for decades, with U.S. volumes down 2.9 percent to 6.29 million nine-liter cases in 2014, according to Impact Databank. The Bacardi USA brand Dewar's fell 12 percent to 1.14 million cases last year, holding its place as the market's No.-2 blend behind Diageo North America's Johnnie Walker, which grew 1 percent to 1.76 million cases in 2014. At No. 3 is William Grant & Sons' Clan MacGregor with a 2.2-percent rise to 455,000 cases, and at No. 4 is Buchanan's—another Diageo label—with a 14.5-percent jump to 395,000 cases. Chivas Regal rounds out the top five with an 8.7-percent decline to 357,000 cases.
While Buchanan's significant growth can be attributed to its popularity with the Hispanic community, labelmate Johnnie Walker saw lackluster sales. However, it's worth noting that Johnnie Walker's volume outperformed leading single malt brand The Glenlivet by more than 400 percent. Indeed, Johnnie Walker alone exceeds the entire single malt category by a comfortable margin.
Brian Cox, marketing director of Scotch whisky at Diageo North America, cites continued experimentation within the Johnnie Walker portfolio. The latest in the brand's Select Casks series is Johnnie Walker Rye Cask Finish, a 10-year-old blend priced at $45 a 750-ml. bottle. The 46-percent abv whisky is a classic example of Scotch producers imitating their American brethren. Due to its finish, the variant has the vanilla notes and sweet and spicy profile of an American rye whiskey.
To boost Select Casks and the rest of the Johnnie Walker line, Diageo is investing in support for its "Keep Walking" slogan. The brand introduced the new "Joy Will Take You Further" campaign in September, and the push—the largest in Johnnie Walker history—is expected to reach 270 million consumers in 50 countries in its first few weeks. "It will be a multimedia initiative, led by print, with a strong digital component and a focus on experiential events," Cox explains.
Dewar's, meanwhile, has unveiled Scratched Cask, another concept borrowed from Americans. The company is double-charring its oak casks and then scratching them before returning the liquid to the wood for an extra six months of aging. The product retails at $25 a 750-ml. bottle, compared to Dewar's White Label at around $19. Scratched Cask joins 15-year-old ($49) and 18-year-old ($80) expressions, filling nearly every significant pricing gap between $20 and $80.
Vice president and brand director Dan Pilas freely acknowledges Scratched Cask's similarities to American whiskey. "Bourbon is hot right now, and we've observed the finishing techniques they're undertaking in Kentucky," he says. "Scratched Cask ends up with more vanilla and sweetness—closer to the taste of Bourbon. We see it as a natural bridge between Scotch and Bourbon."
Three years ago, Dewar's shook up Scotch traditionalists with the launch of its honey-flavored Highlander Honey variant ($24 a 750-ml. bottle). Industry experts believed that other Scotch houses would follow with their own flavored versions, but so far none have. "Highlander Honey helps drive recruitment, but it remains a small piece of our overall business," Pilas says. "There's more interest in sheer premiumization of the Scotch category."
Changing Audience
Focus is a tricky issue in Scotch. For decades, Cutty Sark was among the most conservative of all brands, aimed at a middle-aged audience. Now under Edrington Americas, the whisky is being promoted to hipster urbanites. To impress this demographic, the brand added its Cutty Sark Prohibition Edition ($29 a 750-ml. bottle), a higher-proof expression at 50-percent abv and priced $10 above the 40-percent abv core offering.
"Prohibition Edition has a bolder profile that's recruiting new consumers to our portfolio," says brand director Nicole Tilzer. "Cutty Sark has a vintage appeal. Our marketing activity is targeted at the 25-year-old to 34-year-old demographic, which is a younger audience than we get for our Famous Grouse brand."
Frederick Wildman & Sons imports both Pig's Nose ($32 a 750-ml. bottle) and The Original Oldbury Sheep Dip ($42) from Scotland's Spencerfield Spirit Co. Earlier this year, Wildman added The Feathery ($59), a blended malt aged entirely in Sherry casks. Also new is Islay Blended Malt Scotch whisky ($56), a peat bomb that contains liquid from every distillery on Islay. Tim Master, director of specialty spirits at Wildman, says Islay Blended Malt was a calculated investment by Spencerfield. "We saw consumers' growing interest in smoky flavors in both Islay whisky and mezcal from Mexico," he explains.
Higher prices for the new products are now invading the space occupied by single malt, something Wildman has tried to avoid in the past when touting Pig's Nose and Sheep Dip as flavor-filled alternatives to single malt at cheaper prices. Master worries that more price increases are coming as whisky stocks tighten. "It's simply becoming more expensive to source barrels now in Scotland," he says.
William Grant has introduced some ultra-premium blends of its own, including the Annasach Reserve 25-year-old ($330 a 750-ml. bottle) and Ghosted Reserve 26-year-old ($400), which sources liquid from two now-defunct distilleries. Also of interest is the new Grant's Ale Cask Finish ($22), made with Scotch aged in beer casks. Distribution for the offering is very limited. Andrew Nash, William Grant's category marketing director for Scotches and North American whiskies, emphasizes that the bottom shelf is still where the heaviest sales volume is to be found. The company's Clan MacGregor label is frequently discounted to under $20 a 1.75-liter bottle and a 50-cent increase is enough to drive loyalists to other brands. "A lot of attention is focused on single malt, yet it's only 15-percent to 20-percent the size of the blended category," Nash says. "The bottom shelf has been in decline, but some of the value brands are still doing just fine."
Blended Scotch continues to have its place in the off-premise. At Mills Fine Wine & Spirits in Annapolis, Maryland, co-owner Jerry Donahoe has no plans to shrink the space allocated for blended Scotch. The retailer carries 113 Scotch labels overall, with blends ranging from the Famous Grouse at $23 a 750-ml. bottle to Johnnie Walker Blue Label at $239. Donahoe concedes that Scotch doesn't have the buzz that Bourbon has right now, but notes its importance. "The market, often represented by older consumers, is still very big," he says. "We have to remain committed to stocking a wide inventory of Scotch brands. We can't afford to disappoint customers."