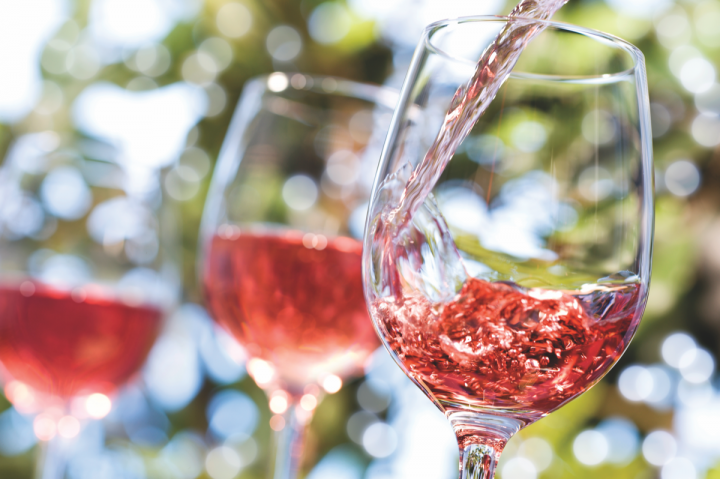 Rosé is still on a roll with U.S. consumers, experiencing double-digit growth—the result of Provençal-style expressions capturing more drinkers' imaginations, and producers refreshing the category with new formats and marketing concepts.  Appealing to millennials, rosé is making its way to rooftops and beaches, as well as upscale wine lists, in cans, kegs, and slushies.
"People are starting to understand that rosé is not a sweet white wine," says Jennifer Masur, general manager and wine buyer at Brasserie by Niche in St. Louis. Similarly, Catherine Morel, wine director at 71 Above in Los Angeles, notes the appeal of rosé's easy drinking style. "If you're a red wine drinker, richer styles of rosé can offer some of the same fruit notes and complexities in a lighter style," she says. Rosé has also seen a shift in demographics. "Men have gotten past the fact it's pink," says Sterling Knight, assistant general manager and sommelier at Cindy's, the rooftop restaurant at the Chicago Athletic Association Hotel. California-based K&L Wine Merchants' French regional buyer Keith Mabry has likewise seen a rise in male rosé consumers, and a corresponding growth in rosé sales. "Rosé for the dudes, sometimes referred to as brosé, is trending," Mabry says. "Overall, we're up 13% year on year in rosé sales. The category is probably cannibalizing some sales in red and white wines, but new customers are coming in as well."
A string of issues are now impacting sales of Provence-origin rosé, including a low harvest yield in 2017, existing distribution demands, and pricing pressures. Additionally, last year's sales were so high that 2018 may look like a correction. Export sales to the U.S. in 2017 were up 46% from 2016 to 1.94 million cases; meanwhile, total production in Côtes de Provence, Coteaux D'Aix-en-Provence, and Coteaux Varois en Provence was down 12% from 2016 to 12.9 million cases, 89% of which was rosé, according to the regional trade group Conseil Interprofessionnel des Vins de Provence (CIVP).
CIVP managing director Brice Eymard anticipates growth will continue despite these challenges. "Demand remains strong, and the bulk market sold by the end of December; usually it runs until January or February," he says. "With this balance between harvest and potential sales, prices should increase in every market, probably more on the lower-priced labels than on the premium tier."
Seasons Lengthen
While spring and summer continue to be the peak season for rosé sales, "we're consistently seeing it transcend that seasonality," says Diego Avanzato, vice president of portfolio management and marketing at Taub Family Selections' Esprit du Vin. "After rosé season, retailers would pull SKUs. Now they're keeping a minimum of six to eight SKUs on the shelves year-round." Esprit du Vin imports more than a dozen still and seven sparkling rosé wines from around the globe. The top-volume import is Jean-Luc Colombo Cape Bleue Provence Rosé ($13 a 750-ml.). Outside Provence, Italy is showing strong traction, according to Avanzato, whose company markets the Italian Bertani Bertarose rosé ($15) and Planeta rosé ($16) brands. In sparkling, the top seller is Italian import Ferrari rosé ($36).
Kathleen Inman, owner and winemaker at California's Inman Family Wines, has also seen rosé become a year-round drink. "Sommeliers were treating it as a summer wine when it actually is a traditional wine," she says. Her Russian River Valley AVA rosé wines, marketed by Broadbent Selections, are on allocation—and are also a favorite of wine and entertainment accounts like City Winery. Targeted at the high end, Inman's 2017 Endless Crush Rosé of Pinot Noir retails at $38 a 750-ml. Also on the market are her 2016 OGV Estate Brut Rosé ($68) and the 2014 Whole Bunch of Bubbles Blanc de Noir ($68).
Provence importers are likewise promoting rosé as a wine for all seasons. "Consumption tends to spread throughout the year, especially in the export markets," notes Eymard of the CIVP. "In France or in the U.S., rosé is becoming trendy in ski resorts." CIVP will be launching a retail-focused promotional campaign in New York and California this fall to help extend the season.
Millennial Influence
Large-format packaging has become popular with millennials, and rosé producers have capitalized on the trend.  "Millennials are drinking rosé on the rooftop after work," says Paul Chevalier, national fine wine director for Shaw-Ross International. The company imports Château d'Esclans' Whispering Angel brand, which offers magnum ($45), jeroboam ($100), and methusalem ($250) formats in addition to the standard 750-ml. ($21). The larger-sized bottles are on trend in Manhattan, the Hamptons, Nantucket, Aspen, and anywhere else affluent millennials go to play, Chevalier says, adding that they inspire social media photo-sharing, leading to organic exposure for the brand.
At Treasury Wine Estates (TWE), vice president of marketing Caroline Thompson-Hill also notes the social media appeal afforded by large format bottles, which, according to her, provide a theatrical touch for photos. Château Minuty, the company's Provence import, is a favorite among millennials; the brand launched a new line extension in April to further reach the demographic in the on-premise. "We're keeping things fresh for our consumers with a limited edition of the Minuty M ($22 a 750-ml.), which features art inspired by the Riviera," Thompson-Hill says.
Anything Goes On-Premise
On-premise accounts are gravitating toward new ideas and are no longer wedded to Provence, though many still offer at least one Provençal selection. At Cindy's, Knight likes the 5.5% abv rosé-based Ramona wine spritzer, offered in an 8-ounce can ($14). Made with organic Sicilian grapes and blended with grapefruit juice, Knight says it's a great choice for Cindy's year-round outdoor terraces. Top sellers on the wine list at the 135-seat restaurant include the Castello di Bossi Sangiovese rosé from Tuscany ($14 a glass; $56 a 750-ml.) and the Côtes de Provence-sourced Fleur de Mer, a blend of Grenache and Mourvèdre ($14; $56). She purposely line-prices the rosés "so no wine trumps the other."
Brasserie by Niche plans on bringing in a keg of Triennes Provence rosé imported by Vinoteca for spring sales. "It's a cool marketing deal," says Masur. Estimated pricing is $30 a 750-ml. carafe and $6 a 6-ounce glass.  Masur keeps four rosé selections on the wine list year-round and lists up to ten options during warm weather. Top sellers are the 2016 Commanderie de la Bargemone rosé from Provence ($11 a glass; $41 a 750-ml.), the 2016 Clarendelle rosé from Bordeaux ($10; $40), and the 2016 Domaine Yves Cuilleron rosé from the Rhône ($11; $42). "You can have a Provence rosé with a salad, or a Rhône Grenache and Mourvèdre-based rosé with a steak or a Croque Monsieur," Masur notes. A favorite of hers is the highly allocated Domaine Tempier Bandol rosé.
Rosé rules the roost at 71 Above, where Morel says it's been the top-selling glass since the venue opened two years ago. While a popular seller is Château Gassier Esprit Côtes de Provence ($13 a 6-ounce glass), Morel's favorite is the Clos Cibonne Tradition, a leaner, dry rosé ($66 a 750-ml.) The Napa Valley Kenzo Yui Rosé ($89 a 375-ml.)—a blend of Merlot, Cabernet Franc, and Malbec—is a popular half-bottle selection. Sparkling classics like Champagne Geoffroy rosé ($89 a 375-ml.) and Bollinger rosé ($118) also do well.
Off-Premise View
New formats are the key at The Tap on Ponce—part of the Green's Discount Beverage empire— in Atlanta, where Tablas Creek rosé by the keg is a huge seller. "Rosé in kegs is our strongest category," says Kenneth Go, wine director for Green's three Atlanta-based stores. The retailer sells plastic containers of rosé at 8 ounces ($9) and 16 ounces ($17), as well as in 32-ounce crowlers ($30-$33).
Rosé's continued strength is pushing distributors to move the selling season up to January and shipping by mid-February. "If you're looking at retail, there is a finite space for rosé," Go says. Year-round staples are Whispering Angel ($21 a 750-ml.) and Gérard Bertrand Languedoc Cotes des Roses ($15), both 2018 Impact Hot Brands. During peak season, Green's stores stock about 30 rosé SKUs, less than half of which are Côtes de Provence. California and Oregon rosé wines follow Provence's signature dry, delicate profile. "'Provençal-style' is what sells," Go says. He rotates smaller lots to "make the category more vibrant," showcasing labels like Summer Water ($15 a 750-ml.), a California Central Coast brand targeted at millennials.
Clever labels and varied packaging entice more rosé consumers at the retail level, says Mabry of K&L. "People are drinking more sophisticated brands with funnier, more clever labels." To that end, K&L markets the 2016 Alloy Wine Works "Tin City" Central Coast Rosé, packaged in a 500-ml. can ($6). While K&L does not carry boxed wine, Mabry sees the format as having great promise for rosé. "Millennials buy wines with a different mindset," he says, citing the demographic's affinity for boxed wine and alternative packages. "They think boxed wines are cool." French producers are already coming out with higher-grade boxed wine so there's market opportunity in the U.S., Mabry notes.
At peak season, K&L carries 70 rosé SKUs, a mixture of its producer relationship brands and wines from major regions. "We're buying contracts so we pay a little more," says Mabry, who anticipates a slight margin decrease due to the short 2017 vintage in France, the unattractive exchange rate, price increases, and more restrictive allocations. Popular sellers for the retailer are the 2016 Château Trians Coteaux Varois en Provence rosé ($13 a 750-ml.), Domaine Jacourette Sainte Victoire Dragon rosé ($13), and Domaine la Colombe Coteaux Varois en Provence rosé ($12), with under-$15 bottles serving as the category sweet spot.
Will the Bloom Stay On?
"The rosé market remains very strong in the U.S., and I continue to see upward trends for 2018," says Damon Franzia, California general sales manager at Bronco Wine Co., which markets Sables D' Azur Provence rosé ($15 a 750-ml.), Balletto Russian River Valley Rosé of Pinot Noir ($19), and Collection des Anges Provence rosé  ($17). "Long-range, I see too much market congestion with the launch of new entries in the catalogue and pricing pressure, which will suppress growth."
For Provence, there's still plenty of room for new drinkers to enter, according to Gregory Hecht of Hecht & Bannier (H&B) négoçiants. "We're just beginning to bring in consumers to the category," he says. "It will take a long time but we've never seen such a fast start. Rosé is really a technical style. To stay on top of the wave we need to bring a story about the wines, terroir, and lifestyle." H&B Côtes de Provence rosé ($19 a 750-ml.)—imported by Frederick Wildman—is a top seller at 25,000 cases in the U.S., performing strongly in secondary markets like Georgia, Tennessee, and Texas. The company also markets a richly flavored Bandol Mourvèdre-based rosé (25-$27) that sees placement at Bouchon in Las Vegas, the Waverly Inn in Manhattan, and fine wine shops, as well as a rosé from Languedoc-Roussillon, a region getting more attention from retailers like K&L, which sees promise in Bandol and Tavel rosés. "People are becoming less resistant to darker rosé like Tavel, countering the perception that dark is sweet," Mabry says.
Competition Ahead
Long term, Provence producers are keenly aware of rosé's popularity creating a sort of land rush for new rosé labels.  "Right now, we don't have direct competitors with the same volume, expertise, quality, awareness, and image, but we're looking at potential future competitors from California, Italy, Languedoc, and South Africa," says Eymard of CIVP. "We're working on maintaining and improving our quality and terroir expression."
Green's Go sees ongoing positive trends. "At some point rosé will reach a plateau, but it will remain a robust, stable category because it is such a versatile wine," he says. "It's a great entry wine for consumers who don't consider themselves wine drinkers, but are looking at something to take to the beach or pool."