"Our front-desk staff and stock people know more about wine, beer and spirits than I ever will," says Gil MacLean, owner of Bottles Fine Wine shop in Providence, Rhode Island. "And that's by design. Our goal here is to turn customer service on its head."
Indeed, Bottles opened just five years ago and is already making its mark on the Providence market. The 5,000-square-foot space—a former Blockbuster video rental store located in a strip mall in the city's East Side neighborhood—has quickly become a destination for wine lovers in search of a wide variety of styles, emerging labels and a sales staff that's passionate about education. MacLean declines to reveal revenue, but says store sales have grown at a double-digit rate every year since opening in 2010. Wine accounts for about 55 percent of revenue, with spirits and beer splitting the remainder. Nonalcoholic beverages and high-end barware are small contributors to sales. "We don't sell cigarettes, lottery tickets or inexpensive pints of alcohol—things that are tremendous revenue sources for other liquor stores," MacLean notes. "We want to be a responsible community member."
Prior to opening Bottles, MacLean saw a need for a liquor store in his hometown that focused on customer service and education. He cofounded Stirrings, a line of premium cocktail mixers that Diageo acquired in 2009. A noncompete agreement with the drinks giant precluded involvement in the supply tier, but he could own a store. "I had seen a lot of interesting retail concepts around the country, but there wasn't a shop in Providence that did a great job specializing in wine, spirits and craft beer. I decided to create a store where I wanted to shop."
MacLean started Stirrings to offer high-quality mixers to consumers and bar operators, and a similar motivation spurred the launch of Bottles. "With every endeavor I've had, I've taken a different approach from the traditional one," he explains. "With Bottles, we aimed to think differently about what a liquor store is." The shop was developed in the East Side neighborhood with its many professional residents in mind. "We have a knowledgeable, worldly customer base, with colleges like Rhode Island School of Design, Brown University and Johnson & Wales nearby," MacLean notes. Locals immediately embraced the store, and Bottles quickly made its mark on Providence. "We play such a dominant role in the most important market in the state that suppliers are anxious to get their products into our store first," MacLean adds.
Eclectic Selection
Bottles stocks about 5,000 wine SKUs, priced from $5.99 a 750-ml. bottle for Rex Goliath to $1,200 for the 2010 Château Lafite-Rothschild. "Our sweet spot is between $12 and $15," says general manager Eric Taylor, adding that Bottles stocks more than 600 "interesting and eclectic" labels. He works with wine director Nick Shugrue on selecting and ordering the store's wine offerings and notes that good-value wines from markets like Croatia, Slovenia, Hungary, Austria and Greece are growing in popularity at the store. He describes the 2014 Berger Grüner Veltliner from Austria ($14.99 a 1-liter bottle) as one of the best-selling SKUs in the store. "We also do well with wines from Bordeaux, Rhône reds, Tuscany, California and Oregon," he says, citing Sauvignon Blanc, Pinot Noir and Malbec as strong varietals. While Bottles doesn't feature a fine wine room, the store offers a collection of upscale wines under its "Cellar" program, with prices starting at $34.99 for the 2014 Azienda Agricola COS Frappato from Sicily.
The shop carries nearly 1,200 spirits SKUs, ranging from $14 a 750-ml. bottle of Svedka vodka to $3,000 for Michter's Celebration whiskey. "Whisk(e)y is huge these days," says manager Liam Maloney, who oversees spirits and beer at the store. The segment alone accounts for between 10 percent and 15 percent of sales, driven by Bourbon. Other hot spirits categories include mezcal and gin, particularly New England craft labels like Sons of Liberty True Born gin ($34.99) from nearby South Kingstown and Barr Hill gin ($39.99) from Hardwick, Vermont.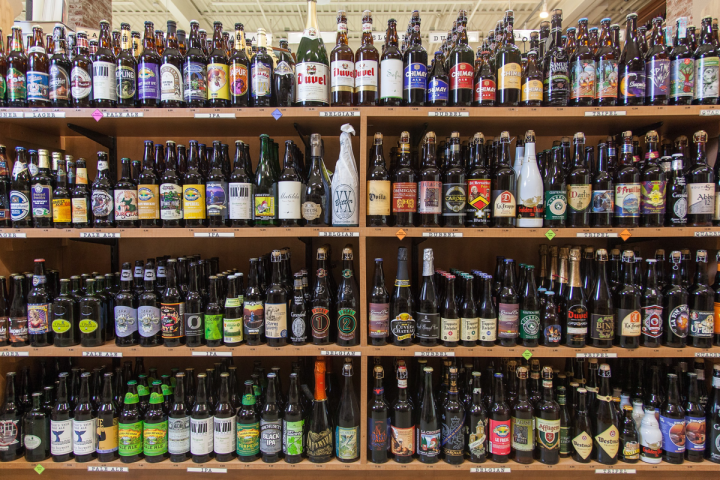 Bottles' selection of 1,200 beers starts at $5.50 a six-pack for Pabst Blue Ribbon and rises to $34.99 for the St. Bernardus holiday pack. "Our focus is regional crafts from New England," Maloney says, noting that "IPA is still king," but saisons and goses are also gaining attention.
The store takes an innovative approach with merchandising as well. Just inside the front door, a display promotes monthly specials like LAN Rioja wine ($9.99 to $17.99 a 750-ml. bottle), Dogfish Head beer ($7.99 to $9.99 a four- or six-pack) and Rhum Clément ($26.99 a 750-ml. bottle). The registers are positioned to the left of the entrance, adjacent to a wall of white wines. Red wines are displayed in racks and stackings in the center of the store, with spirits lining the right-side wall and beer in the rear of the shop. Bottles features 18 cooler doors—10 for beer and eight for wine. Beer multipacks and singles are arranged by style, such as wheat, seasonal or IPA, rather than by brand.
One of the most trafficked areas of the store is the shop's constantly changing "Great Wines Under $15" display, which recently featured the 2013 Beelgara Chardonnay from Australia and the 2012 McManis Petite Sirah from California (both $13.99 a 750-ml. bottle). Another popular display is the "Critic's Picks," highlighting wines with strong reviews like the 2013 L'Ecole No. 41 Chardonnay ($23.99), which received a 91 from Market Watch sister publication Wine Spectator. A monthly "Staff Picks" display, meanwhile, offers team member recommendations, such as the Medlock Ames Estate Red ($31.99). Bottles largely shuns supplier p-o-s, opting for its own wine cards designed in house.
Customer Focus
The store's emphasis on customer service is its crowning achievement, MacLean says. He notes that senior staff members, including Taylor and Maloney, have backgrounds in the hospitality industry. "Learning how to take care of people, answer their questions and satisfy their intellectual curiosity is what you're trained to do in fine dining," MacLean explains. "Our intellectually curious consumers put a premium on the in-store experience."
As a result, Bottles' staff training is ongoing and deep. Mandatory classes are held weekly for all 25 store employees. "A customer needs to be able to ask a question of anyone on the floor," MacLean explains. "All staff members must be able to have an intelligent conversation with our customers." Recent classes covered topics like kosher wines and pumpkin beers. "It's an education for me to come in and to hang around my staff," MacLean says.
The store offers a robust weekly in-store tasting program for customers. Spirits are featured on Thursday, craft beer on Friday and wine on Saturday. The complimentary tastings, held in partnership with suppliers and distributors, are set well in advance and generally focus on particular themes, such as "Does Price Matter?" and "What Is Tannin?" MacLean says the tastings—which can attract up to 80 customers a session—aren't necessarily designed to immediately sell products. "We take the long view," he says. "I'm interested in introducing our customers to something that they haven't tried before so that they get more educated and want to come back."
Bottles also participates in off-site tastings and events, many of which support nonprofit groups. "One of the pillars of our marketing success is being a good partner with a lot of nonprofit charities and educational organizations here in Rhode Island," Taylor says. For example, the store will donate a wine tasting for 20 people, led by Taylor, which will then be auctioned off by a nonprofit group. Bottles also partners with area restaurants and groups for wine dinners and hosts in-home wine tastings for customers.
The store had previously invested in media advertising,  but has since shifted strategy. "It's now more about connecting with our customers hand to hand," explains marketing director Katie McManus. MacLean notes that the store's largest ad spend is with Rhode Island Public Radio. Bottles has also developed a reputation as a leader in digital marketing, counting more than 12,000 subscribers to its e-newsletter and engaging in social media like YouTube, where the store's videos have received tens of thousands of views. The video-streaming application Periscope might be next for the store.
While Bottles doesn't yet sell online, the store recently partnered with the mobile delivery app Drizly. Taylor says it's been a positive move and allows the store to sell to residents in Providence neighborhoods it hadn't previously served. "We're constantly looking to improve what we do and how we do it, whether it's reaching out to our customers, working with our suppliers or engaging in social media," MacLean notes. The local laws won't allow him to open another store in Rhode Island, and he doesn't plan to expand to other states. "We're not going to compromise our principles and dumb down our concept just to open up another store," MacLean says.