Wes Henderson grew up with a front-row seat to the ebb and flow of the modern Bourbon industry thanks to his father, prolific master distiller Lincoln Henderson. Yet even Wes, co-founder of Angel's Envy—which was acquired by Bacardi in 2015—is shocked by the category's current momentum. "My dad was involved in the Bourbon industry starting in the mid-1960s, so as a bystander I've seen the industry come and go—and what's happening right now is amazing," he says. "Bourbon has truly grown beyond my wildest expectations. There's relentless activity in the industry right now, and I don't think anybody could have expected it. And there's still a long way to go."
As Henderson notes, Bourbon looks poised to continue its decade-long hot streak, with major heritage brands and craft distillers alike investing tirelessly in both portfolio expansion and distillery build-outs. The category's trends support such investment activity: Today, Bourbon (including Tennessee whiskey) stands at 23.14 million cases in the U.S., up from just 15.08 million cases in 2008. And as growth continues, so too does overall consumer education and interest, resulting in a greater focus on such niche subsets as single barrels, unique barrel finishes, and older, age-stated whiskies, coming from Bourbon's heartland of Kentucky and beyond.
Investment And Innovation
Volume-wise (and excluding Tennessee whiskey), the dominant Bourbon player is Beam Suntory, which produces more than half of the world's Bourbon supply. Beam Suntory's flagship Bourbon, Jim Beam, remains the leader of the pack with depletions hovering around 4.07 million cases last year on growth of 6.5%—the brand's best year in at least three decades, according to Rob Mason, vice president of U.S. whiskey at Beam Suntory—but smaller labels are propelling the company further upscale. "There are now numerous Beam Suntory Bourbon brands that appeal to the connoisseurship ongoing in the category," says Mason. "With Maker's Mark, for example, we've seen high single-digit sales gains over the last year, thanks to the momentum of extra-aged products and new finishes."
Indeed, Maker's Mark had volume of nearly 1.76 million cases in the U.S. last year, according to Impact Databank, making it the No.-1 super-premium Bourbon brand stateside, and the fourth-largest overall. The label's growth was spurred in part by such newer releases as Maker's Mark Cask Strength ($50 a 750-ml.), Maker's Mark Private Select, and Maker's 46 ($34), which originally launched in 2010 and has risen to over 100,000 cases. Private Select, meanwhile, is a single-barrel program that debuted in 2016 and invites retailers and on-premise operators to visit the distillery in Loretto, Kentucky and make their own custom barrel of Bourbon. "High-end expressions provide opportunities for our consumers to trade up, while staying loyal to the overall Bourbon category," Mason says. "And that luxury tier is where the fastest growth is." Elsewhere in the Beam Suntory Bourbon portfolio, Small Batch Collection offerings like Basil Hayden's, Booker's, Baker's, and Knob Creek are also ushering in growth for the company. Baker's will be relaunched this fall as a single-barrel offering, aged seven years and bottled at 53.5% abv.
One area Beam Suntory is exploring more deeply is blended Bourbon. The company released a new label, Legent, this past spring, which is billed as a meeting of Eastern and Western whisk(e)y production practices. Bottled at 47% abv, Legent ($35 a 750-ml.) combines straight Bourbon with Bourbons finished in red wine and Sherry casks. Seventh-generation Jim Beam master distiller Fred Noe oversaw the whiskey's distillation, while Shinji Fukuyo, the master blender at Japan's Suntory, advised on the finishing and blending processes. Across its portfolio, Beam anticipates pouring some $1 billion into its Bourbon operations in Kentucky, including grains, barrels, and capital expenditures, over the next five years. The latest investment is in the Fred B. Noe Craft Distillery, a new facility at Beam's Clermont, Kentucky site that will enable exploration in new fermentation and distillation techniques, and become the home of certain Small Batch Collection labels as well.
St. Louis-based Luxco is also investing more in upscale Bourbon, especially through its Blood Oath and Ezra Brooks brands. "We're building out our Bourbon portfolio with extra ages and different barrel finishes," says Luxco marketing director Fletcher Buchman. "With Blood Oath, for example, we've done a different release every year since launching the brand in 2015. Our head distiller John Rempe takes different extra-aged Bourbons and combines them with various finishes. Consumer demand for the brand has grown in tandem." The latest Blood Oath release was Pact No. 5 ($100 a 750-ml.), which debuted in March with just 3,750 9-liter cases. The 49.3% abv whiskey is a blend of 8-year-old Bourbon rested in Caribbean rum barrels for six months, 11-year-old wheated Bourbon, and 13-year-old Bourbon.
Ezra Brooks has similarly moved to appeal to the mounting consumer interest in older, upscale whiskey. Last September saw the debut of Old Ezra Kentucky Straight Bourbon ($40 a 750-ml.), a 58.5% abv whiskey that's aged for seven years. Buchman notes that in its first full year on market, Old Ezra has done incredibly well, extending a halo effect onto the entire Ezra Brooks lineup, which includes Kentucky Straight Bourbon ($20) and a straight rye whiskey, among other expressions. Across the range, Ezra Brooks posted gains of 2% last year to 265,000 cases.
In addition to its proprietary Bourbon portfolio, which also comprises the Rebel Yell and David Nicholson brands, Luxco has a minority stake in Limestone Branch, a craft operation that's headed by seventh-generation distillers Paul and Steve Beam. Buchman notes that Limestone Branch is Luxco's true craft brand, and that the company is actively working with the Beam brothers to resurrect the historic Yellowstone Bourbon line, including an annual limited-edition release. The 2019 limited-edition Yellowstone Bourbon includes a mix of 9- and 12-year-old whiskies.
Luxco has made substantial property investments in Kentucky in recent years, opening up Lux Row Distillers in Bardstown in April 2018. "Now, not only do we have a facility that's producing our Bourbon, giving us the ability to be more nimble as we start plotting future innovation, we also finally have a consumer experience that can raise awareness for our entire whiskey portfolio," Buchman says. Upcoming new releases supported by the company's Lux Row investment include a 12-year-old barrel-strength Bourbon that's set to debut during the Kentucky Bourbon Festival this month.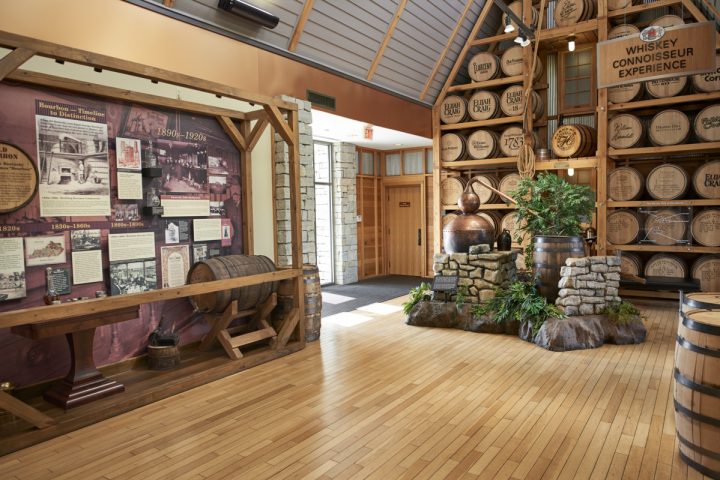 Over in Louisville, Brown-Forman opened the Old Forester Distillery in June 2018. The $45-million, 70,000-square-foot facility has production capacity of 100,000 proof gallons, and warehouse space for around 900 barrels. As with other distilleries on downtown Louisville's Whiskey Row, the Old Forester Distillery offers an immersive tourism experience, with Bourbon production taking place Tuesday through Saturday. Old Forester crossed the 200,000-case mark last year, rising to 223,000 cases on growth of 18%. While the brand's core Bourbon retails at $20-$25 a 750-ml., luxury expressions have bolstered gains as of late, including such limited-edition releases as Birthday Bourbon. The 2019 Old Forester Birthday Bourbon ($100), which debuted on September 2, is a 52.5% abv whiskey sourced from 120 barrels, all distilled on May 15, 2008, and aged for 11 years. Brown-Forman's largest super-premium Bourbon, Woodford Reserve, posted even stronger gains last year, soaring by 22% to 651,000 cases. Like Old Forester, Woodford has benefited from the addition of such high-end, annual releases as Batch Proof ($130), a high-abv iteration of its flagship Bourbon.
Roughly 30 miles from downtown Louisville in Shelbyville, Kentucky, Diageo's Bulleit Distilling Co. recently debuted a new tourist attraction of its own. The $10 million, 12,000-square-foot visitor experience has joined the Kentucky Bourbon Trail and, like the Old Forester Distillery, is open for tours Tuesday through Saturday, where a cocktail bar, a "multi-sensory tasting experience," and a Bulleit Studio—in which guests can design customized Bulleit labels to apply to their own bottles—are on offer, among other features. In all, Diageo has invested $150 million in its Kentucky operations over the past five years, and to positive effect; across its Bourbon and rye expressions, Bulleit grew by 9.8% last year to 1.34 million cases in the U.S. In July, the company broke ground on a $130 million distillery in Lebanon, Kentucky.
Heaven Hill Brands has also allocated substantial funds toward not just production facilities, but portfolio innovation as well. The company's Bourbon whiskies include such mainstream, volume-driven brands as Evan Williams and the namesake Heaven Hill—with volume of 2.55 million cases and 253,000 cases, respectively—as well as labels like Larceny and Elijah Craig; the latter has grown considerably in recent years, rising 22.7% in 2018 to 135,000 cases, up from just 60,000 cases in 2013. Heaven Hill group product director Susan Wahl notes that two or three new releases for both Elijah Craig and Larceny will be introduced later this year.
The latest addition to the company's portfolio is Heaven Hill Bottled-in-Bond 7-year-old ($40 a 750-ml.), which is set to roll out across California, Texas, New York, Georgia, Florida, Illinois, South Carolina, and Colorado next month. Replacing a previously available 6-year-old offering that was sold mainly in Kentucky, the new Bourbon exceeds the four-year minimum aging requirement for bottled-in-bond designation. "The bottled-in-bond movement has absolutely been driven by us," says Wahl. "We have more bottled-in-bond expressions in our portfolio than any other company." She adds that Heaven Hill is moving bottled-in-bond whiskey to the forefront of its marketing efforts, as such expressions provide opportunities for transparency and authenticity within the category.
Craft Bourbon Rising
Other distilleries are further fueling the bottled-in-bond trend. About 150 miles northeast of Bardstown in Newport, Kentucky, New Riff Distilling has shaken up craft Bourbon in its first official year on the market by focusing exclusively on bottled-in-bond and single-barrel offerings. The distillery's flagship, entry-level offering is a Bottled-in-Bond Bourbon ($40 a 750-ml.), which is made from a mash of 65% corn, 30% rye, and 5% malted barley, aged for four years in 53-gallon new oak barrels, and bottled without chill-filtration. To capitalize on older whiskies and eventually raise the age statement on its Bottled-in-Bond Bourbon, New Riff is embarking on an expansion at its site in Newport, which will allow for a 50% increase in production; this year, the distillery is set to sell around 23,000 cases, with an eventual goal of hitting the 100,000-case mark.
New Riff founder Ken Lewis—a former Market Watch Leader who sold his store, The Party Source, to employees in 2014— notes that while the Bottled-in-Bond Bourbon may be the distillery's flagship product, single-barrel offerings are playing an increasingly important role. "We're seeing that the market is especially interested in higher-proof expressions and single barrel as a concept," says Lewis. "Our single-barrel program, in particular, is unique in the way we're focusing on it; we're small enough to be nimble, but big enough to embark on a serious and robust single-barrel program." Thus far, the distillery has sold hundreds of private single barrels to on- and off-premise accounts across the country.
Single-barrel expressions are also seeing more play at Four Roses, where such offerings as Single Barrel ($45 a 750-ml.) and the annual Limited-Edition Single Barrel ($90-$125) are in high demand. The Lawrenceburg, Kentucky-based brand's Small Batch Select ($60) has also made waves; Four Roses master distiller Brent Elliot attributes the expression's success to its provenance, as is the case with single barrels. "Today's Bourbon consumers are looking for unique offerings; this is our way of giving them a more straight-from-the-barrel experience that's at a higher proof than our other standard products," says Elliot. As with many other major Bourbon producers, Four Roses recently underwent a distillery expansion project, effectively doubling its distillation capacity. Last year, the brand depleted 250,000 cases.
Having long benefited from the Bourbon boom, more retailers are starting to capitalize on the single-barrel movement themselves through the advent of exclusive, private-label expressions. At Gordon's, a five-unit fine wine and spirits retailer in the Greater Boston Area, the private-label business has taken off, according to co-owner and vice president David Gordon. "Our store has become a destination for all things whisk(e)y, with Bourbon in particular the biggest spirits category for us," he says. "My brother, Kenny, has done a fantastic job with private-barrel Bourbon, and we now have around 25 private-barrel expressions at any given time." Private-barrel Bourbons at Gordon's range from Jim Beam Private Single Barrel ($30 a 750-ml.) to Boone County 14-year-old Private Single Barrel ($200).
Across the country in Seattle, Downtown Spirits is likewise benefiting from exclusive single-barrel expressions, with Woodford Reserve, Eagle Rare, and Buffalo Trace partnerships driving demand. And in Delaware, Bourbon sales at Kreston Fine Wine & Spirits have also skyrocketed, boosted in part by single-barrel offerings. "The opportunities with Bourbon are tremendous right now," says owner Bob Kreston, noting that Maker's Mark Private Select, Four Roses Single Barrel, and Larceny Single Barrel are among the store's bestselling labels.
While Louisville-based Angel's Envy doesn't have a single-barrel program, the distillery's ethos is rooted in innovation; it was founded in 2006 by Lincoln and Wes Henderson on the idea of finishing Kentucky straight Bourbon in Port casks, making the company one of the earliest adopters of the cask-finishing technique for American whiskey. Wes Henderson notes that today, the stage is set for an even greater onslaught of innovation in Bourbon, from both Angel's Envy and its peers. "Bourbon's demographics are widening, and the desire for Bourbon around the world is increasing, which lets us explore all sorts of different innovations," says Henderson.
This past month, Angel's Envy released its annual Cask Strength offering, a limited-edition Bourbon that's finished in Port casks and made up of exceptional barrels selected by Henderson and his team. Additionally, an Oloroso Sherry cask-finished Bourbon whiskey debuted earlier this year as the first expression in the distillery's new Cellar Collection range. Only 300 cases of the Bourbon ($200 a 750-ml.) were released. Henderson notes that the enthusiasm for the first Cellar Collection whiskey may point to a more permanent offering in the future, though nothing is set in stone. Following its acquisition by Bacardi, Angel's Envy undertook a distillery expansion in 2013, and currently has plans for a second distillery and warehouse space in rural Kentucky.
Beyond Kentucky
Though the bulk of the major Bourbon producers are located within Kentucky, distillers from elsewhere in the U.S. are slowly gaining traction. Bourbon distilleries can now be found in every state but Hawaii, and consumers looking for local flavor are flocking to these small operations. In Ancram, New York—about 100 miles north of New York City—Hillrock Estate Distillery broke ground on its facilities in 2006. "When we first started, people would say 'You can't make Bourbon in New York; it's all Kentucky," says co-owner Jeffrey Baker. "But that's no longer the case, as the world has opened up for local products. We're making high quality whiskies, and consumers are recognizing that Bourbon doesn't have to come from just one part of the country."
Aside from featuring the influence of late whiskey legend Dave Pickerell, who served as master distiller at Hillrock, the distillery's Solera-Aged Bourbon is unique in that it's made using a solera system, which was set up on-site in 2011. Though the solera initially included older Bourbon that Pickerell sourced from outside the distillery, Hillrock currently adds only its own Bourbon to the barrel system. Today, several iterations of Hillrock Solera-Aged Bourbon exist, including the flagship ($85); a Napa Cabernet cask-finished expression ($105); a Sauternes cask-finished offering ($105); and a Pinot Noir cask-finished Bourbon ($105). Eventually, Baker would like to introduce a single-barrel Bourbon to the Hillrock portfolio, though he has no timeline in place for such a release. While Hillrock's portfolio has since expanded to include rye and single malt whiskies, Bourbon remains the volume driver, comprising about half of its roughly 6,700-case production. Baker notes that the distillery recently expanded its capacity to 20,000 cases.
Other distilleries across the U.S. are also seeing success with Bourbon expressions of their own. Among those newer to the scene is Colorado's Old Elk Distillery, which launched its flagship product—Old Elk Blended Straight Bourbon—in 2018. The whiskey is being positioned heavily toward mixology, with CEO Luis Gonzalez noting that the on-premise will be a greater focus for the brand moving forward.
Future Fears
Even as Bourbon's future appears bright and its reach widens, a number of producers are wary of a coming slowdown. "I'm not alone in forecasting a deceleration in total Bourbon growth, but it's been a blistering category for years, so a slowdown is inevitable," says Sean Yelle, category director of dark spirits at Campari America, which owns the Wild Turkey brand. "But that doesn't mean the category will reverse and decline; what we'll find instead are savvier consumers who look for whiskies that fit their needs." To meet the demands of today's Bourbon consumers, who are now turning their attention to the luxury end, Wild Turkey has further premiumized its lineup in recent years, coming out with such innovations as Longbranch ($40 a 750-ml.)—a 43% abv, 8-year-old Bourbon that's filtered once through American oak charcoal and a second time through charcoal made from Texas Mesquite—and the annual limited-edition Master's Keep range, whose 2018 release was the 50.5% abv Master's Keep Revival ($150), featuring Bourbon aged for 12-15 years and finished in 20-year-old Oloroso Sherry casks. The Wild Turkey portfolio crested the 700,000-case mark last year, riding growth of 7.1%.
While an eventual meeting of supply and demand may well be on the horizon, before that lies another pressing issue: storage. "It's a major issue for us," says Henderson of Angel's Envy. "We have our own barrel warehouse and we've relied on contract storage at other distilleries, but everybody is producing full-time now and the ability to contract that space is starting to go away. But we're a Kentucky product—we definitely have to have our storage here in the state, so we're building warehouses as quickly as we can now."
Wahl at Heaven Hill is likewise closely eyeing the potential dilemma of supply and demand, though for now, the company's worries are minimal. "There are concerns regarding our inventory—how are we going to balance that while maintaining and growing our core portfolio, which we know is so critical for today's Bourbon consumer," she says. "It's as much process and science as it is art and luck. We've been laying down more whiskey over the last few years in anticipation of additional demand, and we believe demand will stay strong for quite a few years to come."