When Trey Zoeller founded boutique American whiskey brand Jefferson's Bourbon in Louisville, Kentucky, in 1997, he had no intention of building his own distillery. Zoeller planned to source his Bourbon and rye from surplus stocks that were commonplace among major distilleries all over Kentucky, and for the next 15 years, the formula worked like a charm. There were so many old, half-forgotten barrels to be found in the dark corners of whiskey warehouses that he was able to bottle Jefferson's Bourbon in 21-year-old, 25-year-old and even 30-year-old expressions. Those surpluses are all history now, and so are the Jefferson's aged bottlings. A decade of steadily rising demand for Bourbon and rye has severely depleted stocks all over Kentucky, setting off a scramble by whiskey makers to build more capacity and boost production. In 2012, Bourbon production topped the 1 million-barrel threshold for the first time since 1973. Inventories—mostly young liquid not ready for bottling—reached roughly 5 million barrels last year in Kentucky, the highest level since 1977. Whiskey exports from the United States exceeded $1 billion in value in both 2012 and 2013, up nearly threefold from the 2002 total of $350 million. With demand advancing even further this year, most distillers predict that supplies will remain tight for at least the next two to three years while newer barrels mature.
Rising Demand
Lately, Zoeller can't even keep his Jefferson's 10-year-old rye ($40 a 750-ml. bottle) in stock and has also noticed price gouging at retail. While in Southern California recently, he needed to source a bottle of his own Jefferson's Ocean, which carries no age statement, but has the unique appeal of having been finished during a seven-month seagoing voyage. However, he couldn't find a bottle at retail for less than $170, which is more than twice the suggested price of $75.
"There are imbalances in supply and demand across the board in American whiskey," Zoeller says. "The market has exploded as people are discovering what a wonderful product Bourbon is. The ocean of supply that the industry once enjoyed has evaporated. I plan to continue to bottle and sell Jefferson's whiskies, but the offerings won't be what they once were."
Age-statement whiskies in many Kentucky portfolios are quietly being dropped and allowed to slip away. At Buffalo Trace Distillery, such venerable labels as Old Charter 10-year-old and 12-year-old have disappeared, not to be replaced anytime soon. Heaven Hill Distilleries discontinued its Old Fitzgerald 1849 and Heaven Hill 10-year-old whiskies, with the latter replaced by 6-year-old and 3-year-old variations.
"Generally, it's a glorious time for the Bourbon industry," says Kris Comstock, marketing director at Buffalo Trace. He concedes that stocks for such labels as the Eagle Rare 10-year-old are under pressure. "There wasn't the same taste for Bourbon 10 years ago," Comstock explains. "Back then, we made as much as we thought was right, but now it doesn't look like we made enough. We seemingly can't quench the thirst for Bourbon.
Over at Heaven Hill, director of trade relations Larry Kass notes that "inventories are an issue for all of us in the industry right now." He says recent export data shows that Bourbon shipments from the United States are slipping. The reason is simple: "We don't have the supply," Kass explains. "Domestic markets are putting such a strain on inventories that we don't have the Bourbon that we'd like to send to international markets."
Some distilleries have worked quietly to expand production by reducing bottlenecks in current production lines. Others are investing bigger money in new facilities. In May, Diageo revealed plans to spend $115 million on a new 750,000-case distillery in Shelby County. According to president of North American operations Larry Schwartz, the facility will "cement our commitment to expanding our share of the American whiskey category."
Over in Lawrenceburg, Gruppo Campari has invested more than $100 million in a new distillery to support Wild Turkey, as well as a state-of-the-art visitor center that accommodates more than 50,000 people annually to take advantage of the growing throngs of tourists plying the Kentucky Whiskey Trail. Andrew Floor, senior marketing director for dark spirits at Campari, says robust planning has kept Wild Turkey's Bourbon stocks in decent shape. He admits, however, that the popular Wild Turkey 81 rye ($24 a 750-ml. bottle) is on strict allocation until next year.
Floor blames not just rising demand but also evolving tastes for some of the shortfall. "American palates have changed considerably from just five years ago," he says. "It used to be that Americans liked their whiskey sweet. Now they're getting into spicy and high-proof ryes. That's a sea change that nobody could have predicted. As a result, we're on rye allocation and we've had to cut back our export programs."
Pricing Pressure
Overall in 2013, Bourbon and Tennessee whiskey sales rose 3 percent to 17.2 million nine-liter cases, according to Impact Databank. Yet some of the oldest brands outstripped the category average. No.-2 Jim Beam rose more than 5 percent to 3.4 million cases last year. Wild Turkey, once an industry laggard, saw its sales jump 10 percent to 590,000 cases. Even Early Times and Old Crow—legacy brands in decline for years—eked out gains last year.
The major surprise in 2013 may well have been industry leader Jack Daniel's, which was merely flat as measured by volume. Separately, Jack Daniel's Tennessee Honey ($21 a 750-ml. bottle), which launched three years ago, continued to show gains, rising to 610,000 cases last year. This past spring, the brand tested the release of the cinnamon-flavored Jack Daniel's Tennessee Fire ($21) in Pennsylvania, Oregon and Tennessee and unveiled the limited-release Rested rye ($49.99). More rye whiskey offerings are expected from the company next year.
Volume may have eased at Jack Daniel's as a result of higher pricing. The brand's Black Label is currently averaging around $21 a 750-ml. bottle at retail, though in some high-tax states, the price can reach $30. Two to three years ago, the average price was closer to $19. "We've been very open about the fact that we're taking price increases on all our whiskies over the last few years, as has most of the industry," says John Hayes, senior vice president and managing director at Jack Daniel's, which is owned by Brown-Forman Beverages Worldwide. He notes that, according to Nielsen data, all Bourbon prices were up by an average of 5.3 percent in the spring compared with a year earlier. In 2013, the increase was a more modest 3.8 percent over 2012. Spirits as a whole rose in price just 2.5 percent this spring.
Campari hasn't been shy about boosting prices for Wild Turkey either. The flagship Wild Turkey 101 is currently priced at $20 a 750-ml. bottle. "It was around $15 and $16 in many places three years ago," Floor says. "Now the classic law of supply and demand is kicking in. With the category catching fire, there has been a right-sizing of pricing. We have a responsibility to our shareholders to drive profitable growth." Wild Turkey Spiced ($23), a line extension that has distinctive rum and vanilla flavors, is delivering solid sales since launching late last year, according to Floor.
At Beam Suntory, Jim Beam continues to be priced around $15 a 750-ml. bottle at retail. The company's experiments with flavors beyond its original cherry-flavored Red Stag ($18 to $19) are ongoing. Last fall, Jim Beam Maple debuted at the same price. This August, the 35-percent alcohol-by-volume (abv) Jim Beam Kentucky Fire launched for around $18—the same price as Red Stag Hardcore Cider, which was introduced last year. In addition, the Jim Beam Signature Craft series features a 12-year-old Bourbon and another whiskey that includes some Spanish brandy, both retailing at around $40. This fall, the company is replacing the Spanish brandy-finished variant with the Beam Signature Craft Quarter Cask (also $40).
"The Signature Craft series is our way of showing off the experimental side of our distillers," says senior director of Bourbons Vanessa Jenkins. "Since the launch of Red Stag in 2009, we've taken a lot of pride in our innovation." The company isn't done yet: This month, it's also launching the new Harvest Bourbon Collection, which features two bottlings—one with soft red wheat in the mash bill and the other heavy on brown rice. Both will be offered in 375-ml. bottles for $50. "The quantities are extremely limited," Jenkins says.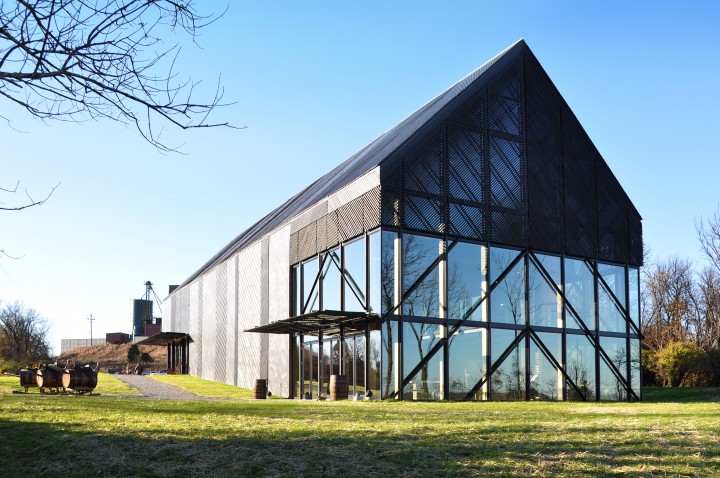 Innovation Push
The Early Times line (starting around $13 a 750-ml. bottle) is also under a flavor siege. Early Times Fire Eater, a 33-percent abv hot cinnamon-flavored whiskey liqueur, is doing well at around $15, and Blind Archer Spiced Apple (also $15) is being tested in a handful of states. "These new flavors are growing far more dramatically than the unflavored expressions in our portfolio," says Biba Konieczna, whiskies group brand director at Brown-Forman.
There's plenty of innovation elsewhere for the company. The Woodford Reserve Double-Oaked Bourbon ($55 a 750-ml. bottle) was introduced nearly two years ago and is proving to be a strong seller, as is the Old Forester Birthday Bourbon ($60). Woodford Reserve's first television campaign launched in April around the broadcasts of the Kentucky Derby and AMC's "Mad Men" series. "We'll consider more TV for Woodford Reserve late this year," Konieczna says.
Heaven Hill's Evan Williams brand has 35-percent abv Honey Reserve, Cherry Reserve and Cinnamon Reserve variants, all line-priced at $14 a 750-ml. bottle and selling briskly. In May, the line introduced its oddest addition yet: Evan Williams Kentucky Slush ($15 a 1.75-liter bottle) launched in nearly a dozen markets. The 12.5-percent abv liqueur is essentially a premixed cocktail that recreates Kentucky's popular summertime Slush recipe, comprising Bourbon, orange juice, iced tea and lemonade. "It can be frozen in the bottle or blended with ice," Heaven Hill's Kass says. "Our goal has been to identify additional usage opportunities."
At the same time, Heaven Hill is bucking the trend on disappearing age statements this year by deciding to bottle its wheated Bernheim whiskey ($30 a 750-ml. bottle) at 7 years old. The company will introduce its Elijah Craig in an unprecedented 23-year-old expression priced at $150 this fall to complement the brand's 18-year-old ($40) and 21-year-old ($140) whiskies. "We've had an Evan Williams 23-year-old available at our visitors center in Kentucky that we haven't sold to the general market," Kass explains, noting that the r