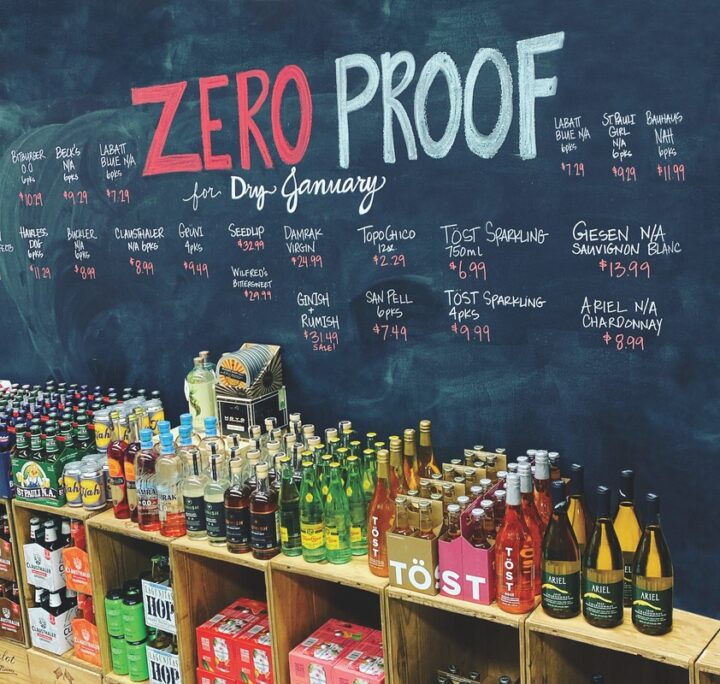 A fledgling beer segment is significantly outperforming the overall category at Superior Liquor store in Superior, Colorado. And according to beer manager Shawn Tripp it's not cannibalizing sales of other beers, but serving as an add-on purchase, leading to higher basket rings. "Our sales of non-alcoholic brews increased about 25% last year," Tripp says, noting the trend is largely driven by enhanced focus on health and wellness. "Many consumers today don't want to overindulge, but they still want to feel included at social gatherings. I've noticed that when stocking up for parties, people are buying a mix of regular beers and non-alcoholics."
Indeed, according to Impact Databank, off-premise dollar sales of de-alcoholized beer jumped 24% last year to $237 million, easily outpacing other beer categories. Low- and no-alcohol spirits and wine are seeing similar trends as consumers—particularly millennials and legal-drinking-age Generation Z members—increasingly seek alternatives to beverage alcohol products as part of lifestyles that prioritize health and fitness. Non-alcoholic beers (NABs) have emerged as a great option for beer consumers to work into a drinking occasion—either between or after a beer or two—to help pace consumption.
"There's been a steady cultural shift toward mindful living, which has resulted in a growing demand for non-alcoholic options," notes Nikhil Shah, global brand director for Guinness at Diageo Beer Co., which recently rolled out Guinness 0. "NAB sales have truly taken off in order to accommodate those who choose not to drink on occasions where alcohol may be present, yet still desire the distinctive flavor profile and taste characteristics of their favorite beer." While non-alcoholic brews have been available for years and still only account for a miniscule share of category sales, growth has been strong of late. Shogo Ogawa, deputy manager of business development at Suntory America, which markets Suntory All-Free, adds that the pandemic has helped accelerate the health and wellness trend, including a moderation in beverage alcohol consumption. Consumers are looking for "attractive non-alcoholic beverages that fit within their healthy lifestyles," he says.
NAB options have expanded and now include a range of styles. Shah says Guinness 0 is the world's first widely distributed non-alcoholic stout and has the same balance, taste, and color of Guinness draft. Pat McAuley, co-owner of PlantPub, a plant-food focused restaurant in Boston, agrees that the availability of non-alcoholic beers that are closer flavor-wise to their alcoholic counterparts are a great solution for those abstaining. "New labels into the segment have also welcomed in more people, especially younger people, [to beer occasions], helping the non-alcoholic option become cool," says McAuley. PlantPub offers such NABs as the Well Being Intentional IPA and Athletic Upside Dawn golden ale, generally priced at $5-$6 a 12-ounce can.
Big Bets
Heineken 0.0, introduced in 2019, was the top selling NAB last year, according to Impact Databank, with volume of 3.3 million (2.25-gallon) cases, a 30% increase from the year prior. Other globally recognized brands have also entered the segment in recent years and see big opportunity. Budweiser Zero from Anheuser-Busch (A-B) was introduced in 2020, and according to Daniel Blake, A-B's group vice president of marketing for Budweiser and value, there's been a strong response to the brand, which is poised for further growth as distribution increases.
Budweiser Zero was co-founded by former NBA star Dwyane Wade, and according to Blake, the brand is heavily supported in sports venues across the country, though he notes it is meant for everyday happenings like barbecues and weeknight meals as well. "With Budweiser Zero, our goal is to destigmatize the zero-alcohol products by propelling new options into mainstream culture and offering a product that doesn't compromise on taste or experience," Blake says. "Oftentimes, people feel like they're giving something up with a non-alcoholic option, but we're trying to change that perception." A-B also markets O'Doul's, the country's second-ranked NAB.
Guinness 0, meanwhile, was introduced in the U.S. earlier this year. "Guinness fans and beer drinkers are excited about it," Shah says. "There's a clear and positive sentiment on social media as more and more consumers are searching for drink options without alcohol. There's a lot of opportunity for a non-alcoholic option that's nearly indiscernible from Guinness draft for everyday drinking occasions." Guinness 0 receives digital and social media support, and Shah adds that the brand will also be featured in football messaging this fall as part of its commitment to responsible consumption.
Suntory's All-Free—which contains no alcohol, no sugar, and no calories—was unveiled two years ago and is available at accounts including Total Wine & More and BevMo, Ogawa notes. "We see that consumers enjoy All-Free not just as an alternative drink for a beer, but as a refreshing drink in general," he says. "It can be enjoyed freely anywhere and anytime, without any performance decrease or health concerns."
Craft Entries Surge
Craft brewers have entered the non-alcoholic brew space in droves, bringing a range of styles never before seen in the segment. Among the craft brewers marketing NABs are Brooklyn Brewery, Dogfish Head, Lagunitas, and Crux Fermentation Project. Connecticut-based Athletic Brewing Co., meanwhile, has taken the NAB segment by storm. Athletic—which produces only non-alcoholic beers, almost exclusively in cans—has experienced dramatic growth since its establishment four years ago, and according to co-founder Bill Shufelt, volume tripled in 2021. Indeed, the Brewers Association ranks Athletic, whose products include Run Wild IPA and the new release Athletic Lite, as the 27th largest craft brewery in the country.
"We found people wanted great beer more days of the week and they wanted healthy, more mindful options," Shufelt says. "And there's still so much opportunity for the category to grow." Athletic's non-alcoholic brews are distributed in 40 states and available online in all 50 states. Key chain accounts include Whole Foods, Walmart, Kroger, and Trader Joe's, according to Shufelt, and consumers under 44 years old are driving sales. "When we ask urban bartenders who's drinking our beer, they usually say, 20-something professionals who drink it during the week," he says.
Canadian craft brewer Partake also specializes in NABs, and those products are now distributed in 25 states and Washington D.C., as well as online. Founder and CEO Ted Fleming credits the craft beer movement for aiding in the growth of his company, which he expects will double in volume this year. "We're standing on the shoulders of the craft brewers who have expanded options for consumers with a wide variety of styles," he says. Among the Partake NABs that have emerged as most popular are its IPA, blonde, and peach gose expressions. To date, the independent liquor channel comprises Partake's top channel, Fleming says, but he sees expanded opportunity in grocery stores and foodservice venues.
Retail Growth
Liquor store operators like Tripp agree that the category is catching on. "Six years ago, we only carried seven or eight non-alcoholic beers," he says. "Now, I have an entire cooler door dedicated to them." The Colorado shop offers more than two dozen NAB SKUs, priced from $8 for a 6-pack of 12-ounce bottles of Coors Edge to $15 for a 6-pack of 12-ounce cans of Untitled Art Florida weisse non-alcoholic brew.
At Surdyk's in Minneapolis, NAB sales are also growing, due to moderating trends and "more and better options," co-owner Melissa Surdyk says. The store offers about 15 different SKUs, ranging from $8 a 6-pack of Coors Edge to $12 for Hairless Dog non-alcoholic IPA. The brews are merchandised in a special non-alcoholic beverage section of the store, as well as promoted on its website, social media sites, and the store's newsletters.
"NABs have been gradually on the rise over the past two years and have rocketed in 2022 so far," notes Mary Guiver, global senior category merchant for beer and spirits at Whole Foods Market. "And as more craft brands and traditionally grocery-beverage brands come into this space, the product quality has never been better." Selection of NABs at Whole Foods varies by store, but the products are merchandised in the stores' "beyond beer" portion of the cooler, she says. Additional support includes off-shelf features, supplemented with temporary price reductions.
Non-alcoholic brews are also gradually making strides on-premise. McAuley from PlantPub says consumers are thankful and relieved to find the products on drinks menus. "Being surrounded by offices, we have people ordering non-alcoholic brews with lunch and returning to work clear headed," he says.
At Kumiko, a Japanese dining bar in Chicago, owner and mixologist Julia Momosé prepares a few spirits-free cocktails utilizing All-Free. "Suntory All-Free brings a rounded depth of flavor, along with brilliant effervescence and texture," Momosé says. The Garnet Shandy ($15), a simple mix of satsuma citrus, cranberry juice, and All-Free, for example, "highlights the malty and deep notes" of the NAB, she explains. Kumiko's drinks menu also features Heineken 0.0 ($6) and WellBeing's Liquid Rain non-alcoholic IPA ($8). Momosé sees "immense potential" for Suntory All-Free and other non-alcoholic brews. "Whether enjoyed in a straight-forward way or mixed, you can't go wrong," she says. "The versatility makes it great for enjoying at home or at your favorite bar." Tripp from Superior Liquor is equally enthused. "I wish I could expand my selection to two doors," he says. "There are still a lot of brands I don't carry. I see a lot of opportunity for these products."