Total gin consumption in the U.S. market has been in decline for years, with overall volume at 9.19 million 9-liter cases in 2019, according to Impact Databank, compared to more than 18 million in 1975, when the category was at its peak. Today, the leading brands by market share are Seagram's from Pernod Ricard (19.4% share), Diageo-owned Tanqueray (15.1% share), and Bacardi-owned Bombay (12.6% share). Another wave emerges below those brands, which includes E. & J. Gallo's New Amsterdam, Diageo-owned Gordon's, Hendrick's from William Grant & Sons, and Pernod Ricard's Beefeater.
Among these leaders, however, the picture of growth is mixed. Seagram's was down 4.7% in 2019, Tanqueray remained flat, New Amsterdam was down 4.5%, and Gordon's was down 4%. Only Bombay and Hendrick's made gains, at 2.3% and 10.2%, respectively. While that growth shows a positive trend, it remains small, and the category as a whole has yet to experience a surge like that of whiskies in the last few years.  But gin is steadily garnering renewed interest, mostly thanks to an enlarged presence in cocktail culture and the craft space. In addition, brands are tapping into innovation and premiumization in a big way.
"The beauty of the gin category is its nuance," says Megan Abraham, lead bartender at San Francisco-based Commons Club. "The bounty of its palate spread is almost limitless." Gin is indeed one of the broadest spirits categories in terms of taste profile, even with the requirement that juniper feature among its botanicals. The scope of the category allows for experimentation. "People want to express themselves through creativity now more than ever, whether it's trying something new or breaking free from cocktail conformity," says Victoria Morris, vice president of global marketing at Bombay Sapphire. "Gin allows them to do just that."
Emerging Craft
Small craft players are giving the gin category a much-needed boost. While brands like Hendrick's, Citadelle, and Drumshanbo have made a name for craft gin on a larger scale, more boutique players are now having their moment, with Starlight Distillery, St. George Spirits, Copper & Kings, F.E.W., and Glendalough among those that have broken into the category in notable ways, diversifying it and leading consumers away from traditional London Dry gins and toward more unique offerings.
Starlight's flagship gin is its Simon's 1794 ($30 a 750-ml.), distributed in nine states. The Indiana-based distillery—operated by the Huber family, who also own Huber Winery—focuses most of its production on whiskey and brandy. "The wine team, brandy team, and whiskey team all work together on Starlight's gin," notes co-owner and master distiller Ted Huber. "This collaboration makes us unique." What's more, much of the gin's ingredients are sourced from Huber's property. "Our terroir is something we try to express in all of our wine and spirits products," Huber says. "We make a gin that's representative of southern Indiana."
In the same way, Wicklow, Ireland-based Glendalough Distillery makes gin that evokes the characteristics of its land. "Our local Wicklow botanicals are fresh and wild—you could actually eat them," says founder Gary McLoughlin, noting the botanicals' crisp flavors. "Their freshness gives us a very unique taste." Glendalough produces Wild Botanical and Rose gins (both $35 a 750-ml.), and has seen enormous growth, with sales doubling since this time last year.
California-based St. George, meanwhile, makes four gins: St. George Terroir ($35 a 750-ml.), Botanivore ($35), Dry Rye ($35), and Dry Rye Reposado ($50). "Our flagship Terroir gin was inspired by a trip to pick up my son at summer camp," says master distiller Lance Winters of the distillery's leading gin. "When I got to the campground after a stressful day, I was calmed by the smells around me. I decided to distill that smell." As such, the Terroir gin contains fir, bay laurel, coastal sage, wild fennel, herbal roots, and other elements that recall the great outdoors.
Kentucky-based Copper & Kings, known for its brandy production, is a unique player in the gin space. "We have a no-neutral-spirits base, we don't chill filter, and we innovate consistently and coherently within the gin universe," says founder Joe Heron. Copper & Kings' gin offerings encompass The History Of Lovers; The Moons Of Juniper; The Ninth, A Symphony In Orange; and American Dry gin (all $35 a 750-ml.), as well as gin bitters that retail at $10. Last year, Copper & Kings depleted more than 5,000 cases of its gins.
F.E.W. Spirits in Illinois has three gins in the U.S. market: Breakfast gin, American gin, and Barrel gin (all $35 a 750-ml.), with the first being the standout. "Breakfast gin is a true distilled gin, all hand-crafted and made from real ingredients," says F.E.W. founder Paul Hletko. "It's herbal, it's light, it's approachable, and perfect for drinking any time of day."
Mixology Star
The on-premise has always been a supportive home for gin. "Bartenders love gin because each has a different flavor—you can have a more herbal gin, a drier gin, a smoother gin," says F.E.W.'s Hletko. "It's a fantastic tool for bartenders and it can be a fantastic way to bring a reticent consumer into the gin category as a whole."
Most bargoers request mainstream brands when they order gin drinks. Indeed, Commons Club's Abraham says that Hendrick's, Bombay Sapphire, and Tanqueray remain the venue's best selling gins, but that craft offerings are finally finding a foothold. "My current craft obsessions are Gray Whale gin, Oakland Spirits Co. Sea gin, Zephyr gin, and Nikka Coffey gin," Abraham says.
While the classic Gin & Tonic still reigns supreme, mixologists are increasingly turning to more creative concoctions. At The Gin Room in St. Louis, founder and owner Natasha Bahrami sees consumers abandoning sweet gin drinks for more savory ones. "Distinguished drinkers are learning more about savory gins," she explains. "These are gins that aren't only relying on sweet botanicals and citrus, but using olives, tomatoes, peppers, ginger, and savory botanicals like seaweed."
One of Bahrami's savory gin-based cocktails is the Tomato Of My Eye ($14), mixing Moletto Italian Tomato Distilled gin with Barbadillo Manzanilla Sherry and pickled onion and caper. And Stephen Caronna, staff mixologist at Mediterranean gin brand Gin Mare, created the herbaceous Attack Of The Killer Tomato Gimlet ($13), mixing Gin Mare with house-made tomato cordial, lime juice, and Bitter Truth olive bitters.
Aided By Trends
Top gin brands will continue leading the charge at retail for the foreseeable future, retailers say. At George's Liquors in Arkansas, general manager Tyler Jackson cites Seagram's, Bombay Sapphire, Beefeater, and Tanqueray as the store's leading gins. But Jackson also sees more customers gravitating toward craft offerings like Aviation's flagship and Old Tom gins (both $27 a 750-ml.), Sipsmith ($33), and Roku ($23). "People are starting to understand botanicals and the differences between gins," he says.
At Scarsdale, New York-based Zachy's, meanwhile, director of retail operations Ian Dorin points to Barr Hill ($40), Greenhook Ginsmiths ($37), and Wölffer ($52) as popular craft options. Gin was up nearly 20% last year at Zachy's, and Dorin attributes that success to influence from the on-premise. "Bars are offering more gin-based cocktails and encouraging people to try different gins," Dorin explains. "Customers learn about gin there, and then they come pick up a bottle here."
Also bolstering gin sales at the retail level are trends like RTD cocktails and alternative packaging. New York City-based Greenhook Ginsmiths, for example, offers canned Gin & Tonics ($22 a 4-pack of 200-ml. cans), as do Southern Tier Distilling Co. ($15 a 4-pack of 12-ounce cans) and Cutwater Spirits ($13 a 4-pack of 12-ounce cans), among other brands. In terms of alternative packaging, St. George is among the producers to offer smaller sizes, with its 200-ml. bottles retailing at $12.
Packaging style matters, as evidenced by the success of Hendrick's and Drumshanbo, whose eye-catching bottles serve as inspiration for newer brands. Hendrick's boasts a unique bottle for each of its offerings; while its flagship is in a dark brown bottle, Midsummer Solstice ($40 a 750-ml.) has a lilac-colored bottle and floral label, Orbium ($40) has a dark blue bottle with an eye graphic on the label, and Amazonia ($48 a 1-liter) has a black bottle with a tropical-themed label. Drumshanbo's bright blue bottle has always made it a standout on store shelves. "The Drumshanbo bottle is highly visual, engaging consumers from the first moment they see the blue cylindrical glass," says founder Pat Rigney. The Irish gin, imported by Taub Family Cos., was up 59.5% last year to 30,000 cases, according to Impact Databank.
Another innovation drawing consumers is pink gin. Spurred on by the craze in rosé wine, gin producers of all sizes have jumped on the pink bandwagon, with Beefeater Pink ($20), Malfy Rosa ($28), Copper & Kings' The History of Lovers Rose Gin ($35), and Glendalough Rose ($35) just a sampling of the offerings in the segment, which spans flavors from rose to grapefruit to strawberry to pink peppercorn. "Our rose gin is our bestseller," says Copper & Kings' Heron. "It's beautiful to look at, very Instagrammable, and delicious to drink in a variety of cocktails." Glendalough's McLoughlin also touts the beauty of a glass of pink gin. "It's quite a unique product," he says.
Premiumizing Gin
As is the case for most spirits, premiumization continues to boost trends for the gin category. Customers are increasingly willing to pay more for higher-quality gins, while lower-priced labels continue to slip. "Certain people are very interested in trading up," says Hletko of F.E.W. "And with gin, people are now exploring the breadth of the category."
Daniel Clarke, vice president of marketing for new brand ventures at Pernod Ricard USA, agrees that consumer interest in premium products is aiding gin. Pernod's Monkey 47, an ultra-premium craft gin handmade in small batches with 47 botanicals, offers a limited-release Distiller's Cut ($80 a 750-ml. bottle) that's found success at retail. "We are currently seeing strong category performance in the super-premium and ultra-premium segments," says Clarke. Monkey 47's portfoliomate Malfy gin—also a premium offering—depleted 5,640 cases during the six months it was owned by Pernod Ricard in 2019, according to Impact Databank.
Starlight, meanwhile, tapped into the premiumization trend with its Simon's 1794 barrel-finished gin ($34 a 750-ml.), which carries a $5 premium over the flagship. Huber says that consumers are drawn to the bottle because of its "barrel-finished" distinction. And St. George takes a similar approach with its Dry Rye Reposado gin ($50), which saw growth of 8% over the past year.
San Francisco-based Hotaling & Co. boasts six gins in the super-premium-and-above segment, including Junípero ($36 a 750-ml.), No. 3 ($45), Nikka Coffey ($50), Dingle ($50), Ungava ($25), and Luxardo Sour Cherry ($35). "Junípero is the original super-premium gin," says CMO Morgan Robbat. Junípero is available in 40 states and Washington, D.C. "Customers are willing to pay up for it because it's a higher-quality, interesting botanical blend," Robbat adds.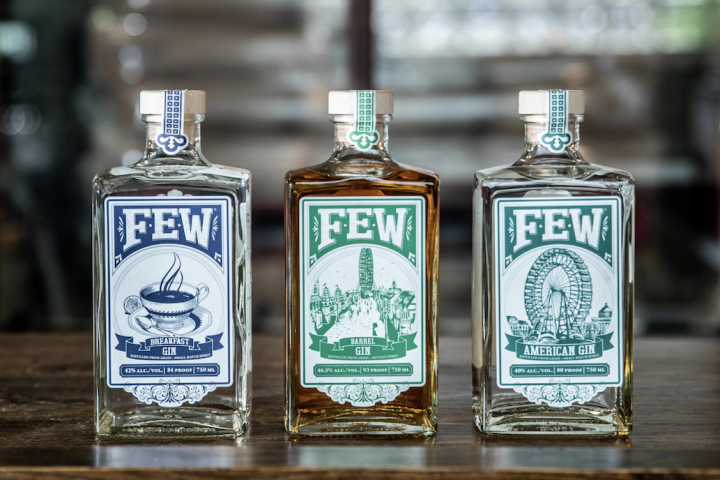 Marketing Moves
Most gin brands turn to the online space to promote their products. Drumshanbo is one of many that offer cocktail recipes—like The Curious Jackalope, comprising the Irish gin, lime juice, grapefruit juice, simple syrup, and a grapefruit wedge—on its website. Drumshanbo also offers virtual masterclasses with notable mixologists.
Other marketing strategies include partnering with celebrities—as Aviation Gin has done with actor Ryan Reynolds, who partially owns the brand—and sponsoring events, like Seagram's with One Music Fest. And many brands run social media campaigns, like Bombay Sapphire with Stir Creativity and #FindYourCanvas. Seasonal promotions are also popular; Hendrick's saw 58% growth after promoting a Cucumber Lemonade drink last summer, and 16% growth during the 2019 holiday season after promoting its Cranberry Fizz cocktail, according to senior brand manager Paige Parness.
Whenever possible, in-person promotions are part of the mix. F.E.W. has an ambassador team travelling the U.S. to promote its spirits to bartenders, retailers, and consumers. Caorunn gin, produced at Balmenach Distillery in the Scottish Highlands, likewise has a team of on-premise activators. "Education is always important," says brand manager Gillian Gibson. "Not all consumers know the difference between London Dry gin and distilled gin."
Working with national and regional chains is key for many brands. Aviation, for instance, partners on promotions with Yard House, TGI Fridays, AMC Theaters, and The Four Seasons Hotels in the on-premise space, and with Albertsons Cos., Spec's, Publix, Total Wine & More, and Binny's Beverage Depot at the retail level.
The Covid-19 pandemic also brought online-based marketing and engagement to the forefront as the on-premise mostly shuttered in mid-March. Some gin brands offered initiatives to help consumers both make their own gin cocktails at home while also supporting the hospitality industry. Bacardi Ltd. promoted the "Raise Your Spirits" campaign, while Bombay offered its own "Create From Home" outlet. Aviation launched the #TipYourBartenders program, and Tanqueray was part of Diageo's #TipsFromHome campaign, both of which raised funds in support of the United States Bartenders' Guild (USBG) to help bartenders who were out of work due to the global health crisis.
Looking Ahead
Bahrami of The Gin Room foresees experimentation with juniper in the gin category's future. "I believe juniper is going to become more important, the way it was during the first wave of the contemporary gin movement," she says. "I think distillers and brands are now understanding the excitement and the use of juniper within a gin." Copper & Kings' Heron adds that innovation is key to the category's success. "I think the gin wave is cresting in the U.S.," he says. "Gin will become a category that brings in a lot of new drinkers through innovation."
Producers are hoping gin's numbers will grow as the craft space continues to develop. "I see gin growing in the U.S.," says Glendalough's McLoughlin. "I expect to see consumers explore the category more and taste different blends." He's also optimistic that gin's prevalence abroad will translate to the U.S. "Drinks trends in the U.S. are slightly behind, in terms of the gins that are ever-popular in the UK and Ireland," he adds.
"The future of the gin category is extremely bright—with more options available each year, the opportunity for growth feels endless," says Parness of Hendrick's. Nevertheless, the future of gin, as with all spirits, depends on how the Covid-19 crisis pans out. "When this is all over, there's still going to be a market, but everything will look different," says F.E.W.'s Hletko. "What's demand going to look like? It's hard to tell, but hopefully it makes the distilleries that survive that much stronger."