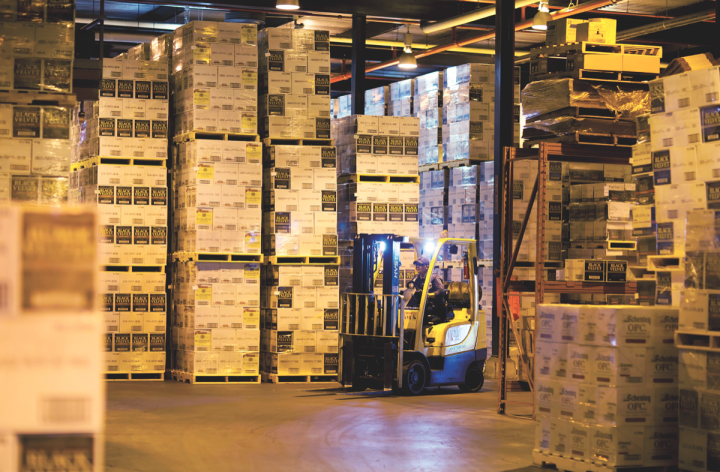 A new generation of brown spirits–loving American consumers discovered rye whiskey at least five or six years ago, and Bourbon makers rushed to create products that would suit their changing tastes. But in Canada, where all the best rye is grown, whisky producers were slow to catch on to the trend. This year, however, many distillers north of the border have finally gotten rye religion.
Brown-Forman Corp. introduced a 21-year-old rye in November 2013 under its Collingwood banner at $70 a 750-ml. bottle, and it's currently sold out. This past April, Diageo's Crown Royal brand launched the 45-percent alcohol by volume (abv) Northern Harvest rye whisky, retailing for $30. Around the same time, Beam Suntory rolled out its Alberta Dark Batch rye whisky, comprising 91-percent rye and priced at $30. Ontario-based Still Waters Distillery is coming up on the first anniversary of its 100-percent rye Stalk & Barrel offering ($80).
There's a unique complication when it comes to selling these new whiskies. For the past two centuries, Canadians got into the habit of calling all their whisky "rye," even when it's made mostly with wheat and corn. Differentiating between the generic term and rye-based whisky is a marketing challenge.
Crown Royal Northern Harvest will have to go a long way to steal any thunder from the brand's fast-growing Regal Apple offshoot. Since its November 2014 launch, Regal Apple has shipped more than 1 million cases. The vast popularity of Regal Apple has helped shore up the Crown Royal brand and the entire Canadian whisky category, which has otherwise been in decline. Diageo reported that Crown Royal sales rose 12 percent in the fiscal year ended June 30th, 2015, and Regal Apple appears to be the main driver of that growth.
Crown Royal Regal Apple is turning out to be "one of the most successful spirits launches ever," says Yvonne Briese, Diageo's vice president of brand marketing for whisky. She adds that Regal Apple isn't stealing customers from other Crown Royal expressions. "We're not seeing any cannibalization at all," Briese notes. "Regal Apple is bringing in new consumers, many of whom were only light whisky drinkers in the past."
The apple-flavored expression has cast such a long shadow that other Canadian whisky makers are rushing to market with their own offshoots. This fall, Sazerac Co. launched Rich & Rare Apple ($11 a 750-ml. bottle), line-priced with the existing Caramel variant. "We've been looking at more flavors for this category," says Kevin Richards, marketing director of whiskies and specialty brands at Sazerac. "With Fireball now spawning rivals, cinnamon looks like a very competitive flavor, so we're focused on apple. Crown Royal's Regal Apple is getting a lot of shot business, particularly in the 21-to-29 age group, and we think our Rich & Rare Apple will also do well in that area."
Flavors have otherwise been a decidedly mixed bag in Canadian whiskies. Brown-Forman has completely culled flavors from its Canadian Mist portfolio ($12 a 750-ml. bottle). Beam Suntory also dumped Canadian Club Dock No. 57 Blackberry (around $19) in the U.S. market, though it's still available in Canada. "We're looking for ways to innovate and stay in tune with our Canadian Club brand," says Malini Patel, vice president of world whiskies and Americas innovation at Beam Suntory. "But I'm not sure flavor is the way to go."
Falling Volume
Give Canadian whisky makers credit: Whether it's rye, apple or new wood finishes, they're finding ways to shake up a category that has been moribund for years. Canadian whisky sales in America were down nearly 1 percent to 14.5 million cases in 2014, according to Impact Databank. Among the top 10 brands, only three eked out sales gains last year. With Regal Apple launching in November 2014, category leader Crown Royal grew only 0.7 percent to 4.28 million cases. Longtime No.-2 brand Black Velvet rose 1.7 percent to 2.05 million cases. Coming in at No. 7 is Rich & Rare, which increased 0.7 percent to 685,000 cases.
For decades, Canadian whisky has been touted as smooth with a mild, unchallenging taste profile. But recent trends have shown that American consumers are gravitating toward sharper and more powerful flavors in brown spirits. This shift is visible in the latest products coming from Kentucky and adventurous craft distillers. The introduction of the new Canadian rye releases could go a long way toward reversing the category's unexciting image. "American ryes have a lot of robust flavors," notes Davin de Kergommeaux, the author of "Canadian Whisky: The Portable Expert" and a contributor to Market Watch sister publication Whisky Advocate. "The new Canadian ryes are meant to catch on to that growing trend. Distillers have seen that robust flavors are now the way to go. This area is where Canadian whisky will grow in the future."
Norman Bonchick, chairman and CEO of 375 Park Avenue Spirits, is planning to add new flavored and rye-based products to the company's portfolio in the coming year. The lineup currently includes the Tap Canadian whisky brand. "We're marketing against Bourbon, which is red-hot, and that's not easy," Bonchick says. "Brands like Canadian Club and Seagram's V.O. grew for so many years, but now they're out of fashion." He counsels patience, figuring that American consumers will eventually grow weary of high-alcohol spirits. "People may tire of belting down cask-strength Bourbons," he says. "They'll come back looking for something they can sip more slowly in the course of an evening. Canadian whisky is all about smoothness."
A decade ago, Canadian whisky outsold Bourbon in the United States, but last year, Bourbon sold over 18 million cases, some 25 percent beyond the Canadian whisky total. John Wolf, a Market Watch Leader who owns the single-location Chicago Lake Liquors in Minneapolis, recalls that 10 years ago, Canadian brands moved at least 30-percent more volume than Bourbon in his store. Today, Bourbon outperforms Canadian whisky by 20 percent. The contrast in dollars is even more compelling. "My Bourbon business involves selling 750-ml. bottles for $24," he explains. "In Canadian whisky, my business centers on selling 1.75-liter bottles for $16. It's obvious where the profits lie."
Premium Push
Some producers, however, are starting to move upscale. Beam Suntory prices the core Canadian Club at $15 a 750-ml. bottle, the 9-year-old Canadian Club Reserve at $19 and the Classic 12-year-old at $22. The company also markets the $30 Alberta Dark Batch. Yet its biggest sellers continue to be the entry-level Canadian Club and Windsor Canadian whisky, which retails for around $17 a 1.75-liter bottle. "Our lineup has a gradual upgrade to higher prices," Patel says. "Choice is good. Yet while brown whiskies everywhere are growing, Canadian whisky has been lagging."
At Sazerac, Rich & Rare is priced at $8 a 750-ml. bottle. A few years ago, the company launched Rich & Rare Reserve at about $13, but the core expression continues to outsell the Reserve and flavored variants combined. Another Sazerac brand, Canadian Hunter, retails for $13 a 1.75-liter bottle, and the company launched the 45-percent abv Canadian Hunter rye whisky at $14. "The rye is in only about 10 or 12 states so far," Richards says. "It's exceeded our expectations and works well with Coke or as a shot." As a promotion, the Hunter whiskies will be offered in camouflage bottles with orange caps throughout the fall.
Even some faded old Canadian brands have strong staying power. Sazerac maintains a stable of two dozen products, including Canadian Host, Canadian Lake and Legacy. Most of them have regional followings. "Canadian Host is the No.-1 Canadian whisky brand in Utah, while Canadian Lake sells well in North Carolina and in Minnesota," Richards says. "These labels still have their fans, so we don't want to mess with a good thing by dropping them."
Diageo's Briese believes that Crown Royal Northern Harvest proves that not all ryes are created equal. "It has a little bit of spice—less spice than you see in American ryes," she says. "The whisky is made to be very smooth sipping. Northern Harvest is exactly the kind of innovation this category needs." Crown Royal has also begun offering single barrels to retail accounts, and Briese says the program is gaining traction.
Canadian Mist, meanwhile, retails for between $11 and $13 a 750-ml. bottle, though it's sold at the discounted price of $13 to $14 a 1.75-liter bottle in some states. Brown-Forman's advertising mix reflects a change in strategy. A few years ago, Canadian Mist advertised on ESPN radio and in golf magazines, but both outlets have been dropped to focus on a campaign that favors p-o-s materials, an upgraded website and such digital lifestyle media as Thrillist. In addition, the "All Whisky, No Bite" promotion has been amended to "All Whisky, Always Easy."
Marc Hindorff, senior brand manager for Canadian Mist, believes that Canadian and American whiskies can coexist in consumers' liquor cabinets. "There are different whiskies for different occasions," he says. "People aren't going to drink cask-strength Bourbons every day. We think Canadian Mist can be positioned as the consistent at-home whisky."
Increasing Reach
For all the hand-wringing about the slowed pace of Canadian sales, Brown-Forman director of innovation Heather Howell notes that volume is growing nicely at higher price points. She cites the latest Nielsen data that show super-premium Canadian whisky sales above $30 are up 16 percent so far this year. The entry-level Collingwood, which has recently gotten a packaging face-lift, retails at $29 in most markets. "We see limitless potential for more premium, artisanal Canadian whiskies," Howell says.
But existing premium offerings have to broaden their reach. Five years after launching, Collingwood is just now reaching all 50 states. Nova Scotia's Glenora Distillers, which has a big portfolio that includes the Glen Breton 25-year-old single malt whisky ($750 a 750-ml. bottle), still derives 80 percent of its sales from Canada, according to executive vice president Bob Scott.
Still Waters Distillery, founded in 2009 and promoted as the first craft distillery in Ontario, is in fewer than 20 states. Its main product, the 45-percent abv Stalk & Barrel single malt whisky ($70), recently gained the 60-percent abv extension Stalk & Barrel Cask Strength ($85). But both are very limited in volume. "Over the past year, we've concentrated on the Canadian market," says distiller and co-owner Barry Bernstein, who notes that many craft distillers have struggled to find interest from importers in the U.S. market. "Most craft whisky makers are focusing on Canada right now. Producers can sell everything they make locally. So why export?"
Other brands have a different strategy. William Grant & Sons recently upgraded the packaging for its Gibson's Finest 12-year-old whisky, adding a new medallion embossed on the bottle shoulder and a cork closure. Yet the brand's relaunch efforts, taking place this fall, are being confined to Texas and Southern markets. "With whisk(e)y on the rise in the United States, we thought it was the right time for a refresh of Gibson's," says Sally Kim, William Grant's director of commercial brands and portfolio strategy.
Corby Spirit and Wine Ltd., which is owned by Pernod Ricard, has put its J.P. Wiser's brand through a similar repositioning in America, according to director of international sales and export Ross Hendry. The company extended its portfolio beyond the core J.P. Wiser's Deluxe ($16 a 750-ml. bottle) to include a Spiced Vanilla variant ($16) and a rye whisky expression ($20). "We haven't done enough work in optimizing our export markets before now," Hendry notes. J.P. Wiser's is currently expanding throughout the United States and even moving into Australia and Europe.
Luxco Inc., the owner of Lord Calvert whisky, is considering flavors and other innovations, according to brand manager for whisk(e)y and rum Fletcher Buchman. For now, the brand offers a single expression, priced at $11 a 750-ml. bottle. This past summer, Luxco positioned Lord Calvert in a "Lord of the Grill" promotion that invited customers to compete for a grand prize of 600 pounds of raw beef, along with a freezer for storing it. The p-o-s materials, complete with charcoal grills, "brought attention to a category and to a brand with no marketing support in recent years," Buchman says. "We got a positive reaction."
Phillips Distilling Co. is banking on more flavors in Canadian whisky's future. The company's Revel Stoke Cinnamon and Roasted Pecan whiskies (both $15 a 750-ml. bottle) have been growing at more than 20 percent this year. Revel Stoke Roasted Apple ($15) is launching this month with high expectations. "Our research and development department is hard at work in coming up with more flavors," says vice president of sales Jason Connelly. "One or two new flavors a year is likely to be our business model going forward."
In the on-premise, many beverage directors are experimenting with Canadian whisky as a cocktail base. At Teller's Tap Room & Kitchen in Lakewood, Colorado, the Boulevardier cocktail ($10) combines Alberta Dark Batch, Campari aperitif and Vya sweet vermouth. Teller's also offers a barrel-aged Old Fashioned made with Tap 357 Maple rye whisky, Luxardo Maraschino liqueur and Angostura bitters.
"The rye whiskies coming from Canada are perfect for the pre-Prohibition–style cocktails we're mixing here," says general manager Chris Cunningham. He believes Canadian distillers will eventually figure out how to compete against Bourbon and take back market share. "This situation isn't new," Cunningham adds. "After all, Canadian whisky has always had to go up against American competitors."