For a company that started 25 years ago with a modest wine shop in San Francisco, PlumpJack Group has grown and diversified immensely, keeping the drinks business at its heart every step of the way. Today, the Bay Area–based operator boasts a varied portfolio that spans many beverage sectors, from its flagship retail store to an array of restaurants, bars, wineries and hotels. PlumpJack executives are guided by a simple ideal—to create venues that offer upscale experiences without pretense. As the company looks for expansion opportunities beyond Northern California, PlumpJack's irreverent approach to business positions it well to stand out in a crowded field.
"One of our founder's early mantras was not to be the best of the best, but to be the only one who does what we do, and we've taken that to heart," says PlumpJack copresident and partner Jeremy Scherer. "There aren't many businesses that operate wineries, bars, restaurants, hotels, lounges and retail stores. We like being unique in that perspective. One of our core philosophies is approachable luxury. We try not to be uptight. We don't sell anything people need. We sell things that people want and have fun with."
Beverage alcohol has been central to PlumpJack's business model since company founder Gavin Newsom opened the retail store PlumpJack Wine & Spirits in San Francisco's Marina District in 1992. Newsom—who is the current lieutenant governor of California and the former mayor of San Francisco—bought the shop with the goal of demystifying wine and the wine-buying experience. He took over nearby restaurant Balboa Café soon after and furthered that mission, selling wine there at traditional off-premise prices and allowing his retail store customers to bring their purchases to the restaurant and drink them without a corkage fee. Newsom named the company PlumpJack after the jovial Shakespearean character Sir John "Plump Jack" Falstaff, a portly man rarely seen without a drink in his hand.
"Given our namesake, beverage alcohol will always be central to our business," Scherer explains. PlumpJack operates 19 ventures today, including 10 restaurants and bars in California and Colorado, three wineries in Napa Valley, three hotels in California, two wine and spirits shops in San Francisco, and a sportswear boutique in Olympic Valley, California. The company's total annual revenues exceed $100 million, with the wineries making up 40 percent of sales, followed by the hotels at 30 percent, the restaurants and bars at 25 percent, and the retail shops at 5 percent.
"As an organization, we focus on having fun," Scherer says. "If we're not having fun on a project, then it's not right for us. We appreciate irreverence and take an entrepreneurial approach. We look to find unique business opportunities that fit into our hospitality bucket so that we can add value and continue to grow the brand. We don't focus on any one business unit over another."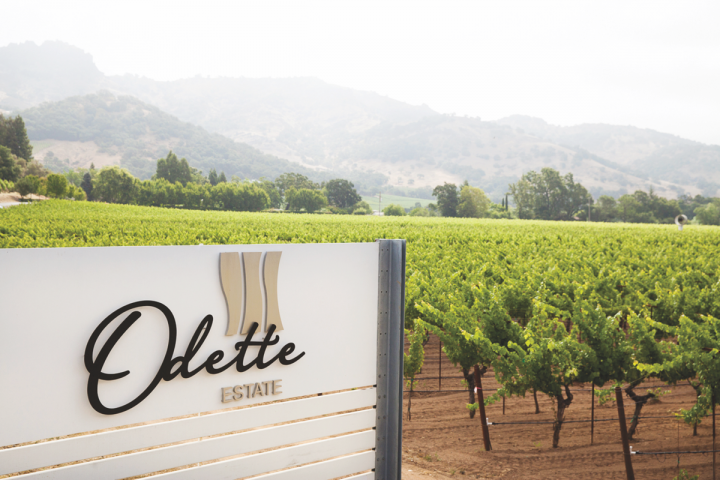 Varied Portfolio
The winery component is a huge part of PlumpJack's business. The company owns three Napa Valley wineries—its eponymous PlumpJack Winery in Oakville, Odette Estate Winery in the Stags Leap District and Cade Estate Winery on Howell Mountain, which it recently expanded in 2016 by purchasing land from the adjacent Ladera Winery. John Conover manages all of the company's winery properties. The 2012 Odette Estate Reserve Cabernet Sauvignon, a screw-capped wine priced at $300 a 750-ml., received 94 points from Wine Spectator. Similarly, the 2013 PlumpJack Reserve Cabernet Sauvignon ($399) earned 93 points from Wine Spectator.
PlumpJack Group's wines are available at most of its restaurants. At Balboa Café, there's a special section on the wine list for company-owned labels, ranging from the 2012 Cade Sauvignon Blanc ($42 a 750-ml.) and 2012 PlumpJack Reserve Chardonnay ($60) to the 2010 Cade Howell Mountain Estate Cabernet Sauvignon ($165) and the 2009 PlumpJack Reserve Cabernet Sauvignon ($297). Balboa Café's wine list also includes numerous other domestic and international labels, which complement entrées like a maple-brined pork chop, pan-seared salmon, braised short rib and its signature burger served on a baguette (entrées are $14.50 to $31.50).
At PlumpJack Café in the Squaw Valley Inn, a ski lodge–inspired retreat near the north shore of Lake Tahoe, the wine menu features a full page dedicated to company-owned wineries, from the PlumpJack and Cade labels to the 2013 Odette Estate Cabernet Sauvignon ($210 a 750-ml.) and 2013 Odette Reserve Cabernet Sauvignon ($500). The concept's food menu emphasizes local and organic ingredients, offering starters like poke cones and Duroc pork belly alongside such larger dishes as braised lamb shank or kale and artichoke enchiladas (appetizers are $13 to $23; entrées are $35 to $44). The café also boasts an impressive cocktail program. The signature PlumpJack Martini comprises Cîroc vodka, Château Laribotte Sauternes and frozen grapes, while the White Rain mixes Spirit Works gin, Fonseca Siroco White port, Clear Creek Pear brandy, house-made tonic syrup, and fresh lime juice and rosemary (cocktails are $10 to $13).
PlumpJack developed the Squaw Valley Inn project with Denver-based Meriwether Cos., which helped redesign the property after PlumpJack acquired it. Following that venture, the two businesses also partnered on a pair of additional hotel properties. Offering a completely different atmosphere, PlumpJack's desert hideaway Ingleside Inn in Palm Springs, California, is a registered historic landmark with its own restaurant and piano bar, Melvyn's Restaurant. Along with a lengthy wine list, the venue has a continental menu, ranging from saffron prawns to chicken coq au vin to Châteaubriand (entrées are $22.50 to $37.50). Rounding out the company's hotel portfolio is beachside boutique sanctuary The Hideaway in Carmel-by-the-Sea, California, featuring waterfront views and relaxed light fare and drinks on its outdoor patio.
The hotels are far afield from PlumpJack's home base in San Francisco by design. "We're looking to a wider range for spaces to grow, and our properties in Palm Springs and Carmel are examples of that growth," Scherer explains. "We want to expand outside the Bay Area." PlumpJack also operates two new restaurants in Vail, Colorado, another market where the company hopes to expand. "When we visited Colorado, we saw an opportunity to introduce a lot of the trends from the Bay Area to the region," Scherer says. "We've brought a unique cocktail culture with a great emphasis on quality ingredients and unique products."
PlumpJack's Vail restaurants include Pendulum and White Bison, both higher-end but accessibly priced venues. Pendulum evokes a modern lodge and features an American menu with Latin influences, including chorizo flatbread, crispy Peruvian octopus and poached lobster tagliatelle (entrées are $29 to $56), as well as classic and new cocktails and varied wine and beer lists. White Bison offers New American cuisine, from seared country pork pâté to stout-braised bison short rib ($18 to $42). The cocktail menu includes a selection of shot-and-beer combos ($12) like the Angry Dad, comprising Budweiser and Old Grand-Dad Bourbon.
Adding Bar Spaces
Some of PlumpJack's newest concepts include drinks-focused venues like Wildhawk, Forgery and Verso, all in San Francisco. The company hired Ken Luciano to oversee its bar properties and has signed on mixology star Jacques Bezuidenhout to help with menu creation. The pair have shaped dynamic drinks spots that are garnering attention in the Bay Area and beyond. "Bringing those personalities into the organization enables us to succeed in a unique way," Scherer says. "Ken and Jacques bring something special to the table and are making some unique headway in reinventing cocktails."
PlumpJack opened the cocktail bar Forgery and the nightclub Verso in 2015 in San Francisco's Mid-Market neighborhood. The concepts share a large space, divided by a brick wall, but have their own entrances and atmospheres. Verso is a high-energy dance spot with a rotating list of DJs and a table service menu for spirits and Champagne (from $150 a 750-ml. to $50,000 for a 15-liter bottle of Armand de Brignac Brut Gold Champagne). Forgery is a modern drinks den with an impressive cocktail list that features a variety of interpretations on the Negroni, including options made with genever, Tequila and brandy ($12). Forgery's signature drinks list spans 15 cocktails ($12) and is complemented by nearly 30 beers ($4 to $19 a draft pour, can or bottle) and 15 wines ($9 to $18 a glass).
In 2016, PlumpJack opened Wildhawk in San Francisco's Mission District. The drinks lounge puts an emphasis on vermouth, offering several cocktails that incorporate the fortified wine, as well as menu sections for Martinis and signature drinks. One of Wildhawk's most popular creations is the Breakfast Negroni, comprising Beefeater gin infused in-house with Cocoa Puffs cereal and mixed with Campari, Cinzano 1757 Rosso vermouth and house-made chocolate salt bitters ($12).
"Cocktails are on fire, especially in San Francisco," Luciano says. "Everyone has been focused on bringing the culinary world into cocktails and it's doing well. At Wildhawk, we put a big emphasis on vermouth, and people are really jazzed about it, while at Forgery, we have a vast Scotch selection. In San Francisco, the population is educated: People seek out and are willing to try high-quality spirits." Luciano adds that he and Bezuidenhout are working with Conover to make their own vermouth for use at the company's bars.
This kind of crossover among different sectors is a key part of PlumpJack's longevity and success. Luciano notes that while the company got its start in wine retail, the evolution into hospitality has been bolstered by its ability to play in so many different sectors of the industry. "When you look at the diversity of our group—wineries, hotels, bars, restaurants, retail stores—there's a common theme," Luciano says. "All of them have a beverage component. That offering of a drink really speaks to all of our properties. One of the joys of working for such a diverse company is that you learn a lot of different businesses. It's great to be in a meeting with someone who runs a winery, a restaurant, a bar, and a hotel or ski lodge. Just to have that diversification and all the expertise around the table is great."
Scherer adds that the company's many different types of employees create a dynamic work environment and culture that's hard to replicate. PlumpJack's future growth will continue to span many areas. Along with more opportunities throughout California and Colorado, Scherer says PlumpJack is interested in adding a property in Costa Rica. The company will also officially launch its philanthropic arm, PlumpJack Foundation, in May at the annual PlumpJack Golf Tournament. The foundation will benefit many groups, with a focus on providing support for cancer patients and children in need.
"We believe strongly in momentum," Scherer says. "We challenge ourselves to be better at every property, even if we have a great thing going. We've worked really hard on the culture of our business to create experiences for our customers. People want experiences now more than ever. They want to walk into a space and be transported into a different environment. We create unique spaces that aren't easily copied."