For more than five decades, Vail Ski Resort has been a playground for skiers, snowboarders and overall adrenaline junkies. They come from near—Denver is just 100 miles away—and far to hit some of the world's premier slopes.
Once called Gore Creek Valley, the area was initially inhabited by the Ute Indian tribe. During World War II, the United States Army operated a training center for alpine combat nearby. The division consisted of seasoned skiers who went on to battle in the mountainous region of northern Italy. After the war, many became major players in the burgeoning ski industry.
One such veteran, Pete Seibert, had trained in Gore Creek Valley and decided Vail Mountain would make for an ideal new ski resort. He joined forces with another lifelong skier, Earl Eaton, and the two dreamt up plans for the quaint alpine village in the Rocky Mountains. Vail Ski Resort officially opened in December 1962 with one gondola, two chairs, eight ski instructors and nine ski runs. Today, it's one of the largest and most-visited ski resorts in North America, with more than 5,000 skiable acres that draw an estimated 1.3 million visitors each year, according to marketing network Swift Luxe. The village comprises three base areas—each filled with luxury resorts and high-end shops, restaurants and bars—which are connected by pedestrian-friendly heated streets and free shuttle buses.
Vail Resorts Inc., which comprises the mountain resorts of Vail, Beaver Creek, Breckenridge and Keystone in Colorado, plus seven additional properties in other states, reported that earnings before interest, taxes, depreciation and amortization increased 11.6 percent to $268.8 million in fiscal 2014 over the previous year. Total net revenue grew 11.1 percent for fiscal 2014, primarily driven by a 10.2-percent bump in total skier visits and a 14.4-percent advance in lift revenue.
Culinary Niche
While Aspen has long been regarded as a hotbed of talented chefs, Vail hit its culinary stride more recently. "Five years ago, there was a lot of doom and gloom—business was down, along with the economy," says restaurateur Matt Morgan, who co-owns the longstanding American restaurant Sweet Basil and its more casual downstairs sibling, the 2-year-old Mountain Standard. "But we've bounced back, and new, exciting restaurants have sprung up in town."
With a population of roughly 6,000 permanent residents, Vail currently boasts more than 75 restaurants and bars. Annual food- and drink-focused events, including Vail Beaver Creek Restaurant Week, Taste of Vail, Feast! Vail and Gourmet on Gore, spotlight the creativity coming from local kitchens. The 4.5-square-mile town has attracted world-renowned chefs including "Top Chef" contestant Kelly Liken and James Beard award-nominated Nobu Matsuhisa, who both have eponymous restaurants in Vail. Rising-star chefs like Paul Anders of Sweet Basil and Mountain Standard ensure the future of the dining scene is in good hands.
"Vail's dining scene is the best it's ever been," says Collin Meyer, executive chef at Game Creek Restaurant, a Swiss chalet–inspired mountainside spot accessible only by skis or snow vehicles. With clientele that comprises affluent second homeowners, international jet-setters and active families, standards are predictably elevated. "This is a world-class resort destination," Meyer adds. "It's only natural that our guests expect abundant gourmet cuisine and dining options." Morgan, who characterizes visitors as well-heeled and fun-loving, agrees. "Whether it's for shopping, lodging or dining, expectations are high across the board," he says.
Vail's chefs, inspired by their rugged surroundings and perhaps catering to skiers' sizable appetites, are known to dish up hearty fare. Anders—who was recently invited to cook at the James Beard House in New York City—uses a wood-burning grill to create dishes like Mountain Standard's pork shank ($33), served with Gruyère potato purée, and Sweet Basil's braised Colorado lamb shank ($43), plated alongside an eggplant and raisin caponata.
At Vail Cascade Resort's fine dining restaurant, Atwater on Gore Creek, the top-selling entrée is the 7X Colorado Wagyu steak ($36 a 6-ounce cut or $54 a 10-ounce cut). Meanwhile, Game Creek Restaurant's sumac-marinated Colorado lamb has been the most popular offering on Meyer's three-, four-, and five-course prix fixe menus ($90 to $110).
High-Altitude Drinking
Nothing caps off a long day on the slopes better than the iconic après-ski cocktail. In Vail Village, the warm drinks start flowing around 3 p.m., and après ski lingers well into the evening. Although many bars are housed within luxury resorts, the overall vibe of Vail's cocktail scene is decidedly casual, and even the high-end spots are accepting of a little alpine gear.
Laurie Mullen, co-owner of West Vail Liquor Mart—a beer, wine and spirits shop that has served the area for four decades and pulls in $4.7 million dollars annually—says the cinnamon-flavored Fireball whisky ($17.99 a 750-ml. bottle) is having a moment, emerging in recent years as the spirit of choice for hot drinks. She notes that in a market previously cornered by Tuaca vanilla-citrus liqueur and Grand Marnier orange liqueur, Fireball's novelty and lower alcohol content (33-percent alcohol-by-volume) contribute to its popularity. Mullen says minis ($1.49 a 50-ml. bottle) and 10-packs of minis ($11.99) are hot commodities, and West Vail Liquor Mart sells more Fireball than any other Colorado store.
Warm drinks dominate wintertime cocktail menus at on-premise venues, and many have jumped on the Fireball craze too. At Fireside Bar in Vail Cascade Resort, the busy mountainside lounge serves upwards of 200 covers a night during ski season. Named for the on-site ski lift, the top-selling Chair 20 cocktail ($11) comprises Fireball, Baileys Irish Cream liqueur and Captain Morgan Original Spiced rum, topped with whipped cream.
Craft Beer And Spirits
Thanks to mainstays like New Belgium Brewing and well-received newcomers, such as Crazy Mountain Brewery, Colorado is one of the country's top craft beer markets. Coors Light ($7.99 for a six-pack of cans) holds fast to its title of top-selling beer at West Vail Liquor Mart, but Mullen notes that customers are now willing to spend more money on their beer. "Maybe they'll still buy Coors Light, but they'll grab a craft bomber to try along with it," she says. As a result of the premium price tags on these brews, West Vail Liquor Mart sold fewer beer units in 2014 than in 2013, but the store saw an increase in its overall beer sales numbers.
Just as craft beer's popularity shows no sign of waning, locally produced small-batch spirits seem poised to emerge. "We've noticed that the craft cocktail programs at high-end restaurants in town have turned people on to locally made spirits," Mullen says. "There's so much creativity involved in the production of local craft offerings, from the ingredients used to the aging process." She also notes increased support for local businesses during the economic downturn—a trend that has continued.
"A few years back, I thought every ski town in Colorado would soon have a local distillery like they have a microbrewery, and now they do," says Claude Seeman, co-owner of 808 Distillery. The company introduced its first offering, Leo's limoncello ($29 a 750-ml. bottle), last June. Seeman and his business partner, Jeff Leonardo, craft their liqueur by hand—grinding grain and zesting lemons to recreate Leonardo's old family recipe—from a 520-square-foot barn in nearby Eagle, Colorado. "Our process is really slow and labor-intensive, but it's worthwhile because we get to be involved in the birth of a new industry," Seeman says. At press time, 808 Distillery was set to add Red Canyon Aged rum and Red Canyon Spiced rum to its roster in January.
Another craft producer, 10th Mountain Whiskey & Spirit Co., also hit the local scene in 2014. Founders Ryan Thompson and Christian Avignon produce a moonshine ($24.95 a 750-ml. bottle), a Bourbon ($57.95), a rye whiskey ($39.95), a potato vodka ($33.99) and a sage-infused peach-vanilla cordial ($44.95). Thompson projects sales of $1.5 million, which equates to 7,000 cases, this year.
Thompson and Avignon distill their products 20 miles west of Vail and operate a tasting room in Vail Village, where they offer daily tours during winter. Named for the division that trained in the area during World War II, 10th Mountain draws inspiration from the rugged lifestyle forged by the group—which included Avignon's grandfather—and the founders launched their company as a way to honor the soldiers' legacy. "We wanted to create something the community could grab onto and be proud of," Thompson says. "People tell us we're making Vail cool again."
Located in a landlocked area that's blanketed in snow for most of the year, Vail doesn't exactly offer a bounteous regional agriculture, but the city's chefs and distillers source locally whenever possible. During the summer, the surrounding areas produce sweet corn, peaches and melons. Sweet Basil and Mountain Standard rely on a farm in Delta, Colorado, for beans, herbs, squash, tomatoes, corn, cucumbers and stone fruit, while Thompson and Avignon use sage from Palisade, Colorado, to create 10th Mountain's cordial.
Outside of the summer months, when sourcing produce locally becomes practically impossible, chefs look to Colorado and Idaho ranches for lamb, elk, bass, Wagyu beef and kurobuta pork. Cheese, including goat's cheddar from Basalt, Colorado, and sheep's milk cheese from Larkspur, Colorado, is regularly featured on the menus at Game Creek Restaurant.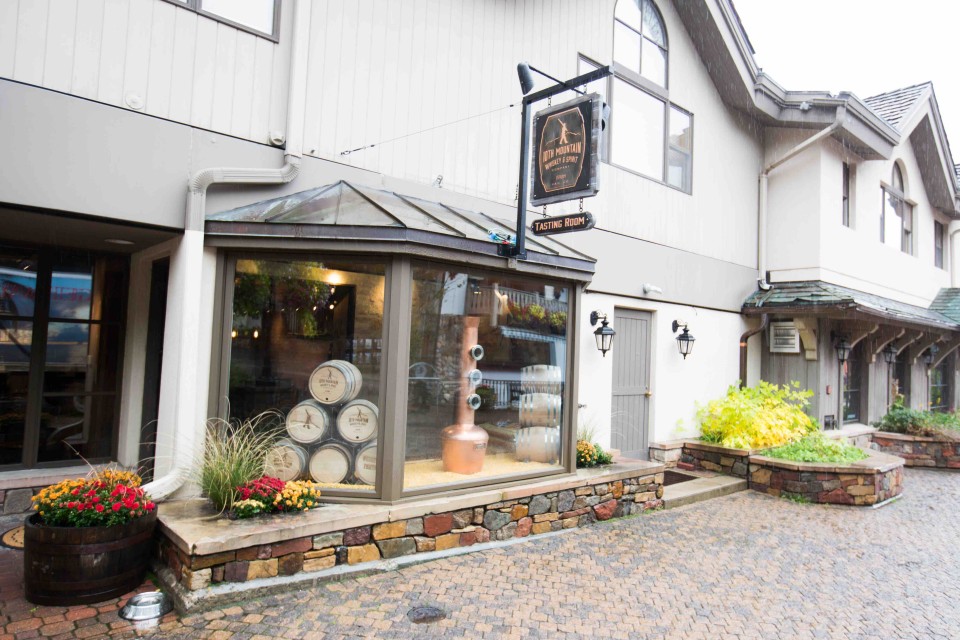 When The Snow Melts
It goes without saying that Vail's economy relies on tourism. According to the Vail Valley Partnership, there are 34,000 total employees in Eagle County (which comprises Vail and nine other communities), with 6,440 of these jobs directly supported by visitors' dollars.
Many restaurants and bars, including Game Creek Restaurant, opt to go on hiatus from mid-April through mid-November, the period when the mountain is typically closed. Others operate with scaled-back hours. Those venues that continue to operate often reduce prices or offer seasonal bargains: Atwater on Gore Creek, for example, features a three-course meal for $33.
"We try to avoid using the term 'off-season' because there's still plenty going on around Vail when it's not wintertime," Morgan says. He notes that while his restaurants regularly serve up to 280 guests in a single evening during ski season, that number often drops to around  40 at other times of the year. Similarly, Mullen says West Vail Liquor Mart sells 60 percent of its annual volume during the winter.
While snow sports are the bread and butter of the industry, residents are working to bolster tourism during the warmer months: Spring, summer and fall bring guided hikes, mountain biking, horseback riding, carriage rides and fly fishing. "It may sound cliché, but Vail in the non-winter seasons really is a well-kept secret," Morgan says.