Across the realm of spirits marketing, image and brand identity have consistently been core drivers of sales. That's especially true for Cognac, a category that has seen impressive growth and brand consolidation over the last few decades. Back in 1990, the category's biggest label was Hennessy, comprising more than one-third of U.S. sales at 745,000 cases, according to Impact Databank. Courvoisier followed with a quarter of the market at 500,000 cases, while Rémy Martin accounted for 15 percent at 295,000 cases and Martell took 14 percent at 280,000 cases.
By 2015, the picture had changed. Hennessy continues to dominate, but on a larger scale, posting 19.5-percent growth last year to over 3 million cases. It now makes up two-thirds of the category. "We couldn't be happier with how the brand has been performing in the United States over the past few years," says Giles Woodyer, senior vice president for Hennessy at Moët Hennessy USA. In second place, Rémy Martin increased 17 percent to 765,000 cases in 2015, while No.-3 player Courvoisier held steady at just under 450,000 cases. Martell—a brand that has shrunk to make up just 2 percent of the U.S. market in 2015—saw a 33.4-percent surge to nearly 100,000 cases, while relative newcomer D'Ussé gained 6 percent to 58,000 cases. Overall, Cognac had another stellar year, growing 15.5 percent to 4.6 million cases in the United States—more than double its 1990 volume.
Retailers affirm that the category is on fire. "Cognac has been increasing by 20 percent a year for us," says Bob Gibson, vice president and chief marketing officer at ABC Fine Wine & Spirits in Florida. The 135-unit retail chain does the bulk of its business in the "big three"—Hennessy, Rémy Martin and Courvoisier—but wine and spirits supervisor Atanas Nechkov aims to diversify the selection. "Brands like Hine, Hardy and Kelt do well, but the percentage of sales is much smaller," he says. "Most of the business is in Hennessy V.S., with some trading up to Rémy Martin VSOP."
At the two-unit Tower Beer, Wine & Spirits in Atlanta, director of purchasing Tyler Sheron has noticed similar trends. "The average dollar amount people are paying for Cognac has increased," he says. "They're moving up from Courvoisier or Salignac to Hennessy or Rémy. Many customers are also trading from $12-to-$14 domestic brandy to $20-to-$30 Cognac." Sheron says that Atlanta's booming economy has had some effect on trends, but notes that Hennessy's marketing has played a role as well. "They've done an incredible push on advertising," he says. "Cognac is so image-driven, and advertising plays a huge part."
But not every retailer is happy with the category's marketing strategies. "I used to sell 10 times the amount of Cognac I sell today," says Leonard Phillips, owner of Ambassador Wine & Spirits in New York City. "The quality hasn't changed—it's the marketing. The leaders of the category have targeted a single type of consumer, and people who used to drink Cognac are now drinking Scotch and Bourbon. They probably won't go back to Cognac, because the industry hasn't made an effort to reconnect with them." Ambassador carries around 40 Cognac SKUs priced from $30 to $300 a 750-ml. bottle, but none from the leading houses. Phillips recommends family-owned and small négoçiant brands like Croizet, Pitaud and Godet to his customers.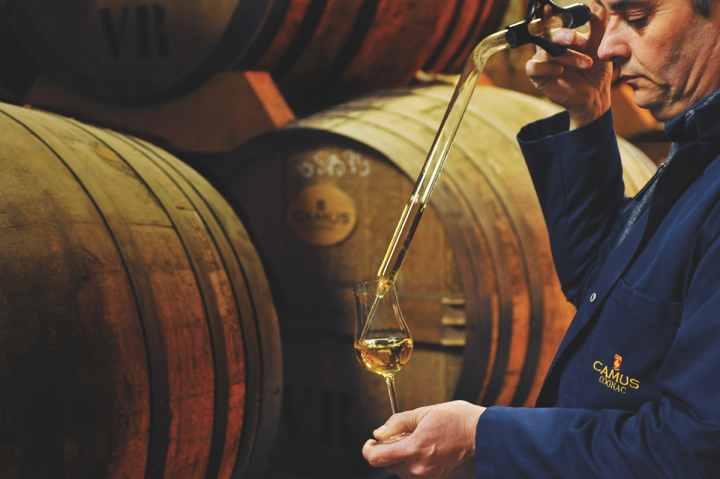 Rising Players
For several years, brands like Martell and Camus focused on Asia and the duty free market as those areas experienced strong demand. Recently, however, the United States has become the top Cognac market in the world, shifting companies' focus to target consumers here. Five years ago, Camus started its own U.S. import company, and today CIL US Wines & Spirits is approaching 10,000 cases and $10 million in retail sales, led by Camus V.S. Elegance. "Over half our sales in the United States are in V.S., with a third in VSOP," says sales and marketing director Alexandra Albu, noting that the balance goes to the company's high-end marques. Camus offers the core Elegance range—which has V.S., VSOP, X.O. and Extra expressions—and the Borderies line, which has a VSOP and an X.O. and currently takes about a quarter of sales. "We're looking to have an equal split between the two lines by 2020, or even to let Borderies lead," Albu notes. "We want to be known as the Borderies experts."
During the 1990s and early 2000s, Pernod Ricard's Martell invested heavily in Asia to the detriment of its share of the U.S. market. That picture is changing, however. "We're always trying to renew ourselves, which isn't easy in the world of Cognac," says Martell senior brand ambassador Christophe Pienkowski. The brand launched its new Blue Swift label this fall in Atlanta, Baltimore, Houston, Detroit, Chicago and Washington, D.C., with plans to expand to nationwide distribution in January 2017. Priced at $50 a 750-ml. bottle—between Martell VSOP and Martell Cordon Bleu—the product comprises Martell VSOP that's been finished for five to six months in Kentucky Bourbon barrels. "We're trying to get more into the on-premise with this brand," Pienkowski explains. "It's not going to be one shot. We have a whole strategy for the U.S. market."
Newer products are finding success as well. Bacardi launched D'Ussé in 2012, and the fledgling label—which has VSOP and X.O. marques—is gaining momentum. "The brand has exceeded its revenue this year by over 20 percent compared to the last fiscal year," says D'Ussé senior brand manager Tyler Phillips. "We attribute this growth to the effort made to sample and convert consumers who are switching from lower Cognac categories and clear spirits. The VSOP is leading growth, and we've seen a tremendous amount of success in its 375-ml. size."
A number of small-production Cognac brands are also aiming to capitalize on the category's growth. Originally founded in 1905, Bache-Gabrielsen launched in New York, New Jersey and Connecticut in June and is currently rolling out to 17 markets nationwide. The brand's lineup includes Tre Kors ($29.99 a 750-ml. bottle), Natur & Eleganse VSOP ($59.99), X.O. Decanter ($99.99), Natur & Eleganse X.O. ($129.99), Sérénité ($169.99) and American Oak ($39.99), a Cognac finished for six months in new Tennessee oak barrels. "The introduction has been received extremely well," says company president Hervé Bache-Gabrielsen. "We're thrilled to be a part of Cognac's resurgence."
Park Cognac, made by Distillerie Tessendier et Fils, features V.S. Carte Blanche ($37 a 750-ml. bottle), Organic Fins Bois Single Cru ($49), VSOP ($50), Borderies Single Vineyard ($59), X.O. Traditional Reserve ($109), Vieille Fine Champagne X.O. Cigar Blend ($139) and Extra Grande Champagne ($219) offerings. The line depleted 4,000 cases in the United States in 2015 and has seen a 25-percent increase in year-over-year sales, according to U.S. brand manager Anaïs Mathilde Brisson. "In the U.S. market, Cognac has been misrepresented as a spirit that's only for the wealthy, especially if you seek a top-quality product," she says. "Park is less about prestige and more about celebrating the beauty of the eaux-de-vie, crus and terroirs. That message has been well received by spirits enthusiasts and bartenders."
At the four-unit Randall's Wine & Spirits in St. Louis, vice president Todd Randall says smaller high-end brands are doing well amidst the leading players. He notes that D'Ussé VSOP ($39.99 a 750-ml. bottle) is sourcing from existing Cognac consumers looking to trade up and influenced by the brand's endorsement by rap mogul Jay Z. The chain has also done well with Camus, as well as such brands as Pierre Ferrand Ambre ($52.99), Hine VSOP ($49.99) and Hardy V.S. ($35.99). But Randall says there's a lot of work to be done with education. "Some consumers understand what a term like V.S. means, but most don't," he explains. "A lot of people have educated themselves about whiskies in recent years through tasting clubs and at bars. I believe they'll do the same with Cognac eventually, but the level of education isn't there yet."
Building Knowledge
Randall believes the key to educating consumers about Cognac is to play up the category's authenticity. "Bourbon has regulations that make it easy to understand," he says. "Cognac is the same way. Brands just have to start talking about that to the consumer." Randall compares Cognac to Tequila in his stores. "Both categories are selling well and have that authenticity of being made in a specific place with specific rules," he adds. "Those qualities will help them continue to succeed." Tower's Sheron notes that more educated consumers tend to purchase higher-end brands. "People know a lot more about everything these days, and that's led to trading up," he says.
But many brands haven't invested heavily in education, focusing more on lifestyle branding. At Ambassador, Phillips has seen the effect. "When it comes to Bourbon and Scotch, companies have put money into not only marketing, but education as well," he says. "They want an educated consumer who will explore. The big Cognac houses have put all their investment into marketing." Because Ambassador doesn't carry Hennessy, Rémy Martin or Courvoisier, Phillips often has to hand-sell smaller brands to customers. "We can recommend something with a similar flavor profile based on where the grapes are grown," he explains. "People come back and thank us profusely. They don't even realize there are other Cognac producers."
The big houses, however, are beginning to emphasize education in their marketing strategies. "My primary job is to educate on what Cognac is," says Jordan Bushell, national brand ambassador for Hennessy. "Nobody is educating on brandy as a whole, let alone Cognac. As the leader, it's incumbent on us to educate on that entire category." Hennessy Master Blender's Selection No. 1 ($80 a 750-ml. bottle), which launched in October, helps in that effort. The label lacks a denomination of age, which can be confusing for consumers. "That makes it easier to educate because it's more about the individual palate," Bushell explains. "It's a blank slate. You don't need to know what Cognac is. You only need to know what your own palate is, and you're aptly qualified to do that."
Rémy Martin debuted La Maison Rémy Martin this fall in New York City, Chicago and Los Angeles. The event series invites consumers to experience the different stages of Cognac's production process in an intimate setting. "We're creating a direct relationship with our clients," says Rémy Martin CEO Eric Vallat. "This industry has many layers between the producer and the consumer. The more we can tell our story through digital media or these kinds of experiences, the better. It's all about building long-term relationships." Rémy Martin is also continuing its One Life/Live Them marketing campaign—an effort that is now uniformly presented throughout its global markets.
Camus has developed a training kit to educate consumers and trade on the unique characteristics of its Borderies range. The kit includes roll-on vials of aroma compounds like violet, vanilla and pastry, as well as samples of Borderies VSOP and X.O. and unaged eau-de-vie. Users roll each liquid onto perfume paper to smell and understand the different aromatic components of the Cognacs. "You're acting like a master blender, but in an olfactory way," Albu explains. She notes that the brown spirits boom has helped the brand. "People are open to trying new spirits and they understand the advantage conferred by aging," she says. Camus will introduce a new expression that emphasizes cask influence, Extra Dark & Intense, in the next 12 to 18 months, and Albu says the company may add a V.S. to its Borderies range as well.
Some retailers are seeing more educated consumers, thanks to the whisk(e)y boom. "One type of customer knows Cognac well on its own, but another type of consumer considers it as part of the overall brown spirits category," says Gary Blackwell, owner of Blackwell's Wines & Spirits in San Francisco. The store offers around 40 Cognac SKUs with a focus on boutique labels like Peyrot ($55 to $68 a 750-ml. bottle), A. Edmond Audry ($90 to $175), Frapin ($45 to $475) and Raymond Ragnaud ($40 to $105). Blackwell points to products like Hennessy Master Blender's Selection No. 1 as smart innovations that could attract new consumers. "They're going after the Bourbon drinker," Blackwell says. "It's a good move. But they need to do more complementary marketing. They shouldn't make a Cognac that tastes just like a Bourbon."
At Tower, Sheron says that Hennessy Master Blender's Selection No. 1 has sold well. "It carries the Hennessy brand, but it doesn't look like regular Hennessy," he notes. "That's part of its appeal. Hennessy is in a good position with this offering thanks to the brand's strong position in V.S. The company has been very smart about its image." Sheron adds that Hennessy and Rémy Martin consumers are very loyal to both brand and marque. "People who drink Hennessy V.S. will drink it as long as they have money in their pocket," he says. "They may buy a bottle of VSOP as a gift, but they're not going to buy X.O. and they're not going to buy Courvoisier."
Evolving Consumers
Cognac has benefited from the growth of at-home mixology among younger consumers. At ABC, Gibson sees customers seeking out Cognac specifically to use in cocktails. "We're excited about all the opportunities for drinks solutions," he says. "That's been a wonderful change over the last year or two—the resurgence of Cognac in cocktails." Gibson points to millennial consumers as a key driver of the trend. "Millennials are fully engaged in spirits and they're trying new things," he explains. "They want to be more diverse in what they're drinking."
Marketers are picking up on the movement. "Millennials are open to exploring brown spirits and they're expressing themselves through what they consume," says Albu of Camus. "They're interested in quality and in understanding what they put in their bodies." Hennessy's Woodyer also sees more millennials gravitating toward the brand. "Many consumers are discovering Cognac, especially Hennessy VSOP Privilège, through classic cocktails," he says. "We've had success introducing people to Hennessy X.O. on ice as well." Vallat of Rémy Martin notes that Rémy 1738 consumers are evolving. "They're a bit younger," he says.
Hennessy, Rémy Martin and Courvoisier may make up over 90 percent of Cognac sales in the United States, but some retailers are optimistic that smaller brands will take share even as the category continues to grow. "The large national brands are driving the train, but others will benefit from that," ABC's Gibson says. Nechkov agrees. "Hennessy V.S. and Rémy Martin VSOP will still be the leading brands at ABC," he says. "But our purpose as professionals is to open the consumer to new things, and that's what we strive to do every day."