Faced with fierce competition from single malt Scotch and upscale Bourbons, Cognac is approaching a defining moment in the United States. The explosive popularity of super-premium brown spirits and the high-end cocktail culture have created new opportunities for the French spirit. "The U.S. Cognac category is large and profitable," says Claire Richards, director of world whiskies and Cognac at Beam Suntory. "It's seeing growth with the rising brown spirits trend and resurgence of classic cocktails."
Lifted primarily by the strength of V.S. offerings, which accounted for 70 percent of category volume in 2013, Cognac tallied its fourth consecutive year of growth in the United States—the category's largest market worldwide. Cognac is a unique spirit in the U.S. market because, unlike many other categories, it isn't experiencing trading-up trends. Cognac's V.S. offerings, the least expensive category marque, are already primarily positioned at the super-premium pricing tier and have a loyal following among trendsetters. In all, Cognac depletions in the United States climbed 1.5 percent last year to approximately 3.68 million nine-liter cases, according to Impact Databank.
Cognac symbolizes time-honored civilized refinement, yet it's also a dynamic spirit embraced by the aspirational crowd. "I see quite the potential, but Cognac producers must appeal to millennials because they can drink anything as long as there's a history behind it and the brands are attractive," says Flavien Desoblin, owner of Brandy Library in New York City. "Right now the saving grace in Cognac may be consumers who are 30 years old and younger."
Category leader Hennessy increased 4.5 percent to 2.33 million cases in 2013. Hennessy's growth offset volume losses among other leading brands and accounted for more than the category's total U.S. volume growth of 55,000 cases in 2013. Hennessy ($30 a 750-ml. bottle for the V.S. expression) continues to grow at a similar clip this year. "We have seen an interesting dynamic in the millennial segment, which has a broader range of consumption than previous generations of drinkers," says Rodney Williams, senior vice president at Moët Hennessy USA.
On the heels of double-digit growth in 2012, second-ranked Rémy Martin ($30 a 750-ml. bottle for the V.S. variant), owned by Rémy Cointreau USA, decreased 7.5 percent last year to 620,000 cases. The upscale brand is trending strong this year. "We're seeing continued momentum behind our key marques, especially 1738 ($50) and VSOP ($40), and expect to finish the year with solid growth rates," says Emma Medina, vice president of Rémy Martin Cognac's V.S., VSOP, V and 1738 expressions.
Third-ranked Beam Suntory brand Courvoisier dipped 1.2 percent to 410,000 cases last year, but the brand shows healthy growth signs in 2014. "Courvoisier has seen strong share growth this year, particularly from our flagship
Courvoisier V.S. ($30 a 750-ml. bottle)," Richards says.
Aspirational Drinking
At the 63 U.S. locations of Morton's The Steakhouse, there are typically 12 Cognacs on the menu, ranging in price from $11 a 1½-ounce serving of Rémy Martin V.S. or Courvoisier V.S. to $280 for Louis XIII de Rémy Martin. "From a dollar standpoint the standout is Louis XIII," says Morton's vice president of wine and spirits Tylor Field. "It still seems to be in the lexicon of aspirational drinking for affluent guests and holds its own while other marques decline."
At Morton's, popular Cognacs include Hennessy VSOP and Courvoisier VSOP (both $14 a 1½-ounce serving), and some 90 percent of the Cognac is consumed neat. The restaurant's Ginger Snap Side Car cocktail ($15), made with Rémy Martin VSOP, Domaine de Canton ginger liqueur, Cointreau triple sec liqueur and fresh lemon juice, accounts for the remainder.
Field notes, however, that overall consumption of Cognac at Morton's is losing share to craft whiskies and Bourbons that have broader appeal to consumers in the 25-to-45 age range in fine dining. "Unlike in China and other areas of the world where Cognac has been heavily marketed for many years, producers seemed to have left the door open for other brown spirits to take their market share in the United States," he explains. "There is also a trend toward going local for everything."
Changes in consumers' dining habits have also impacted Cognac. "Guests are less likely to order coffee and dessert or spend time to have an after-dinner drink than they were 10 years ago," Field says.
Taste Of Cognac
Brandy Library in Manhattan boasts 140 Cognac selections on its menu, ranging from $12 a 2-ounce serving of Louis Grimaud V.S. Grande Champagne or Prunier VSOP Grande Champagne to $235 for Pierre Ferrand Ancestrale Grande Champagne. "If brands aren't supported by an ambassador or somebody coming from the French estate or company three or four times a year, then they aren't going to get any sales," Desoblin says.
Other popular Cognac pours at Brandy Library include Pierre Ferrand Sélection des Anges Grande Champagne ($44 a 2-ounce pour), Frapin Château de Fontpinot X.O. Grande Champagne ($34), Paul Giraud Napoléon Grande Champagne ($18) and Très Rare Grande Champagne ($60). Other popular offerings include Prunier X.O. Très Vieille Grande Champagne ($28). More recently, customers have been ordering Hardy ($16 to $65), Normandin Mercier ($16 to $42) and Bache Gabrielsen ($18). The knowledgeable staff at Brandy Library has a particular affinity for Château Montifaud ($14 to $32) and Audry ($20 to $98). "Those two Cognacs are unsung heroes—they're doing amazing in other countries," Desoblin says.
Brandy Library offers a dozen Cognac-based cocktails (all $15). Two top-sellers are the Sidecar, mixing Louis Grimaud VSOP Cognac, Prunier orange liqueur and lemon juice, and the Jarnac Ginger, comprising Louis Grimaud VSOP Cognac, lime juice, cane syrup and house-made ginger beer, topped with club soda. "Education through the prism of cocktails has put Cognac back on the map," Desoblin says.
Classic Cocktails
Williams notes that the explosive growth of craft products has helped lead consumers to Cognac, and opportunities exist for the French spirit as the ultimate base for cocktails. Moët Hennessy promotes Cognac cocktails with master mixologist Jordan Bushell, who creates new recipes, conducts tastings and hosts other events. "Today's consumer isn't held back by the old thinking of Cognac being too precious to mix in cocktails or needing a snifter glass to be enjoyed," he says. "Hennessy is adapting to this notion, particularly with Hennessy Black ($40 a 750-ml. bottle), which is a smoother Cognac that's ideal for mixing."
Williams notes an increased consumer interest in dark spirits, including Cognac. "We continue to see new users enter the category, and they're introduced through cocktails that mix Cognac with fruit juices, similar to traditional white spirit beverages," he says.
Rémy's Medina agrees that brown spirits growth is positively influencing the Cognac market. "Bartenders are again creating cocktails with Cognac as the base and finding it to be a smooth and rich alternative to such spirits as whiskies," she says. "We still see increased consumption of classic cocktails, such as the Sidecar, the Sazerac and the Manhattan. These drinks provide an opportunity for consumers to experiment with different brown spirits and enjoy Cognac in a new way."
Beam Suntory's Richards also sees Cognac's potential for use in mixed drinks. "Many classic cocktails widely considered to be whiskey drinks were originally made with Cognac, marking a clear reemergence of the traditional cocktail movement," she says.
Pursuit Of Excellence
Moët Hennessy USA continues to build its Hennessy Cognac through the "Never Stop. Never Settle" multimedia campaign, which kicked off in 2012. The initiative's latest installment features "The Man Who Couldn't Slow Down," which depicts the story of 1930s speed-record chaser Sir Malcolm Campbell. "We're challenging consumers to think about their respective wild rabbits—the ideas or dreams that spur each of us on to push the limits of potential in the pursuit of excellence," Williams says.
Rémy Martin continues to focus on its campaign, "The Heart of Cognac Experience," now in its fourth year. Rémy Cointreau USA also has an integrated multimedia marketing plan to reach consumers. "This program explains the production of Cognac from the selection of the grapes to distillation to aging and blending," Medina says, noting it includes the brand's "VIP Circle" on-premise events and "Portfolio" off-premise sampling that invite consumers to trade up.
Courvoisier launched its "Exceptional Journey" campaign this past September, including digital and social media and integrated on-premise programming. "Inspired by the legacy and heritage of Courvoisier, the multifaceted campaign celebrates the path toward achieving excellence and recognizes people who have fully embraced the journey as they reach outstanding heights in their craft," Richards says.
Limited-edition line extensions continue to draw attention. Moët Hennessy released the fourth offering in Hennessy V.S.'s limited bottle series ($32 a 750-ml. bottle) with a new design created by American artist Shepard Fairey. The fifth in the limited-edition Hennessy VSOP Privilège series ($65), featuring a blend of eaux-de-vie aged up to 15 years, will be released in time for the holidays.
In early 2014, Beam Suntory launched L'Essence de Courvoisier Year of the Horse in celebration of the Chinese New Year. The Cognac, priced at $3,500, features a limited-edition bottle and special packaging.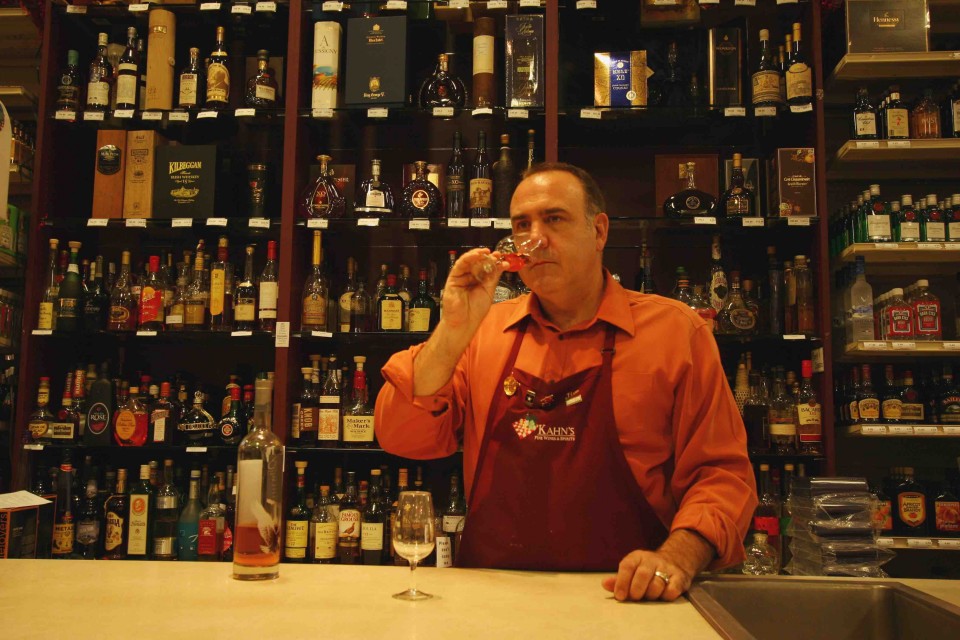 Retail Competition
At Kahn's Fine Wine & Spirits in Indianapolis, about 100 Cognac SKUs are available, ranging in price from $18.99 a 750-ml. bottle of Ansac V.S. or Salignac V.S. to $1,300 for Kelt Petra. The biggest sellers are Hennessy V.S. ($32.99), Hennessy VSOP Privilège ($64.95), Paul Giraud X.O. ($64.99) and Paul Giraud VSOP ($39.99). "I have a number of regulars on those and that can make a difference," says Kahn's owner Jim Arnold. "I have always been a VSOP store, advertising VSOP and higher grades."
Although Kahn's is relatively close to Kentucky Bourbon country, Arnold says it has always been an alternative store for the region, featuring a big selection of Cognac, as well as Armagnac offerings. Nonetheless, Cognac faces very stiff competition from Bourbon and single malt Scotch. "Cognac has always been driven by African-American clientele," Arnold says. "One big change is the movement of those consumers to Bourbon and single malt Scotch. Both categories are on fire and have definitely hurt my Cognac sales."
Arnold plans to increase his focus on Cognac sales during the last three months of the year, including a class to ready his staff for the upcoming holidays and the winter season. "Cognac will make a comeback," Arnold says. "The hipsters and millennials will discover it one day as a cool after-dinner drink. It might take some Cognac cocktails to get their attention."