To mark the tenth anniversary of the introduction of Conjure Cognac in the fall of 2019, business partners Gigi Olah and Kim Birkedal Hartmann launched Revanche Cognac. Conjure had the benefit of a celebrity backing from rapper and actor Chris "Ludacris" Bridges, an active partner. Revanche ($40 a 750-ml.), on the other hand, doesn't carry much celebrity cachet, but it has made significant headway in part due to its unique blend of VS, VSOP, and XO Cognacs. "We launched the brand in October 2019, and we're in 15 states and growing," says Olah, who serves as CEO. "The category was really hot. We wanted to come out with something that was really innovative and make our mark in Cognac."
While the launch of Revanche came before the Covid-19 pandemic, the brand utilized many of the tools that have become crucial during these times. "Instead of having a partner and blowing the brand up with a celebrity, I think the landscape has changed," says Olah. "Now, we're leveraging social media—particularly with music platforms—to synergize the audience with music and spirit consumption, especially Cognac. In this day and time, and especially given what's happened with Covid-19, there's no distinction for being celebrity-driven. It's really driven by the everyday consumer, and that's where our target is."
The U.S. market is ripe for Cognac innovation, and a slew of new brands have hit the shelves in recent years as demand continues to increase. Both Revanche and D'Ussé, a Bacardi-owned brand, are hot items at the three-unit Hokus Pokus Liquors chain in Louisiana, according to third-generation owner Gus Olah, who is Gigi's brother. He says brands with age statements are trending, and consumers are interested in unique offerings. "I think the more 'craft' Cognac that appears in the marketplace, the more consumers will continue to expand their exploration of Cognac," Gus Olah says.
At California's K&L Wine Merchants, spirits buyer David Othenin-Girard also sees enthusiasm for smaller, more unique Cognac brands. "We focus almost exclusively on small grower-producers because we don't find that there's much interest for big brand Cognac from our customers," he says. Among his interesting brands these days are Jacky Navarre Vieille Reserve ($220 a 750ml), Dudognon ($48-$250), Ragnaud Sabourin ($90-$170), and Pierre Ferrand ($45-$70).
At MiniBar Hollywood, beverage director Jeremy Allen favors Comandon Cognac. "It's a hand-sell for us, but in a bar as intimate as ours, and with clientele as loyal as ours, everything can be a hand-sell," he says. Allen says Cognac maintains its luxury positioning, and many consumers who drink Cognac are about "conspicuous consumption" and want to "be seen spending money."
Big Brand Leadership
While these brands and many others—a good number of which are relatively new to the U.S. market—have helped spur some excitement in the Cognac category, in reality they make up just a sliver of overall consumption. Total Cognac depletions reached just under 6.5 million cases in 2019, a 6.5% increase, according to Impact Databank. Nearly 97% of that total volume comes from the top six brands. In fact, top-ranked Hennessy alone makes up more than 60% of total Cognac consumption in the U.S.
Depletions of Hennessy increased by a robust 7.2% in 2019 to reach 3.97 million cases in 2019, outpacing the overall category growth. Giles Woodyer, senior vice president of Hennessy U.S., says the brand has shown remarkable resilience in 2020, particularly with the VS label, despite the challenging circumstances. At MiniBar Hollywood, Hennessy is prevalent and popular. "The younger crowd is drinking Hennessy and Coke or Hennessy and Pineapple, while the cocktail crowd is drinking stiff and stirred Cognac creations, and the connoisseurs are always neat," Allen notes.
Rémy Martin, meanwhile, ranked second in 2019 but declined 2.9% to 951,000 case depletions, according to Impact Databank. Rémy Martin exited the lower-priced VS segment in 2016 and has since homed in on its VSOP ($40 a 750-ml.), which accounts for the majority of volume at around 600,000 cases, as well as the 1738 Accord Royale ($60) and XO ($160).
Courvoisier had a stronger showing in 2019, with depletions rising 9.8% to 585,000 cases. This year is shaping up well, according to Jon Potter, managing director for Courvoisier at brand owner Beam Suntory, as U.S. consumers shifted purchasing to the off-premise. "While this has certainly been a challenging time for our on-premise partners, our consumers have more than made up for that by purchasing in the off-premise," Potter says. "We're seeing that spirits drinkers are making cocktails at home and choosing Courvoisier, as our liquid offers a beautiful Cognac style that lends well to cocktails or sipping neat.
Among the top six Cognac brands, D'Ussé was the most dynamic last year, jumping 22.2% to reach 372,000 cases. The brand is a relative newcomer to the category, launched in 2012 with the help of rapper Jay-Z. Jennifer Pisciotta, vice president of global marketing for acceleration brands at Bacardi, says the momentum from 2019 has picked up in 2020. "With the pandemic forcing people to stay home, the majority of the spirits industry has seen an increase in off-premise sales, and D'Ussé is no exception," Pisciotta says. "As a matter of fact, D'Ussé remains the fastest-growing brand within the Cognac category, and continues outpacing the category's growth."
Jessica Hochberg, senior brand manager at Martell Cognac, also notes the Covid-19 bump. "While we initially saw consumers move away from Cognac to other spirits like Tequila and whisk(e)y, that trend quickly reversed and the Cognac category has seen a strong resurgence, helping it consistently outpace the overall spirits category," she says. At No. 5 among top Cognac brands, Martell turned in a 10% gain to 233,000 cases in 2019, according to Impact Databank. Sixth-ranked Salignac, meanwhile, slipped 0.1% to 169,000 cases.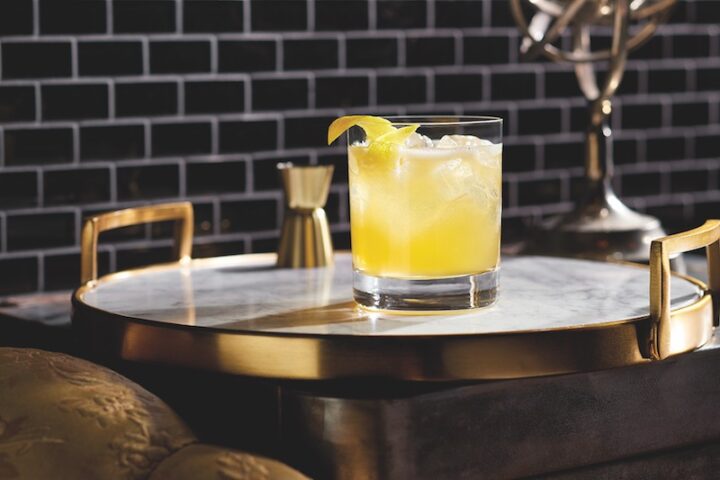 The At-Home Movement
Cognac consumption has increased significantly in 2020, despite the fact that so much on-premise activity has been curtailed or shut down entirely due to the public health crisis. Much on-premise volume has shifted to the off-premise, and marketers say even stronger overall growth is in store this year.
Not surprisingly, many marketers are leveraging online options and social media as ways to maintain and enhance their consumer connections. "One way we've been staying connected virtually is by ramping up our social presence to focus on educating viewers about at-home mixability and increasing brand awareness," says Bacardi's Pisciotta. "For example, our global brand ambassador, Sullivan Doh, was regularly featured on Fat Joe's IGTV series mixing cocktails during 'D'Ussé Fridays,' showcasing the great range of D'Ussé cocktails that can be made at home."
Martell took a similar approach, starting with a suspension of all large sponsorships and gatherings, instead showing safe ways to enjoy the brand. "Martell has been innovative in finding ways to bring people together safely through dynamic virtual events, whether it be a virtual brunch, BBQ, or concert," Hochberg says. "Martell has also increased investment in the e-commerce channel and retail tools to help our customers drive more sales. And we have continued to support our on-premise partners through our cocktails to go initiative."
For Courvoisier, Beam Suntory pivoted to an educational approach. "To remain top-of-mind for our consumers, we focused on hosting Courvoisier virtual events and tastings where we immersed our attendees in the unique tasting notes and beauty of each expression within our portfolio," says Potter. "While many know how to enjoy a glass of Courvoisier, we took this as an opportunity to educate consumers more on the versatility of the liquid and how Courvoisier VS and VSOP expressions are great for making at-home cocktails. To do so, we leaned on our circle of influencers and multicultural specialists to host tastings, showcase cocktails, and help us stay connected to our consumer base via social media."
Beyond social media and online engagement with consumers, marketers are also seeking to shore up support for their on-premise partners, even as that channel struggles to survive in the pandemic environment. Many bars and restaurants remain closed or at limited capacity, but there's optimism that some sort of "normal" operations will resume next year.
Pisciotta says D'Ussé remains connected to the on-premise partners who helped build the brand. "We've been connecting with our stakeholders —bartenders, hospitality professionals, consumers, etc.—online as much as possible," she says. "In a typical year, we spend a lot of time supporting the trade and hospitality industry face-to-face, but we've pivoted our efforts and have been able to closely support this sector of our business virtually."
Hennessy sought to help manage the effects the crisis had on hospitality industry workers. "From early in the pandemic it became clear to us that the impact would be felt hard by the Black, Latinx, and Asian communities," notes Woodyer. "As a brand that celebrates and champions cultural diversity, Hennessy was compelled to step into the gap by establishing a long-term fund to provide support today, tomorrow, and well into the future."
Hennessy's "Unfinished Business" initiative helps small businesses with financial and human capital power through the challenges of the pandemic. Hennessy launched the program with an initial $3 million fund, with plans for further replenishment, Woodyer says. The company also donated to "Another Round, Another Rally" to support bartenders and hospitality workers, among other causes.
Courvoisier is also addressing the Covid-19 crisis. "We're cognizant that restaurants and bars are facing an uphill battle," Potter says. "As a result, we are actively working on programs that support small businesses struggling with many new challenges. This programing will be a core piece of our activations during the fourth quarter and into 2021."
Meanwhile, e-commerce and spirits delivery companies have seen a boost to their business, and marketers are eager to expand those relationships. "Our e-commerce business has accelerated, which is exciting for our business and the industry," Potter notes. "With the assistance of delivery partners, we have been able to continue to meet the demand despite the upheaval the pandemic has caused." Woodyer notes that as consumers are "increasingly purchasing spirits online," retail partnerships have proven successful in engaging Hennessy's core consumer base. "We continue to strengthen our product offerings in this channel, including a focus on customization," Woodyer says.
The Next Step
Customization and continuing premiumization may be the next steps for the Cognac sector. The on-premise is historically where marketers have had the most success with ultra-premium offerings, but the pandemic has shifted more high-end consumption to the off-premise, at least for now. Equally as important, the precarious economic situation in the U.S. hasn't impacted enthusiasm for luxury Cognacs.
For Hennessy, VS continues to account for the lion's share of volume, but the brand is seeing enthusiasm for higher marques, Woodyer says. "The broader premiumization trend has sustained momentum for higher portfolio marques, including VSOP Privilège, which we have doubled over the past few years, and XO, where we have experienced gains from both trade-up and migration over from other categories."
Gigi Olah anticipates more luxury offerings from Revanche, including a possible XO label, or Gold or Platinum Cognacs, although no specific plans have been announced. In general, Cognac has seen little of the innovation that has marked other spirits categories, in part due to strict production rules in the region. But some in the industry think smaller brands are well-positioned for expansion. K&L's Othenin-Girard notes that with the pandemic, consumers are more engaged than ever. "I see a continued interest in craft Cognac, especially where additives are eschewed or at least used in a transparent positive way," he says. "Customers are becoming more savvy and are looking for authenticity and quality over image and luxury."