Frozen Chic
Venues like Parson's Chicken & Fish in Chicago, The Church Key in Los Angeles and the Conrad Hotel in New York City are offering upscale takes on frozen drinks with the help of liquid nitrogen and machines like the Beyond Zero icemaker, which can freeze alcohol.
Pulling Back The Veil
MGP Ingredients, owner of the massive former Seagram distillery in Lawrenceburg, Indiana, has already made a mark as a supplier of contract whiskey for many craft spirits producers nationwide. In 2016, MGP will make a major push with its own brands for the first time, following the limited release of its first proprietary brand, Metze's Select, last year. The company—recently named Distiller of the Year by Market Watch sister publication Whisky Advocate—will also continue contract distilling.
Hyper-Local Wine Bars
Wine bars are booming, thanks to increased millennial interest in wine and an on-premise environment that's finally recovered from the 2008 recession. Many new wine bars around the country will find success in 2016 by dedicating themselves entirely to single countries, regions or even appellations. From Champagne bars like Ambonnay in Portland, Oregon, to Basque tavernas like New York City's Donostia, highly focused wine bars will satisfy the millennial desire to explore and learn about wine from true experts.
Grapefruit Goes Big
From flavored vodkas to pre-bottled Shandies to a host of IPAs, grapefruit has become the go-to flavor for today's consumer. Expect to see more beers, spirits and liqueurs incorporating the zesty citrus fruit in 2016.
Hard Soda Pops And Flops
Companies will race headlong into the hard soda craze, starting with releases from Anheuser-Busch InBev and MillerCoors this winter. Expect some hits, some missteps and some unusual flavors before alcoholic soda begins to mature. As the sector grows, it may come under increasing scrutiny out of concern that it could appeal to non-legal-drinking-age consumers.
Vegetal Mixology
Fresh local vegetables will find their way into cocktails for the health- and environment-conscious consumer. Fresh-juiced tomatoes and newly harvested herbs and spices will gradually become de rigueur for Bloody Mary cocktails, but expect increasing use of carrots, kale, radishes and other garden vegetables as purées, juices and garnishes.
Single Grain Steps Up
As aged single malt Scotch whisky stocks continue to tighten, more producers will enter into the relatively new single grain Scotch category. Big players will debut mass-market offerings inspired by the visibility of Diageo's Haig Club, while highly matured single grain whiskies like William Grant's Girvan 25-year-old will find a place in the serious Scotch aficionado's repertoire.
Old World Surge
European wine imports will spike upward in 2016 because of the euro's weakness, which gives U.S. importers more leeway in pricing and profit margin. Premium French, Italian and Spanish imports will be more competitive with major volume drivers from Chile and Argentina than they have been in years, and marketers are poised to take advantage.
Cider Mixes It Up
With cider up 61.2 percent to 25.9 million cases in 2014, bartenders are taking notice and beginning to experiment. Hard cider cocktails are still in their infancy, but the booming category is a natural fit for mixed drinks—especially due to growing demand for low-alcohol cocktails. Dedicated cider bars like New York City's Wassail will become more common and help bring artisanal cider into the mainstream.
Loosening The Reins
More Prohibition-era regulations will fall by the wayside in control states as legislators ease up on minor restrictions. However, established stakeholders will block major initiatives—particularly laws regarding wine in grocery stores and indirect shipping from retailers—in most big markets. All eyes will be on Tennessee starting in July as grocery stores begin selling wine for the first time and the state's current wine retailers—who won the right to sell low-gravity beer and non-alcoholic products in 2015—have to adapt to weather the storm. Players in all tiers will study the effects of the initiative, which could become a test case for other states.
Spicing It Up In Rum
With Captain Morgan soft—down 0.5 percent to 6.42 million cases in 2015, according to Impact Databank—other competitors will flex their marketing muscle to win market share in the spiced rum segment. Bacardi will continue to back its Oakheart expression with the recently launched "All In, All Heart" campaign. Proximo's The Kraken and William Grant's Sailor Jerry will also push hard in the increasingly competitive category.
Pét-Nat Gains Attention
Another sparkling wine has been trending of late: pétillant-naturel. Winemakers in California, Oregon, Long Island, the Finger Lakes and the Loire are exploring the bubbly style, which gets its fizziness from primary fermentation in the bottle.
Low-Alcohol Cocktails
With cocktails becoming an acceptable drink option throughout the evening, consumers will increasingly embrace sessionable choices with lower alcohol content. Many of these will feature wine, vermouth, beer or liqueurs as their base ingredient, adding to the diversity of the current mixology movement.
Genuine Appeal
The search for authenticity and variety drives millennial consumers, who are willing to spend more on wine than previous generations. Brands like Taken Wine Co. and HandCraft will focus on producing labels that offer great storytelling, high quality and a diverse range of choices.
More Craft Deals Coming
The maelstrom of craft beer buyouts will continue in 2016. With prices soaring up to $1 billion, even producers that vowed never to sell out—like Colorado's Breckenridge Brewery, one of four craft breweries bought by Anheuser-Busch InBev in 2015—are changing their minds. Expect to see at least one more billion-dollar acquisition from a major international conglomerate and several other large deals, including some from private equity firms. Craft brewers themselves will start to get into the game in 2016, with regional and national craft operators snapping up smaller breweries to expand their reach. The deal-making will extend to the craft spirits side as well. Top Scotch and Bourbon producers will start purchasing small craft distilleries before they become a threat—and before valuations rise too high.
Simple Mixology
Multi-ingredient drinks take time to prepare and can put off patrons looking for something simple and accessible. Bartenders will focus on creating cocktails that have fewer, less-complicated components while maintaining the level of quality that consumers have come to expect.
Drinks Tech Pushes Envelope
From products like the gelatin shot machine Jevo to the beer concentrate made by Pat's Backcountry Beverages, innovative companies are creating opportunities for consumers to enjoy alcoholic drinks in nontraditional ways and for on-premise players to provide unique offerings.
On- And Off-Premise Lines Blur
Consumers are spending more money on-premise than ever before, and retailers are responding. Thanks to tasting bars and in-store restaurants and cafes, the off-premise is becoming a destination and margins are growing. Consumers will visit a retail outlet not only to purchase products for home enjoyment, but also to spend an hour or two relaxing with friends.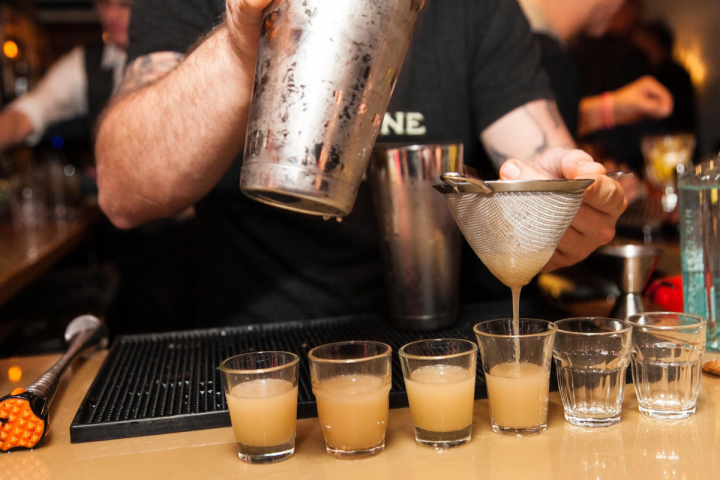 Upscale Shots
As consumers continue pushing the premiumization trend forward, shots are coming along for the ride—many with an upgrade. Shots are now seen as mini-cocktails and thus ripe for innovation. Using the rich arsenal of liqueurs, whiskies and other spirits now standard for many bars, mixologists are creating quick-drinking shots that stand up to slower-sipping alternatives.
Craft Beer Moves Beyond IPAs
Although IPA's dominance in the craft sector won't disappear, brewers will turn to alternative styles to woo drinkers looking for a break from palate-busting bitterness. Saisons, goses and even sour ales will offer consumers the chance to explore a new side of craft beer that's flavorful without being overpowered by hops.
Sommelier Stars
Following the success of Esquire Network's reality series "Uncorked," sommeliers are set to become the next celebrity chefs. Consumers will begin to look to them for opinions, and some wine brands may bring on somms as their public face.
Retro Cocktails Rise Again
For several years, mixologists have shunned the cocktails of recent decades—like the Harvey Wallbanger, Long Island Iced Tea and Cosmopolitan—as unrefined and cheesy. But with the craft movement's focus on high-quality spirits and fresh ingredients, bartenders are taking a second look at recipes that are uncomplicated and fun. Look for a revival of past drinks hits made with updated ingredients and a healthy dose of kitsch.
Wave Of World Whiskies
With single malt Scotch prices hitting new heights, American whiskey offerings rising daily and Japanese whiskies increasingly allocated, consumers will look to options from nontraditional locations to satisfy their brown spirits urge. Countries like Australia, New Zealand, India, Taiwan  and South Africa have robust distilling industries and are eager to enter the United States. These whiskies tap into undiscovered flavor profiles and market their unique stories—a strategy which appeals to consumers searching for variety and value.
More Restaurants Forgo Tipping
Union Square Hospitality Group made waves when it announced the elimination of tipping in 2015, and other venues are getting on board. Even national seafood chain Joe's Crab Shack did away with gratuities starting last August. As staff wages rise, more companies are expected to follow suit.
Room-Temperature Cocktails
Plenty of consumers drink their whisk(e)y neat, finding that room temperature brings a different range of flavors to the fore. Bars offering spirit-forward cocktails will allow guests to opt for chilled or room temperature concoctions.
Transparency In Marketing
Amid numerous lawsuits and articles exposing the truth behind spirits brands claiming to be handcrafted and artisanal, savvy consumers are wary of these terms and will begin demanding more transparency when it comes to how and where the products they buy are made.
Fast-Casual Self-Serve Beer
Fast-casual restaurant concepts like Zpizza, Blast 825 Pizza, DogHaus and Brätworks are exploring self-serve beer with systems like iPourIt to grow beverage sales. Expect more players to adopt the technology in 2016.
Savory Drinks
As consumer tastes broaden beyond sweet flavor profiles, bartenders are experimenting with chef-driven cocktails that incorporate salt and umami elements by using techniques like fat-washing and ingredients like shiitake mushrooms and seaweed.
On-Premise Pop-Ups
As rents continue to rise in major markets, restaurant and bar pop-ups will flourish. Like Mockingbird Hill in Washington, D.C., and Boilermaker in New York City—which transformed into Miracle on 7th Street and Sippin' Santa's Surf Shack, respectively, for the 2015 holiday season—established on-premise venues will reinvent themselves for a month or two at a time to stay fresh. Such pop-ups will expand beyond the holidays and other special occasions and become more common year-round, driving major cocktail innovation and big crowds.
Champagne For All
Offering an alternative to the big houses, grower Champagnes shipments to the United States have increased from 273,000 bottles in 2000 to nearly 1 million bottles in 2014, according to the trade group Comité Champagne. While that number accounts for only 5 percent of the Champagne market—albeit more than triple its 1.4-percent share 15 years ago—consumers who seek flavor and authenticity will continue to discover these labels.
Fewer Hops, More Malt
Poor harvests in growing regions have made hops more expensive and harder to source for many small brewers. Instead of seeking to differentiate themselves with a range of hop-heavy styles, craft producers will debut beers that turn the focus to various malts. Look for labels with such names as Rahr white wheat, Gambrinus honey and Fawcett pale chocolate.