Any true cocktail aficionado knows about Death & Co., the intimate drinks den in Manhattan's East Village that had an unassuming opening 13 years ago and has since reshaped the cocktail landscape not only in New York City, but across the globe. From sprawling drinks menus to esoteric ingredients to little-known mixology tools and techniques, Death & Co. sets trends for the rest of the cocktail world to follow. Now, after more than a decade of success in one of the busiest bar markets on the planet, the venue's management team has set its sights on major growth in the United States and abroad.
The bar's first extension, Death & Co. Denver, opened last year to much fanfare. It's a stark contrast to its New York City predecessor, but it maintains the Death & Co. ethos, putting cocktail creativity and quality at the forefront. A third Death & Co. unit will soon open in Los Angeles, and from there several expansion possibilities await. Death & Co. founder and co-owner Dave Kaplan admits that, 13 years ago, he had no idea just how important his bar project would become. But he's excited about where it can go.
"We continue to ask how we can expand, create, differentiate, and challenge ourselves," Kaplan says. "Cocktails are the foundation of our identity. We aim for thoughtfulness in the glass and everything around it. The lifelong passion that we have for the mystery and magic of making cocktails is the anchor of our identity."
Humble Beginnings
Death & Co. opened on December 31, 2006, in a modest space with an imposing façade. The 1,200-square-foot, windowless venue has a speakeasy vibe and seating for roughly 50 people. The interior is dim and moody, featuring candlelit tables and a white marble bar, complemented by leather seating and glass, stone, metal, and dark wood accents.
"One of our guiding principles when designing Death & Co. New York was that we wanted it to have a sense of permanence," Kaplan explains. "We want it to feel relatable, warm, and aged. When we opened, I had no idea what I was doing. I certainly never assumed it would be anything more than a neighborhood bar."
But the opening came at the right time and place, and New York City's cocktail elite quickly embraced the bar. "We opened just as cocktail culture was taking off," Kaplan says. "The mixology wave was starting to swell and we had a phenomenal opening team. Back then, there weren't a lot of bars for these incredibly talented and knowledgeable bartenders. We put our staff out front to represent the bar, which encouraged them to be creative."
That creativity has become a cornerstone of Death & Co.'s success. The bar's early menus experimented with unique ingredients and then-unusual mixology processes like using multiple base spirits. Keeping up with those trends and creating new ones over the years has been a challenge, but it's one that Death & Co. bartenders embrace.
"We were one of the first bars to push boundaries," Kaplan says. "We explored all these new arenas and became really well known for it." Expanding the limits of mixology for more than a decade is no easy feat, and neither is staying relevant in a crowded bar landscape like New York City, but Death & Co. has persevered. "We recommit to the product and the identity every year," Kaplan adds. "We have to show that the focus and care is still there as much as or more than it used to be."
One of the ways Death & Co. continues to evolve is through new expressions of its brand. The bar's management team released the book "Death & Co.: Modern Classic Cocktails" in 2014, which went on to become a bestseller. Detailing more than 500 drinks recipes from the bar's first several years, the book offers cocktail education and a spirits buying guide, as well as stories about the venue's bartenders. The company followed up with a second book last year called "Cocktail Codex," which won the 2019 James Beard Foundation Award for Book of the Year. This book examines the six root cocktails that Kaplan and his business partners say all other drinks are based on. Kaplan adds that, over the last few years, his team has put a larger emphasis on its online presence to further engage guests, and notes that a Death & Co. lifestyle retail brand—focusing mostly on clothing and accessories—will launch later this year.
Of course, adding a bar in Denver to complement its New York City flagship has also helped spread brand awareness. Death & Co. Denver opened in May 2018 to much acclaim in the drinks world. "There's a phenomenal global awareness of our brand in the cocktail niche," Kaplan says. "We received an amazing public response when we opened in Denver; it far exceeded our expectations."
The Denver location is different from its New York City counterpart. While New York is intimate and dark, Denver is sprawling and light-filled. Located in The Ramble Hotel in the city's River North Arts District, Death & Co. Denver takes up the entire first floor of the hotel. The space has massive windows and a full food menu, as well as expanded beer and wine offerings. In addition to the main lobby bar, the Death & Co. team operates other venues within the hotel, including an intimate, mezzanine-level cocktail bar, an outdoor patio eating space, and a theater with its own dedicated bar, as well as hotel room service. The setups in New York and Denver are different, but Kaplan says some hallmarks from New York were carried over to Denver, like the white marble bar.
"Our goal with expansion is to continue our culture," says Tyson Buhler, Death & Co.'s national beverage director. "The bar in New York is special—there will never be another one like it. There's no way to replicate that. But the culture within the walls and the dedication to our staff are important as we expand so that we don't lose sight of ourselves. The cocktails will always evolve."
Cocktail Gurus
The New York and Denver Death & Co. locations are also set apart by their cocktail programs. While both venues feature large menus and several different options, the company's bar team strays from duplicating drinks across locations, calling instead upon local bartenders at each venue to create drinks for their market. Buhler adds that he wants the bartenders to dictate the drinks culture in each space so that they can support the menus.
The Old Fashioned, made with Elijah Craig Small Batch Bourbon, is the bestselling cocktail in Denver. The bar's other standout drinks include the Silverheels, made with High West Western Oat Silver whiskey, Clear Creek 2-year-old Apple brandy, Frecon Early Man Dry cider, and pineapple and lemon juices; the Jitterbug, mixing Pierre Ferrand 1840 Original Formula Cognac, Trimbach Mirabelle Plum brandy, Grand Marnier liqueur, house-made blueberry syrup, and lime juice; and the Uncanny Valley, comprising St. George Dry Rye gin, Ransom Old Tom gin, Ocho Reposado Tequila, The Bitter Truth Celery bitters, and toasted coriander. Cocktails in Denver are $10-$30.
Meanwhile, in New York City, the Negroni—made with Tanqueray London Dry gin, Campari aperitif, and Cocchi di Torino vermouth—outsells the Old Fashioned, which Buhler says is due to the Big Apple's clientele being more open to experimenting with obscure ingredients. It joins cocktails like the Full Sail, made with Jean-Luc Pasquet Pineau des Charentes, Ocho Plata Tequila, house-made vanilla syrup, and Granny Smith apple and lime juices; the Planet Caravan, blending Compass Box Great King Street Glasgow Blend Scotch, Van Oosten Batavia Arrack, Kalani Coconut rum liqueur, and lime juice, shaken with a fresh curry leaf; and the Sasake Garden, mixing Nikka Coffey Grain whisky, Avuá Amburana cachaça, Caffe amaretto, Rothman & Winter Orchard Apricot liqueur, and a blend of Angostura Orange, Fee Brothers West Indian Orange, and Regans' No. 6 Orange bitters. Specialty cocktails in New York City are $17-$33.
Each menu features a variety of sections to categorize and organize drinks. In Denver, the bar's 30 specialty drinks fall into six categories, from "Fresh & Lively" to "Elegant & Timeless" to "Boozy & Honest." Meanwhile, in New York City, the current menu highlights different distillation techniques and spirits. The Manhattan menu has roughly 35 specialty drinks organized into sections like "In The Raw," featuring fermented spirits that haven't been distilled and highlighting vermouths, Sherries, and ciders; "Transformation," showcasing aged spirits; and "Luxury," a selection of cocktails made with rare and exceptional bottlings. Both menus feature traditional cocktails and those made with low-proof spirits, as well as alcohol-free drinks. The menus change every few months.
"When cocktails were first getting big a decade ago, we wanted to show people how much we knew, so our menu books were massive," Buhler says. "They always listed at least 60 drinks and had upwards of 90 at one time. We've relaxed a lot, and now realize we need to be more approachable. Having great cocktails and focusing on innovation and creativity all the time is what keeps people coming through the doors."
Cocktails and spirits make up the overwhelming majority of sales for Death & Co. Annual revenue amounts to roughly $2 million at the New York City venue, with 90% of sales coming from beverage alcohol. In Denver, revenue was $4.5 million for the first full year for all of Death & Co.'s properties in the hotel, and drinks totaled 75% of sales. Both properties offer full beer and wine menus, though Buhler notes that cocktails are definitely the focus across the venues.
In New York City, the handful of beers offered include several local labels from the likes of Alphabet City Brewing Co., Greenport Harbor Brewing Co., and Hudson Valley Brewery, among others (beers are $7-$12 a bottle). While wines hail from around the globe, the wine list highlights offerings from lesser-known producers, including Vilmart & Cie Grand Reserve Brut Champagne, Benanti Etna Carricante Bianco, and Bodegas Los Bermejos Listán Negra Rosado ($16-$26 a glass). The Manhattan bar also has a limited food menu of upscale snacks ($8-$24), with offerings designed to support an evening of cocktail consumption.
Beer has a more substantial presence in Denver, since the city is renowned for its craft breweries. The bar features six draft lines and pours several local labels from Ratio Beerworks, Denver Beer Co., Crooked Stave Artisan Beer Project, and New Belgium Brewing Co. (beers are $5-$10 a draft pour or bottle). The Denver bar also features a global boutique wine list ($10-$27 a glass; $40-$108 a 750-ml.). Food plays a more important role in Denver, with the lobby venue open all day. The evening food menu ranges from crisp maitake bao buns and tacos al pastor to mezcal-glazed shrimp and pork belly mac and cheese ($14-$24).
"The kitchen in Denver is bigger than the size of Death & Co. in New York City," Kaplan says. "We have a culinary director in Denver. The food component has been a massive evolution for us. We want to create totally different, exciting, and progressive iterations of our brand in each city."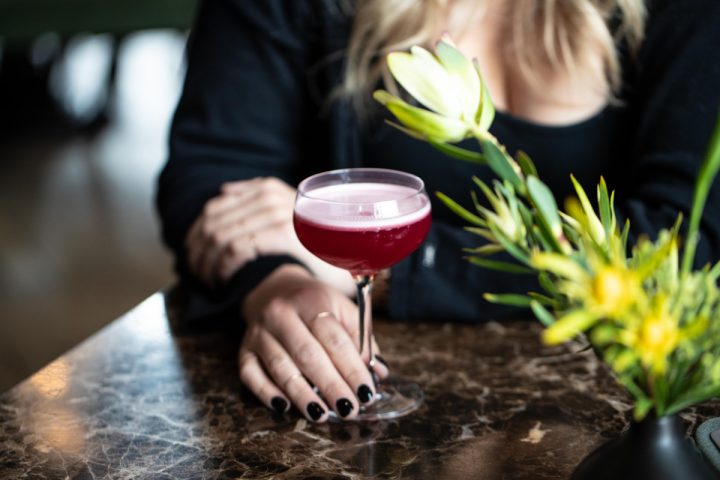 Bold Plans
Death & Co.'s management team is no stranger to opening new venues. Following the success of their New York City bar, the group's partners—including Kaplan, Devon Tarby, Alex Day, and Ravi DeRossi—formed the company Proprietors LLC in 2007 to serve as a bar management, operations, and consulting firm so they could work on other projects. Under this umbrella, the team has consulted on a variety of venues that focus on hospitality and drinks innovation, such as Nitecap and Lost Hours in New York City, Bibo Ergo Sum and 71 Above in Los Angeles, Skyfall Lounge and Rivea in Las Vegas, and Sparrow in Fort Lauderdale, Florida. Proprietors LLC also works with spirits companies, consulting on new products, marketing, and branding initiatives. Its roster of supplier partners ranges from Pernod Ricard, Bacardi, and Absolut to Giffard liqueurs, Karlsson's Gold vodka, and Ocho Tequila.
Death & Co. New York operated for more than a decade before expanding to Denver, but future growth will come at a faster clip, starting with the opening of a Los Angeles venue this fall. Beyond that, the company's executives are actively scouting sites in Chicago and looking to open bars in London and Toronto. Other markets on their radar include Nashville, Miami, and South Carolina. The Ramble Hotel, where the Denver venue is located, is also expanding, and Death & Co. may stay on through those efforts, adding venues in new hotel properties around the country. To show their commitment to growing the Death & Co. bar brand, Kaplan and his team launched an equity crowdfunding campaign last year that netted close to $3 million to support future growth for the concept. The top investors in that public fundraising effort bought ownership shares of parent company Gin & Luck, and can now provide input on future expansion locales. Gin & Luck is the overarching umbrella for Death & Co. and all its related entities, as well as Proprietors LLC. Fortune puts Gin & Luck's value at roughly $13 million.
"As we expand, we get the opportunity to work with more phenomenally talented people," Kaplan says. "Our cocktails are the representations of those individuals. Our bartenders have very different styles and approaches to mixology. Their combined efforts make the Death & Co. menu and style."
Most of Death & Co.'s top bartenders are career mixologists, which also helps add credibility. "We have staff that buy in, and they really care about the bar," Buhler adds. "We're always searching for something new, from unique flavor combinations to spirits from all over the world. The constant push to innovate and try something new is the bedrock of our business