Many people aspire to taste rare Bourbons, but relatively few are afforded the opportunity, as bottles are in high demand and hard to find, and many are priced out of reach for the average consumer. Lawrence Boyce, CEO of Kentucky's Liquor Barn, has a solution. "We're drilling down and focusing on the experiential with our rare Bourbons," he says. "These are products that consumers might not ever see in in a lifetime, or if they do see them, they're $80 a pour in the on-premise," he says. "We're pouring these in our stores, and we have the lowest price in the market." A dram of Pappy Van Winkle is priced at about $30 a 1-ounce pour during tasting sessions in Liquor Barn stores, Boyce adds. 
Liquor Barn isn't a restaurant or bar, though most locations do hold both off-premise tasting licenses and on-premise licenses. In all, the company spans 23 retail stores throughout Kentucky, with 21 locations branded as Liquor Barn and two called Party Mart. The rare Bourbons, when available, can be found on the store shelves alongside a broad range of other spirits, wine, and beer. They're also featured heavily in the stores' in-store bars and tasting areas. Much of Liquor Barn's strategy involves offering an on-premise experience in an off-premise location, Boyce says. 
"Experiential is a buzzword these days, but we're going 110% toward the experience," he says. "For us that means everything we can possibly tap into. We want consumers to consider Liquor Barn a fun, exciting, and engaging educational environment. We're into tastings and celebrity visits. We're tapping into our bars—we have on-premise licenses at nearly all of our sites, and of course we have tasting licenses at 100% of our sites." 
In recognition of his efforts to provide an exciting, engaging experience for customers and to offer a broad range of beverage alcohol to Kentuckians and others visiting the state, Boyce has been named a 2023 Market Watch Leader. 
The Liquor Barn Way
Liquor Barn is no stranger to Market Watch Leaders honors. Former owner Rob Rosenstein became a Leader in 1987 and won the Leaders Alumni Award for Best Merchandising in 2008. In 2020, then-owner Jonathan Blue, chairman and managing director of Blue Equity LLC, was named a Market Watch Leader. He subsequently sold the chain to e-commerce player Gopuff in 2021. Gopuff, which bills itself as the "go-to solution for immediate, everyday needs," has built its business around product delivery. But its acquisition of Liquor Barn, and prior acquisitions that include BevMo and other beverage alcohol stores, underscores its commitment to the in-store experience as well. 
"Liquor Barn is a beloved brand that boasts a broad assortment of products and a team of knowledgeable store associates ready to support customers in any way," says Gopuff senior vice president of business Daniel Folkman. "We couldn't be happier to have the Liquor Barn team on board and we look forward to continued collaboration as we work together to further enhance the customer experience across Kentucky." 
Boyce joined Liquor Barn in 2018 and helped transition it to new ownership by Gopuff in 2022. He says Gopuff has adopted many of the strategies practiced by former owners. "The great news is that very little has changed in terms of the overall operation and philosophy of running the business," he says. "I think that's obviously attributable to Gopuff understanding that Liquor Barn's been a successful brand. We've been operating in the state for over 40 years, and they let us continue to run independently."
Boyce notes that the Gopuff ownership adds depth to the operation. "I think it's an extremely beneficial strategic partnership," he says. "We're just now tapping into that, in terms of unlocking some of the potential and finding some of the synergies that are available through the Gopuff and BevMo network."
At press time, Gopuff was continuing the process of finalizing its end-to-end integration of BevMo, Boyce says, something he is watching closely as a Liquor Barn integration will be next. He says there are currently no plans to merge the two unique beverage alcohol retail chains. Prior to the Gopuff acquisition, Boyce served as CFO of Liquor Barn. "I actually oversaw all departments except for purchasing," he notes. "I still have my hand in a lot of the different departments and ensure that we're all interacting and we're all focused on the Liquor Barn brand. I've been here for about five years, and on the financial side I really had an opportunity to drill down and understand the nuts and bolts of the business. I think that made the transition into the CEO role much easier."
One of several factors that led to the Leaders nod for former owner Blue was Liquor Barn's adept shift into e-commerce and home delivery, a move that began in the late 2010s and was crucial during the height of the Covid-19 pandemic in 2020 and 2021. "When we launched e-commerce, it basically integrated our complete catalog into an online experience and an app experience," recalls Boyce. "Soon after, we launched our customer loyalty program in 2021, and we have version two of the app launching soon."
From the launch in 2018 through 2021, the e-commerce business portion skyrocketed as consumers turned to home delivery or curbside pickup during the pandemic. Since then, Boyce says usage slipped a bit in 2022 and has been flat this year. In addition to its own delivery and pickup, Liquor Barn has formed other partnerships. "We now have Instacart at all our locations, and we've also expanded our partnerships with Drizly," he adds. "We've got a few more in the in the hopper right now." Still, e-commerce sales make up less than 10% of total sales. 
Liquor Barn is exploring other technologies as well. "We're researching everything from self-scanning to digitized shelf talkers or digitized pricing on the shelves," Boyce says. "I think we'll be rolling some new things out in the in the near future." He also notes that the Gopuff integration will give Liquor Barn access to myriad back-office technologies. 
The Experience Priority
While e-commerce emerged as an important channel during the pandemic and continues to be relevant, Boyce is much more focused on the in-store experience. The focal point in most units is the in-store bar, where Liquor Barn staff create an on-premise experience in a retail environment. Consumers can order drinks and buy food from within the store—most have cheeses, charcuterie and snacks, while one location in Lexington, Kentucky operates a full-service deli. 
Sampling is also a high priority. "The bars are actually separate from the retail tasting bars," Boyce says. "Usually our tasting bars are set up right where the consumer walks in. We can offer them a free sample and we also have the product right there to sell to the consumer if they're interested."
Tastings are led by brand or distributor representatives, a third-party marketing company, or in cases of private label products, a member of the Liquor Barn staff. "We're always going to tap into the experts," Boyce says. "We're really trying to reinforce the education aspect. I think there's a common misconception that the folks who are staffing these sites aren't interested in the product or lack knowledge. That's far from the truth at Liquor Barn." 
Boyce adds that roughly one-quarter of the company's staff of more than 300 has completed some sort of advanced certification, such as Wine & Spirit Education Trust, Bourbon Stewardship, beer cicerone, wine sommelier, and others. "We're making sure that customers understand that we enjoy the product as much as they do, and that we have the knowledge to guide them if they're unsure, or we can just leave them alone and give them a few pointers," he says. "It's really a stress-free, low-pressure environment." 
On the staff side, Boyce is thrilled with the enthusiasm around knowledge acquisition. "I love seeing how passionate these folks are when it comes to product," he says. "We've basically opened the spigot in terms of training. We're paying for it for our staff as a developmental feature. Obviously, we'd love these folks to stick around with us, but if they can use this as a stepping stone to advance their careers, I get as excited about that as well."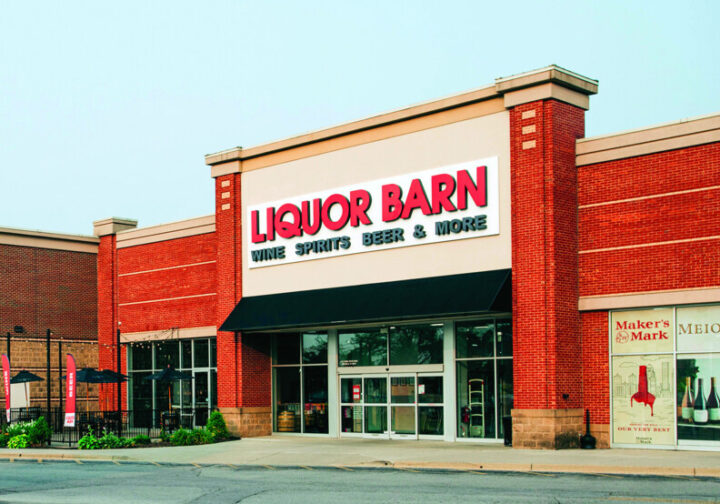 Vast Selection
Knowledge is crucial in a chain that carries around 25,000 SKUs. Boyce says Liquor Barn seeks to appeal to a broad range of customers with a wide selection in every category. "We should have something for everyone at every price point, whether you're the most discerning wine buyer, or you're looking for an eclectic Bourbon collection, or you're looking for Kentucky specific," he says. Liquor Barn's Kentucky base gives it a front-row seat to the Bourbon industry, and it has long been a go-to retailer for hard-to-find labels. He says allocations are "a touchy subject these days" but that Liquor Barn does its best to ensure it receives its fair share. 
Every retailer selling allocated items handles them a bit differently. For Liquor Barn, it's a simple first come-first serve approach. There's no email list or preferred customer list, and there's no announcement when high-demand items come in. "We think the fairest way is to put them on the shelves right when they come in, and we're obviously selling at [the usual retail markup]," Boyce says. "Again, we're trying to make it experiential and we're trying to 'wow' our customers. We just put it on the shelves at random times throughout the day and throughout the week. Once the first person sees it and snaps a photo of it, there's usually a whirlwind of action in the store and in the parking lot. Word gets out extremely quickly."
Rare or not, Bourbon dominates at Liquor Barn, where Woodford Reserve ($31 a 750-ml.) is the most popular Bourbon, rivaling Tito's vodka ($18) as the best-selling product overall. Bourbon is the backbone of the business and spirits overall make up 48% of total sales. "We continue to partner with distillers," Boyce says. "We've got 40 years of relationships with local distillers, Bourbon families, and brand ambassadors, so we continue to try and partner with them as often as possible, whether it's events or product innovation. We want to be the testing ground for some of these new products when it comes to Bourbon."
While Bourbon is Liquor Barn's backbone, Tequila is the hottest category at the stores, growing at double digits in recent years. The chain is ramping up more Tequila-centric tastings and events to further enthuse the audience. "There's movement around Tequila right now," Boyce says. "It looks like it could become the next Bourbon." Top Tequilas at Liquor Barn include Patrón Silver ($42 a 75-ml.), Casamigos Blanco ($52), and Clase Azul Reposado ($207).
Wine makes up about 24% of sales volume. "Obviously in Kentucky we focus on a lot of sweet wines," Boyce says, although he notes that Prosecco and sparkling wine in general are doing very well. "We're trying to get as many private label sparkling wines as we possibly can carry," he notes.
Ready-to-drink products are also popular and are in "constant churn" as consumers flit from one product to the next. "They're still trying new products and as a retailer we need to pay attention to the depth of our inventory since consumers are changing and fluctuating so often," Boyce says. RTDs are lumped with beer at about 15% share of sales in stores. The most popular beers are the big domestic brands—Miller Lite, Bud Light, and Michelob Ultra ($14-$17 a 12-pack of 12-ounce cans)—as well as local brand Kentucky Bourbon Barrel Ale from Lexington Brewing & Distilling Co ($11 a 4-pack). Cigars, tobacco, food and specialty items make up the remainder of Liquor Barn's inventory. The chain's larger stores carry a wide range of items in-house, from deli meats and cheeses to used Bourbon barrels.
It all goes back to the experience, Boyce says. The unique specialty items, the in-store events, the broad selection and other features all point toward wowing the customer. "It's just so competitive out there, I think we absolutely have to evolve," says Boyce. "We're focused on new technologies, product innovation and creating that in-store experience with highly educated folks who are happy to help. We have to provide a reason for our consumers to continue to not only visit Liquor Barn, but to really enjoy the in-shop experience."