With just the click of a button, Denver retail outlet Argonaut Wine & Liquor has added hundreds of sales transactions a month. Last July, the store partnered with Drizly, a technology company that promotes on-demand delivery of spirits, wine and beer. Argonaut general manager Mark Fetter says that last December the store made 740 deliveries as a result of Drizly orders, and by January, distributions had surged even higher. He notes that the Mile High City's cold, snowy winter positively impacted home delivery.
Indeed, the entrepreneurs behind Drizly and other fledging on-demand applications say their mobile platforms provide retailers with an opportunity for expanded sales, a broader consumer base and cutting-edge digital marketing support. According to Lindsey Andrews, cofounder and co-CEO of Minibar, some retailers who've partnered with her company have seen sales increases of 20 percent. Devaraj Southworth, CEO of Thirstie, expects on-demand delivery to eventually account for around 10 percent of all beverage alcohol transactions in some markets. "On-demand is the last frontier in beverage alcohol retailing," he says. "It's been done in every other industry."
Still, not all beverage industry interests embrace on-demand delivery. Some retailers express concerns regarding fees, increased overhead and the ability to guarantee delivery within a set time frame, as well as responsibility, liability and legal issues. While some beverage alcohol suppliers are testing partnerships with app providers, others have been more cautious. About a dozen sites are already in operation, including Klink, DrinkFly, Saucey and Ultra, and industry observers expect a shakeout, with the possible entry of a major e-commerce player into the sector. Since so many elements are in flux, many retailers and suppliers are taking a wait-and-see approach.
Different Models
Drizly began operations in Boston in 2013, after founders Nick Rellas and Justin Robinson spent a year working in a liquor store. Rellas says Drizly is distinct from the other on-demand apps in that it uses proprietary verification technology that allows retail delivery staff to scan IDs. The company has also worked closely with state regulatory agencies. At press time, Drizly was partnered with about 150 retailers in 14 metropolitan areas, including Boston, New York City, Chicago, Los Angeles, Denver, Indianapolis and Washington, D.C., and was expected to enter several new markets by the end of April.
While Drizly helps arrange for the delivery of more than 15,000 orders a month and growing, Rellas says the service isn't designed to take away from the in-store experience. The company charges retailers a monthly licensing fee that ranges from $100 to $10,000, depending on the market's demographics, population, product mix and other factors. Delivery fees and purchase minimums vary by market. According to Rellas, ideal retail partners are those who are "tech-savvy, offer a breadth of SKUs, and have good pricing, engaged management and a delivery business already in place."
Minibar, meanwhile, launched last year and operates in New York City, Chicago, San Francisco, Los Angeles, Miami and Dallas, with plans to expand. The company also recently acquired New York City–based rival Booze Carriage. Currently, Minibar works with about 100 retailers, who pay the company based on volume sold, while delivery fees and minimum purchase requirements vary by market. Andrews and cofounder Lara Crystal—who have experience in e-commerce and online startups—say Minibar aids retailers who are trying to drive traffic to their delivery and digital sales. "We love partners with a great selection, fast delivery and, if possible, an integrated p-o-s system," Andrews explains.
Like Drizly, Thirstie charges retailers monthly marketing fees. The company is currently working with more than 100 retailers in 10 markets, including New York City; Chicago; Miami; Los Angeles; San Francisco; Hoboken/Jersey City, New Jersey; and Washington, D.C. In 2015, Thirstie plans to expand into Dallas, Boston, Denver and Atlanta. "We pick our retailers very carefully," Southworth says. "They must have a good inventory and a willingness to try new things." He adds that the stores also need to be "delivery ready."
Taking a slightly different approach to the on-demand phenomenon is wine-focused app Drync. In December, Drync debuted its "Infinite Shelf" program in the Boston market, allowing consumers to pick up online wine orders from local retailers within one to three days of purchase. Drync CEO Brad Rosen says the new service enables consumers to avoid shipping costs and receive orders on their own schedules, while retailers garner increased foot traffic.
"We've basically integrated with the three-tier network. We know what's available in wholesaler warehouses in a given area and we market wine from that known inventory," Rosen says. Consumers can scan a wine label in a restaurant to purchase the selection instantly, and then pick it up from a local retailer within a few days. The company says about 30,000 wines are typically offered at any given time through Drync, available for iPhone and iPad, while a local retailer usually stocks between 1,000 to 2,000 SKUs. The average bottle price sold is $28.
Drync was founded in 2008 as an at-home delivery service and currently has 150,000 active monthly users with an average age of 40. Following consumer requests for in-store pickup, the company decided to launch the Infinite Shelf platform, starting with Boston and expanding to major markets this year. A national rollout is in the works.
Rosen says small- to medium-sized wine shops are responding favorably to Infinite Shelf. By linking with wholesaler inventories, the program allows them to compete with larger SKU stocks at retail chains. While the service is now focused on wine, Rosen says boutique spirits brands and craft beers would be a natural fit down the road. He adds that as alcohol-delivery services and apps proliferate in the market, Infinite Shelf is attempting to connect with consumers who prefer to explore wines online and pick up at their convenience.
Incremental Business
Home delivery players and retail partners cite several benefits for store operators. "It's business you wouldn't have without the apps," says Gidget Kupiszewski, manager of the Chicago wine, beer and spirits shop UnCorkit, which has partnered with both Drizly and Minibar. Delivery fees charged to customers generally make up for added expenses, "so retailers come out ahead," she notes. Crystal and Rellas both say that their apps result in higher transactions. According to Rellas, the average Drizly delivery is $65, compared to average urban in-store transactions of $17 to $20. Indeed, he reports that 40 percent of the wine bottles sold through Drizly are priced at $18 and higher.
Big Red Liquors spokesperson Matt Bell says the 55-unit retail chain, which has locations in Indiana and Kentucky, is enjoying an expansion in both the number and size of delivery orders at its eight Indianapolis stores that have been working with Drizly since late last year. Bell adds that the app also increased store traffic as "users get to know our inventory and come into the stores looking for certain things."
The ability to target a wider consumer audience—particularly tech-savvy millennials—is another benefit of the apps. Billy Kim, the owner of River Road Wine in Guttenberg, New Jersey, notes that websites like Minibar and Ultra have allowed him to "reach new customers," particularly those aged 21 to 35. He adds that River Road's beverage alcohol deliveries are up 10 percent as a result of the partnerships, while overall costs have been "reasonable," typically 7 percent of the retail price, along with the addition of a part-time driver. Kim says the on-demand sites help promote his store. "As a small operator, I don't have the resources to spend on advertising," he explains, praising the apps' no-cost marketing support.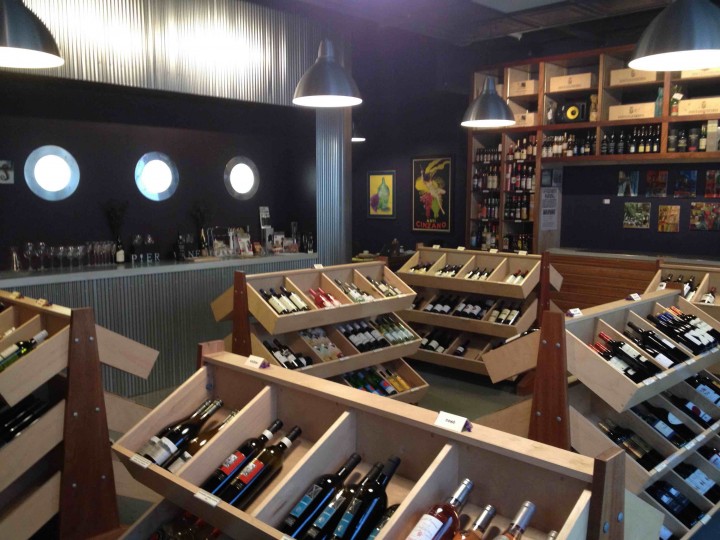 Retailer Costs
The on-demand model often increases overhead for stores. Argonaut, for example, added employees and a delivery vehicle after partnering with Drizly. Big Red has also "adjusted labor" since signing on with the app, Bell says, adding that the issue of "how best to staff the stores continues to be a learning process." Daniel Mensch, co-owner of Pier Wines in Brooklyn, New York, was an early advocate of the apps and today works with eight different on-demand providers. "The biggest challenge has been integrating our inventory and website from the back end," he says, explaining that each of the apps has its own unique platform." Higher labor and vehicle costs have also resulted from the partnerships, Mensch notes.
The app providers have encountered challenges as well, often due to the highly regulated beverage alcohol business. Current laws in several major markets, including Philadelphia, Pittsburgh and Oklahoma City, prohibit on-demand delivery of beverage alcohol, according to the companies. And while the immediate focus is on serving densely populated urban markets, expansion into suburban and rural areas will carry obstacles. The addition of those markets will "depend on the economics of delivery," Drizly's Rellas says, adding that they could require higher minimum purchase prices and longer delivery windows.
Executives at the on-demand services have faced skepticism from some state regulators and retailers concerning responsible beverage alcohol sales. But they maintain that, similar to traditional sales, the responsibility falls upon the retailer to ensure that all purchasers are at least 21 and unimpaired. Minibar's Andrews notes there was initial concern that the website would be favored by late-night partiers, but she says that the website's busiest time is between 6 p.m. and 8 p.m. UnCorkit's Kupiszewski says her store has experienced no incidents related to responsible sales via the apps.
Retailers who shy away from these services point to profitability, delivery and responsibility concerns. "We have no interest in delivering a 1.75-liter bottle of vodka at 11 p.m. on a Saturday night," says Greg Versch, director of communications at the 32-unit, Chicago-area retail chain Binny's Beverage Depot. He adds that at least some of the websites would prohibit the chain from offering consistent pricing online and in store. "Price and selection are our core values," Versch explains.
David Symmes, co-owner of the 23-store, Indianapolis-based Crown Liquors, notes that while on-demand delivery works in markets that have a high concentration of customers like New York City, it creates labor issues in less densely populated areas. "It can get expensive paying a dedicated person for delivery, especially if it's slow," he says. Ed Sands, owner of Calvert Woodley Wine & Spirits in Washington, D.C., points to the challenge of quick delivery. "It would be crazy to guarantee one-hour delivery in D.C.," he says.
Retailers' differing views on the merits of on-demand delivery indicate that the jury is still out on this emerging practice. Indeed, the services themselves will continue to evolve and perhaps consolidate. For instance, Rellas says Drizly will begin sharing consumer data it has compiled with its retail partners this year. But regardless of whether they're supporters or critics of on-demand delivery, beverage alcohol retailers largely agree that mobile technology is sure to impact their businesses.