Winooski, Vermont-based Beverage Warehouse epitomizes the independent spirit and neighborly values of its home state. The 40-year-old store in northwestern Vermont attracts local consumers, including college students from several nearby universities, tourists, and vacationers, as well as visitors from Canada, which lies just 90 minutes north. Owned by members of the Swiatek family since 1984, Beverage Warehouse has emerged over the years as a resource for many hard-to-find items.
The 17,000-square-foot Beverage Warehouse has total annual sales of more than $8 million, Market Watch estimates. Spirits sales are at more than $4 million, making Beverage Warehouse the top agency store for the Vermont Department of Liquor Control (DLC). Spirits represent 46% of sales, while beer comprises 35%, wine accounts for 15%, and miscellaneous items contribute roughly 4%. Over the last five years, beer and wine sales have surged by 35%, driven largely by the craft beer boom, and the spirits side has grown even faster.
Jen Swiatek is Beverage Warehouse's majority owner, while her former husband George Bergin holds an 8% stake. Swiatek, who says that she and Bergin remain friends despite their divorce, oversees store financials, social media marketing, and the sales floor.
Retro Charm
Beverage Warehouse, which is affectionately called "the Bevie" by locals, opened its doors in December 1977. Seven years later, Swiatek's parents, Walter and Carolyn, acquired the business. "I started working in the store's redemption center at age 15," Jen recalls—and she's never left. In 2003, she and Bergin—married at the time—purchased the store from her parents. While there have been some minor renovations to the old cement building over the years, including the addition of the "Steals & Deals" close-out room, updated beer coolers, and a growler bar, "we try not to mess with the nostalgia here," Jen says. "People like the fact that it's the same store, but just teeming with more products now."
Beverage Warehouse's reputation for its vast beer selection dates back to the late '80s. "We had about 380 different beers then, while the average Vermont store had 50," Swiatek recalls. "We became known as the Vermont store carrying every beer that could be sold legally in the state." Today, Beverage Warehouse stocks as many as 1,200 beer SKUs, priced from $4 a 6-pack to $25 a 4-pack. The store features 57 cooler doors devoted to the category, as well as a growler bar pouring six brews, priced from $6-$25 a 32- or 64-ounce container. Options range from small-batch local beers up to national labels. Locally produced beers, such as Zero Gravity Conehead IPA, Switchback ale, and 14th Star Tribute Double IPA ($10-$14 a 4- or 6-pack), are the store's top sellers. Beverage Warehouse receives regular allocated shipments from Vermont's popular The Alchemist and Lawson's Finest Liquids breweries, events that drive mobs of craft beer fans to the store.
Beverage Warehouse is highly supportive of the spirits, beers, and wines produced in the Green Mountain State. "We carry more Vermont beer types and quantities than anyone else in the state," says wine and beer manager Jason Dennis. "The same is true for wine and spirits." The store prominently displays locally produced beverages and hosts local distillers, brewers, and winemakers for in-store tastings. "Three years ago, we devoted half of one main aisle to Vermont craft beer," Dennis explains. "Now, we have six sections for Vermont beer throughout the store." The shop also carries lower margins on Vermont products to encourage turnover. "There's such a wealth of product up here," Dennis says. "It's nice to be able to sell things when you know the maker."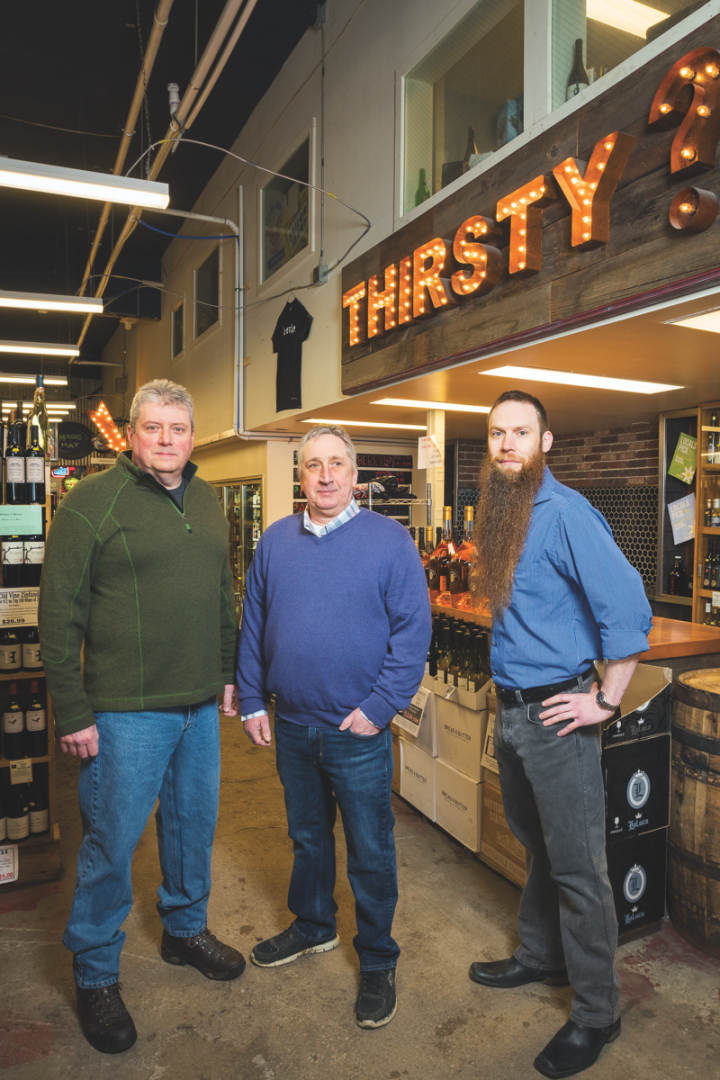 Spirits Powerhouse
As an agency for the DLC, Beverage Warehouse stocks and sells spirits in return for a sales commission, generally between 6% and 8%. This provides merchandising restrictions, Bergin notes. "The DLC sets all the rules and prices," he explains. "We have very little leeway, as there are guidelines on how products must be represented, right down to where the bottles go on the shelves." Still, Bergin and Swiatek note Beverage Warehouse is fortunate to be an agency store. "It's a draw," Swiatek says. "There are a lot of stores that just sell beer and wine. If someone needs a spirit, they have to go to another store. Here, it's all under one roof." Bergin adds that the spirits business helps cross-pollinate customers. "If they come in looking for a Bourbon barrel-aged beer, we can ask if they've tried the Bourbon in that barrel," Bergin adds.
General manager Todd Delbeck, a 36-year Beverage Warehouse employee, oversees the purchasing of the store's 2,500 spirits SKUs in addition to managing its 30 employees. Bourbon is the hot spirit, of course, with the selection ranging in price from $25 to $78 a 750-ml. Top sellers include Maker's Mark, Bulleit, Knob Creek, and Jefferson's. "We're starting to see interest in aged sipping rums," Delbeck notes, pointing to the likes of El Dorado 8-Year-Old Cask Aged ($35 a 750-ml.). And local spirits, such as those from Smuggler's Notch and WhistlePig distilleries (generally priced from $25-$78), do very well. Delbeck would love to further expand the selection of spirits, including more Bourbons, Scotches, and barrel-select whiskies, but the control state system can be an impediment.
The store also offers about 4,000 wines. "Our sweet spot for wine has been increasing in the last couple of years," Dennis remarks, pointing to the store's best-selling 2016 The Fableist Cabernet Sauvignon, which retails at $18 a 750-ml. Other types of wines that are trending at Beverage Warehouse include Oregon Pinot Noirs, rosés, and pét-nat wines. "The Vermont wine scene is coming along," Dennis says, referencing wineries like the Mount Hunger-based La Garagista. "Gone are the days of overly sweet wine. Vermont is now producing some sought-after wines." To showcase its fine wine selection, the store features a temperature-controlled wine cave with some 500 bottles, including selections like the 1988 Château Rieussec Sauternes ($40 a 375-ml.) and the 2000 Falletto Barolo ($1,000 a 1.5-liter).
Training Ground
Swiatek and Bergin say that, selection aside, it's the Beverage Warehouse staff who bring customers back again and again. "Our staff is made up of former professional cooks, bartenders, you name it, so they're very enthusiastic about selling wine, beer, and spirits," Swiatek notes. She takes pride in the fact that a number of former employees have moved on to positions at other local stores, distributorships, and breweries. "We're a training ground of sorts," she says.
Staff members and supplier representatives participate in free in-store sampling events, which take place three to seven times a month. "We encourage our customers to experiment," Swiatek says of the tastings. "And when something is free, it's rather easy to get them to try it." Other promotions include this year's "60 Days of Rosé,"—adapted from last year's successful "30 Days of Rosé"—in which the store features a different rosé every day of April and May. Beverage Warehouse's various social media platforms also play an important marketing role.
In addition to other Winooski-area independent beer and wine shops, the store's rivals include grocery stores and membership clubs. "Even though we're competitors, most of the independents are supportive of each other," Swiatek says. "We often send our customers to another independent when we're out of something." That camaraderie resonates with customers, as Vermonters in general are wholly supportive of local, family-owned stores.
And, like any good neighbor, Beverage Warehouse is a big supporter of community and social groups. The annual "Hops 4 Hunger" program gives customers the chance to receive hard-to-get Vermont beers, with all profits going to feed local residents. Other programs benefit groups like Purple Hearts Reunited and the Josh Pallotta Fund, which supports those struggling with PTSD.
Swiatek is entertaining the idea of a second store at some point in the future. While a second liquor license may be difficult to obtain, a new wine and beer store may be in the cards, "if the right location presents itself," she says. But for now, things are status quo at Beverage Warehouse. "The older the Bevie gets, the cooler it gets," Swiatek remarks. "I don't want to see it changed. It's more than a retail store. It's a feeling you get when you walk inside."