John McDonald has always been a craftsman. So perhaps it's no wonder that the former carpenter put down his tools some 25 years ago and began brewing beer professionally. Indeed, the same dedication to quality in woodworking for which McDonald was once known has become the hallmark of Boulevard Brewing Co., the brewery he founded in Kansas City, Missouri, in 1989, that's now one of the largest craft producers in the country. And even though the Kansas-born McDonald sold off control of his company last year to Duvel Moortgat USA, the subsidiary of the family-owned Belgian brewery, he continues to act as an ambassador for his beers, particularly as Boulevard strives toward national distribution. "I've always liked the idea of small, local production," he says.
Inspired by visits to boutique European breweries, McDonald ventured into home brewing in the mid-'80s. Boulevard was the first craft brewery to open in Missouri; in fact, the company is listed as the state's No.-2 brewery on its license, second only to St. Louis' Anheuser-Busch. Housed in an early 19th-century brick building, Boulevard features a vintage Bavarian brewhouse that's still in operation today. An old smokestack, originally used by the Santa Fe Railway Co., sits on Boulevard's grounds and serves as an icon for the company, replicated in packaging and p-o-s materials. The original brewery has been expanded over the years and today boasts capacity to brew up to 600,000 barrels annually.
While well established in the Midwest for some time, Boulevard has branched out in recent years to such western and eastern markets as Massachusetts, New Jersey, Pennsylvania, Ohio, Maryland, Virginia, Georgia, North Carolina and California. In March, the company unveiled its brews in New York, bringing total distribution to 31 states and Washington, D.C. Boulevard's volume in 2014 was 188,000 barrels, up from 184,000 barrels in the previous year.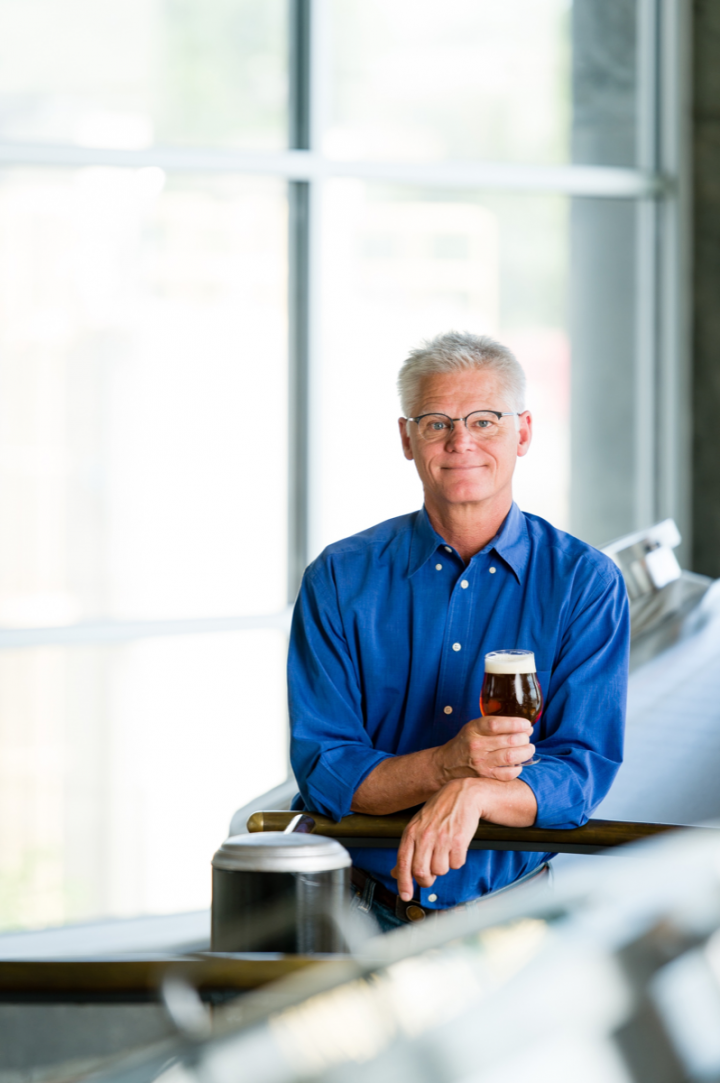 Brewing A Partnership
Parent company Duvel Moortgat also considers itself a boutique operator. Despite its collection of breweries around the world, combined production for the family-owned Puurs, Belgium–based company is less than that of  Fort Collins, Colorado's New Belgium Brewing Co. Duvel Moortgat USA was established in 2003, following the Belgian firm's acquisition of Cooperstown, New York–based Brewery Ommegang, in which the parent company invested as a founding partner in 1997. In addition to the brews produced by Boulevard and Ommegang, Duvel Moortgat USA also represents Belgian imports Duvel, Chouffe and Liefmans. The company's combined volume, including Boulevard brands, totaled 253,222 barrels in 2014. Boulevard and Ommegang together represent the 12th-largest craft brewing company in the country, according to the Brewers Assocation. Duvel Moortgat USA currently employs 250 workers.
Simon Thorpe, president of Duvel Moortgat USA, notes that 67 of the company's beers have earned ratings higher than 9.5 out of 10 from Beer Advocate. "That reputation is important for us," he says. "Our vision has always been to be at the top of the pyramid in quality."
While Duvel Moortgat USA's acquisition of Boulevard came as a surprise to many in the beer industry, it wasn't met with the same backlash that other recent brewery mergers have provoked. McDonald approached the Belgian brewer about the deal. "It was a terrifying and crazy experience," he says, noting that he felt as though he had reached the "top end of managing what Boulevard had become. I was looking for expertise from people who were bigger and had more experience." McDonald adds that he was attracted to Duvel Moortgat's long tradition as a boutique brewery operator and to CEO Michel Moortgat's hands-on approach. More than a year later, with the integration complete, he calls the partnership a success. "There's still a lot of opportunity and upside," he says.
The merger has allowed Boulevard and Ommegang to consult on best-practice strategies and shared services, says Bill Wetmore, marketing director at Duvel Moortgat USA. To date, they have shared efficiencies on brewing and marketing matters. "We're finding that one plus one equals three," Wetmore says.
Dual Portfolio
Boulevard produces eight year-round and nine seasonal brews, along with the artisanal Smokestack series, which features multiple year-round, seasonal and limited-release products, including Tank 7 farmhouse ale. While Boulevard's first beer was its pale ale, the Unfiltered Wheat has emerged as its top-seller. Thorpe reports that the Smokestack range—with higher prices and margins than the core brands—is growing at a 40-percent rate. Tank 7, generally priced at $10.49 a four-pack of 12-ounce bottles and between $8.99 and $10.99 a 750-ml. bottle, has been a "breakout success for us," Thorpe says. Boulevard has also been investing in a barrel-aging program in recent years, and in April, the company launched some of its products in cans for the first time.
Ommegang, meanwhile, has become known for its dedication to producing bottle-conditioned Belgian-style ales. Wetmore reports that the brewery's volume has tripled over the last five years, reaching approximately 44,000 barrels in 2014. Ommegang's top-selling beers are Witte wheat ale and Hennepin saison, while Three Philosophers quadrupel ale is among its fastest-growing brands. In 2013, the brewery began collaborating with HBO's hit television show "Game of Thrones" on a series of brews and recently released a fifth offering, Three-Eyed Raven dark saison ale.
Both Wetmore and Thorpe concede that the company's imported brews have been sluggish in recent years, as domestic craft beer has gained. But Wetmore reports that the company is putting renewed focus on Duvel, its top-selling import. "We're starting to see the trends move in the right direction," he says. Meanwhile, the smaller-volume Chouffe has seen explosive growth, particularly on draft.
Advertising and marketing support for Duvel Moortgat beers largely revolve around p-o-s, signature glassware and sampling opportunities—both on- and off-premise. Thorpe points to programs like beer dinners and food-and-beer pairing events. "We work with chefs in fine dining restaurants and ask them to create dishes that pair well with our beers or that contain a beer as an ingredient," Wetmore explains. The company also has a large presence at beer festivals, including its own Belgium Comes to Cooperstown every August and Boulevardia in Kansas City in June. Social media support, such as Facebook, Twitter and Instagram, is also strong.
Growing Pains
McDonald is thrilled that craft beer, the industry that he helped build, is showing resounding growth. He notes that there are more than 3,500 craft breweries today and that number is increasing. "I hope all of them succeed,"  McDonald says. He believes the segment can reach a 20-percent market share of the beer category in the next 10 to 15 years. McDonald emphasizes that the craft beer industry must stay true to its foundation. He and Thorpe both acknowledge that with the entry of so many new breweries, retail is becoming increasingly competitive. As a result, Thorpe says some craft breweries are responding by lowering prices and engaging in product and style proliferation.
Thorpe, the former president and CEO of InBev USA, encourages beer retailers and bar operators to focus more on the dollar sales and profit contribution that craft beer provides, rather than on volume sales. "The dollars that retailers can make on craft beer are phenomenal," he says. "It's not about moving boxes, but about the dollar ring."
As for Duvel Moortgat USA, short-term goals include national distribution of Boulevard beers, although Thorpe says the company has no immediate plans to enter new states. Unlike other leading craft breweries that have outgrown their original facilities, Boulevard has plenty of capacity and no need for a second location. Indeed, McDonald says it's quite possible that the Kansas City site could someday produce brews for Ommegang. Moreover, Boulevard's Midwestern location makes it ideal for shipping beer to both coasts.
Duvel Moortgat USA is likely to become an even bigger contender in the craft beer segment. "Michel Moortgat's vision has always been to create a portfolio of high-end craft breweries in Europe, and then in America," Thorpe says. "We now have two breweries in America, and I think we'll add to that, but we're very selective." He adds that no deals are currently pending. "There are some things you can do on your own," Thorpe says. "But there are some things you can do a lot better and faster combined."