At fine dining restaurant Providence in Los Angeles, environmental awareness is important throughout the menu. Sustainably sourced ingredients are paramount for the venue, and its bar is no exception. Providence bar director Kim Stodel works closely with the kitchen to incorporate items trimmed from the plate into the glass. "This way of working not only helps reduce food waste, it's also economical and creates opportunities to come up with creative solutions for 'undesirable' parts of ingredients," Stodel says. "This encourages a symbiotic relationship between the kitchen and bar. I make choices when it comes to spirit selection or style of beverage, but I like to leave the fruit and vegetable aspect up to the kitchen." 
Providence routinely lists at least four drinks on its cocktail menu that include a sustainable aspect and Stodel says they're well received. Recent selections have included the Gin Simmons ($18), made with Fords gin, Of Amaro Bonollo, Kabinett Riesling, and a citrus-persimmon syrup made from the leftover trimmings of a persimmon dessert at the restaurant. On the higher end, Providence's Electric Margarita ($100) comprises Casa Dragones Joven Tequila, Grand Marnier Cuvée du Centenaire, and a passion fruit cordial crafted from the skins of passionfruit used on the food menu. Stodel makes his own juices for the bar and often uses the leftover fruit byproducts to make fruit leathers, chips, and rimming sugars or salts for garnishes, too. 
"We can be more creative in finding solutions to maximize our usage of every ingredient, including the parts that might otherwise be discarded," Stodel adds. "The kitchen does an excellent job of procuring the best seasonal ingredients, which ensures the ingredients used at the bar are at their peak and are sustainable."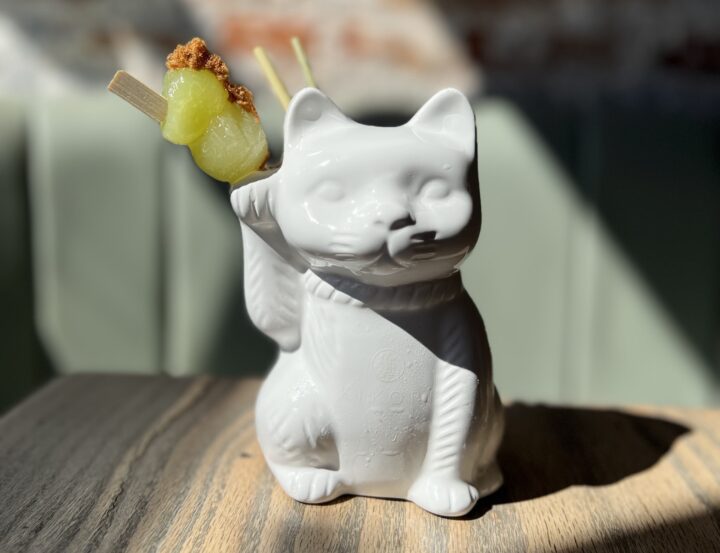 In Chicago, Staytion Market & Bar mixologist Kevin Fahey also makes fresh-squeezed juices and uses the fruit husks to create garnishes. In addition, he dehydrates leftover fruit pieces and uses them as a garnish or as a means to add citric acid into drinks. Staytion, located in the Renaissance Chicago Downtown Hotel, offers a Barreled Tiki Daiquiri ($17) made with Few Barrel gin, lime juice, and cinnamon syrup, garnished with the flamed husk of the juiced lime and a reused cinnamon stick pulled from his syrup mixture, and The Healthy Option ($17), a blend of Few American gin, lemongrass syrup, lemon juice, and water, garnished with lemongrass pulled from the syrup production and dehydrated lemon from juicing.
Similarly, Keith Larry, the director of beverage at Little Rascal in Brooklyn, New York's Greenpoint neighborhood, dehydrates unused arugula leaves from his venue's kitchen to create a cocktail salt, and he preserves the arugula stems to shake in The Argonaut drink, giving it a vegetal quality. The Argonaut ($17) is made with Hendrick's gin, Clairin Haitian rum, Kleos Mastiha liqueur, Green Chartreuse, and blood peach purée, shaken with the arugula stems and garnished with the arugula salt. Larry also offers his own take on an orgeat syrup, made with avocado pits instead of almonds. Little Rascal offers Mediterranean fare, and avocado is heavily featured, so reusing the pits was a no-brainer for him. The Dough of Existence ($18) cocktail is made with Ten to One dark rum infused in-house with avocado and mixed with the avocado pit orgeat syrup, soursop nectar, house-made wormwood tincture, and pickled honeydew, garnished with pork floss.
"Each time we refresh our menu at Little Rascal Greenpoint, we look to create at least one cocktail that utilizes ingredient items left over from the kitchen," Larry says. "We select items you wouldn't normally associate with cocktails, like vegetables, seeds, or spices that are left over from our kitchen, and we create a delicious cocktail with a complex flavor profile. Using salvaged ingredients from the kitchen forces us to be more creative, making drinks that provide a sense of discovery for our guests. Oftentimes, our sustainable cocktails are the most popular menu items, and while guests may not order them specifically because they're sustainable, there's certainly added curiosity that stems from the ingredients."