With 40 beers on draft, 70 canned beer options and a whopping 350 bottled brews, Palmer Place Restaurant & Biergarten in La Grange, Illinois, prides itself on variety. And that variety is what keeps guests returning, according to co-owner Steve Palmer. "We're seeing so many changes in flavor in the beer category," he says. "Brewers are getting more creative." Palmer points to a resurgence of beer styles like Radlers and Shandies, as well as a slew of new brews featuring chocolate, roasted nuts and ginger among the ingredients. "It's a bit of a continuation of the cocktail trend," he adds.
At Raley's, a 120-unit grocery chain in California and Nevada, senior business manager of wine, beer and spirits Curtis Mann is seeing flavor proliferation in beer. He notes that flavors are playing key roles in two distinct segments of the beer category: entry-level products, such as ready-to-drink (RTD) offerings and flavored malts, and premium beers from boutique craft breweries that feature flavors like lemon peel and habanero pepper.
Rob Miller, managing partner and owner at the Wichita, Kansas, store Goebel Liquor, says the flavor craze in the beer category can have a big impact on a retailer's inventory. He recalls the introduction of Bud Light Lime Cran-Brrr-Rita in late 2013. "We received 10 cases, and two or three customers came in right away and bought it all," Miller says. "We had no more for the entire month of December."
Just like distilled spirits marketers before them, leading beer suppliers are pouring on the flavors these days. In fact, if the majority of new brands that launched recently and those expected to be unveiled this year have anything in common, it's a big emphasis on flavors. This trend is a result of marketers' efforts to widen the consumer pool and win over drinkers from other beverage categories.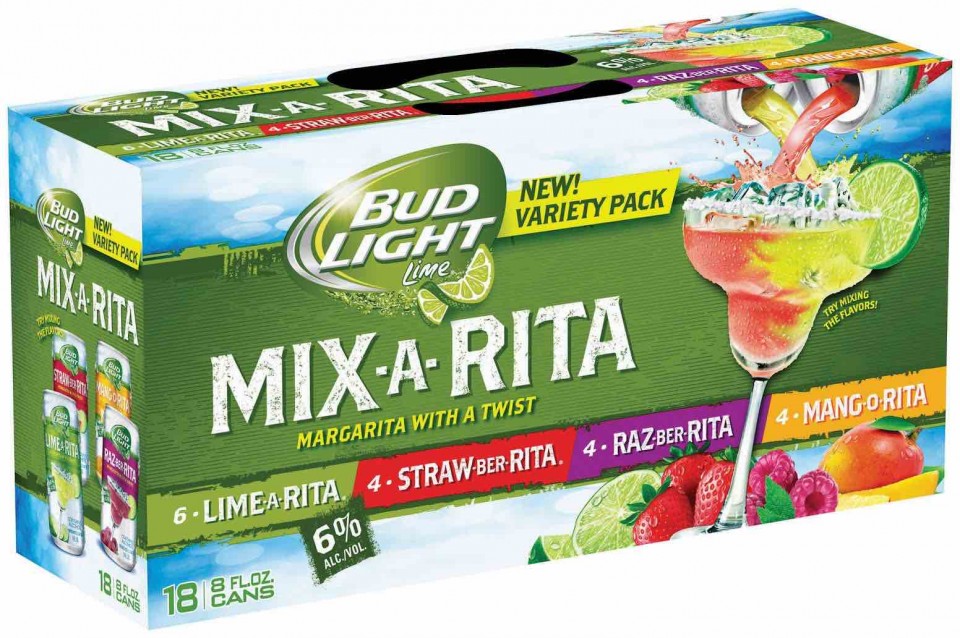 Expanding Occasions
The introduction of Bud Light Lime Lime-A-Rita in 2012 was a move to "capture more occasions when people weren't drinking beer," notes Pat McGauley, vice president of innovations at Anheuser-Busch (A-B), adding that the brand aims to make Margaritas more portable. While initially intended as an "in and out" product, the Ritas label met with immediate consumer approval, and A-B reports it now accounts for $1 billion in sales. Vice president of sales David Almeida says that with Ritas, which are largely targeted toward women, "beer is playing in hard liquor's space."
The Ritas franchise includes the core Lime-A-Rita, Mang-O-Rita, Straw-Ber-Rita and Raz-Ber-Rita offerings and the seasonal Cran-Brrr-Rita and Apple-Ahhh-Rita variants. To date, the brand's biggest success has been in off-premise trade channels like convenience stores, but A-B is moving to enhance on-premise sales with special programming that includes Rita's Cabana stands at stadiums, mason jar glassware and slushy machines in coastal markets. In addition, 1-liter bottles will join the current Ritas lineup of 8-, 16- and 24-ounce cans this year.
A-B's Shock Top brand also continues to benefit from flavor innovation. In addition to its year-round expressions—Belgian White, Raspberry Wheat, Lemon Shandy, Apple Wheat and Honey Bourbon Cask Wheat—Shock Top offers seasonal and special-edition flavors like Pumpkin Wheat, Chocolate Wheat, Pretzel Wheat and Spiced Banana Wheat. To encourage trial, A-B samples new Shock Top varieties at beer festivals around the country. "Our goal is to constantly keep Shock Top brands innovative," McGauley says.
The company's flavor focus will continue this year with the introduction of Bud Light Mixx Tail flavored malt beverages, targeted at male consumers. Packaged in eight-packs of 11.2-ounce bottles, Mixx Tail will launch with three variants: Long Island, Hurricane and the hot cinnamon apple–flavored Firewalker. In March, A-B will introduce Oculto, a Tequila-enhanced brew, which McGauley says is inspired by beer mash-ups and other infusions.
MillerCoors has also been active on the flavor front. In fact, Blue Moon Harvest Pumpkin ale—made with pumpkin, cinnamon, nutmeg, clove and allspice—was the first pumpkin brew to be distributed nationally in 1995. In addition to Harvest Pumpkin and the flagship Belgian White, the line features such seasonals as Valencia Grove Amber and Summer Honey Wheat, as well as specialty releases like Agave Nectar, Caramel Apple Spiced and Gingerbread Spiced. Last year, the company launched Blue Moon Cinnamon Horchata year-round in limited markets, and "beer drinkers love it," according to Blue Moon Brewing Co. founder and head brewmaster Keith Villa. Additional Blue Moon flavors will debut this year, with the seasonal First Peach launching in January, followed by White IPA—featuring coriander and a hint of orange—in February.
Among other MillerCoors flavored brews, Redd's Apple ale launched in 2013, followed by a Strawberry variant and the higher-strength Redd's Wicked Apple last year. According to director of media relations Jonathan Stern, new flavors will be introduced in March. Also in 2013, MillerCoors unveiled the Steel Reserve Alloy Series, a line of budget-priced, 8-percent alcohol-by-volume flavored malts that includes Blk Berry and Spiked Punch. Pineapple and Margarita flavors will debut this winter.
Domestic craft brewers haven't been shy in the flavor department either. The Boston Beer Co.'s Samuel Adams brand includes Cherry Wheat ale, Chocolate bock, Blueberry Hill lager, Juniper IPA and Maple Pecan porter. "Inspiration comes from everywhere," says director of brewery programs Jennifer Glanville. "Because of the ingredients available and variety of brewing techniques, the possibilities are endless."
Major importers are also getting into the flavor game with line extensions for leading beer labels. Heineken USA launched Amstel Radler, Dos Equis Dos-A-Rita Lager Margarita and the Tequila-flavored beer Desperados in select markets last year. Desperados is reportedly set to expand nationally this year. Meanwhile, Constellation Brands recently introduced Modelo Especial Chelada, featuring tomato, salt and lime flavors, in October 2013. "We're selling everything we can make," says Bill Hackett, president of the company's beer division.
Marketing To Millennials
Producers and retailers agree that the evolving beer consumer is at the root of the flavor trend. "From specialty yogurt to artisanal chocolate to craft beer, consumers are interested in more options," Blue Moon's Villa says. "When beer drinkers try something new and like it, they're more likely to experiment with different beer styles in the future."
Millennial consumers in particular demand variety. "When I was 21, there was one flavor of Gatorade," recalls Miller of Goebel Liquor, which stocks some 1,700 different beers ($5.99 to $14.99 a six-pack). "Today, consumers can pick from nine cooler doors of flavored waters, energy drinks and pop. They're used to having variety." Palmer adds that many millennial consumers are driven to find the next hot beer brand or style, while fruit-flavored malt beverages "trend toward women." Draft brews at Palmer House range from $4 to $10, depending on pour size and strength, and bottled beers are priced from $3.75 up to $25 for a 1-ounce pour of Samuel Adams Utopias.
Flavored spirits and the cocktail boom have encouraged consumers to expect diversity when it comes to beer, says Mann of Raley's, which typically stocks between 300 and 800 beer SKUs ($4.99 to $16.99 a four- or six-pack). "Brewers and spirits makers are inspiring each other," Villa says. "The burgeoning craft spirits movement has taken a lot of inspiration from craft beer, and the emergence of bartending as an art has resulted in innovative cocktail recipes, which are influencing brewers."
Beer retailers and bar operators see value in flavored brews due to increasing demand for new experiences from consumers. Both Miller and Mann report that flavored beers from leading marketers like Blue Moon, Shock Top and MillerCoors' Leinenkugel Summer Shandy are performing well. "We consider them to be gateway beers," Miller says. At Raley's, sales of variety packs from national and craft beer marketers are "more dominant" than multipacks of particular seasonal brews, Mann notes. "Consumers enjoy the ability to try several different beers within one 12-pack, rather than having to buy three or four six-packs," he explains.
At Palmer Place, popular flavored beers include A-B's Wild Blue blueberry lager ($5.75 a 12-ounce bottle), Wells Banana Bread beer ($7.95) from the United Kingdom and long-established Belgian lambics. Specialty brews like Lindemans Framboise ($8 a 10-ounce pour) are served in fluted stemware, while other flavored beers receive a garnish "if called for," Palmer says.
Getting It Right
Beer marketers advise that with so many flavored brews available today, retailers should exercise discretion when it comes to stocking labels. "The most successful stores will be the ones that balance new offerings with proven winners," Blue Moon's Villa says. "The key will be to incorporate new beers to attract and excite drinkers, while remembering that the majority of a retailer's business will be driven by beers their customers know, love and trust." Boston Beer's Glanville adds, "It's important for retailers to pay close attention not only to which brands, but also to how many brands they are offering their customers. More is not necessarily better."
The question of whether flavored beer is here for the long haul or it's just the latest fad remains under debate. Mann points to drinks segments like RTDs and pouches, which have surged in the past and then dissipated. He also notes that consumers of flavored brews will no doubt "step up to the next product category" over time. Palmer and A-B's McGauley, however, expect beer flavors to continue to develop. McGauley predicts that exotic and fusion flavors will be the next wave in beer, while Palmer believes that craft brewers will sharpen their focus on local flavors and ingredients, such as Michigan apples and blueberries. "Local breweries will get really creative and crazy with flavors," he adds.