For a spirits marketer looking to expand the reach of their brand, the smart move might be to turn to flavors. Flavors certainly worked for vodka and other white spirits in the 2000s and they've been a boon to whisk(e)y over the past decade. While hesitation still exists within the whisk(e)y sector, some of the country's most popular brands now have a range of flavors that have gone a long way in keeping consumers engaged in the category.
Sophie Kelly, senior vice president of North American whiskies for Diageo North America, notes the ongoing affinity for flavors among U.S. consumers. Diageo-owned Crown Royal, for example, launched its Regal Apple flavor in 2014 and is still seeing major growth from it. "Regal Apple continues to yield some of the strongest sales results among the Crown Royal family, as well as within the broader whisk(e)y category," Kelly says.
In fact, flavored whiskies have shown consistent growth over the past 15 years, rising from just a blip in the overall whisk(e)y category to a dynamic beverage alcohol segment on its own. Last year, depletions of flavored whiskies in the U.S. market advanced 5.5% to 17.31 million cases, according to Impact Databank. That compares to just 2.72 million cases a decade earlier in 2011.
"The flavored whisk(e)y category is a large, incredibly dynamic category that is projected to take share from the North American whiskey category through 2025," says Lisa Hunter, U.S. brand director for Jack Daniel's flavors. "Jack Daniel's flavors have outperformed many of our expectations."
At Pernod Ricard USA, Jameson whiskey senior brand director Kelly Suhr says flavors can stretch a brand's reach. "Consumers have embraced flavored whiskies as a fun way to explore the whisk(e)y category as a whole," she says. "We're seeing a high demand for flavored whiskies from curious spirits drinkers and non-whisk(e)y drinkers alike, making this a $1 billion-plus segment that is driving growth for the whisk(e)y category overall."
Expanding The Reach
Flavored whiskies can provide a bridge to new consumers, some of whom might be intimidated by the complexities of the whisk(e)y segment but can experiment with the less daunting flavored entrants before jumping fully into the category. "Flavors are an opportunity to welcome new consumers into the American whiskey category," says Julie Cole, senior brand manager for Evan Williams at Heaven Hill Brands. "We're seeing consumers enter from flavored vodka, Tequila, and rums, however, there's also occasion-based opportunities for all levels of American whiskey fans."
Suhr agrees, suggesting that as many as half of all flavored whisk(e)y drinkers are new to the overall category. "We know the flavored whisk(e)y segment appeals to a much broader audience," she says, noting that flavors expand not only appeal to the user but also the range of consumption occasions.
The broader audience includes newer legal-age drinkers who might not have been introduced to whisk(e)y and see flavors as a stepping-off point. "The flavored whisk(e)y consumer is younger, more multicultural and urban than the traditional whisk(e)y drinker," notes Hunter. "At Jack Daniel's, we're really targeting the next generation of beverage alcohol consumers with these brands."
Ron Vaughn, co-owner and COO of Argonaut Wine & Liquor in Denver, says consumers who purchase flavored whiskies are either exploring the sector or long-time whisk(e)y drinkers using flavors on certain occasions. "Generally, they are people, often younger, who are looking for an introduction to whisk(e)y but are cautious about the 'burn,'" Vaughn says. "Because of this, they're not brand loyal and are willing to try new products. Younger consumers want a sensory expe- rience and flavors can provide that." Argonaut's top flavored whiskies include Fireball ($21 a 1.75-liter), Skrewball Peanut Butter whiskey ($27 a 750-ml.), and Crown Royal's Regal Apple and Peach extensions (both $45 a 1.75-liter).
Jack Backman, owner of Cheers Liquor Mart in Colorado Springs, Colorado, says whisk(e)y newbies are the prime audience. "The flavored whisk(e)y drinkers seem to be younger people who are just getting into trying whisk(e)y in most cases," he says. Tobin Sharp, creative director for Hi-Time Wine Cellars in Costa Mesa, California, sees a similar demo- graphic. "In general, flavored whisk(e)y consumers are new whisk(e)y drinkers or, if a typical whisk(e)y drinker, they need it for a special occasion," Sharp says. "Our main whisk(e)y clientele tends to avoid flavored versions of the 'water of life' and focus on the traditional whiskies."
Retail has historically been the main venue for flavored whisk(e)y sales. While a few brands have made headway in the on-premise, many bar professionals prefer to create their own flavors through fresh juices or spirit combinations. The market skewed even more heavily to the off-premise during the pandemic, but now that the on-premise is coming back, some marketers are targeting those venues for growth. "Consumers love to mix and match flavors and are constantly searching for new discoveries of how to drink these brands," Hunter says. "There's tremendous opportunity for Jack Daniel's flavors behind the bar."
Jameson, which launched Jameson Orange in the U.S. in January 2022, is targeting both channels as well. "Jameson Orange was introduced to not only address consumer demand for more diversity and flavor in whiskey, but also the desire for versatility within home bars," says Suhr of the brand's off-premise appeal. "With this resurgence of on-premise consumption, we're excited to see how consumers incorporate these innovations into their dining and social experiences."
Kelly says she expects an uptick in the on-premise for Crown Royal flavors and other flavored whiskies. Heaven Hill's Cole also sees opportunity with Evan Williams' core flavors of Honey, Peach, and Apple, although she acknowledges that the brand's primary focus is at retail.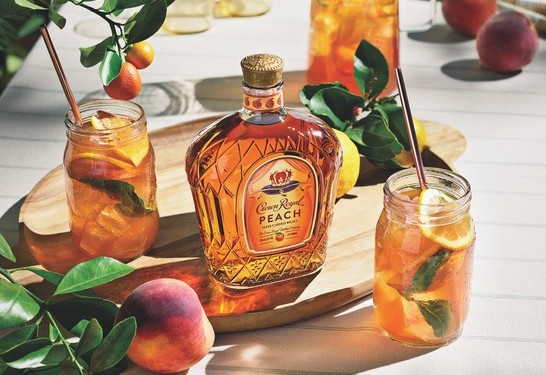 Big Brand Growth
Whatever the reach, it's clear that flavored whiskies have captured the attention of consumers in the U.S. Flavored offerings now account for nearly one-quarter of total whisk(e)y consumption nationwide and the sector's growth rate has surpassed that of its non-flavored counterpart, according to Impact Databank.
In contrast to the broader whisk(e)y sector, volume in the flavored whisk(e)y segment is highly concentrated among a handful of brands. That could be because only a fraction of the whisk(e)y brands offer flavored variants. Also, unlike what happened with vodka in the 2000s, whisk(e)y marketers have been measured in their flavor approaches, with few brands sporting a range of more than a handful of flavors and many just offering one or two options.
The top ten flavored whisk(e)y brands in 2021 accounted for more than 80% of total volume, according to Impact Databank. And of those ten brands, three are Crown Royal variants. Crown Royal Regal Apple ranked second in 2021 with depletions of 1.92 million cases, a 1% gain. The Peach flavor, launched in 2019,
showed explosive growth out of the gate and in 2021 gained a further 20% to 705,000 cases. The Vanilla flavor, launched in 2016, has had slower growth but still ranked eighth among flavored whiskies at 525,000 cases in 2021, having decreased 2%, according to Impact Databank.
"Our flavor drinkers are flavor connoisseurs and are very discerning with their flavor choices," says Kelly. "Flavors deliver against the trend of exploration and curiosity, allowing consumers to try innovative, new cocktails." Along with the three most popular Crown Royal flavors, the range also includes Salted Caramel. Kelly says Diageo will consider more flavors in the future, but for now is concentrating on the release of Crown Royal canned cocktails.
Topping the flavored whisk(e)y rankings by a wide margin is Fireball, a cinnamon-flavored Canadian whisky that has dominated the sector since the mid-2010s. Fireball, part of the Sazerac portfolio, accounted for 39% of total flavored whisk(e)y depletions in 2021 with 6.78 million cases, a 7.5% gain. Fireball is one of a handful of brands not connected with a straight whisk(e)y parent brand. Southern Comfort is another. The No.-3 flavored whiskey has a long history as a whiskey liqueur but has lost volume in recent recent years against the onslaught of competitors. In 2021, Southern Comfort held steady at 970,000 cases. Tennessee brand Ole Smoky, ranked fourth in 2021, is somewhat of an anomaly in that it sports a broad range of whiskey flavors—15 in total—including offbeat options like Mango Habanero, Cookies & Cream, Root Beer, and Mint Chocolate Chip. This strategy appears to work; the Ole Smoky flavor line, as a group, grew 36% to 861,000 cases last year.
The resonance of offbeat flavors for whisk(e)y was proven a few years ago when an upstart company in San Diego released Skrewball Peanut Butter whiskey. Now part of the Infinium Spirits portfolio, Skrewball was an almost immediate phenom- enon and remains one of the most popular flavored whiskies on the market. The brand grew 4% to 605,000 cases in 2021, according to Impact Databank. Eric Dohanich, vice president of business development at Twin Liquors in Austin, Texas, says Skrewball ($29 a 750-ml.) is a standout in the sector. The brand is also a top seller at Hi-Time Wine Cellars, where some smaller brands are also making headway. Sharp says Bird Dog Peach whiskey ($18) and Old Camp Peach Pecan whiskey ($25) are among the flavored whiskies gaining ground.
Many retailers say that while the market is crowded, new flavors and new brands are welcome. At Cheer's, Backman recently created a "Whiskey Row" within his store to showcase flavored and other whiskies. "We are always looking for more brands," he says. Vaughn is also enthusiastic. "We honestly like to taste all the new products; we're not fatigued," he says. "If you look at the number of products that we carry that didn't exist five years ago, it would be foolish to not stay out in front of any new trends."