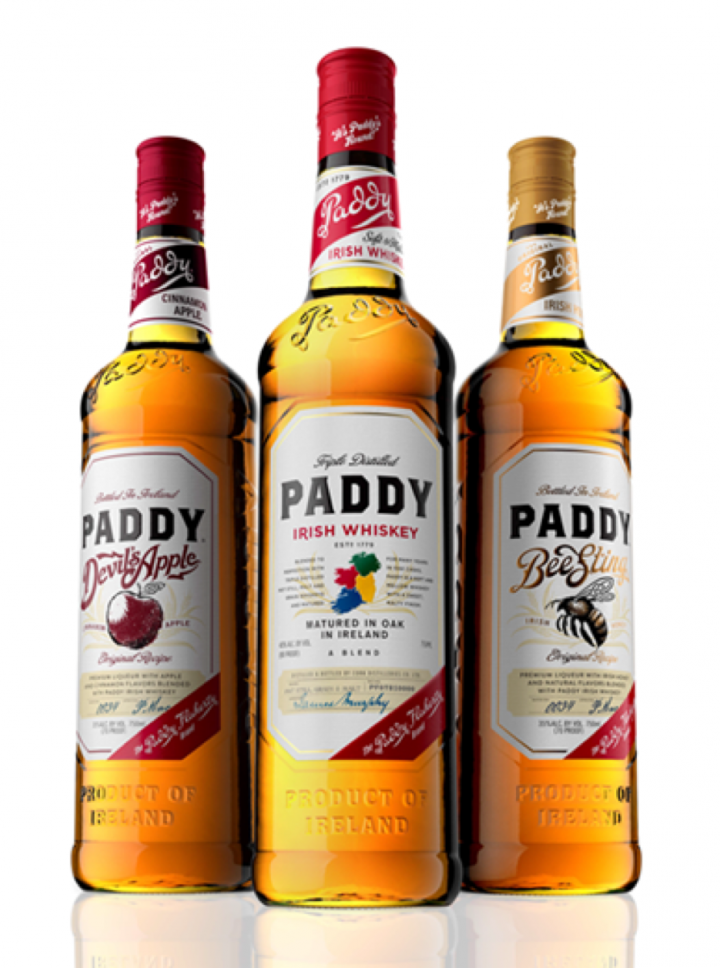 Can anybody judge America's appetite for flavored whiskies? While the cherry-enhanced Red Stag by Jim Beam dominated consumer tastes five years ago, the cinnamon-infused Fireball from Sazerac Co. has now displaced Jägermeister as the most popular shot brand in the country. When Seagram quietly released the Canadian whisky–based product to skeptical bartenders in the 1980s, no one could have imagined how it would blossom three decades later.
At the 23-store, Indianapolis-based Crown Liquors chain, general manager William Moore scratches his head at the unpredictable preferences that his customers have for flavored whiskies. Diageo's Crown Royal Maple Finished whisky ($25 a 750-ml. bottle) got good reviews and brought high hopes when it first launched three years ago. But the offering turned out to be a poor seller for Crown Liquors. Last year, Crown Royal Regal Apple debuted at the same price, and despite lukewarm reviews from critics, it's proven to be a home run. "Crown Royal Regal Apple is far outselling any of our other flavored whiskies, including Red Stag," Moore says. "We didn't see that coming." The apple extension hasn't hurt the brand's core whisky at the store. "We still sell a ton of regular Crown Royal," Moore adds.
Diageo has embraced the flavored whisk(e)y trend in expansive fashion with a torrent of releases. Its Jeremiah Weed brand (around $20 a 750-ml. bottle) includes Spiced, Sarsaparilla and Cinnamon expressions, while Piehole ($18) features Pecan Pie, Cherry Pie and Apple Pie variants and Seagram's Seven Crown ($16) offers Dark Honey, Orchard Apple and American Spiced flavors.
Just about every other marketer is piling on, with some iterations coming from beyond North America. Pernod Ricard USA added Bee Sting and Devil's Apple offerings (both around $25 a 750-ml. bottle) to its Paddy Irish whiskey brand in 2013. And Illva Saronno USA Corp. is extending its Disaronno amaretto brand with the limited-edition Disaronno Riserva ($349), a blend of amaretto liqueur and Scotch whisky that's aged in Marsala wine barrels.
Open Opportunity
The appeal of flavors is obvious. Nielsen surveys recently found that overall flavored whisk(e)y sales are running 37 percent ahead of a year ago, far outpacing growth for unflavored whiskies. Rabobank's Spirits Quarterly called flavored whiskies "the hottest growth segment in the U.S. spirits market in 2014," at a time when sales of flavored vodkas actually declined by 5 percent. In fact, Rabobank claimed that flavored whiskies accounted for more than half of spirits sales growth last year.
Flavors currently comprise 13 percent of Beam Suntory's Bourbon sales. "Flavors have widened the lane in the whiskey category," says senior public relations director Dan Cohen. "They've brought in beer, rum and vodka drinkers, as well as more women." He views the 2009 launch of Red Stag as a watershed. "That brand was the catalyst for many flavors that followed," Cohen says. "It was a bold and risky move for a company making Bourbon since 1795, but Red Stag turned out to be the fastest-growing whiskey introduction of the past decade."
Yet even for Beam Suntory, the flavored path hasn't been without its detours. The company followed Red Stag ($20 a 750-ml. bottle) in 2011 with Red Stag Honey Tea, which was discontinued after a couple of years. Red Stag Hard Core Cider came out in 2013, but Cohen says it's also being discontinued. He explains that the original plan to build a suite of flavors within the Red Stag umbrella has been realigned to a program centered instead on the Jim Beam brand. Jim Beam Maple ($16) was supplemented with the cinnamon-infused Jim Beam Kentucky Fire (also $16)—the company's response to Fireball—a year ago. Initially intended for testing in select markets, Kentucky Fire was so popular early on that Beam Suntory decided to take the offering national. "It's been our top-growing whiskey recently, particularly in the on-premise as a vehicle for shots and cocktails," Cohen says.
Alcohol strength depends on the type of audience or occasion the brand is targeting. Beam Suntory's Red Stag line clocks in at 35-percent alcohol-by-volume (abv), but the company's super-premium Knob Creek Smoked Maple ($31 a 750-ml. bottle), launched in 2013, is 45-percent abv. The consensus seems to be that 70-proof whiskies work best for shots. "You can taste the Bourbon along with the complementary flavors," Cohen explains. "It's Bourbon without the bite." He adds that the higher-proof Knob Creek Smoked Maple is designed for sipping neat or mixing into cocktails like the Manhattan.
Targeting Tastes
Flavor trends ebb and flow. Brown-Forman Corp.'s Early Times brand dropped its Fire Eater and Blind Archer Spiced Apple expressions (both priced at $15 a 750-ml. bottle) without explanation this year, despite earlier claims that they were selling well. The company is instead concentrating its flavor development on Jack Daniel's. The brand's original extension, Jack Daniel's Tennessee Honey ($23), debuted in 2011 and was supplemented last year with the Tennessee Fire variant (also $23). After testing in three states, Tennessee Fire rolled out to five more markets by Christmas and has recently expanded nationwide.
Casey Nelson, senior brand director for Jack Daniel's flavors, says Tennessee Honey has been a huge success for the brand and believes that Tennessee Fire will quickly find its own audience. "Honey is a sweeter profile and appeals to people with a sweeter palate," he explains. "Tennessee Fire's cinnamon flavor appeals to people who have a taste for spice."
An Impact "Hot Brand" winner for four consecutive years, Jack Daniel's Tennessee Honey has seen significant growth, particularly with Hispanic and black consumers who are new to whisk(e)y. However, Nelson says there's plenty of room for further expansion, noting that most of the label's sales have come from the off-premise. "Many on-premise places still aren't offering Tennessee Honey," he says. "We need to do a lot more work to build our on-premise business in flavored products."
Meanwhile, Wild Turkey American Honey ($19 a 750-ml. bottle) has been growing at a double-digit pace since 2009, according to Andrew Floor, vice president of marketing for dark spirits at Campari America. He notes that American Honey now represents 30 percent of all Wild Turkey sales, up from 20 percent five years ago. But the brand's Spiced extension, launched nationwide in October 2013, didn't meet expectations. Despite the company putting considerable support behind the label, it never caught on and was dropped last September.
Around the same time, Campari introduced a new variant called American Honey Sting (also $19 a 750-ml. bottle), which features flavoring from the extra-spicy ghost pepper. The company hopes that its so-called "sweet heat" will find a following in cocktails, but worries about copycats. "We have seen whiskey flavors evolve into a bunch of cinnamon-flavored shots—something that serious cocktail bars don't really want," Floor says. "Our goal has been to offer flavors that nobody else has. Right now, there are a lot of 'me too' brands on the market, which has led to heavy discounting. We're hoping to avoid that trend."
Heaven Hill Brands may have latched onto the next big flavor with its introduction of Evans Williams Peach in select markets in May. The extension is line-priced at $14 a 750-ml. bottle, along with the previously launched variants Honey, Cherry and Fire. Heaven Hill communications manager Josh Hafer points to rising sales as proof that the lineup is working for the company. Volume for the 35-percent abv Evan Williams Flavors portfolio reached 195,000 nine-liter cases in 2014, just two years after launching
Heaven Hill also offers the hot cinnamon–flavored whiskey Cinerator ($15 a 750-ml. bottle) at 45.55-percent abv. Introduced in 2013, the brand rose to 50,000 case sales last year and much more growth is expected in the future. The company recently launched another new flavored whiskey brand, Raven's Lace PeachBerry ($15), at 30-percent abv. With a taste profile that combines both peach and strawberry, Raven's Lace may indicate an emerging trend: whiskies that feature multiple flavors. "Vodka has been the leader in that approach," Hafer says. He admits that the PeachBerry whiskey isn't likely to show up at high-end bars, but he hasn't given up hope. "Flavored vodkas do reasonably well on-premise," Hafer notes. "Maybe it's the newness of flavored whiskies that keeps them from being accepted in those types of accounts."
On-Premise Placement
Restaurateurs and bartenders have strong opinions on the issue of flavored whiskies. At III Forks Prime Steakhouse, which has eight locations in Texas, Florida and Illinois, executive chef and proprietor Billy Caruso has Red Stag on his menu at $14 a 2-ounce pour. "I keep it for women and younger people," he explains.
Caruso has come to believe that whisk(e)y is the ultimate pairing with steak—perhaps even better than red wine—but he's not sold on flavors. His restaurants offer a cocktail called The Gun ($12), which mixes Tap 8 Sherry Finished Canadian rye whisky with Oloroso Sherry (brand varies), cinnamon-infused simple syrup and a Meyer lemon peel. "It's proven to be popular," Caruso says. However, he prefers to do his own spirits infusions. "I'd rather start with regular whiskey and add my own honey," Caruso says. "I like to control the sweetness myself. Most good bartenders don't need a shortcut."
At Manna restaurant in Wilmington, North Carolina, mixologist Joel Finsel is constantly inventing his own flavored bitters and syrups for cocktails. But he's become a believer in Piedmont Distillers' line of flavored moonshines, Junior Johnson's Midnight Moon. Finsel's Midnight Stranger ($10)—a take on the Old Fashioned—features Midnight Moon Apple Pie, Fee Brothers Old Fashion Aromatic bitters, muddled lemon and a cherry.
Piedmont Distillers owner Joe Michalek offers eight expressions of his corn-based Midnight Moon brand, including Apple Pie, Cherry, Blueberry, Blackberry, Cranberry and Strawberry flavors (all $22 a 750-ml. mason jar). The newest offering is Raspberry, and Peach will arrive soon. Michalek uses real fruit that's sourced from regional growers, and he leaves whole pieces in each jar for consumers to see. "Our Blueberry moonshine doesn't taste like a blueberry Pop Tart," he explains. "We put real fruit in the bottle to yield a real fruit taste that you will never get with a synthetic additive." Midnight Moon sold 322,000 cases in 2013.
Other smaller distillers are jumping on the flavors bandwagon as well. Jim Irvin of Firefly Distillery in Charleston, South Carolina, makes a Sweet Tea Bourbon ($25 a 750-ml. bottle) that has turned out to be a big seller. The company also offers a Bourbon Ball whiskey that features notes of chocolate and pecan (also $25). Next up will be an apple-enhanced offering.
"We're working on lots of flavors," says Irvin, who co-owns the distillery with Scott Newitt. "Millennial consumers are moving from place to place in terms of taste. You have to reinvent your business every six months to hold their attention. They don't settle on any one thing.
Craft Approach
In Fredericksburg, Virginia, A. Smith Bowman Distillery released Abraham Bowman Limited Edition Vanilla Bean Flavored whiskey last fall ($70 a 750-ml. bottle). The 45-percent abv offering incorporated genuine Madagascar vanilla beans and quickly sold out. Other distillers might have been happy to employ vanilla extract, but master distiller Brian Prewitt wouldn't accept any shortcuts in the production process.
Claire Marin, the owner of Catskill Provisions in Long Eddy, New York, started as a beekeeper a decade ago and two years ago started sourcing whiskey from nearby Finger Lakes Distilling to make her New York Honey whiskey. The 40-percent abv spirit ($40 a 750-ml. bottle) comprises 80-percent rye and 20-percent malted barley. While other flavored whiskey producers are content to offer their products at 35-percent abv or lower, Marin thinks they're missing the point. "I tried making my New York Honey at 70 proof, but it was too sweet, and not enough of the rye flavor came through," she explains. "I didn't want to make just another liqueur. I wanted a real whiskey." The brand is in a half-dozen states so far, and Marin is working on further expansion.
Darek Bell, co-owner of Corsair Distillery in Nashville, Tennessee, takes a different approach, adding flavorings during the distillation process rather than incorporating them later. Corsair's Pumpkin Spice moonshine ($40 a 750-ml. bottle) is produced by adding pumpkins to the distillate. His Elderflower Bohemian whiskey (also $40) is made the same way with real elderflowers. "We've even experimented with things like gooseberries," says Bell, who in the past has made Huckleberry moonshine and Mint Chocolate whiskey. "Essentially, if a flavor has been done before, we don't want to do it."
Norman Bonchick, CEO of 375 Park Avenue Spirits in New York City, believes that whisk(e)y makers shouldn't be too driven to experiment. His company markets the Tap Canadian rye whisky brand, which introduced Tap 357 Maple ($29 a 750-ml. bottle) in 2012. "People feel they need to make something totally different to catch the public's attention," Bonchick says. "But you don't want to push so far that you end up with a cartoonish whiskey. In deciding on flavors, you really have to take your own tastes out of the decision and ask instead what the public is ready for."