Like his father and grandfather before him, Marc Taub has never met a challenge he didn't embrace. The president and CEO of Taub Family Cos.—which includes Palm Bay International and Esprit du Vin Fine Wine Merchants—has been at the helm of his family's wine and spirits import businesses since his father, cofounder David Taub, passed away in 2012. The pair worked closely together for more than 20 years, and during that time, Marc Taub learned the intricacies of a family business that was founded in the 1970s and celebrates its 40th anniversary this year. Today, Taub Family Cos. is poised to seize new opportunities on an unprecedented scale—with an increased commitment to its core business in imported wine, new initiatives in domestic wine, and ambitious growth plans for its burgeoning spirits business.
While much has changed at Palm Bay and Esprit du Vin in the last few years, Marc Taub has never lost sight of the people who helped shape his family's business. He credits his father and his grandfather, cofounder Martin Taub, with laying the groundwork for continued success. In addition, the personal relationships that Marc Taub and his employees have forged with their wine and spirits suppliers are integral to the company's long-term success.
"The fundamentals of today's Palm Bay came from the opportunity to work with my father for so many years," Taub says. "That allowed me to understand what he felt was important—a sense of urgency, a personal touch, an entrepreneurial spirit. My father was always adventurous, and that spirit continues with me. I can't seem to find any challenges I'm not willing to take on."
Taub has embraced several new challenges over the past few years. Palm Bay entered the California wine business in 2014 and now has three labels from the Golden State. The company acquired Pasternak Wine Imports in December 2016 and is busy incorporating its portfolio and staff into his Esprit du Vin business. Since that deal, he has also restructured the Taub Family umbrella to better represent its growing array of products, divisions and employees. In addition, Palm Bay has introduced some new spirits brands and set plans for several more, including the company's first self-produced spirits in decades. Taub has also embraced new technologies, enlisting contemporary computer systems and infrastructure to help modernize the import and sales businesses.
"From the time I was a young boy, I got to see my grandfather and my father work together in pretty tight quarters," Taub says. "They both had a strong work ethic. To get my time with them, I really had to be part of what they were doing. That hands-on training gave me the opportunity to learn every facet of the business, and I've never looked back. It's something I've always wanted to do."
Brand Building
Much of the Taubs' success can be attributed to their knack for anticipating wine trends. In the late 1970s, when the most popular Italian white wine import was Soave, David bet big on Pinot Grigio and reaped huge rewards. He and Martin founded Palm Bay in 1977 by partnering with Cavit, a then-unknown wine producer in the northern Italian province of Trentino, to bring its Principato label into the United States.
"In the late 1970s and into the '80s, David and Martin saw Italy as a source of quality that was virtually untapped," says Palm Bay executive vice president Michael Petteruti. "Italian fine dining was in its formative years in the early '80s, so there was an opportunity in the marketplace. Restaurants were looking for Italian wines. Selling them was relatively easy."
The Principato brand launched with red, white and rosé blends and soon added Pinot Grigio and other single-varietal wines. Today, Principato offers Pinot Grigio, a Pinot Grigio–Chardonnay blend, Pinot Noir and a Cabernet Sauvignon–Merlot blend. The label's quick rise in the U.S. market soon led to the addition of Cavit's own wine label, which today boasts eight expressions. The Principato and Cavit brands were early leaders for Palm Bay and remain strong performers.
"Our collaboration with Cavit allowed us to build Palm Bay into what it is today," Taub says. He notes that the Principato brand advanced quickly to a half-million cases, which helped bolster Pinot Grigio overall. "As we grew Pinot Grigio from its earliest days, we realized it was built to last," Taub explains. "My dad always believed that American consumers would enjoy the flavor profile of Pinot Grigio, and the wine is still growing 40 years later."
Just as Palm Bay has grown and evolved, so too has the partnership with Cavit. Today, Palm Bay imports 10 wine brands produced by Cavit: its eponymous label ($8.99 a 750-ml.)—an Impact Blue Chip brand at 3.6 million cases in 2015—and its Cavit Crus selections Arèle Vino Santo and Quattro Vicariati, as well as Principato, Roscato, Bottega Vinaia, Alta Luna, Porta Vita, and the sparkling brands Lunetta and Altemasi (all $13.99 to $60). Roscato ($11.99 to $14.99)—which made its national debut in 2011 in Olive Garden restaurants and expanded into the off-premise a year later—is one of Cavit's most recent triumphs, now boasting seven expressions: Prosecco, Sparkling Moscato, Sparkling Sweet Red, Bianco Dolce, Pinot Grigio, Rosé Dolce and Rosso Dolce. The wine is a Hot Brand with 45-percent growth to 507,000 case depletions in 2015.
"Roscato capitalized on what was happening from a red blend perspective and what was happening with sweet wines," Taub says. "Consumers instantly identified with it and we're seeing enormous success. Roscato recently broke 700,000 cases, and we're pretty confident it's going to be our next million-case brand." Palm Bay senior vice president of national sales Casey Tedd adds that a large part of Roscato's success can be attributed to consumers' increasing comfort level with sweeter wines—a trend Taub foresaw before it took hold.
While Cavit helped build a foundation for Palm Bay and cemented the company's spot as a top Italian wine importer, it's by no means the company's only success. These days, Taub Family Cos. import and represent wines from 13 countries. Palm Bay has become a leader in Chilean wines thanks to its popular Santa Rita brand, a Hot Brand with 15-percent growth to 494,000 case depletions in 2015. The Santa Rita portfolio boasts 30 labels ($7.99 to $84.99 a 750-ml.) and has grown into the top-performing Chilean wine that's available only in 750-ml. bottles in the United States. "Santa Rita has been driven to new heights," Tedd says. "The brand has had pretty significant growth in the last two years, at a time when the Chilean category as a whole has gotten overlooked."
Santa Rita is Palm Bay's top-performing Chilean label, but the company also imports smaller stars like Erasmo. Sister company Esprit du Vin markets the MontGras brand and now also represents Viña Los Vascos as part of the new Pasternak acquisition.
Portfolio Depth
For Taub, the goal when choosing supplier partners is to find passionate people with a story to tell through their products. His aim is to represent one of the most notable wine or spirits producers from each region where his companies do business, as well as to avoid a lot of overlap among competing brands from one specific area. Maintaining entirely different sales and brand management teams for Palm Bay International and Esprit du Vin helps achieve this goal.
"There's more diversity in wine than probably any other business on Earth," Taub says. "Having two organizations, each dedicated to the families they represent, creates a special dynamic. It also avoids overlap within the divisions and offers clarity and purpose. We look to work with one of the top three producers from a region. Having two different portfolios gives us the opportunity to show a variety of expressions from the same appellation."
Palm Bay represents more than 30 Italian wine brands today, and Italy continues to comprise about 80 percent of its overall business. Meanwhile, Esprit du Vin has roots in France and imports wines from more than 40 châteaux and estates. Taub notes that over the long term he plans to grow the portfolios of both divisions.
Palm Bay already has plenty of diversity. The company has found a niche in Spain, especially in Rioja with the Bodegas Faustino brand, and it also represents Cava label Pere Ventura and Sherry producer Bodegas Williams & Humbert. The importer has a presence in Germany with Riesling producers Blue Fish and S.A. Prüm and in Portugal with the José Maria da Fonseca portfolio. In the New World, Palm Bay is working with Argentine winery Bodegas Salentein, Australia's McGuigan family and New Zealand winemaker Peter Yealands, whose sustainable wines have shown 30-percent annual growth for the last couple years, according to Taub.
The company is re-entering Australia at the higher end with the Tempus Two label ($14.99 to $19.99 a 750-ml.) from the McGuigan family. "Australia has had challenges," says senior vice president of brand development and portfolio management Giacomo Turone. "But we're excited to go back into the Australian wine business based on Marc's vision for where the category will be in three years."
The acquisition of Pasternak and integration into the Esprit du Vin business has also created excitement. Esprit du Vin's French wine portfolio is diverse, and it already included well-known suppliers like Maison F.E. Trimbach from Alsace, Château de la Chaize from Beaujolais, Château de Montfort from the Loire Valley, Château Greysac from Bordeaux, and Domaine Antonin Guyon and Domaine Bertagna from Burgundy, as well as several labels from winemaker Jean-Claude Mas in Languedoc. Beyond France, Esprit du Vin also has wines from Argentina, Chile, Austria, Germany, Italy and Spain. The addition of Pasternak has broadened the lineup even more and offers a high level of prestige, as its portfolio features several top-level producers, from Champagne Barons de Rothschild and Château Lafite Rothschild to Château Duhart-Milon, among others.
"We saw a big opportunity in merging Esprit du Vin and Pasternak," Taub explains. "Esprit du Vin had many boutique small estates, while Pasternak had a portfolio of brands with prestige and scalability. There's incredible synergy between them. Pasternak has always developed strong relationships with top accounts due to its historic representation of wines by Lafite, Duhart and Christian Moueix. Those pieces give Pasternak the credibility to deal with the top echelon of accounts around the country. That cachet, coupled with the large-scale brands like Viña Los Vascos and Bodegas Caro, create a roster of icon properties that we can take to the next level."
The companies signed their merger deal this past December, and Taub brought the entire Pasternak sales team to his office for interviews before Christmas. "We hired 99 percent of the sales team so there would be no hiccups in terms of how we move forward," Taub explains. He notes that Pasternak and Esprit du Vin already shared about 40 percent of the same distributor networks. "There will be some distributor consolidation, but in certain cases we'll maintain two distribution networks," he says. "We're doing what's right for all the stakeholders involved for each brand in each market."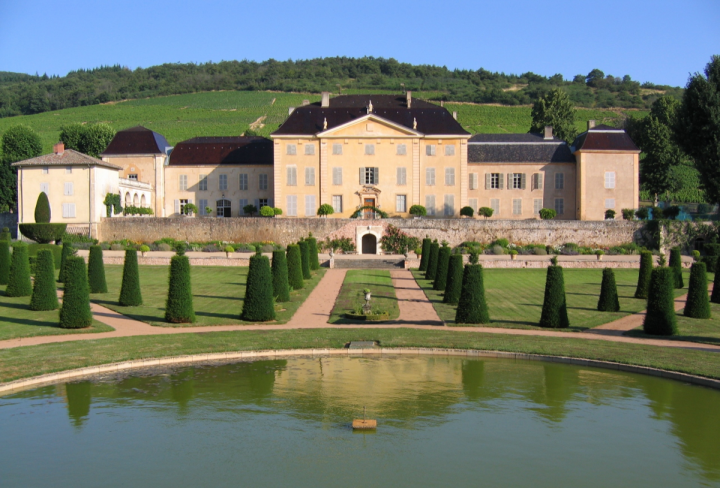 Spirited Expansion
In the vein of branching out beyond their traditional comfort zone, Palm Bay is also expanding its role in spirits. The company has a roster of boutique brands, and Taub has ambitious growth plans for the segment. "We want a craft spirits portfolio of interesting, innovative suppliers and distillers from around the world," Taub says. "We're a wine company, but we'd like our spirits portfolio to be significant. Right now the category comprises less than 5 percent of our business, but we think it'll reach about a 20-percent share in five years. Our wholesalers represent both wines and spirits, and our customers sell wines and spirits. There's obvious synergy."
Palm Bay keeps its wine and spirits portfolios separate and has different sales teams for each. The company emphasizes whiskies—another nod to its roots: Martin's first beverage alcohol job right after the repeal of Prohibition was as a rectifier bottling high-proof spirits. To honor that history, Palm Bay will launch its first self-produced whiskey brand this year, an American entrant that pays tribute to one of Martin's first labels. The brand will be called Jacob's Pardon, and its initial offering, Baltimore Club, is based on Martin's original recipe. The label will also include more upscale offshoots.
The company's overall whisk(e)y portfolio is varied. One of its oldest partners is Walsh Whiskey Distillery's The Irishman, which includes four expressions: Founder's Reserve ($38 a 750-ml.), Single Malt ($46), 12-year-old single malt ($75) and Cask Strength ($150). Walsh Whiskey also produces the upscale and limited offering Writers Tears, as well as The Irishman Irish Cream and Hot Irish Coffee cordials. Both The Irishman and Writers Tears are gaining momentum from a small base. Writers Tears debuted Copper Pot ($45), a single malt and single pot still whiskey, last year. In addition, The Irishman 2016 Cask Strength ($150) is now being bottled and will be sold in the United States on allocation. The Walsh Whiskey portfolio is currently at about 20,000 cases in the United States, with flagship label The Irishman Founder's Reserve contributing much of that volume. It's distributed in New York, Pennsylvania, Massachusetts and Washington, D.C. Last June, Walsh Whiskey opened a $28 million, 650,000-case distillery and visitor center in County Carlow, Ireland.
Palm Bay also represents the French Bastille 1789 whisky brand and boasts 15 Scotch whisky and gin labels from Wemyss Malts, including several single malts and unique blends ($45 to $70 a 750-ml.; up to $200 for single cask expressions).  "There's a generational trend happening now," Taub says. "For the next 25 years, brown goods are going to come back. Consumers of every generation go back and drink what their grandparents drank. Today, that's brown spirits, and we want to participate in the most efficient way."
Though whiskies dominate Palm Bay's spirits portfolio, the company does have many other offerings. Taub is excited about a new brand he's launching soon called Drumshanbo Irish Gunpowder gin. He also has high hopes for growth from some recent entrants and established players, including Chamucos Tequila, Bribón Tequila, Los Amantes mezcal, U.K.-based Chase vodka, Swedish brand Råvo vodka and Dos Maderas rum from Jerez, Spain. Along with these spirits, the company represents a roster of grappas, vermouths, Calvados labels and liqueurs.
California Wine Additions
The launch of Palm Bay's California wine labels in 2014 made sense and was a long time coming, as the company spent almost a decade doing research and looking for the right partners. The Taub family has a storied past in California—Martin launched his first wine enterprise, the distributor Premier Wine & Spirits, in 1952 by signing on to sell E. & J. Gallo wines in New York City. In addition, Marc Taub has California experience, having spent two years after college working in sales and marketing for Gallo on the West Coast.
"California has always excited me," Taub says. "I felt there was a place for California in our portfolio. When you're dealing with national restaurant accounts, California is sometimes all they sell, so we need to be part of that market. The wine industry is still 75-percent California-based, so to have a large wine concern and not be in the domestic business doesn't make long-term sense. Imports will always be our focus, but it's important to have access to the core areas on a wine list."
Instead of searching for established brands to add to the fold, Taub decided to create his own California labels and signed on winemaker Tom Hinde. His first launch, Au Contraire ($19.99 to $52.99 a 750-ml.), debuted three years ago and features a Chardonnay from the Russian River Valley and a Pinot Noir from the Sonoma Coast. "'Au contraire' is a term my dad used to tease the team with when we thought we were going in the right direction and he decided we weren't," Taub says. The brand also includes a California Pinot Gris, a Dutton Ranch Pinot Noir and a Lawler Vineyard Pinot Noir. "For this label and our other California wines, we're sourcing the fruit and creating long-term contracts," Taub explains. "At some point we'll have our own winery. We want to build something that's entirely our own and that we have a long-term stake in."
In a few months, Taub plans to open a tasting room space for Au Contraire in Sonoma's central plaza. The venue will serve the label's wines with small plates and tapas-style fare in an industrial modern setting. Rounding out the company's California offerings are the Napa Valley brand Heritance, which includes a Sauvignon Blanc and a Cabernet Sauvignon, and the Zinfandel-based label Angry Bunch, which has three expressions from Lodi and Mendocino.
"We're excited to work in a segment that accounts for three-quarters of all wine consumption in this country," says Marcy Whitman, Palm Bay's senior vice president of brand development and marketing. "We love the way we've gotten into the California wine business with Heritance and Au Contraire, and we're having a lot of fun with Angry Bunch."
These California offerings have received the majority of Palm Bay's domestic focus, but Taub has more growth plans going forward. He brought on Hazlitt 1852 Vineyards, located in New York's Finger Lakes region, last year and is now looking to the Pacific Northwest. "From a fine wine perspective, we see the development happening in Washington and Oregon," he notes. "I've made several trips out there to get a sense of the marketplace and look for partners. But the distribution system can only absorb so many new things at one time, so we're going to take it slow."
Honoring The Past
For Taub, balancing a commitment to the way his father and grandfather conducted business with the need to stay abreast of modern methods isn't always easy. But he's making it work. Following his father's death, Taub decided to take all of his employees on a trip to Italy to meet with some of the company's top wine producers. He paid for 120 staff members to travel the country and visit winemakers for 10 days, with the ultimate goal of reinforcing how important family and relationships are to his business.
Most of Palm Bay's senior executives are long-time employees who've been with the company since its early days. Having worked with David and Martin, they recognize Taub's commitment to his father and grandfather, but also his dedication to succeeding in the modern business world. Whitman has been with the company for 25 years, Tedd has more than 20 years of experience with the Taubs, and Turone started at Palm Bay 16 years ago. Petteruti is the company's longest-serving employee. He started with Palm Bay on day one and had worked with the Taub family for the previous five years at their New York distributor business, Premier Wine & Spirits.
Taub's willingness to involve senior management is key to his business approach. He admits that it's one of the major differences between himself and his father. "My dad and I had somewhat different philosophies on empowering our people and giving them more room to run their respective organizations and work with their teams," Taub explains. "As our company continues to grow in scale and complexity it's important that—once our employees understand the company's philosophies and cultures—we let them develop and run with the ball."