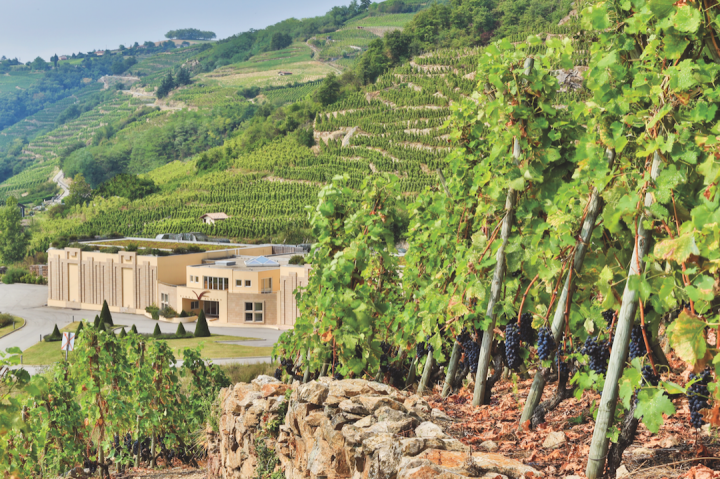 At Sepia, a Chicago restaurant serving inventive American cuisine, beverage director Arthur Hon lists four to six French rosé wines by the bottle and pours one by-the-glass year-round. "French rosé is a go-to for meals that feature a lot of different courses or flavors, such as grilled meat with salad, or shrimp and grits," Hon says. Sepia's two top-selling French rosés are the 2016 VillaViva Côtes de Thau rosé ($7 a 5-ounce pour; $35 a 750-ml.) from the Languedoc-Roussillon region and the 2014 Clos Cibonne Tibouren Cuvée Tradition Rosé ($15; $70) from Côtes de Provence. In the last three years, he notes a proliferation of rosés from Provence, the Rhône, Languedoc, the Loire, Burgundy and the Mâconnais.
At The Jug Shop in San Francisco, French selections dominate the display of global rosés, and fine wine sales manager Christopher Prewett says they outsell rosés from other countries by a huge margin. The store's French rosé volume has quadrupled in the past two years, and Prewett also notes brand proliferation and a more year-round spread. "A few years ago, we offered 10 to 12 French rosé SKUs in the warmer months, but this year, we expect to offer 40 to 50 French rosé SKUs throughout the entire year," he says, noting an even split between Provence, the Loire and the Rhône. The store's top-selling French rosé is the 2015 Whispering Angel Côtes de Provence rosé ($24 a 750-ml.) from Château d'Esclans. Other strong sellers include the 2015 Gérard Bertrand Côte des Roses Languedoc Rosé ($17), the 2015 Jean-Maurice Raffault Chinon Rosé ($27) and the 2015 Pierre Boniface les Rocailles Savoie Rosé ($15). Prewett says his customers are very aware of rosé wines from the diverse regions of France.
The top five French rosé brands posted combined gains of more than 55 percent in 2016, after years of steady upward growth, according to Impact Databank. Top-seller Whispering Angel ($22 a 750-ml.) stayed in the lead at 200,000 cases, a 69.5-percent increase. La Vieille Ferme Rosé ($8 to 10) leapfrogged into the No.-2 spot, growing 66.2 percent to 135,000 cases. M. Chapoutier Belleruche Côtes de Rhône Rosé ($17) posted a gain of 23.5 percent to 105,000 cases, while Côte des Roses ($18) advanced 50 percent to 96,000 cases, and Miraval Côtes de Provence Rosé ($26 to $30) gained 62.5 percent to 91,000 cases.
Provence alone crossed the million-case mark for the first time in 2016, shipping 1.28 million nine-liter cases to the United States, according to Impact Databank and the Wines of Provence trade organization. This growth represents a jump of more than 46 percent over 2015 and a surge of more than 3,000 percent over 2006. French and U.S. customs records for France's other regions combine rosé shipments with those of red wine, so no data are available for those regions. Nevertheless, three of the top five brands hail from regions other than Provence, and reports from retailers, restaurateurs and importers indicate growing volume in rosés from all over France.
Rosé Rush
Although France's rosés are as diverse as its regions—with lighter-colored wines produced in Provence and Languedoc and richer-hued wines produced in the Rhône, the Loire and Burgundy—clear trends are evident. Retailers and restaurateurs are seeing new brands, as well as line extensions from major importers, including Kermit Lynch Wine Merchant, Kobrand Corp., Skurnik Wines & Spirits, Terlato Wine Group and Frederick Wildman & Sons. Some report that wholesalers are proffering several French rosés from small importers every week.
Rosé remains seasonal in regions with cold winters, while enjoying a more year-round spread in warmer markets. This year marks the fourth annual installment of New York City's La Nuit en Rosé festival, a high-end consumer event geared towards millennials, which has expanded into Los Angeles and Miami. Consumer awareness is high, as evidenced by the popularity of the #roséallday hashtag on social media, as well as on the rosy T-shirts and phone cases favored by millennials. And although female consumers drive the wines, importers report increased interest among men, too.
Shaw-Ross International's Château d'Esclans ignited French rosé sales with its 2007 launch of Whispering Angel, which was first promoted in markets with a beachy vibe, including Nantucket, the Hamptons and South Beach. The company's rosé portfolio also includes Rock Angel ($35), Les Clans ($60) and Garrus ($100). Provence's success has allowed growers and winemakers to upgrade their equipment—including optical sorters and cooling systems—pushing the wine quality even higher, says Château d'Esclans owner Sacha Lichine. "I spent 1.5 million euros on our cooling system, which prevents oxidation," he says, noting that new entries raise awareness and benefit the category as a whole.
Vineyard Brands timed its entry of Miraval Rosé based on market conditions, not on the longtime success of its La Vieille Ferme Rosé, says Mike Davis, vice president of national off-premise accounts. "At the time we released Miraval in 2013, feedback from our retailers indicated that the French rosé category was about to explode, so our goal was to capture the market for a luxury, premiumized rosé," Davis says. Actors Angelina Jolie and Brad Pitt purchased Château Miraval in 2012 and launched Miraval Wines with Famille Perrin, renowned Rhône Valley vintners, in 2013. Even with the wine's pedigree, launching a rosé at a price point higher than $20 was a huge risk, Davis notes. The company plans to roll out two more rosés from Famille Perrin this year, a Tavel ($20 to $22 a 750-ml.) and a Côtes du Rhône reserve ($10 to $12).
Other French wineries are extending their brands with new rosés as well. Expanding upon the success of its Belleruche Rosé, Rhône-based M. Chapoutier launched Mathilde Chapoutier Sélection Grand Ferrage Côtes de Provence Rosé ($25 a 750-ml.). Last year, the brand's importer, Terlato Wine Group, rolled out Mathilde along with five rosés from other countries. CEO Bill Terlato says the company's French rosés outperform its rosé offerings from other regions. "French rosé has finally gained a critical mass in the United States, and consumers recognize its quality and versatility," he says. "Rosé is no longer just for French bistros." He cites the wines' success among millennials and at national chains like Bonefish Grill and Hilton.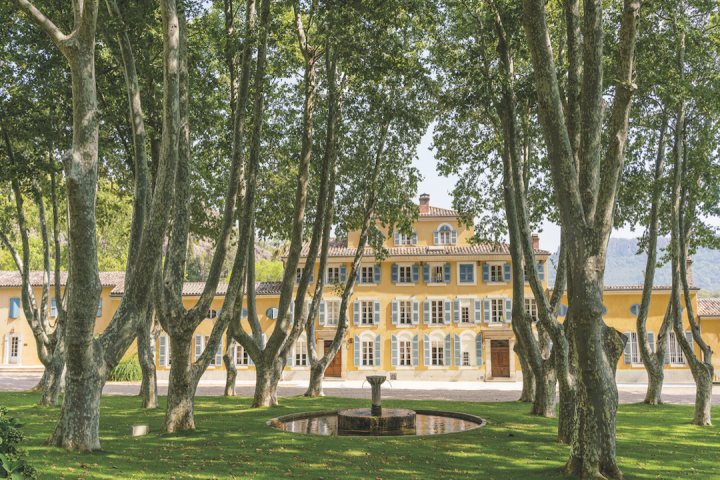 Optimism Abounds
Frederick Wildman & Sons imports nine French rosés, including three from Hecht & Bannier in Provence and Languedoc ($10 to $29 a 750-ml.), two from Vidal-Fleury in the Rhône ($13 to $25), and two from Pascal Jolivet in the Loire ($13 to $22). The company's French rosés outperform its Spanish and Italian rosés by a wide margin. Hecht & Bannier rosé volume jumped 110 percent in 2016, and the brand's two Provence rosés comprise 60 percent of Wildman's French rosé sales. "Rosé is promoted as a lifestyle wine for good times, and many rosé brands are developing along the same lines as France's Champagne houses," says Anthony Cohen, Wildman's senior brand manager of French and European estates. Wildman imported Parallèle 45 Côtes du Rhône Rosé until last year, when Skurnik Wines & Spirits took over the Paul Jaboulet Aîné portfolio.
Skurnik shipped 24,175 nine-liter cases of French rosé in 2016, a jump of almost 50 percent over 2015 shipments. The company imports 14 French rosé wines, including its top-selling Bieler Père et Fils Coteaux d'Aix-en-Provence rosé ($13 a 750-ml.) and Château du Rouët Côtes de Provence Cuvée Reservée Tradition Rosé ($15). The 2016 vintage of Parallèle 45 Rosé ($15) will be released with upgraded packaging and renewed marketing. Skurnik's new entries include rosés from Isabelle Garrault in Sancerre ($22), Thibaud Boudignon in the Loire ($22) and Pierre-Yves Colin-Morey in Chassagne-Montrachet ($35). "We've been fans of French rosé for as long as I can remember, but it used to be a labor of love," says president Harmon Skurnik. "Then it started to take off 15 years ago and has grown each year since."
Like Skurnik, Kermit Lynch Wine Merchant (KLWM) focuses on wines of place and imports 35 to 40 French rosé wines a year (some producers only make rosé in select vintages, thus the variation). The company's two top-selling French rosés are Domaine de Fontsainte Corbières Gris de Gris rosé ($15 a 750-ml.) and Domaine Tempier Bandol Rosé ($42). KLWM reports that French rosé volume rose steadily over the past five years, with a sharp increase in the past two years. The company's French rosé volume has increased across all price points and regions of France, with a noteworthy jump in 2016. In response to winter demand, KLWM fine-tunes its buying in order to offer multiple French rosé SKUs year round.
Kobrand Corp. is also responding to increased demand with a more year-round spread. "The French rosé trend has escalated over the past few years, driven by consumer demand and technical advances in winemaking," says Kobrand vice president and director of supplier relations Constance Savage. "It's made the leap from a summer-only offering to a year-round wine in many markets, and it's also grown more popular with men." Two new French rosés join Château d'Aqueria Tavel rosé ($20 a 750-ml.) in the Kobrand portfolio: Maison Saleya Côtes de Provence Rosé ($15) and Louis Jadot Côteaux Bourguignons Rosé ($14). Maison Louis Jadot is controlled by Kobrand owner the Kopf family.
Bandol For Brunch
At Rebelle, a New York bistro serving contemporary French cuisine, head sommelier Kimberly Prokoshyn lists about 20 French rosé wines from Provence, the Loire and the Rhône. They sell well at brunch and from May to October. "Our guests are well-versed in rosé, and 77 percent of the rosé we sell is French," Prokoshyn says. Rebelle's two top-selling French rosés are the 2015 La Bastide Blanche Bandol Rosé ($49 a 750-ml.) and the 2015 Bernard Baudry Chinon Rosé ($41). Prokoshyn resists the common wisdom that rosé must be consumed young. "I enjoy showcasing French rosés with age to show how they evolve to become richer and more interesting over time," she says. Rebelle offers the 2011 Pascal Cotat Chavignol Sancerre Rosé ($110) and offers three vintages of François Cotat Chavignol Sancerre Rosé going back to 2010 ($105 to $125). She predicts that French rosé demand will continue to grow.
Importers agree, yet forecast more gradual growth. "The potential for French rosé in the United States is huge, but the growth cannot remain at 100 percent every year," says Wildman's Cohen. He predicts a proliferation of brands, and says he's contacted every week by French winemakers trying to break into the U.S. market.
Vineyard Brands' Davis says there's plenty of room for the category to expand into large and independent accounts, and he believes that French rosé is still a discovery category for many consumers. "We're going to see a proliferation of brands looking to capitalize, so it'll be essential for the established producers to maintain their quality," Davis says. "Packaging will continue to be important."
Sepia's Hon also predicts French rosé will continue to grow, although perhaps at a slower pace. "Although there's growth in competitively priced rosés from New Zealand, Portugal and Italy, I don't see these as a long-term trend," Hon says. "French rosé is very popular with the younger generation, and that demographic is driving its growth."