As the owner of the two Half Time stores in New York, Alan Daniels manages what he claims to be the world's largest beer selection, and it has him thirsty for more. The retailer, who operates the business with his son, Jason Daniels, launched the first 9,000-square-foot location in Poughkeepsie in 2002 and stocked 600 beers. Since then, Half Time's offerings have surged to around 5,000 beers and hundreds of ciders, with a second, 20,000-square-foot unit in Mamaroneck, located in New York's affluent Westchester County. More store openings are slated for the state's Hudson Valley region over the next three years.
With its high, warehouse-style ceilings and wide aisles organized by region, Half Time has a user-friendly atmosphere. Big-name beer brands are organized on pallets at one end of the store, imports are arranged by country and there's an American craft beer section. "Every year since we opened, we've seen an increase in sales and number of transactions," Alan says.
In 2014, domestic specialty beer—which includes craft-style labels from major brewers like MillerCoors and Anheuser-Busch—increased 11.4 percent to 22.7 million barrels nationwide, according to Impact Databank. Craft beer's share of the U.S. beer market has risen from 6.9 percent in 2010 to 11.8 percent last year. Moreover, the segment's nationwide dollar sales increased 22 percent to $19.6 billion—a 19.3-percent share of total beer sales—according to the Boulder, Colorado–based Brewers Association. "Beer has become a little more expensive and a lot more sophisticated," Alan says. "Craft six-packs used to be $6.99 to $9.99, and there was some resistance when the prices went to $10.99. Now six-packs range from $10.99 to $16.99."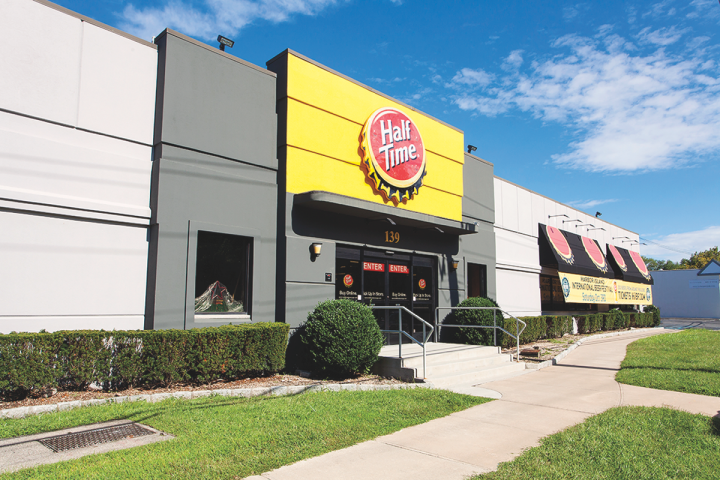 Destination Shopping
Alan opened Half Time after working as executive vice president of marketing for the video rental store chain Movie Stars and cofounding American Discount Auto Parts (later known as Auto Palace and then acquired by AutoZone). The technology wave that put video rental stores out of business contributed to Alan's choice to invest in beer's retail tier. "We won't be downloading beer any time soon," he says.
Alan did extensive legwork, spending two years traveling the United States, Europe and Canada, exploring and researching craft beer stores and speaking to their owners. He also operated Hudson Valley craft beer distributor Liberty Distributing, before selling the business in 2007 to sharpen his focus on the retail tier. His efforts are paying off, as Half Time's beer selections attract customers from afar. "The Poughkeepsie store has always drawn from Pennsylvania, New Jersey, Connecticut, Massachusetts and Canada," Alan explains. "They're here on the weekends buying beer. The same holds true for Mamaroneck. They come up on the train from New York City with duffle bags, knapsacks or carts with wheels."
Converted from a vacant industrial building, the Mamaroneck unit is near a commuter train station and it's the largest building in the area with dedicated parking. Half Time's customers range from beer geeks to bulk buyers. "We have every beer variation, class and size under one roof," explains Jason, who serves as the company's COO. "People who are extremely passionate about beer usually find their way here." The outlets also attract their share of female customers, and that demographic helps drive sales. "We're skewing more toward women at this point," Jason says. "Our stores are very well lit and easy to shop. They provide a friendly, inviting environment."
Operating a retail warehouse is a labor-intensive, hands-on business, especially since the rise of craft beer. When a truck arrives with a delivery, it may include 10 pallets, each holding 70 cases. "We could be getting 700 cases of different beers versus taking a pallet of just Budweiser and dropping it on the floor," Alan says. "We pull out 2,800 six-packs and put them on the shelves."
The company employs 24 people in Mamaroneck and 14 in Poughkeepsie. "My father and I are on the floor with these guys for at least an hour or two a day," Jason says. "Everyone here has a passion for what's new." On weekends, each store has tastings hosted by craft brewers. "We sample three or four different beers, and sometimes we have food," Jason notes. "People like to hang out and talk for a couple of hours."
Jaw-Dropping Selection
The craft beer segment in the United States has entered an innovative phase. "Craft brewers used to copy a lot of the beers from other countries—Germany, England, France and Belgium—but today American craft brewers are paving the way to create more original styles," Alan says. "The American public has welcomed them with open arms."
Consumer demand and curiosity are driving the proliferation of offerings at High Time. "America wants what's new as fast as possible," Jason notes. "They want the latest brands and higher alcohol content." IPA offerings are extremely popular. "The IPA style is almost dictating what's happening in consumption. Some of our best-selling beers have a pungent unique taste." For example, Ballast Point Grapefruit Sculpin IPA ($16.99 a six-pack) is one of Half Time's top-selling labels.
Overall, the company's biggest selling brands include Blue Moon ($9.99 a six-pack), Sierra Nevada ($9.99), Samuel Adams ($9.49 to $11.99), Founders ($12.49 to $12.99) and Ommegang ($11.49 to $18.99 a four-pack). These offerings join popular craft brews from Dogfish Head Brewery ($12.49 a six-pack for the 60 Minute IPA), Lagunitas Brewing Co. ($10.49 to $13.49), Harpoon Brewery ($9.99 to $10.49), Ithaca Beer Co. ($12.49), Brooklyn Brewery ($9.99) and Southern Tier Brewing Co. ($10.99 to $12.99).
Prices at Half Time range from $1 a 12-ounce bottle of Budweiser or Coors to $12.99 a 12-ounce bottle of Dogfish Head Worldwide Stout. "We allow people to break up six-packs so they can grab a single or create their own six-pack," Alan explains. "Every beer is rung up separately because there is an incredibly widespread pricing difference."
To help customers select brews they'll like, Alan has created a tag system at p-o-s and online that classifies beer styles and flavors, ranging from 1 to 5 for hops level and from 1 to 10 for color. Half Time's staff is always eager to help with any questions. "All of us enjoy not only beer, but we also enjoy the retail element of talking to people," Jason says.
One of the most distinguishing aspects of the Half Time stores is abundant cooler space. The Poughkeepsie unit has 31 cooler doors, and the Mamaroneck site has 50. "When customers walk into the Mamaroneck store, their jaws drop," Jason says.
Half Time also offers a wealth of draft options. Its Poughkeepsie location has 12 taps, while Mamaroneck has 22 taps for customers. Both stores sell and fill growlers, which come in four different sizes: 16 ounces, 64 ounces, 2 liters and 128 ounces. Draft beers rotate frequently, and customers can choose from 500 to 700 different brews a year per store. "As soon as a keg is kicked, we put up something new," Alan explains. "We don't use the same beer again for at least four months, and each brew can only be offered two times a year maximum. We feature a lot of Oktoberfest beers, Christmas brews, and other seasonal and limited offerings."
In addition, Half Time has six different "Beer of the Month" clubs, including Hop Head, German, Around the World, Porters & Stouts, Variety Pack and East Coast, all with free shipping. The stores also offer 40 gift baskets and various glassware, as well as home brewing supplies and equipment. Half Time's website is currently being revamped, and the company is expected to start taking online orders again this holiday season.
Further Expansion
While the craft beer market continues to grow rapidly, it's still a relatively fragmented segment driven by significant grassroots efforts. Of the 600 beers originally offered at Half Time, Alan notes only 30 to 100 continue to thrive. "Craft breweries can't afford local advertising or in-store merchandising," he explains. "So it's hard for them on a marketing level to brand their brews."
Despite Half Time's massive selection, Jason notes that the company can still expand its offerings. "Luckily, we can always fit more at our stores," he says. "I could take on a couple thousand additional SKUs, but breweries holding back to create demand."
Meanwhile, Alan is firing on all cylinders. The retailer has acquired the rights to Matthew Vassar Brewing Co., which was originally owned by the founder of Vassar College and was the largest brewery in the United States in 1836. Alan plans to relaunch the brewery, along with a brewpub, by next year. In addition, Half Time was the presenting sponsor of the second annual Harbor Island International Beer Festival in Mamaroneck on October 3rd. The event attracts thousands of consumers and features some 150 breweries, 300 beers, multiple beer seminars, 20 food vendors and four bands.
Through these efforts and his stores, Alan continues to hone craft beer intelligence at the retail tier. "We're the last stop between the brewery and the customer," he says. "Breweries don't have enough time to be out there in a store promoting their products. That's our responsibility."