Faced with tough competition from flavored whiskies and domestic craft vodkas, imported vodka has entered into a new phase of innovation. The pace of flavor introductions has slowed, and the emphasis has shifted from confectionary variants to fruity, spicy and botanical offerings. The emergence of craft spirits culture has blurred the lines between imported and domestic vodkas, with a sharp focus on quality, originality and uniqueness. "One of the most important distinctions that consumers are making is whether a brand represents the authenticity, heritage and craftsmanship consumers want," says Brad Essig, vice president of vodka at Diageo North America.
Classic cocktails like the Martini and Moscow Mule are spurring consumer interest in imported vodka. "The Mule continues to show the biggest gains on cocktail menus this year, increasing over 85 percent compared to just last year," says Joao Rozario, vice president of marketing at Pernod Ricard USA. "Martinis and Mules are really driving the category in the on-premise for vodka consumption, but the door has also been opened to more playful, retro cocktails."
Imported vodka growth slowed in 2014 and appears to be down this year, but key brands continue to make gains and leverage cultural influence. "The classic Martini plays an important role in moving the category," Essig says.
At Blue Line Lounge & Grill in Chicago, customers can choose from 22 Martinis on the drinks menu. Martinis are regularly $8 each, but the venue prices them at $5 during its Wednesday "Martini Night." Blue Line recently reduced the menu from 32 to 22 selections. "We pulled back on the number of Martinis because we needed to streamline and get them out a little faster," says owner John Halle. "We took the slower ones off, but it doesn't mean we won't bring them back in and remove something else to freshen it up. We run a couple Martinis on special each season, and we're continuously updating our list."
While faced with competition from the rising popularity of whiskies, sales of imported vodkas at Blue Line are experiencing modest single-digit growth in 2015. "Even with all the whisk(e)y drinks coming on, we sell a lot of imported vodka," Halle says. "Martinis are still big, and people like the flavors."
The signature Blue Line Martini, made with Absolut vodka, olive juice and a blue cheese olive garnish, is by far the venue's biggest-selling cocktail. "There's always a push to put new flavors on the shelf, but the old standards are pretty popular," Halle says. Other top-selling Martinis include the Pear Martini, mixing Absolut Pear and white grape juice, and the Bellini-Tini, comprising Absolut, DeKuyper Peachtree schnapps and Wycliff sparkling wine. This fall, the Pumpkin Martini—featuring Absolut, Hiram Walker Pumpkin Spice liqueur and cream—sold well. Blue Line offers 23 imported vodkas, including Ketel One, Grey Goose, Stolichnaya and Pinnacle ($7.50 to $10 a 4-ounce pour). The Lemon Drop ($6)—a shot of Absolut Citron with a sugar rim—is also popular.
At Martuni's Piano Bar in San Francisco, most of the drinks are Martinis. The top-selling imported vodkas for Martinis are Ketel One ($10) and Grey Goose ($12), and other popular brands include Belvedere ($12), Absolut ($9.50) and Stolichnaya ($10). Martuni's owner Skip Ziobron notes that each Martini has 6½ ounces of vodka. "We rarely use vermouth unless the customer asks," he says.
Ziobron focuses on imported vodka brands with strong consumer awareness. "People request imported vodkas by name in Martinis," he says. "There's no new breakout imported vodka brand, but I am busier than I have ever been."
Category Strength
Major players continue to invest behind key brands and embrace digital marketing. Last year's No.-1 imported vodka brand Absolut ($19.99 a 750-ml. bottle) has significantly increased its media spend, encompassing traditional and digital media to build a communication platform around the #AbsolutNights social media hashtag. "That initiative speaks to both our core consumer and our recruitment target," Pernod Ricard's Rozario says. "We're continuing to introduce the Absolut Mule to consumers with a national on-premise program that launched in September."
Absolut fell 6.8 percent to 4.14 million cases last year, according to Impact Databank. No.-2 label Svedka posted the highest growth rate among the top five imported vodka brands, increasing 3.3 percent to 4.08 million cases. Svedka is poised to pass Absolut this year to become the segment leader. "Leveraging the power of digital and social media allows us to speak directly with our consumer and continues to be at the forefront of our plans," says Diana Pawlik, vice president of spirits and global imports at Svedka marketer Constellation Brands. "Sampling at retail is instrumental in driving trial, and we've dedicated a lot of resources toward this endeavor as well."
This past March, Constellation extended Svedka ($12.99 a 750-ml. bottle) with the debut of a Grapefruit Jalapeño expression. "With only six months since launch, Grapefruit Jalapeño is performing to expectations," Pawlik explains. In 2014, the brand introduced Peach, Strawberry Lemonade and Mango Pineapple variants. "Mango Pineapple and Strawberry Lemonade ranked in the top four new vodka product launches in the past two years and continue to gain momentum in year two," Pawlik says, citing IRI data.
Beam Suntory–owned Pinnacle ($12.99 a 750-ml. bottle) is also experiencing strong results with such fruit flavors as Raspberry, Citrus, Pineapple, Tropical Punch, Peach, and the new Ruby Red Grapefruit and Mimosa variants, as well as vegetal offerings like Habanero and Cucumber. "Consistent with the entire vodka category, the performance of our Pinnacle portfolio has evolved along with consumer trends," says Jason Dolenga, senior brand director for vodkas and gin at Beam Suntory. "While confectionary expressions drove significant growth a couple years ago, we're now seeing consumers return to mainstream fruit flavors." In all, Pinnacle offers more than 40 variants, including the seasonal offerings Pumpkin Pie, Pecan Pie and Peppermint Bark.
Diageo plans to launch Cîroc Apple ($30.99 a 750-ml. bottle) nationwide in February. Marketing for the new flavor kicked off this past November and leverages social media, local advertising, influencer engagement and public relations. In Los Angeles and New York City, Diageo collaborated with local artists to design and hand-paint a slow reveal of Cîroc Apple on billboards, while brand partner Sean Combs spread the news through his highly trafficked social media channels. Apple joins Cîroc's flavor lineup, which includes Pineapple, Peach, Red Berry, Amaretto and Coconut.
Ketel One ($25 a 750-ml. bottle), also marketed by Diageo, is celebrating the Nolet Family Distillery's 325th anniversary with a commemorative, limited-edition bottle. The brand is deploying the new creative campaign "Our Life's Work" that pays homage to the family's commitment to distilling expertise. Ketel One's ongoing marketing strategy includes educating bartenders and servers through brand seminars and taste tests.
Bacardi's Grey Goose ($29.99 a 750-ml. bottle), meanwhile, continues its "Fly Beyond" global marketing campaign. The French vodka brand introduced the Cognac-laced Grey Goose VX ($74.99) in September 2014 and launched the flavor extension Le Melon in April 2014. The third-largest imported vodka brand in the United States, Grey Goose fell 1.6 percent last year to 2.8 million cases.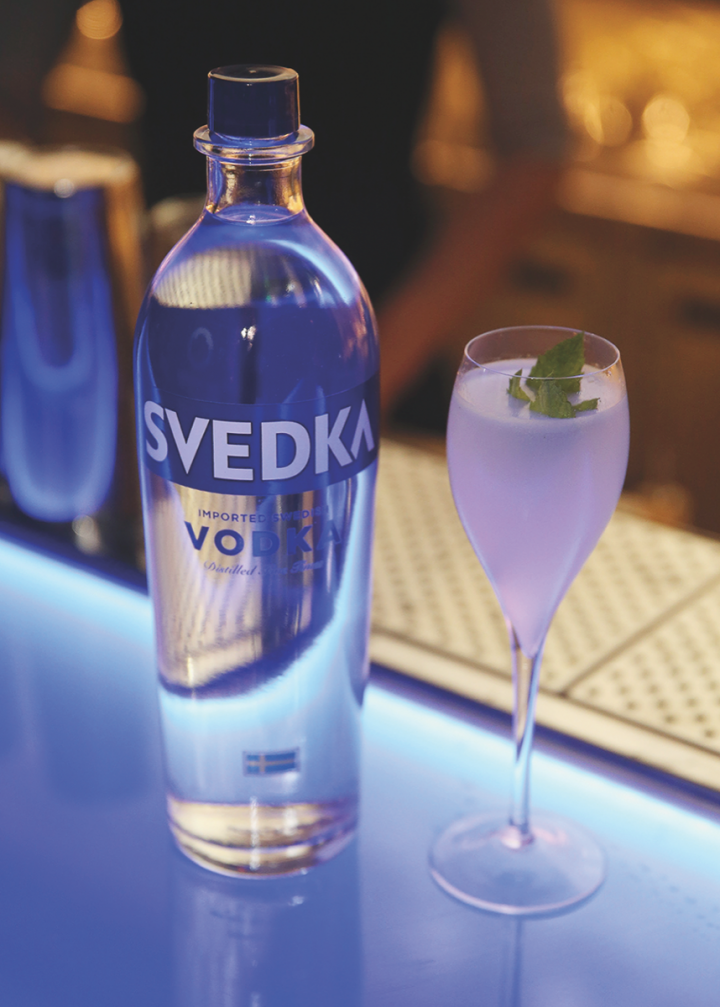 Flavor Contraction
Michael Berkoff, who owns four Connecticut locations of the 13-unit retail chain Bevmax, observes intense competition for imported vodkas from whisk(e)y and other spirits that have expanded into flavors. "Vodka flavors have oversaturated, and we're seeing a major contraction for import and domestic brands," Berkoff says.
Imported vodka sales at Berkoff's four Bevmax stores in Stamford, New Milford, Norwalk and Danbury had been experiencing annual double-digit growth rates over the last decade, but will be down slightly in 2015. "Vodka is declining because consumers are moving into other categories that have the same types of flavors," he explains.
Berkoff adds that most imported vodkas with flavor extensions are 40-percent alcohol-by-volume (abv), while most domestic flavored vodkas are 35-percent abv. "The higher proof is very hot to the consumer's taste," he says. "The 35-percent abv or lower offerings are still working. The No.-1 flavor we're seeing within all the brands is berry, as well as pineapple and peach."
Bevmax stocks about 60 imported vodka brands and 170 SKUs. The segment accounts for 60 percent of all vodka sales and 18 percent of total spirits sales at Berkoff's four Connecticut outlets. Imported vodka ranges from $12.99 a 750-ml. bottle for Pinnacle to $49.99 for Stoli Elit. Top-sellers include Pinnacle, Ketel One ($23.99), Cîroc ($29.99), Absolut ($19.99) and Stolichnaya ($19.99).
Berkoff notes that imported vodkas faces serious challenges the whiskies. Despite the growing pains, room remains in the category for new players to emerge. "Imported vodka is still healthy, but you're going to see a shakeout among the brands," Berkoff says. "You'll see more innovation to distinguish who has new ideas to revolutionize the category."