Never ones to follow the status quo, Innovative Dining Group opened a chic and contemporary sushi concept in 1997 that paved the way for modern Japanese restaurants in the United States. Sushi Roku, which debuted 20 years ago in Hollywood, California, stood out immediately for its higher-end menu and design, varied beverage program, and hospitality-driven mindset. In a star-studded, health-conscious town like Los Angeles, Sushi Roku quickly became a destination restaurant and remains popular today.
Innovative Dining Group now operates five Sushi Roku locations in Santa Monica, Pasadena and Newport Beach, California; Las Vegas; and Scottsdale, Arizona. Three other Japanese-themed concepts round out the portfolio: Katana, with locations in West Hollywood, California, Chicago and Dubai; Roku in West Hollywood; and Robata Bar in Santa Monica, as well as the contemporary American Boa Steakhouse in West Hollywood, Santa Monica and Abu Dhabi. In all, Innovative Dining Group operates 13 venues. Revenues approached $100 million in 2017, with beverage alcohol comprising about 25% of that total. The company recently put a renewed emphasis on its drinks program by hiring a corporate beverage manager to revitalize its offerings.
"Twenty years ago, we innovated this style of sushi bar that most Japanese restaurants in the United States are emulating today," says Innovative Dining Group partner Lee Maen. "We added design, music and ambiance, Americanized service, and a full bar with cocktails instead of just beer, wine and sake. Then we did the same thing for steakhouses when we debuted Boa in 2001. It was the first of the modern steakhouses and we made it female-friendly with great food, service and atmosphere. We've always looked at a restaurant as an escape, a place to get away and not worry about the things going on in life."
When Maen and his partners opened their first Sushi Roku in 1997, they knew they wanted to add more units, though Maen says they never expected to launch additional concepts. They started with upscale and stylish Japanese fare because they liked that style of food and didn't see a lot of competition. Maen says the company's success and longevity can be attributed not only to its high-quality food and drinks, but also its dedication to service and hospitality and its lack of pretension.
"We focus on ambiance, design and energy," Maen explains. "Food and drinks are very important and so is service. We differentiate with a vibe and a sense of style, and we back it up with hospitality. We make our money on regulars and locals and create places where guests are remembered and taken care of. And we've never had an ego. We treat the rock stars like regular people and the regular people like rock stars. That's why people come back."
Leading The Charge
Sushi Roku's menu is rooted in Japan but is heavily influenced by California. The venue offers a varied selection of sushi, sashimi and specialty rolls ($5 to $38 for sushi and sashimi; $7.50 to $21 for rolls in Santa Monica, California), including signatures like the Baked Lobster roll served with miso Hollandaise sauce. Though fish is the highlight, Sushi Roku also lists a handful of cooked entrées, from a Japanese-style rib eye to teriyaki-glazed chicken ($28 to $48).
The beverage program at Sushi Roku is varied. Cocktails are a big part of the experience and Innovative Dining Group beverage director Charity Johnston emphasizes fresh and consistently made craft cocktails, as well as sake and shochu. "People want to experience cocktails and drinks just like they would their food," Johnston says. "I make cocktails that are interactive so guests can use all their senses to get the flavors, and we pair flavors with the food to provide a full experience. I always try to include a Japanese ingredient in all of my cocktails."
Specialty drinks at Sushi Roku include the Ginger Lychee Mojito, made with Cruzan Aged Light rum, lime juice, and a house-made syrup—comprising fresh mint, lychee fruit and ginger—topped with a float of Pyrat XO rum, and the Matcha Mule, mixing green tea–infused Beluga Noble vodka, honey, lemon juice and ginger (drinks are $13 to $15). These are joined by more than 30 sake and shochu selections ($9 to $28 a glass; $25 to $80 a carafe; $25 to $420 a bottle). "I try to find a balance between really cool cocktails with dry ice and beautiful flower garnishes, and simpler cocktails that are interactive so that the flavor changes when guests stir them," Johnston says. "I play with shochu in cocktails because people don't know a lot about it so it's a good way to get people to try it. And sake is huge for us, so we curate an ample variety."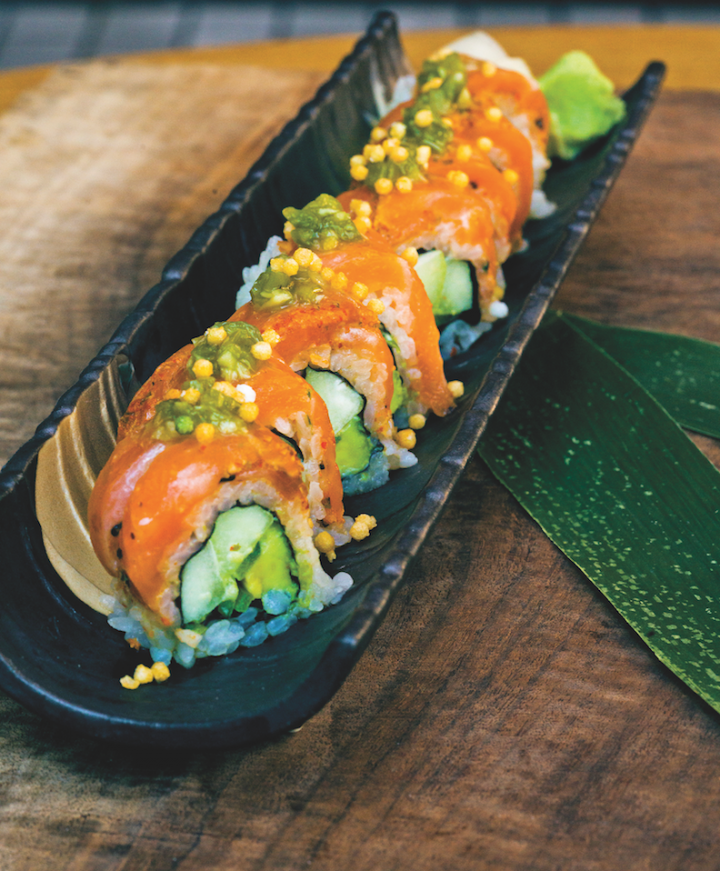 Each Innovative Dining Group concept has its own distinct food and drinks menus, and all the Japanese venues highlight cocktails, sake and shochu, in addition to carrying a full roster of Japanese beers from brewers like Asahi, Kirin, Sapporo and Hitachino. A sister concept to Sushi Roku, Roku is an omakase-style venue with a teppanyaki room and a sushi bar. A teppanyaki-style dinner starts at $29 for organic chicken and can go up to $120 for Japanese A-5 wagyu beef. Roku's regular dinner menu spans sushi and sashimi, noodle dishes and robata-grilled meats (sushi starts at $7; ramen is $15 to $18; robata fare starts at $4.50 a skewer). Roku's drinks menu lists 15 specialty cocktails ($13 to $17), a variety of Japanese whiskies ($15 to $650 a 2-ounce pour), and sake ($9 to $24 a glass; $11 to $69 a can or bottle; $18 to $28 for a flight of three 3-ounce pours).
A robata and sushi bar with a heavy nightlife component, Katana in West Hollywood, California, and Chicago also has a far-reaching food menu. The venue offers robata-grilled meats ($3.50 to $21 per skewer) and robata-style prepared entrées ($10 to $52), as well as seafood and steak dishes ($14 to $65) and sushi ($5 to $38). Standouts include tuna sashimi with wasabi soy truffle oil over arugula, served with avocado and shaved Parmesan cheese, and jumbo shrimp wrapped in bacon with a chili garlic sauce.
Katana features a robust beverage program. The restaurant has an upbeat atmosphere and evolves from a dining area to a lounge concept as the night moves on. Each location has an outdoor patio area that doubles as a drinks-driven space. Signature cocktails include the Yuzu Margarita, blending El Silencio Espadín mezcal, yuzu and grapefruit juices, and agave syrup, garnished with a lime wheel and black lava salt. Katana also lists sake and shochu ($7 to $27 a glass; $24 to $195 a bottle), wine ($9 to $30 a glass; $36 to $800 a 750-ml.), and beer ($7 to $12 a bottle).
Rounding out Innovative Dining Group's Japanese concepts is Robata Bar in Santa Monica, California. Modeled after a Japanese pub, the venue serves sushi, sashimi and robata fare ($5 to $36 for sushi; $3 to $21 for grilled meats). As at its counterparts, the venue's cocktails all take a Japanese angle (drinks are $13 to $16) and are joined by sake ($9 to $28 a glass; $45 to $230 a bottle) and Japanese beer ($7 to $12 a draft pour or bottle).
Beyond Japanese cuisine, the company operates three Boa Steakhouse units. The upscale restaurants offer various cuts of beef, from dry-aged strip steaks to filets ($44 to $78; wagyu is $26 per ounce), as well as bison, venison and lamb; seafood; and even vegan dishes ($28 to $64). Wine is a key player at Boa and the restaurants boast lists with 250 offerings and high-end labels like the 2005 Opus One and the 2012 Harlan Estate Cabernet Sauvignon ($11 to $28 a glass; $51 to $2,100 a 750-ml.). Classic cocktails also have a place, and Boa's menu includes the 28-Day Barrel-Aged Manhattan, made with Knob Creek rye, Carpano Antica Formula Sweet vermouth and Angostura Aromatic bitters (cocktails are $14 to $18).
Drinks And Design
Though each Innovative Dining Group concept has its own distinct drinks program, there is some overlap among the overall offerings. Drinks like the Matcha Mule and Yuzu Margarita are found on multiple menus, and each venue boasts a house-made spirits infusion. At Robata Bar and Katana, the infusions are made with a mix of Svedka Original, Raspberry and Citron vodkas, infused in-house with pineapple, honeydew, cantaloupe and watermelon.
"The company does a great job of adhering to traditional Japanese style while also being creative and innovative to stay modern," Johnston says. "Our restaurants are busy—we have 300 to 600 covers a night. It's hard to create fresh cocktails in a restaurant like that, so I try to give the experience of craft cocktails, but for the masses. I treat the bar as a separate kitchen and it's just as big as the eating portion for the restaurant experience."
Maen agrees that the beverage segment is a key part of the overall experience at each Innovative Dining Group venue. "It's always important," he says. "We're as serious about beverage as we are about food, and that passion shows when you're dining with us. Our diners can have a simple beer or be adventurous and try one of our famous cocktails. We also have award-winning wine lists and a sake sommelier working for us. People stay longer and spend more when they see the quality and craftsmanship of our drinks. The bar business brings an energy that helps the whole restaurant."
Interior design is also critical for the management team at Innovative Dining Group. Maen describes the restaurants as destinations, especially in a crowded market like Los Angeles, and says the company aims to attract local residents over tourists. Design is a key part of that. "We focus on taking care of locals—when people travel they want to be around locals, not other tourists," Maen explains. "We want our restaurants to be modern and cutting edge, but to feel real as well. Everything is custom and designed from scratch. Our restaurants are management-driven, not chef-driven, but they don't feel corporate in any way. Each venue, even among the same brand, is different."
Johnston adds that in the bar areas she aims for a fresh, chic vibe with modern accents. She evokes a farm-to-glass feel by keeping fruits and produce on display at the bar, along with high-tech gadgets to add smoke, dry ice and specialty ice into drinks.
Branching Out
Further expansion is imminent for Innovative Dining Group, both in existing and new markets. In fact, the company has bold growth plans that include doubling in size over the next four years. Maen says growth will come from existing concepts and adds that he's looking into more sites in Southern California and Chicago, as well as in new locales like New York City and Saudi Arabia.
To remain cutting-edge, Maen says the company's chefs and drinks experts are looking into ways to incorporate non-psychoactive CBD-based cannabis into their food and drinks in 2018, as marijuana legalization continues to spread nationwide. And he says the cocktail program will remain at the forefront as growth continues. "We build places we want to go to," Maen says. "We're passionate about the whole dining and drinking experience and want to create innovative venues that are not already out there. We really allow our guests to make the restaurants their own."
To start 2018, Johnston is launching a new drinks menu for Katana, designed to be fun and flavorful with vibrant cocktails. Because of its dedication to the drinks business, she adds that Innovative Dining Group executives are backing her efforts fully. "Everyone here embraces the fact that beverage programs and cocktails have exploded," Johnston says. "They want to provide the same experience with cocktails that they do with food. This company is about being innovative and creative and keeping up with the times. They want to create a full experience, from the look and aesthetic to the food, and that definitely includes the beverage program."