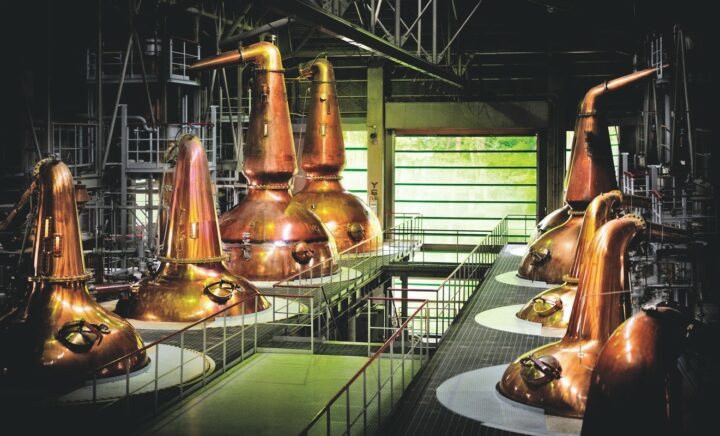 From a paltry total of just $1.4 million in 2010, Japanese whisky imports in the U.S. market have increased exponentially over the past decade. After reaching 127,000 proof gallons and $18.4 million in 2015, growth has taken off, with volume advancing by more than 100,000 proof gallons in every year since except for 2018. Last year, despite the pandemic, Japanese whisky shipments to the U.S. continued to rise, reaching 807,000 proof gallons and $67.4 million in value. 
Brands have proliferated in recent years, but the history of Japanese whisky is dominated by two companies: Suntory and Nikka. Both owe their position in the category to the same man, Masataka Taketsuru. Born in 1894 in Hiroshima, he studied at the University of Glasgow and apprenticed at several distilleries in Scotland, learning malt whisky production at Speyside's Longmorn Distillery, Coffey grain whisky production at James Calder in Bo'ness, and blending expertise at Hazelburn Distillery in Cambeltown. 
When Taketsuru returned to Japan in 1923, he joined Kotobukiya Limited, which would come to be called Suntory in time. That year construction began on Yamazaki Distillery, the first whisky distillery in the country and still one of Beam Suntory's top Japanese whisky facilities. After eleven years with the company, he left to go independent and founded his own company in 1934, though it would not be until 1952 that it was also renamed, becoming The Nikka Whisky Distilling Co. 
Having received little attention from the U.S. for decades, Suntory, Nikka, and Japan's other producers were distilling almost exclusively for Japanese consumers—with production quantities reflecting that reality. It therefore came as a shock to the supply chain when foreign demand began ballooning, quickly depleting stock. With multiple years of aging needed, production has struggled to keep pace with demand. This situation is slowly righting itself—it's now been several years since it became clear that distillers would need to increase output to keep shelves stocked. New distilleries like Akkeshi and Shinshu Mars have opened since 2010, aiding the effort.
House Rules
Beam Suntory's Japanese whisky shipments to the U.S. have doubled since 2017. That year, Suntory's brands Toki, Hibiki, Yamazaki, and Hakushu together totaled 75,000 cases in the U.S. Last year, a total of 152,000 cases were imported, with the majority of that growth coming from top-ranked Toki ($40 a 750-ml.), a younger, more approachable whisky meant for cocktails, filling the void while the company waits for its higher-end whiskies to age. Toki has taken off in the U.S. in recent years, in part thanks to in the Highball. From a base of 33,000 cases in 2017, it has sustained double-digit growth in the years since, ending last year at 97,000 cases, according to Impact Databank. 
"Toki is performing especially well," says Andrew Mondzelewski, North America marketing director for House of Suntory at Beam Suntory. "Our Yamazaki and Hakushu single malts remain constrained due to supply, but are still two of the most desired Japanese whiskies in the world." 
Also in Beam Suntory's stable is Hibiki, which has grown steadily as well. Launched in 1989 to commemorate the company's 90th anniversary, Hibiki is blended whisky that line comprises a 17-year-old and 21-year-old, as well as a third expression, Japanese Harmony ($65)—the latter a blend of aged whiskies from two single malt distilleries, Yamazaki and Hakushu, and Chita distillery grain whisky, that is performing particularly well. Last year Hibiki's U.S. depletions accelerated, growing 14.7% to 38,000 cases.
House of Suntory has been unable to avoid the worst effects of the Covid-19 pandemic, specifically in regard to the on-premise. "The pandemic was and continues to be a terrible blow to our beloved on-premise family, although conditions appear to be finally improving," Mondzelewski says. "Regarding production, our distilleries did have to close for a short period at the beginning of the pandemic, but ultimately implemented strict and effective workplace safety measures and were able to resume production. We're happy to report that all three of our distilleries—Yamazaki, Hakushu, and Chita—are in full production today."
Despite the supply issues, Mondzelewski says House of Suntory is overcoming those obstacles. "The Japanese whisky category has grown for the last 20 years, and consumers continue to discover what makes Japanese whisky so special," he says. "We're comfortable that our current supply of our more widely available expressions can meet current demand." 
Beam Suntory also produces two smaller brands, Yamazaki and Hakushu. Yamazaki is Beam Suntory's flagship single malt, still produced at the distillery constructed in 1923. The Yamazaki range includes 12-year-old, 18-year-old, and 25-year-old expressions. Last summer the company released a special 55-yearold Yamazaki single malt, the most aged release in the history of the distillery. At 46% abv, only 100 bottles were produced and sold via lottery selection, with a price of ¥3 million (approximately $28,000). Yamazaki was up 17% last year, to 14,000 cases in the U.S. Even smaller, Hakushu, which features two expressions produced at its eponymous mountain distillery, was down slightly at 3,000 cases. 
At press time, the Tokyo Olympics are on the horizon, though there have been calls for its cancellation due to ongoing fears over Covid-19. But House of Suntory is proceeding apace. Its biggest initiative for the year will be its #SuntoryTime summer Toki Highball campaign. "We're gearing up to bring Tokyo to the U.S. this summer with special Toki highball experiences to both on- and off-premise accounts and create special bar evenings highlighting our Japanese inspired Yatai carts with Toki Highball Machines," Mondzelewski notes. "The campaign will begin in early summer and consumers will be able to learn more about all the various Toki Highball experiences, bars and restaurants featuring Toki and more via a special QR code that will be utilized in both on- and off-premise p-o-s. The aim of this campaign is to bring more awareness and trail to the Highball drink and position Suntory Toki as the brand leading the resurgence of this cocktail."
Nikka's Rising U.S. Profile
Nikka, meanwhile, has seen its profile rise rapidly in the U.S. Imported by San Francisco-based Hotaling and Co., Nikka From The Barrel was Market Watch sister publication Whisky Advocate's 2018 Whisky of the Year. From The Barrel ($65 a 750-ml.) is a blend, as are several of Nikka's offerings. Dating back more than 30 years, in 1985 Nikka's blending team, led by Shigeo Sato, designed this whisky using both malt and grain whiskies produced at Nikka's Yoichi and Miyagikyo Distilleries. When taking into account the full array of casks—Bourbon barrels, Sherry butts, refill hogsheads, and more—over 100 different constituent whiskies are enlisted. It won praise for its balance and elegance, along with tremendous depth of flavor. 
The company has followed up that recognition with several new releases including Nikka Days ($50 a 750-ml.), a 40% abv blend from the Miyagikyo and Yoichi distilleries. Other current Nikka whisky imports to the U.S. include Yoichi Single Malt ($80), Miyagikyo Single Malt ($80), and Nikka Coffey ($65).
Ongoing Innovation
Another key trend in Japanese whisky sector is the growing popularity of Japanese rice whisky. If Suntory and Nikka's offerings were conceived as an explicit re-creation of Scotch, rice whisky is what was distilled in Japan before this minor revolution. They are made from 100% rice and incorporate koji, a type of mold used in the production of sake, soy sauce, and miso, prior to fermentation. Unaged or minimally aged, this rice distillate is sold as shochu, or aged shochu if it undergoes maturation. But brands like Fukano and Ohishi, both imported by Impex Beverages, age their products in casks for several years, qualifying them to be considered whisky under U.S. rules 
"By starting off with a very soft and very mellow and easy-going distillate, it allows that whisky to take on the aspects of the cask more quickly—it allows it to take it on in a different style," Impex vice president Chris Uhde says. "Because it's going in at a lower abv, it's softer to begin with. It's going to pull some different nuances out of the oak. With the rice whiskies, the goal is to expand the pie and the flavors. It's unique to the country, the way this stuff is made and has been for hundreds of years." 
Definitional questions about what exactly qualifies as Japanese whisky extend beyond traditional rice whisky. It's been an open secret for years that some Japanese whiskies aren't so Japanese—that is, they're often made with imported whisky, blended or proofed down or simply bottled locally, then labeled as "Product of Japan." Many such brands exist, though typically not openly, cloaking themselves in kanji and Japanese names while never disclosing that some or all of the liquid inside the bottle came from Scotland, Ireland, Canada, or elsewhere. But such practices may soon be a thing of the past, as Japan's leading spirits trade group has established guidelines to clarify what makes a Japanese whisky Japanese.
In February, the Japan Spirits and Liqueurs Makers Association published rules clarifying what would qualify as Japanese whisky and what would not. The rules, which are merely voluntary industry guidelines, specify first and foremost that production and aging must take place in Japan, using water extracted in Japan, with a minimum of three years for aging. Bottling must also take place in Japan and the liquid cannot be bottled below 40% abv to still be labeled Japanese whisky. 
Suntory issued a statement in support of the changes. "We believe that these standards will help to further distinguish the Japanese whisky category," the company says. "As category pioneer and largest producer of Japanese whisky, we are proud that every Japanese whisky product we export from Japan already meets the new standards." 
Nikka has also come out in support of the guidelines and has already taken the step of noting on its website which of its products meet the standards for Japanese whisky and which—like Nikka From The Barrel—do not.