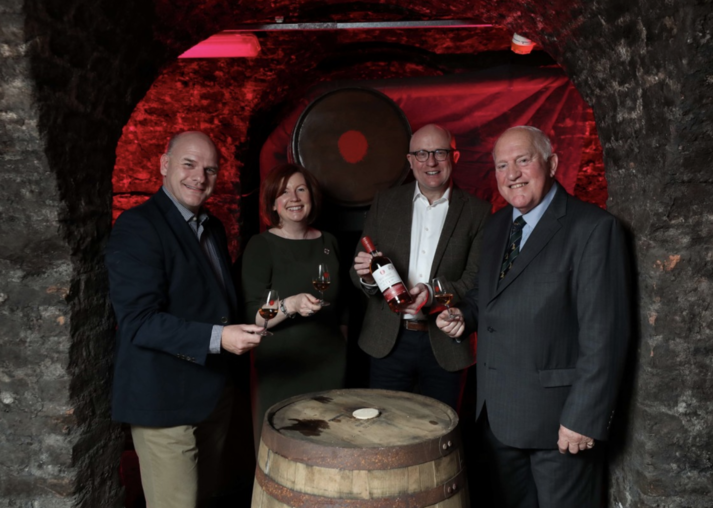 The walls in the boardroom at Dublin-based wine and spirits merchant Mitchell & Son are hung with family portraits, and the room is filled with books, etchings, antique whiskey bottles, and other company heirlooms. Mitchell & Son is Ireland's oldest independent drinks merchant—it's now in its seventh generation of family ownership—and is best known for creating the "Spot" range of Irish single pot still whiskies, which continue to hold treasured status among the world's whiskey lovers.
The company's story began in 1805, when founder William Henry Mitchell, a former pastry chef in the court of King George III, opened a tearoom in the center of Dublin after moving from northern England to Ireland. The venue became one of the city's most fashionable meeting places, and the business soon expanded to an adjacent building, adding a restaurant that served wine.
To supply the restaurant, Mitchell & Son became an importer, bringing in Sherry, Port, Madeira, Marsala, and other wines. The founder's grandson Robert expanded the business by opening a shop on Kildare Street in 1887, and then acquired a 2,000-square-foot tunneled wine cellar on nearby Fitzwilliam Lane. "Those acquisitions became the basis of our retail business as it exists today," notes managing director Jonathan Mitchell, current and sixth-generation leader of the company.
Wines in the 19th century were imported in barrels; once emptied, the casks—those for Sherry in particular—were valued for aging whiskey. Mitchell & Son possessed empty Sherry casks aplenty, and began sending them across town to the Jameson Distillery on Bow Street to be filled with pot still whiskey. The casks were then returned to the Mitchell & Son cellars to age under bond, which legally exempted them from duties until release. Mitchell & Son thus became one Ireland's many "bonders"—the importers, wine merchants, pub owners, and grocers who thrived as independent blenders and bottlers, buying whiskey from local distilleries and aging it under their own brand name. The Mitchell & Son whiskies were initially sold under the Pat Whiskey label, and later went by J.J. Mitchell & Son.
In the company cellars on Fitzwilliam Lane, each barrel of whiskey was tasted and evaluated to determine the liquid's optimum aging potential. The barrelheads were then dabbed with a spot of colored paint to denote the decisions made. Blue paint was used for what would become 7-year-old whiskey, green for 10-year-old, yellow for 12-year-old, and red for 15-year-old. In Dublin pubs of the late 19th century, whiskies were served up directly from the cask. Pub patrons, noting the colored paint marks on the Mitchell & Son barrelheads, began calling for the whiskies by the color of their spot. The habit stuck, and Mitchell & Son eventually rebranded the range as Blue Spot, Green Spot, Yellow Spot, and Red Spot.
Rise And Fall
The Spot whiskies became the fashionable tipple of Victorian pubs and drawing rooms, in an era when single pot still Irish whiskey—the signature Irish whiskey style, made from a mix of malted and unmalted barley and other grains—ruled the global market. The world's three largest distillers—George Roe & Co., John Jameson & Son, and John Power & Son—were all in Dublin, and focused on single pot still whiskey. Into the early 1900s, Mitchell & Son was among Ireland's best-known bonders, alongside such names as Gilbeys of Ireland (owner of the Redbreast brand), Findlater, Millar, and Grant's of Ireland.
But then Irish whiskey's long fall from grace began. After Ireland won independence from Britain in 1922, a trade war blocked Irish exports to all markets of the Empire. In the U.S., Prohibition cut off another crucial market. War, economic downturns, and taxation did the rest, while the proliferation of the column still in Scotland led to the rise of blended Scotch, which began conquering global markets.
As the industry approached its nadir in the mid-20th century, John Jameson & Son, John Power & Son, and Cork Distillers were the only three surviving distilleries in the Republic of Ireland. Seeking to rescue Irish whiskey from oblivion, the three merged to form Irish Distillers in 1966, consolidating operations at Midleton Distillery in County Cork. From as many as 100 distilleries in the previous century, Ireland now had only Midleton in the Irish Republic and Bushmills in Northern Ireland. Production would bottom out at less than 300,000 cases, just 1% of the global market. Irish Distillers, desperate to recapture market share, shifted its focus from single pot still whiskies to blends, which it could market as lighter alternatives to Scotch.
Bonded whiskey brands were swept up in the storm. As part of its streamlining, Irish Distillers made the decision to terminate all whiskey sales to bonders. Mitchell & Son was fortunate to have a ten-year supply contract, but was forced to discontinue all the Spot labels except Green Spot.
A New Era
But Jonathan Mitchell was determined to save the brand. In 1977, he requested a meeting with Irish Distillers. "I went to discuss our problem—that we were running out of Green Spot," he recalls. "I told them that when our stock runs out, the brand will die, and won't be resurrected." The company listened, and the two sides hammered out an agreement wherein Irish Distillers would continue supplying whiskey for Green Spot—producing, aging, and bottling the brand at Midleton. Irish Distillers would own the global rights to Green Spot, while Mitchell & Son would remain in charge in Ireland, the brand's only real market at the time. "We then started putting in our requests for bottling—usually twice a year—and that's pretty much how it works today," says Jonathan.
That deal ended Mitchell & Son's status as a bonder, but Green Spot was spared from extinction at a time when Ireland's other famous old bonded names began to disappear, one by one.  Eventually, only two—Green Spot and Redbreast—were left standing. And even Redbreast came off the market for about five years in the late 1980s, leaving Green Spot as the sole remaining single pot still whiskey—the Irish style that had ruled the whiskey world a century earlier.
It took years, but interest in Green Spot finally began to revive in the early aughts. Since then, it has risen from cult status to international popularity, its highest marques commanding prices well above $100. To this day, Mitchell & Son is involved in all aspects of cask selection and production. Jonathan and his son Robert, who serves as manager of retail sales, represents the seventh generation and runs the business with his father, visit Midleton regularly. "It's a great partnership," says Irish Distillers master distiller Brian Nation. "We work extremely closely with the Mitchell family. They're passionate about the Spots, and very proud of where the brand came from."
As for the modern portfolio, today's Green Spot ($50 a 750-ml.), traditionally a 10-year-old whiskey, has become a non-age statement product containing 7-10-year-old whiskies. Originally aged solely in Sherry casks, it's now matured in a mix of Bourbon and Sherry barrels. The limited-release Green Spot Château Léoville Barton ($65), finished in Léoville Barton barrels for 12-24 months, was launched in 2015, and was followed by a Chateau Montelena cask-finished expression ($65) in 2017. Yellow Spot ($100 a 750-ml.), meanwhile, was revived in Ireland in 2012 and launched in the U.S. market in 2015. It remains a 12-year-old whiskey, aged in a combination of Bourbon barrels and Sherry and Malaga wine casks. Red Spot ($120) made its comeback in January of last year, officially launching at a ceremony in the old Mitchell & Son cellars on Fitzwilliam Lane. It too retains its original age statement as a 15-year-old whiskey—aged in a combination of Bourbon barrels, Oloroso Sherry butts, and Marsala wine casks from Sicily. In total, the Spot range sells around 13,000 cases in the U.S. market, according to Impact Databank.
The Mitchell's tearoom is long gone, and the famous tunneled cellars were sold off in 2005. "I worked in those cellars when I started in the business, so I suppose I'm a living link to the company's past," notes Jonathan. "As it happens, we sold the cellars just around the time when interest in the Spot whiskies was beginning to revive." The modern-day Mitchell & Son operates two retail stores—one in Dublin's city center and the other about seven miles south in Sandycove. The company also runs satellite shops in two locations of Ireland's Avoca Store & Foodhall retail chain.
All around Dublin, echoes of the city's whiskey past linger. The Jameson distillery decamped to Midleton for good in 1975, and its old site on Bow Street houses a visitor center. Dublin is now in the midst of a whiskey revival, as names like Teeling, Roe & Co., and Dublin Liberties Distillery rise from the ashes. But Mitchell & Son never left. It stands as a living icon of Dublin's glorious whiskey past, and an engine of its present prosperity.