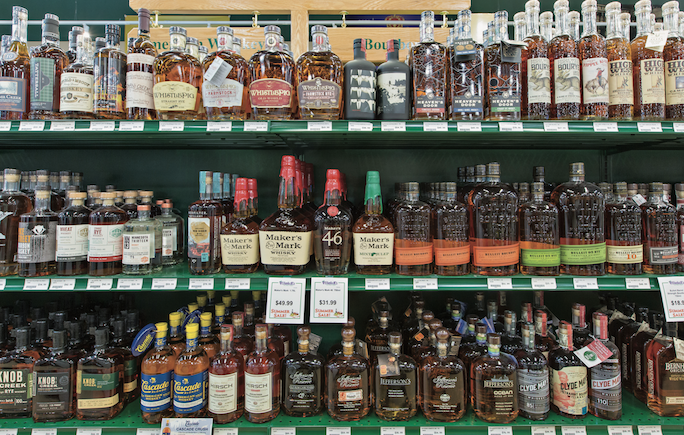 Beverage alcohol continues to solidify its reputation as the antidote to all negative economic trends—wars, depressions, recessions, even pandemics and riots. While on-premise sales were largely wiped off the map in mid-March due to lockdown orders, the off-premise has continued to boom.
After the rush of pantry loading at the outset of the Covid-19 crisis, most experts predicted the surge would ebb as time went on. By the end of May, the off-premise swell was finally decelerating a bit from the week-earlier numbers, but even then, the year-on-year trends remained eye-popping. For the week through May 30, spirits sales in Nielsen channels saw their growth ease by 6.8% from the previous week, but sales from the year-on-year period were still up by 32%. Wine eased by 5.5% on a week-to-week basis, according to Nielsen, but rose by 24% when compared to the same week in 2019.  And while Cinco de Mayo and Memorial Day represented lost opportunities for the on-premise, sales in the off-premise remained unusually healthy for both holidays.
Big-volume, nationally advertised brands have led the way—not surprisingly, as shoppers reached for old standbys amid long periods of sheltering in place. The most surprising trend that has remained strong throughout the pandemic is premiumization; consumers have continued to trade up despite waves of adverse economic news—and all amid the absence of premiumization's main arena, the on-premise. Ultra-premium spirits saw a spike of 55.8% by value in the four weeks ending May 16 in Nielsen channels—garnering a total of $361.3 million in sales, while rising 54% by volume to just over 800,000 cases. Wine at $20 and above, meanwhile, rose 40% by value in the five weeks through May 30, and Nielsen added that premium and ultra-premium-priced products in aggregate were "growing considerably ahead of mid-price and value-priced segments."
Among specific spirits categories, Tequila has shown the fastest growth—rising from an already strong pace in 2019. Year-on-year Tequila sales were up 80% in Nielsen channels in the four weeks ended May 16, while whisk(e)y sales, from a far larger base, rose 34.8%, led by Bourbon. And vodka, despite being in negative territory in Nielsen channels for much of 2019, showed growth of nearly 26% for the same four weeks.
Among wine categories, sparkling wine sales in the four weeks ended May 16 were up 34% by value and 30% by volume versus the year-earlier period, according to Nielsen, exceeding table wine's value rise of 30.6% and volume increase of 25.2%. Imported table wine, meanwhile, saw spikes of 37.1% by value and 31.1% by volume compared to a year ago, while domestic table wine was up 28.2% by value and 23.2% by volume. Beer, cider, and FMBs also continued to soar in Nielsen channels, led by hard seltzers, which accounted for 44% of total growth in the beer-FMB space and grabbed 10% of all beer dollar sales over the Memorial Day weekend.
Standby Success
In terms of individual brands, the old stalwarts indeed emerged the winners in both spirits and wine. For the year to date ended May 17, 2020, Tito's vodka sales in IRI channels spiked 38.1% by volume and 37.7% by value—compared to its already-robust growth rates of 20.9% by volume and 20.8% by value for the 52 weeks ended December 29, 2019.  Jack Daniel's flagship whiskey was up 19.1% by volume and 17.2% by value in the year-to-date period through May 17, compared to rises of only 3.9% by volume and 1.8% by value in the 52-week period through December 29.
Further down the list, the trends remained striking. Smirnoff vodka had actually showed a decline in IRI channels for the 52-week period ended December 29, 2019, with volume down 5.4% and value down 4.1%. But in the 52 weeks ended May 17, Smirnoff rose 8.4% by volume and 9% by value. Jameson Irish whiskey was on fire during that period, advancing 24.7% by volume and 23.5% by value, compared to single-digit growth levels in 2019. Rounding out the top five spirits in IRI channels, Captain Morgan spiced rum saw sales spikes of 13.7% by volume and 14.3% by value through May 17, after slumping 0.6% by volume and 0.4% by value in the 52 weeks ending December 29.
On the wine side, Barefoot had been showing similar difficulties to Smirnoff in IRI channels, posting sales declines of 3.8% by volume and 1.7% by value in the 2019 period. That was also true for Sutter Home, which showed volume and value declines of 4% and 0.3% last year. But in the period ending May 17, Barefoot showed volume and value rises of about 10%, while Sutter Home managed more modest increases of 3.6% and 5.2%. Other brands in IRI's top ten showed similar results, with Josh Cellars booming 47% by volume and 46.6% by value in the year-to-date period through May 17.
Spirits and wine sales of 750-ml. bottles have been faring better than those in larger packages, another sign of ongoing premiumization. But larger-format spirits packaging remains an important part of the mix, and the move to alternative packaging in wine—toward boxed wines in particular—has continued apace. The boxed segment is led by the 3-liter size, which in IRI channels showed a 33% volume increase to 5.5 million cases and dollar sales rise of 32% to $334 million in the year-to-date through May 17. Bota Box remains the brand leader, having already won "Hot Brand" status for its performance in calendar 2019, when it rose by 15% to nearly 8 million cases. Its case volume in IRI channels for the year-to-date through May 17 was up a whopping 61.5% to just over 2 million cases, while its dollar rose 62.7% to $111.4 million. Bota Box continues to bolster its lineup with new additions such as Nighthawk Golden Buttery Chardonnay, which rolled out last year to target new preferences for more full-bodied Chardonnays.
Elsewhere among boxed wines, rival Black Box saw its volume rise 22.3% in the same period, with value up 22.6% to $117.7 million. The gains represented a major improvement upon Black Box's calendar 2019 performance, which saw its volume decline by 2.7% to 6.85 million cases. Brand owner Constellation is in the process of selling Black Box and a host of other brands to E. & J. Gallo in a $1 billion deal that was awaiting regulatory approval at press time. Elsewhere among boxed wines, Franzia was up 12% to 5.29 million cases and saw a value rise of 16.7% to $153.2 million in the year-to-date through May 17.
E-Commerce Explosion
The real sea change brought on by Covid-19 has unquestionably been the rise of e-commerce. Wine.com has seen exponential expansion, while similar growth patterns were being seen by online delivery platforms such as Drizly, Instacart, Minibar, and Thirstie, albeit from smaller bases. In total, Nielsen estimated e-commerce sales to have risen by 255% year-on-year during the week ending May 30.
Wine.com was leading the way in the online space even before the crisis, with a 25% rise in annual sales to $165 million for its fiscal year ended March 31. Trailing 12-month sales in April rose by 47% to nearly $200 million, and then jumped 65% to $222 million in May. Throughout the key period of the Covid-19 crisis—the trailing 90 days through June 14—Wine.com's revenue exceeded $100 million, with comparable period growth of 250%. Meanwhile, revenue from Wine.com's membership program, StewardShip, was up 74% to $115 million in the trailing 12-month period through May 31.
Throughout the worst of the crisis, Nielsen estimated that off-premise sales would need to maintain growth rates of at least 22% to offset the damage from the loss of the on-premise. Spirits and wine sales have managed to exceed those numbers. In the 13-week period ending May 30, off-premise volume growth from the year-earlier period was 32% for spirits and 26.4% for wine. While industry executives agree that the Nielsen formula doesn't necessarily mean all the lost dollar value from on-premise markups has been recouped, there's no question that the great off-premise surge of 2020 has thus far helped the overall drinks business significantly.