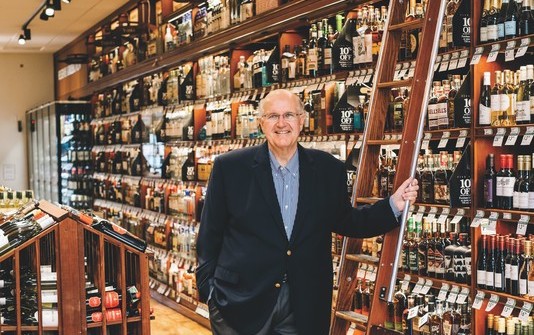 For the past 11 years, Mark Thrift has been on a mission. As director of wine, spirits, and beer at Mollie Stone's Markets, a chain of nine upscale supermarkets headquartered in Mill Valley, California, Thrift puts the store motto of "changing people's lives through food" front and center in his management of the grocery chain's beverage alcohol segment. "They're not just words," he says. "I've always kept in my mind how I can fulfill that in the wine, spirits, and beer department within Mollie Stone's."
The buying team at Mollie Stone's—including such departments as bakery, deli, cheese, specialty, regular grocery, meat, fish, and poultry—have weekly meetings and all the buyers have a tight relationship. "My job is to plug into all those perishable departments, work with them on their initiatives, and support them through beverage alcohol to make the experience better," Thrift says.
Mollie Stone's itself is the result of merging concepts. Owner Mike Stone founded Mollie Stone's in 1986 as a grocery store centered around healthy, natural, and specialty foods. But conventional necessities were missing. Through the purchase of a more traditional independent grocery store, a new model combining the two concepts was born. The company calls the model "the best of both worlds," melding necessity shopping and passion shopping into a single concept. For his diligent work providing wine, spirits, and beer to a variety of customer bases, Mark Thrift has been named a 2022 Market Watch Leader.
Beverage-Centered Career
For Thrift, overseeing beverage alcohol for Mollie Stone's is the culmination of a beverage-centered career. Thrift says he has come full circle in the three-tier system. His father and grandfather ran a small chain of independent markets in Oregon in the late 1940s and early 1950s, and Thrift was born into that world 71 years ago. 
In 1954, when he was a small child, Thrift's father and grandfather purchased a general wholesale company. Beer and wine comprised just a small portion of overall volume, but in 1969 the duo shifted to exclusively handling wine and beer under the Ralph Thrift, Inc. name. Like many children growing up in a family enterprise, Thrift did odd jobs throughout his childhood and joined the family business after graduating college in 1973. At that time, a new course was charted. "All the way back in 1973, we were getting a lot of pressure from the wineries we represented to split the sales teams," Thrift recalls. "They didn't like beer guys taking wine orders. We split our company and I started the wine division in '73." 
The wine business was a bit different back then. There was little information available, Thrift recalls, aside from a few books and some correspondence courses with Wine Institute. He even remembers the launch of Wine Spectator. "It was printed with purple ink and came as a snail mail newspaper," he recalls, noting the depth of knowledge it provided in a barren field of information. 
Consolidation hit in the 1980s, and Thrift and his father sold Ralph Thrift, Inc. in 1983 to Coast Distributing. Thrift worked as a sales manager in their wine division, then moved to the supplier tier when he moved to California and joined Bronco Wine Co. in 1988. During his 20-plus year stint there, he helped expose a lot of people to affordable wine at a time when wine was just starting to make inroads into everyday American life. 
A new opportunity in Hawaii pulled Thrift away from Bronco in 2009 when he joined Southern Wine & Spirits of Hawaii. That stint was short-lived, however, because another opportunity presented itself a year later. Stone, a longtime friend, needed a wine buyer. With his broad experience in both the supplier and wholesale tiers, Thrift decided to try the third tier. "I started a new career at age 60," he says. Eleven years later, he quips, "I think I'm hitting my stride now." 
Perfect Pairings
Thrift's extensive knowledge is paying off in his seamless merger of beverage alcohol into the broader Mollie Stone's assortment. He seems to thrive on the challenge of pairing food and beverages. "For decades I've been saying wine is nothing but a good spice to make food taste better," he says. "I call our wine selection my spice cabinet. I ask, 'What are you going to have for dinner? Come into my spice cabinet and let's see if I can find something that will enhance your meal'. That's really what I see as my job at Mollie Stone's—being an expert in pairing food and wine, that's what it's all about." 
That means a slew of cross-merchandising, ranging from the perfect white wine to pair with a particular white fish on sale one week, to the best Italian selections to drink with select cheeses, to the range of cold sakes adjacent to the sushi selection. In recent years, that penchant for pairing has extended into the beer category as well. "There's great opportunity now within the craft beer world, because of all these experimental brews, to really put together food and beer as well," he says. The Bay Area is ripe with local brewers, some with actual breweries and others part of the independent craft movement. One of many that has caught Thrift's eye is Dokkaebier, particularly the Yuza Blonde ($17 a 4-pack of 16-ounce bottles) and the Kimchi Sour with gochugaru and ginger ($18 a 4-pack). "If you have a Korean barbecue and you serve it with this kimchi sour beer, I think it would pair perfectly." 
Communication with customers comes mostly in the form of Mollie Stone's weekly flyer, which carries a wine or spirits pairing suggestion, as well as recipes, each week. In store, most of the promotional materials were stripped away during the pandemic because of social distancing and crowd limitations. "We have built-in, wooden end caps, and it's a much cleaner look," he says. "We just stayed with it so people don't feel closed in." Merchandise displayed in those end caps shifts with the seasons.
Wine Obsession
While spirits and beer are vital in the mix at Mollie Stone's, it's wine that dominates. Wine accounts for about 60% of total beverage alcohol sales. "The vast majority is California," Thrift says. "At Mollie Stone's, we're about Chardonnay. We're about Sauvignon Blanc. We're about sparkling wines. We're about Pinot Noir. Everybody drinks Chardonnay and Pinot Noir because they're typically lighter, they're lower alcohol, and because our customers love wine, they can drink more of it." The company's top-selling wine labels are Rombauer Napa Valley Chardonnay ($43 a 750-ml.), Domaine Auchere Sancerre Blanc ($25), and Honig Sauvignon Blanc ($21), with the average bottle price for wine falling "just a tick above" $20. 
Luxury wines thrive on a smaller scale, Thrift says, and he credits his long-standing industry relationships for getting allocation consideration for Mollie Stone's. "I have a really great, supportive team of suppliers that I talk with every day about opportunities," he says. That's particularly true for French wines, he says, which have become harder to get due to the ongoing supply chain challenges. 
Hard-to-find items are becoming a bigger part of the business on the spirits side as well, due primarily to the constant jockeying for allocations of certain Bourbon brands. More generally, spirits affinities are apparent in micro-regions in the Bay Area. For example, Bourbon reigns in San Francisco while Cognac has more traction in Oakland and the broader East Bay. "We do sell more Bourbons than many other retailers," Thrift says, noting that all spirits make up about 19% of beverage alcohol sales in the chain. "We sell proportionately more gin, too. I think it's because we're so strong in wine sales. Botanicals can mimic a lot of the things that you can get out of wine, so I think a lot of our wine drinkers enjoy a cocktail with gin because they like those botanicals. We're fortunate that we do have some local producers of spirits, and we try to work them. We also have a higher-income clientele just because of where we are, so we get good allocations of higher-end spirits and hard-to-get spirits. Whenever those allocations become open, I take whatever we can get." 
Category managers in individual stores are responsible for letting their key clients know about availability of hard-to-find products. Mollie Stone's also offers a series of barrel selections curated specifically for the chain. Overall, bestsellers in the spirits sector are Hendrick's Gin ($36 a 750-ml.), Bulleit Bourbon ($31) and Casamigos Blanco Tequila ($53). 
On the beer side, which accounts for about 21% of beverage alcohol sales, local and craft beers dominate at the chain. "We have a huge beer selection," he says. "Because most of it's local, there are so many dozens, if not hundreds of local breweries that we can source." In fact, Thrift says national brands make up only about 5% of overall beer volume. Thrift relies on beer manager Kiley Van Zant to guide beer purchasing. "We consult every week about tasting new beers and bringing new beers in," Thrift says, noting that the sector is becoming more interesting each year. 
Top sellers in the beer sector are Russian River Brewing Pliny The Elder ($7 a 17.25-ounce bottle) and Bare Bottle Brewing Strata Flip ($6 a 16-ounce can). In total, Mollie Stone's now carries nearly 1,000 beer SKUs. There are about 700 spirits SKUs, and wine dominates at roughly 1,200 SKUs. All told, beverage alcohol sales generate more than $20 million in sales annually for Mollie Stone's, and account for 9%-10% of the chain's overall revenue.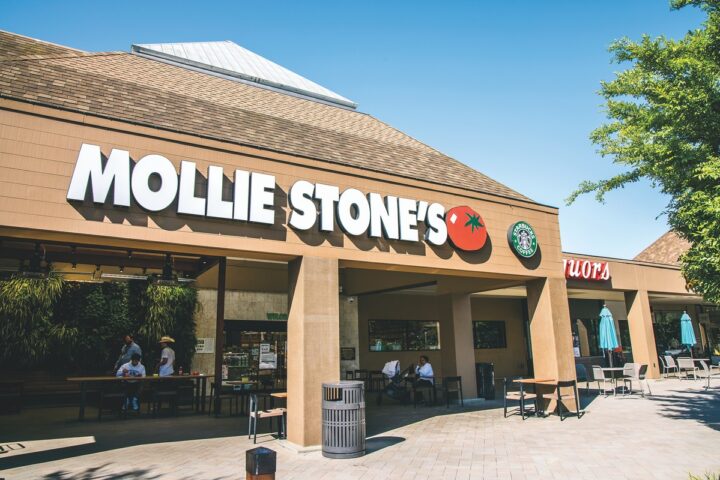 Parsing The Market
Of course, not every store carries every SKU due to local demand dynamics and space constraints in some stores. The chain's Castro Market, in the Castro District of San Francisco, has the smallest footprint at around 12,000 square feet, while the Greenbrae store is one of the largest at about 45,000 square feet. "I give everyone in the store pretty wide boundaries," Thrift says. "I have authorized items, and then [individual store teams] need to work with their customers to figure out what's best for them. Obviously, one of the rules is if I advertise it, they need to have it, but typically I don't go too crazy." 
A broad selection is helpful given the broad range of competitors in the market. Thrift says his main differentiators are service and selection, but he does try to take advantage of volume discounts from distributors, particularly on national brands. Mollie Stone's itself is a blip in the grocery landscape in the Bay Area, but Thrift notes that the chain has carved out its own unique niche. There are nine stores currently, and expansion is likely. "We're looking at another location in San Francisco," he says. "That's where we like to do business—we're neighborhood stores and we know how to serve that customer."