Television commercials, radio endorsements, social media posts, and email blasts are all key components to the successful marketing mix bolstering Exit 9 Wine & Liquor Warehouse's footprint in New York's Capital region. "Marketing is as important as ever," says owner Mark O'Callaghan. "When we started out, we were very innovative in this market. The extent of advertising in the Capital District was newspaper. We drove home with outdoor billboards and radio. Those were our first two real pushes that thrust us into the market." For Exit 9's robust marketing mix and strong standing in a competitive market, Mark O'Callaghan has been honored with the Market Watch Leaders Alumni Award for Best Marketing.
When O'Callaghan founded Exit 9 in 2001 with his wife, Sharon, it was a 10,000-square-foot store in The Crossing Shopping Center in Clifton Park, part of metro Albany. There were originally five employees, including Mark, Sharon, store manager Andy Scherer, and two cashiers. "We focused mainly on price because we didn't have a big selection," O'Callaghan recalls. "From there, as people came in for price, we were able to show them customer service and offer more selection."
Exit 9 expanded into a 30,000-square-foot store in the same shopping center in 2005. "We've always tried to market our business beyond just wine and spirits, and emphasize what makes us different," O'Callaghan says. With this in mind, his first tagline for the store was "It's fine at Exit 9."
O'Callaghan notes that each Exit 9 customer is different and enters the store for a distinctive reason. "We try to give them everything—competitive pricing, selection, and over-the-top customer service," he says. "We want to do it all and let them decide what's great about Exit 9."
In 2016, the store expanded again in The Crossing, this time into a 37,500-square-foot space with a 28,000-square-foot sales floor. It has about 4,800 wine and 3,300 spirits SKUs, plus an education center. The store's current tagline—"You get more always"—has further solidified its branding. "Now the question is, 'You get more what?'" O'Callaghan says. "Well, you get a better selection, better customer service, and more buying power. That's always been our direction in the branding of the store."
Exit 9 has gone big in its region with television commercials on major networks, created by Schaefer Media & Marketing. Depending on time of year, a commercial could run anywhere from one week around Independence Day to six weeks from the middle of November to New Year's Day. "We focus mostly on network and cable programs people are watching like local news, Jeopardy, or sports events," O'Callaghan says.
Exit 9's location ensures that it gets major bang for its marketing buck. O'Callaghan spends about 2%, or $360,000, of the store's annual approximate sales—$18 million in 2018—on marketing. "That number might seem low, but this is a medium-price market and it's affordable," he notes. "If I wanted to do what I do in New York City or Philadelphia, it would be impossible."
Social Media Swagger
During Exit 9's first nine years, O'Callaghan focused primarily on traditional marketing and day-to-day retail operations. "We didn't start getting serious with the website and e-commerce until 2010 because we were so successful in our brick-and-mortar store and we had all needed to manage that business," he says.
Now Exit 9 has 25 full-time and 25 part-time employees. E-commerce manager Pasquale Giovanni oversees the store's website and other backroom technological functions. O'Callaghan's son, Mark O'Callaghan, Jr., is Exit 9's full-time social media coordinator, handling Facebook, Instagram, and Twitter accounts for the store. "Who's on social media but millennials?" O'Callaghan notes. "We wanted to put a millennial in charge of social media, and he's passionate about it."
Facebook has become an increasingly important marketing tool for Exit 9. "We're seeing sales, products, and events driven home very effectively with Facebook, because we can target advertising directly toward users likely to visit the store," O'Callaghan says. "If we get a new product we're excited about, we'll post it on Facebook and see sales. It's not so much that I want to sell product X; I want to communicate to my customer that we're the store you want to come to for new and exciting brands." The company aims for at least three posts a week on both Facebook and Twitter. "What's interesting is people are saying Facebook is going down, that not a lot of people use it," O'Callaghan, Jr. says. "Younger millennials may not use it, but consumers over 30 and Gen Xers use Facebook a lot." Instagram is also an important part of Exit 9's social media strategy, particularly because of the platform's popularity with millennials, O'Callaghan, Jr. notes. "Social media has to be a good balance of posts about products we have alongside funny, and interesting content," he says. The ultimate goal of marketing, however, is to increase sales. "You can have fun with it, but if sales aren't increasing, the marketing campaign isn't working," O'Callaghan adds.
Marketing new products in particular is essential for beverage alcohol retailers. "We constantly have new products," says O'Callaghan. "It's a headache for most retailers to manage the inventory, shelf space, and floor space, but it's what people want, and if you want people to come into your brick-and-mortar store, you need to keep offering new labels."
Exit 9 also has a weekly email newsletter about sales, events, and tastings. The store usually hosts at least two wine or spirits classes and seminars a month; it also offers 4-6 wine and spirits tasting stations run by staff throughout the store on Fridays and Saturdays. Customers can also try wine samples seven days a week at the Wine Attic tasting station. "Millennials especially need a little extra push to get into the brick-and-mortar store," O'Callaghan says. "We're starting to see younger customers attending our classes; they want to learn. And now they're going to pass on that information and tell people exactly where they got it."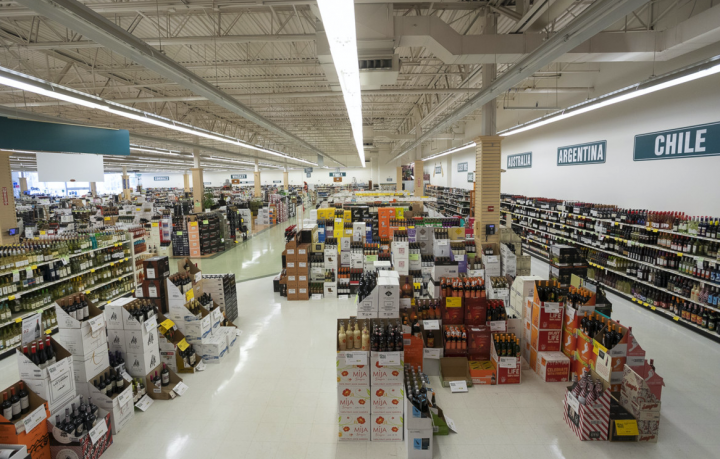 Radio Relationships
Another way Exit 9 showcases itself is through exclusive relationships with radio stations and their hosts, including Tracy Villaume of 99.5 FM The River, Kelly Lynch of WGY News Radio 810 AM, and Rodger Wyland of 104.5 FM The Team sports talk. One Thursday each month, Brian Rapp, an Exit 9 store manager and mixologist, goes on 99.5 The River for a Thirsty Thursday segment and creates a cocktail on the air.
To help kick off the 2019 summer cocktail season, Rapp made a Blackberry Peach Mojito, which blends Bruno Mars Selvarey rum, Paisley & Sage Peach schnapps, simple syrup, lime juice, club soda, blackberries, and mint leaves. Other Thirsty Thursday cocktails have included a Margarita, mixing Milagro Tequila, Pama Pomegranate liqueur, Hiram Walker triple sec, Finest Call sweet and sour mix, and fresh lime juice, garnished with a lime wedge, and a Watermelon Sangria, made with Martin Codax Albariño, Selvarey white rum, DeKuyper triple sec, fresh lime juice, soda water, and fresh cut fruit.
Exit 9 pays for each Thirsty Thursday radio time slot, which ties in with the paid endorsement of radion personalities doing exclusive live reads promoting the retailer. "We can't be compensated in New York, but it's very important to mention brands," O'Callaghan says. "You want a customer coming in and asking about Milagro Tequila or whatever brand was used to make a cocktail on Thirsty Thursday."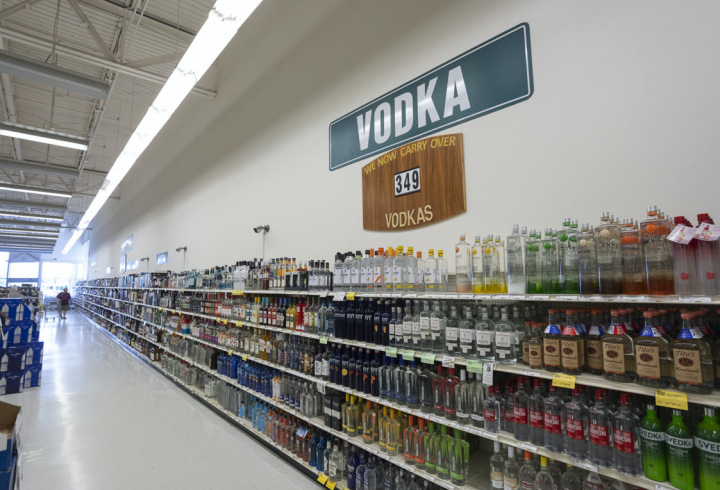 The Yes Chain
Marketing isn't just about advertising. O'Callaghan notes that good customer service is an essential element of top-class retail. "If you're talking to a customer, you want to ask questions that are going to be answered with a yes instead of a no," he says. "On the floor, we never say, 'Can I help you find anything?' It's always, 'Are you finding everything all right?' Half of our customers will say yes and then ask questions. If they say no, it becomes permanent. It's a little thing, but with a yes, the window is open to give any information a customer might need."
O'Callaghan also stresses that marketing should be a long-term proposition. "Marketing is the battle of margin and market share," he says. "That balance is where the long-term strategy comes to play. You have to decide which venue you're going to take. It's important to stay up-to-date with what's really working. Online ads are obviously big, but outdoor billboards still work. There's a captive audience."
There's always new information to be gathered about consumers' habits as well. "Are people listening to traditional radio or are they going to satellite radio?" O'Callaghan says. "Are people watching network television, or are they watching everything on Hulu and Netflix? It's a constant analysis of what seems to be working at the moment."
O'Callaghan is optimistic about the evolution of marketing. "The marketing sphere is going to keep evolving," he says. "I look forward to what's coming out; I love hearing about new ideas, and today they're developing so quickly."
All things considered, Exit 9 clearly has hit a marketing home run. "My favorite thing about marketing is the creativity—trying to come up with that next great idea for an ad campaign or a social media post," he says. "When you come up with a cool idea and you get positive response from it, it's rewarding. When I'm home and the television is on in the background and I hear my commercial, it puts a smile on my face because it's something I helped create."