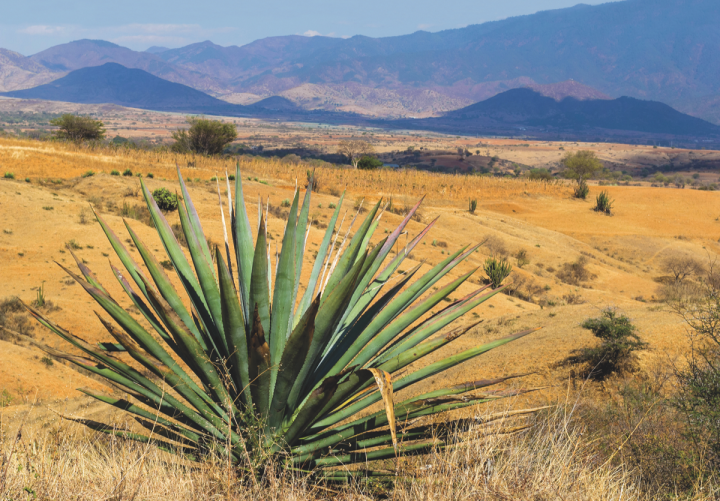 Though it remains a small player within the overall spirits universe, mezcal is enjoying a major boost in recognition and popularity in the United States. No longer Tequila's little-known cousin, the spirit has found a consumer base in savvy drinkers who prefer boutique products. Mezcal is becoming a mainstay in the on-premise as an upscale cocktail ingredient and sipping spirit, while also gaining shelf space off-premise. Nowhere is this more evident than in New Orleans, which held its first Agave Week in March and honored the Mexican spirit at a variety of cocktail and mixology events.
"Mezcal is on an upswing in New Orleans," says Alexandra Anderson, a bartender at the Crescent City bars Cure and Cane & Table. "It's been a slow crawl, but more guests are starting to recognize what mezcal is. A lot of people asked for it during Tales of the Cocktail last year. Bartenders and connoisseurs are drinking it." Cane & Table hosted Mezcal Mashup during New Orleans' Agave Week. The event featured an informational presentation about mezcal, a mezcal tasting, and a cocktail competition.
Cure lists about ten mezcals on its menu, while Cane & Table boasts nearly 20 labels. Anderson says the venues always feature at least one mezcal-based cocktail, and she adds that while most guests prefer to try it in mixed drinks, she encourages people to taste it neat. For some guests, she notes, mezcal's higher price tag can be a surprise.
"Small amounts of mezcal can add big flavor to cocktails," Anderson explains. "It's a great way to introduce someone to the spirit, though I'd rather give people mezcal on its own so they can really taste it. Someone new to mezcal definitely goes through sticker shock when I explain to them that most of our collection ranges from $20-$35 a 2-ounce pour. I offer 1-ounce pours so guests can have an introduction to some interesting and beautiful mezcals."
With its Latin heritage, Miami has also embraced mezcal in a big way. Celebrated Mexican chef Pablo Salas operates Lona Cocina and Tequileria in The Westin Fort Lauderdale Beach Resort, an upscale casual restaurant that offers more than 80 mezcals. Eventually, lead bartender Chantal Scutt hopes to boost the venue's mezcal selection to roughly 200 labels. Along with mezcal flights, Lona Cocina offers a handful of mezcal cocktails, from a Margarita to the Mexico City Swizzle ($11), mixing Del Maguey Single Village Vida mezcal, Lustau Dry Amontillado Los Arcos Solera Reserva Sherry, falernum and ginger syrups, and lime juice.
"There's a serious mezcal boom occurring and many people are curious about it," Scutt says. "It's said to be the fine wine of agave spirits, and some consumers think they need to be a connoisseur to consume it. In reality, mezcal is a complex spirit that's easy to understand. It's a brilliant cultural, historical, and fun spirit that can be enjoyed by anyone."
The on-premise is a primary driver for mezcal. Michael Gardner, the global business leader for Del Maguey—which was acquired last year by Pernod Ricard—says restaurants and bars make up 80% of the brand's business, though he notes that the off-premise is expanding, particularly in large metropolitan areas. The brand does equally well with men and women, he adds, and has found a niche with higher-end spirits drinkers.
"Mezcal is one of the fastest-growing premium spirits categories," Gardner says. "It's highly popular among key influencers and discovery seekers, and within the cocktail space it's particularly vibrant. The popularity of mezcal cocktails has driven a wider audience to the category."
Gardner predicts continued double-digit growth for Del Maguey for at least the next several years. In addition to the United States, Del Maguey does well in the United Kingdom, Greece, France, and Australia. Del Maguey Vida mezcal ($37 a 750-ml.) is the brand's most popular and widely distributed label, but the company produces 20 mezcals in all. Other Del Maguey labels include San Luis del Rio ($70), Chichicapa ($70), Mezcal de Puebla ($100), Tobalá ($125), and Ibérico ($200).
Increasing Market Share
Other multinationals are making investments in mezcal. Last year Bacardi acquired a stake in Ilegal mezcal, while Proximo Spirits introduced the Creyente brand in 2016. William Grant & Sons distributes Montelobos mezcal in the U.S., and this month Diageo's Casamigos Tequila brand is adding a mezcal to its portfolio.
Outside Mexico, the United States is the largest consumer of mezcal, and the spirit also does well in Japan. Many suppliers say customer education is key to future growth. "Mezcal is coming into its own in the United States," says Michelle Ivey, Ilegal's director of operations. Bacardi's stake in Ilegal has helped expand the brand nationally. Ilegal offers three tiers: Joven ($47 a 750-ml.), Reposado ($57), and Añejo ($99).
"Mezcal is now sought-after in a broad spectrum of venues," Ivey says. "This bodes well for the long term. Ultra-premium, artisanal mezcals like Ilegal put the category on the map. Ilegal has enjoyed tremendous growth over the last year, doubling in volume and revenue, and we project the same results for this coming year. I don't believe there's a plateau anywhere in sight for mezcal, and certainly not for Ilegal." The brand depleted more than 10,000 9-liter cases in the U.S. market last year, according to Ivey.
Another category star is Montelobos Mezcal Joven ($40 a 750-ml.), imported by William Grant & Sons. The brand's depletions grew by more than 80% in 2017, and brand manager Shem Blum anticipates the category will continue its rapid growth as consumer demand increases. "Using mezcal in cocktails is a great way to expose people to the spirit and drive growth," Blum says. "Mezcal has the most complex flavor profile of any unadulterated and unaged distilled spirit. Growth and exposure began in major markets like New York City, Los Angeles, San Francisco, Chicago, and Miami, but there has also been fairly rapid expansion into mid- and small-scale cities."
Joen Choe, the vice president of marketing at Sombra mezcal parent company Davos Brands, agrees that the cocktail community's embrace of mezcal has done wonders for the category. Choe says that the widespread popularity of mezcal in mixology has helped introduce the spirit to new and discerning consumers, and also helps reset the spirit's image for those who had negative past experiences. He notes that people who enjoy Tequila, Scotch, and other spirits with sophisticated flavor profiles comprise a large part of mezcal's consumer base. Sombra Mezcal Joven ($35 a 750-ml.) surged by triple digits in 2017, according to Choe.
"Mezcal continues to be one of the fastest-growing categories in spirits, driven by the general popularity of artisanally produced spirits that have roots and history behind them," Choe says. "More multinational companies are entering the category, which is great overall, as long as they can maintain a commitment to authentic production methods and quality as they scale."
Supply And Demand
As mezcal's growth rates increase, supply issues are becoming a concern. Danny Mena, a partner in Mezcales de Leyenda, which is imported by M.S. Walker, says the spirit's popularity is draining Oaxaca of the Espadín variety of agave, which is the most popular agave used to make mezcal. He adds that the spirit's increasing growth over the last five years shows no signs of slowing down. Blum doesn't anticipate any supply shortages for Montelobos, which produces its own agave, but he does cite strong demand and deforestation of wild agave as putting a strain on supply for much of the category.
"Demand has taken a toll on the agave plant in Oaxaca, where we've seen the price of the plant triple over the past two years, and we still expect the price to rise for the upcoming two years," Mena says. "High-end mezcals produced by small distilleries come in and out of stock regularly. As an industry, we have yet to understand what would happen if the demand were to really increase and mezcal were to become a major category."
One advantage, Mena says, is that mezcal's legal denomination of origin is geographically huge, encompassing a lot of physical space for agave growth. And part of what makes mezcal special, he adds, is how it's made—slowly and rather inefficiently by hand-produced craft methods, which all add up to a higher price tag. "If mezcal were to become mass-produced, as some brands have done, it would lose all character and flavor," Mena says. Mezcales de Leyenda has enjoyed 50% year-on-year growth for five years, Mena adds. The brand offers six expressions, including Oaxaca ($65 a 750-ml.), Guerrero ($80), and Durango ($80), and it released a series of ultra-premium labels this past fall, from Grandes Leyendas ($250) to Mezcales Únicos ($500).
The high price tags for upper-end mezcals appeal to a specific, small set of customers. Khris de la Torre, the bartender advocate for Proximo Spirits' Creyente mezcal ($50 a 750-ml.), notes that his brand is most popular with young, affluent consumers. "Playing at the higher end of the price spectrum helps mezcal's image and helps consumers understand and appreciate the complexity and character of the spirit, as well as the agave plant at different maturity stages," de la Torre says. "The rise in popularity of mezcal cocktails has expanded awareness of how different strains of agave plants and different regions in Mexico can produce different mezcals—much like wines and whiskies."
Experimenting with the different varieties and flavors of mezcal is a great way to increase consumer education. For Bozal mezcal, which is owned by 3 Badge Beverage Corp., getting into the hands of experimental consumers is key. Company president August Sebastiani notes that for Bozal, the on-premise is three times larger than the off-premise, and that independent regional accounts specializing in Mexican spirits and farm-to-table cocktails are driving growth and awareness. He adds that Bozal has grown quickly since its launch and that its limited-production expressions have garnered high interest. The brand's labels include Bozal Ensamble ($50 a 750-ml.), Single Maguey ($70), Sacrificio ($100), and Reserva ($120).
"As popular as mezcal is right now, it's absolutely in its nascent stage," Sebastiani says. "There's still a lot of opportunity to expand. Over the next three to five years we expect to see mezcal rival Tequila." Bozal has put a big emphasis on agave replanting and sustainability. For every wild maguey plant it harvests, it plants two more in a nursery. In addition, the brand provides financial support to help the small villages in agave-growing areas with education and women's health care.
Independently Operated
Even with the industry's largest companies making moves into mezcal, smaller players have plenty of room to enter the category. Kimo Sabe mezcal, imported by Martinez Brands, has been available in the United States for a few years and is expanding rapidly. The brand—which will be the official mezcal of the South by Southwest music festival in Austin, Texas this year, its second time sponsoring the event—will add ten markets in 2018, as well as launch three new top-tier mezcals. Kimo Sabe's core range includes Joven ($40 a 750-ml.), Reposado ($43), and Añejo ($60), and the company will add Ultra-Premium Joven, Extra Añejo, and Sherry-Aged Reposado later this year.
"The evolution of the mezcal industry is making mezcal available at all price levels," says Kimo Sabe COO and co-founder Ashley Walsh Kvamme. "Mezcal, up to this point, has been primarily the alcohol-forward, smoky Oaxacan style, which has been attractive to a very passionate niche market. As agave becomes better understood, it has the potential to take market share from many spirits categories. This growth helps hundreds of small producers gain access to market."
One of the category's newer entrants, Gem & Bolt, has only been available for about a year. Co-founder Elliott Coon says the mezcal is getting great traction and response from the beverage trade and consumers. Gem & Bolt ($50 a 750-ml.) is distilled with the damiana plant to create a distinct end product. "Mezcal is all about discovery," Coon says. "Mezcal's rapid growth reflects consumers' desire to understand more about what makes mezcal so unique. We've seen some of the demand for mezcal manifest in strong initial off-premise sales as we enter new markets." Another entrant, Mezcal Nucano, is launching this month. Produced by a father-and-daughter team of third- and fourth-generation master mezcaleros, Nucano offers Joven, Reposado and Añejo expressions ($45-$60).
Texas-based retailer Spec's Wines, Spirits & Finer Foods is a big supporter of the growing mezcal movement. The 165-unit operation offers over 250 mezcal labels chain-wide, and president and owner John Rydman says his mezcal selection increases almost daily. Brands like Del Maguey Single Village mezcal, El Silencio mezcal, and Unión Mezcal Uno are all successful at the chain (mezcals at Spec's range from $7-$220 a 750-ml.). "Most consumers purchase mezcal to enjoy neat or on the rocks," Rydman adds. "Otherwise, a common way to enjoy it is with fresh grapefruit. The basic nature of this single-village spirit lends itself to such diverse palates and preferences."
But even with increasing interest off-premise, mezcal remains an on-premise darling. In New York City, where mezcal cocktails have been on menus for some time, the restaurant Casa Mezcal has been a destination venue since it opened seven years ago. The Lower East Side Mexican eatery stocks more than 80 labels and has expanded its selection greatly over the years. Martin Capella, the restaurant's artistic director, says that the popularity of mezcal cocktails has surged recently, but that many consumers enjoy sipping the spirit neat as well.
"We've focused on having a large variety of options and always curating interesting labels for our customers," Capella says. "Mezcal is the most interesting of all sipping spirits. The variety of options makes for a very diverse universe of flavors."