Buster's Liquors & Wines has seen its fair share of change over the years. Founded in 1970, with roots dating back to 1954, the Memphis, Tennessee–based store has seen an area that was once on the fringe of the city transform into a bustling urban center. Technology has also evolved from the days when employees opened the doors for customers and rang up sales manually. Owner Romulus "Rommy" Hammond and his sons and co-owners, CEO Morgan Hammond and president Joshua Hammond, have always fought to keep Buster's at the forefront of beverage alcohol retailing in the state. New legislation in Tennessee has brought change once again, and the Hammonds are taking advantage. A key component of their push is the store's website, Bustersliquors.com, a fast-growing resource that's now reaching its full potential.
"I personally don't like change, but I understand that some things do have to change," Rommy says. "Way back when, I don't even know if we had scanners. Now I can check our website on the golf course. It's a new age." For blazing a trail on the digital frontier, Rommy, Joshua and Morgan Hammond have earned the 2015 Market Watch Leaders Alumni Award for "Best Website."
An Evolving Business
Rommy's father, Romulus "Buster" Hammond, co-owned a small grocery store chain in Memphis in the 1950s and struck into the beverage alcohol business with the original Buster's in South Memphis in 1954. Rommy opened his first store in downtown Memphis in 1966, and in 1970, father and son joined forces to open the current Buster's in East Memphis. Rommy was named a Market Watch Leader in 1989. Morgan joined the business in 1987, and Joshua followed in 1993. The pair became Leaders in 2000, and the store has thrived under their management.
In July 2014, the face of beverage alcohol retailing in Tennessee transformed. A new law lifted longtime restrictions, allowing stores to expand their selections beyond wine, spirits and beers that contain more than 6.25-percent alcohol-by-volume. The legislation also opened the door for new forms of growth, such as delivery. A few months later, local referendums throughout the state allowed wine to be sold in grocery stores starting July 1st, 2016. The sea change represents both a threat and an opportunity, and Buster's—the largest retailer by volume in the state, according to Rommy—is more than ready for the challenge.
The store's website, which predates the recent legislative changes, is critical to helping Buster's adapt. "We launched Bustersliquors.com on November 18th, 2012," Joshua says. At the time, the store could only offer online orders for pickup, but the new website became a local success, generating about $100,000 in sales in the first year.
However, the site ran into some technical issues in its second year, and numbers dropped slightly. "The website is designed to communicate with our inventory system," Joshua explains. "An upgrade really slowed down our posting process and popular items were showing as out of stock." The issue caused some growing pains, but was ultimately a learning experience and resulted in a more streamlined system. "We feel like the functionality of the website serves us really well now," he says. Rommy agrees, noting that such bumps in the road are a natural part of the process. "I don't mind making a mistake," he says. "You can always change. That's what we're doing now, especially with our website. If we see something isn't working, we change it."
The website features the store's full online inventory, and each item includes in-depth tasting notes, imagery and scores sourced from several outlets, including Market Watch sister publication Wine Spectator. The site features top-level categories—wine, spirits and beer—and sub-sections on the front page. Other groupings are visible from the main wine and spirits pages, allowing customers to quickly find more niche items like grappa or fruit wine. Visitors can also browse by region, producer or price. A set of quick links, visible on every page, lets users quickly navigate to sections for new arrivals and wines rated from 85 to 89 points, 90 to 94 points and over 95 points. A drop-down menu allows customers to choose any of an item's SKUs to add to their cart.
The website is optimized to provide as much value and information as possible without requiring significant extra work from the store's staff of around 42 employees. "It's pretty automated at this point," Joshua says. To host the website, Buster's partnered with BottleNose Inc., a company that focuses primarily on small independent wine retailers throughout the country. The website's back-end integrates tightly with the p-o-s systems at Buster's. "When an item comes in, it gets put in our system and automatically posts to BottleNose, which creates the images and reviews," Joshua explains. "It removes from the retailer the burden of coming up with all the pertinent information for each item."
Customers who order online can pick up their purchases at the store within 24 hours. "Most orders are filled the same day, but we say 24 hours just to make sure we have their items in stock," Joshua says, adding that the store has 75 to 100 orders on hold at any given time. "We definitely like e-commerce orders because they're already paid for. Online orders always get picked up. We just verify who they are, check their age and say thank you."
The new laws allow for delivery, and Buster's has jumped on the opportunity. "People can order online, and we can now bring their order to them," Rommy explains. "It makes it easier for people." The company purchased a van this spring and now offers delivery in much of the Memphis area. There's a $250 minimum, with a $10 fee for orders under $500. The program is still ramping up. "We're just now rolling it out—it hasn't really gotten going yet," Joshua says, noting that navigating the new regulations with the Tennessee Alcoholic Beverage Commission took some time. "We're doing a soft launch with family, friends and organizations we work with regularly." But the company sees huge potential in the delivery program, which it recently began promoting on the website, in the store's drinks magazine and to its 4,000 email subscribers. "When we get the delivery program running, our e-commerce sales will quadruple in a year's time," Joshua says. However, the store's efforts will remain restricted to the broader Memphis region for now, since Tennessee's laws still prohibit any form of shipping. "That's not changing," he says. "I wish it would."
Selection And Strategy
The Hammonds' renewed focus on the website is just a part of their plans to adapt their business model before grocery stores begin selling wine in 2016. They take the threat seriously. "The pie is only so big," Rommy says. "Every time you put another slice in the pie, there's less pie to go around—less of your product that you're going to be able to sell."
Joshua admits that it's difficult to estimate the effect the new competition will have. "There's really no good data," he says. "The last state that made a change like this was Iowa in 1986." He foresees a potential hit of 10 percent to 25 percent of the wine business, but expects the change will be gradual. "It'll take away a lot of the convenience bottles," he explains. "The wine and spirits enthusiast and the one-stop shopper will still be here." Rommy agrees, noting that the store's status as a destination shop will protect it. "People drive here from half a state away," he says. "I don't think wine in grocery stores will be as detrimental to us as to other stores that don't have our customer base or knowledge."
In addition to growing the company's online presence, the Hammonds are launching a full renovation of the store—including new flooring, a new ceiling and new counters—and expanding the Buster's footprint from 10,000 square feet to 16,000 square feet. The expansion in particular will allow the store to make a big push into new categories it previously couldn't sell. "Before, we were just limited to wine, spirits and high-gravity beer," Joshua says. "Now the way is wide open to any direction you want to go."
The store's most obvious expansion is into craft beer, and as part of the renovation, the number of cooler doors at Buster's is expected to roughly triple from 11 to over 30. "We just didn't have the space to do everything we wanted with beer," Joshua says, noting that the store's beer space will quadruple. Accessories like corkscrews and Riedel stemware have also recently been introduced and quickly found an audience. "It's truly refreshing for us to be able to sell some of these items that have long made sense for our market," he adds.
Buster's is also expanding into other categories, such as gourmet food, including meats, olive oils, crackers and cheeses. The Hammonds are even considering opening a dedicated cheese shop in the future. The new items were initially only available in-store, but now appear online as well. "We didn't post all the new items to our online inventory until this year," Joshua explains. "But now they're all up there, and it makes the store look that much more impressive, especially online."
Buster's carries around 10,000 SKUs across all categories, and nearly all of them are available on the website. Wine leads the pack with about 5,000 SKUs, followed by spirits, beer and other items. Overall store revenue in 2014 was about $17.4 million. "We feel like this expansion will get us to $20 million and beyond fairly quickly," Joshua says.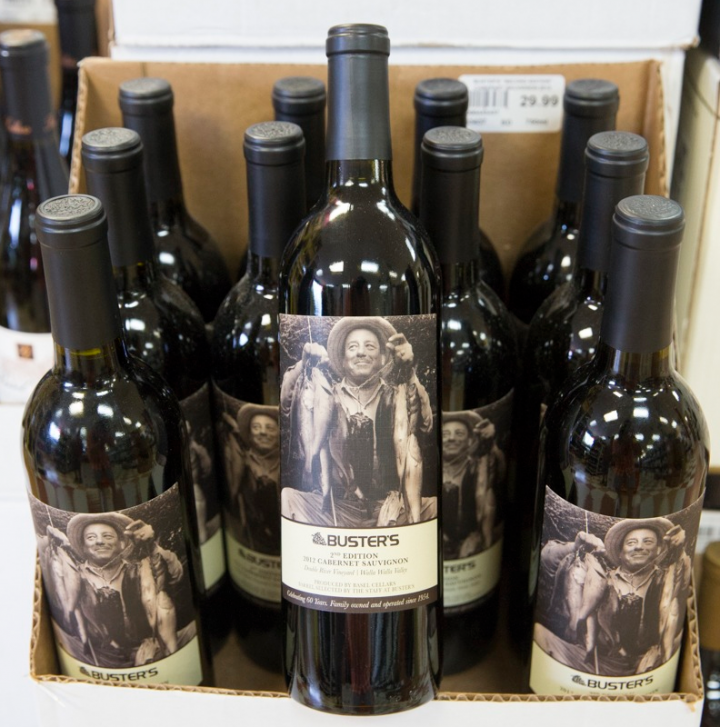 Wine drives about 52 percent of the business, down from a high of 62 percent before the recession. "We'd had really stable growth in overall sales, and then in 2007 and 2008, it started to go the other way," Joshua says. "That hadn't happened in 45 years. Folks were trading down or over to whiskies and vodka." The store's top wine is Meiomi Pinot Noir ($21.99 a 750-ml. bottle), which sold 1,000 cases last year. "It's on pace to eclipse that mark this year," Morgan notes. The store's series of private label wines—created in partnership with Washington's Basel Cellars—also do well. In addition, the rosé business has grown quickly.
Spirits comprised most of the remaining sales before the legislative changes took effect, and beer makes up a small portion. "Last year, beer was around 1.5 percent, and this year, it's at 2.5 percent," Joshua explains, adding that the category will increase dramatically once the store's expansion is complete. Beer and other new items have grown quickly in 2015, already approaching 5 percent of the business. "Our goal is to get beer up to at least 10 percent," Rommy says.
Wine leads the burgeoning online business. "Customers want the stability to search our website, see that we have what they want and just place an order," Joshua explains. As a result, online receipts run at around $200, higher than the average in-store ticket.
Premiumization in whiskies is the dominant trend on the spirits side, although Joshua notes that vodka remains a popular seller. "There's just not as much excitement in that category now as there is with whiskies," he says. "Vodka has gotten oversaturated with all the different flavors and complete premiumization." Morgan agrees, but notes that labels like Svedka, Tito's Handmade, Absolut, Ketel One and Burnett's still rule in depletions and dollars.
Unsurprisingly, the store does well with Bourbon, although getting enough supply can be a challenge. "We receive the lion's share of it in the region, but there are plenty of things we're not able to get our hands on," Joshua says. Buster's also offers about 15 single barrel offerings selected by the store, with George Dickel 9-year-old ($49.99 a 750-ml. bottle) and George Dickel 14-year-old ($69.99) offerings performing particularly well. "We've been doing barrels for years," he says. "There's no doubt that the customer is getting a better product at the end of the day because we're choosing it."
Future Commitment
Morgan and Joshua have largely run the business for the past 15 years, although Rommy still comes to the store for around half an hour every day. The brothers have kept the company's longtime commitment to customer service. "We bend over backwards to do whatever the customer wants," Rommy says. "That's been consistent through the years. We used to open doors for the
guests as they came in and when they left. We have electronic doors now, but that smile and customer service are still there."
Ever since the store was founded, Tennessee law limited Buster's to a single location. That restriction has also changed, and the Hammonds are considering expansion beyond a single brick-and-mortar store. "We've made a few offers," Joshua says. "We'd love to have another location in the more affluent areas of Memphis." Online innovation hasn't stopped either, and the company is planning to revamp the website later this year. "We're meeting with a local marketing and PR firm to give us a refresh on our website look," he adds, noting that the update won't be a drastic change. "We hope to have that new look in place by the end of the summer."
The changes all play a part in the overarching goal of keeping Buster's Liquors & Wines modern and vibrant. "We've been a destination shop in our region for many years," Joshua says. "I'd like to think we'll be the ultimate destination shop from here on out."