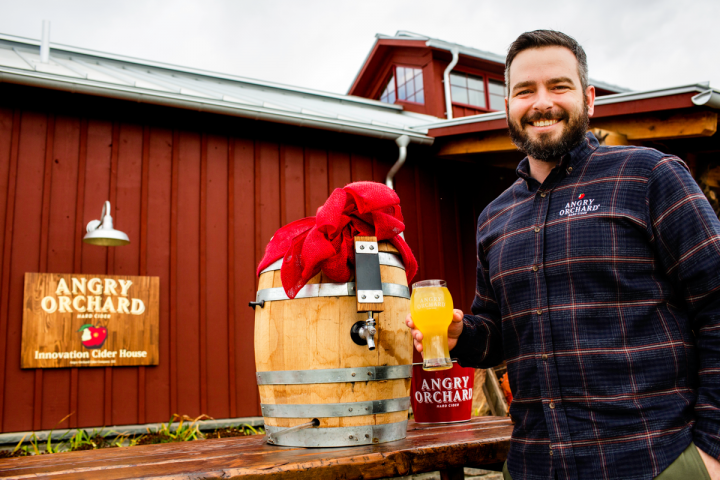 Few categories have experienced such explosive growth as cider over the last few years. Although the overall rate likely slowed somewhat last year, cider grew 61 percent in 2014, according to Impact Databank. As the category has gotten more crowded, brands aiming to differentiate themselves have released unusual variants. These include ciders that are made with fruits other than the traditional apple, aged in barrels, flavored with new ingredients or influenced by smoke. Check out this lineup of the latest alternative-style and flavored ciders.
Orchard's Edge Knotty Pear and The Old Fashioned
This month, Boston Beer Co.–owned Angry Orchard launched the new Orchard's Edge range, which features ciders with unusual ingredients and aging processes. The first two releases are Knotty Pear and The Old Fashioned, both 6.5-percent alcohol-by-volume (abv). Made with apple juice and pear juice, Knotty Pear has notes of citrus and mint with a dry finish. The apple-based Old Fashioned is aged with dried tart cherries, navel orange peel and charred Bourbon barrel staves. The Orchard's Edge offerings are available nationwide with a suggested retail price of $10.99 a six-pack of 12-ounce bottles, and both will roll out on draft in select accounts this spring.
Ace Space Bloody Orange
Sebastapol, California's Ace Cider is known for its wide array of flavors, including Apple Honey, Pineapple, Pumpkin and the pear-flavored Perry. Last fall, just in time for the release of Star Wars: The Force Awakens—and in homage to Ace founder Jeffrey House's wife Angela, who appeared in the famous cantina scene in the original Star Wars—the company launched an offering to celebrate the series. Ace Space ($5.99 to $6.99 a 22-ounce bottle) blends fresh-pressed apple cider with blood orange purée. Recommended as an alternative to Mimosa cocktails, the unfiltered 6.9-percent abv cider is available nationwide.
Woodchuck Campfire Pancakes
Middlebury, Vermont–based Woodchuck Hard Cider debuted its Out on a Limb series of limited-edition offerings in September 2014. The seventh installment, Campfire Pancakes ($10.99 a six-pack of 12-ounce bottles), is a small-batch cider infused with smoked apple pomace from meat purveyor Vermont Smoke & Cure and Vermont maple syrup from a local sugarhouse. The 5.5-percent abv variant is available through April in limited quantities.
The Washboard
Healdsburg, California's Sonoma Cider added The Washboard to its core lineup in January. Originally launched in March 2015 as a limited-time offering, The Washboard ($8.99 a four-pack of 12-ounce bottles) is the company's fourth core flavor, joining apple-based The Hatchet, pear-based The Pitchfork and Bourbon-flavored The Anvil. The Washboard is made with Pacific Northwest apples blended with Indian sarsparilla and vanilla. It has a similar flavor profile to root beer, although the company notes that its sweetness level is lower than many commercial hard root beers. The 5.5-percent abv cider is available in most markets.