In recent weeks, a host of fruited beers have come on stream, ranging from shandies to berry ales to fruit-infused wheat ales and stouts. The following fruity entries are a mixture of limited edition and year-round releases, all adding bright flavors to wintery months.
Traveler Beer Co. Lucky Traveler Blackberry Shandy
Vermont-based Traveler Beer Co., part of the Boston Beer Co. portfolio, has released a new spring seasonal. Lucky Traveler Blackberry Shandy is a 4.4-percent abv wheat ale brewed with blackberries, and joins Traveler's Grapefruit Shandy in the brewery's current lineup. The new entry is available across the U.S. in six- and 12-packs of 12-ounce cans and on draft. Additional information can be found at Travelerbeer.com.
Boulevard Brewing Jam Band
Kansas City's Boulevard Brewing Co. has re-released Jam Band fruit ale. First launched last summer as a draft-only limited release, Jam Band now returns to the Boulevard portfolio as a year-round offering. The 5.9-percent fruit ale is made with blueberry, raspberry and cherry juices, along with a simple malt base, and will be available in six-packs of 12-ounce cans, as well as on draft. Visit Boulevard.com to learn more.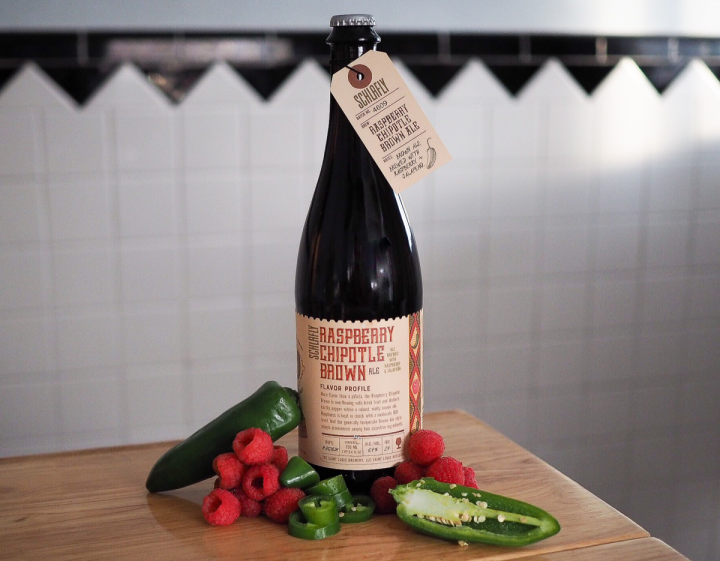 Schlafly Raspberry Chipotle Brown Ale
St. Louis–based Schlafly Beer has launched Raspberry Chipotle Brown Ale, the first release within the brewery's redesigned Cellar Selections range. Brewed with fresh raspberries and smoked, dried jalapeños, the new 5.9-percent abv entry is packaged in a 750-ml. bottle that highlights the beer's experimental development process through a descriptive label and neck tag. Raspberry Chipotle Brown Ale is currently available at Schlafly's brewpubs and will hit limited markets across the brewery's distribution later this week. For additional information, visit Schlafly.com.
Massachusetts Bay Brewing Co. UFO Apricadabra
Boston's Massachusetts Bay Brewing Company has launched UFO Apricadabra, an apricot-infused Hefeweizen. Brewed with apricot purée, the 4.8-percent abv wheat ale is an unfiltered and sessionable offering. As the brewery's newest seasonal release, Apricadabra will be available through March on draft, in six-packs of 12-ounce cans and bottles, and in UFO's Jet Pack spring sampler 12-pack. For more information, visit Ufobeer.com.
Urban Artifact Pocket Watch
Cincinnati, Ohio–based Urban Artifact has released Pocket Watch, a Midwest-style fruit tart ale. The new beer clocks in at 8-percent abv and is brewed with black currents, red plums and vanilla beans, resulting in bright flavors and low bitterness. Urban Artifact used its house strain of lactobacillus yeast in the brew as well. Pocket Watch is available now on draft and in 12-ounce cans in Ohio and Northern Kentucky. Artifactbeer.com has more information.
Catawba Brewing Chocolate Cherry Stout
North Carolina's Catawba Brewing has launched Chocolate Cherry Stout within its four tasting rooms. Aged on locally sourced cacao beans and conditioned on tart cherries, the 6.7-percent abv beer was the final release in Catawba's 2017 Small Batch program, and is available for a limited time only. For more information, visit Catawbabrewingcom.