New Zealand wine continues its ascent in the U.S. market, with bottled table wine shipments rising by 12% to 5.9 million 9-liter cases last year, according to Impact Databank. The category has become the dynamic growth driver among Southern Hemisphere wines, as Chile, Argentina, and Australia all showed declines last year. "This is unprecedented growth," says Julian Grounds, chief winemaker at New Zealand producer Craggy Range Vineyards. "We've really seen it pick up over the last five years, and it's showing no signs of slowing down." Indeed, the U.S. remains New Zealand's top export market, with export shipments increasing 6.7% to NZ$557 million ($359 million) in the 12 months through June 2019, according to the New Zealand Winegrowers Trade Group.
As an oceanic island, New Zealand boasts a maritime environment that offers a diverse range of microclimates across its regions and sub-regions. "A range of soil types and micro-climates differentiate the sub-regions and influence the flavor and textural profiles of wines that come from each," says Whitehaven Wines chief winemaker Peter Jackson. Marlborough—which consists of the Southern Valleys, the Wairau Valley, and the Awatere Valley—is the most well-known wine region in the country, with star varietal Sauvignon Blanc accounting for 73% of wine production there, according to Impact Databank.
Sauvignon Blanc's Success
New Zealand wine is indeed overwhelmingly led by Sauvignon Blanc, which accounted for 86% of New Zealand's wine shipments globally last year, according to Impact Databank. "New Zealand wine is still defined by Sauvignon Blanc," says Chris Zaborowski, co-owner of Louisville, Kentucky-based Westport Whiskey & Wine. Of Westport's six New Zealand wine SKUs, four are Sauvignon Blancs, including Lobster Reef ($14 a 750-ml.) and Innocent Bystander ($17).
At Hoboken, New Jersey-based Sparrow Wine & Liquor Co., three of the top 25 overall wines of 2019 were New Zealand Sauvignon Blancs; No. 2 was the 2018 Kim Crawford ($15 a 750-ml.), No. 4 was the 2018 Oyster Bay ($15), and No. 6 was the 2018 Matua ($11). "These wines sell themselves," says owner Armando Luis. "The staff doesn't even push them—their success is just organic."
The big names in New Zealand wine thus depend heavily on Sauvignon Blanc. Category leader Kim Crawford—which outpaced the New Zealand category with growth of 2.8% last year to 1.37 million cases—owes 90% of its business to the varietal (its flagship retails at $18 a 750-ml.). And E. & J. Gallo Winery has three New Zealand brands—Whitehaven ($20), Starborough ($15), and Saint Clair Wine Estate ($25)—that produce only Sauvignon Blanc. Craggy Range boasts a wide-ranging portfolio, but the top seller is its Sauvignon Blanc ($22). "Sauvignon Blanc is our most widely planted grape," says Grounds. "We're always focusing on making the quality of it as high as possible."
Boston-based 90+ Cellars tapped into New Zealand Sauvignon Blanc back in 2009 with the launch of Lot 2 ($10 a 750-ml.). Out of the six Sauvignon Blancs in the 90+ Cellars portfolio, Lot 2 is the biggest seller, largely thanks to its low price point. 90+ Cellars vice president and wine director Brett Vankoski says that the company originally decided to launch Lot 2 after seeing New Zealand Sauvignon Blanc skyrocket in popularity in the U.S. "People who drank white wine began looking for a fresher alternative," Vankoski says. "And then along came this particular Sauvignon Blanc from New Zealand, which had intense aromatics and was wonderfully balanced and crisp."
But New Zealand's winemakers are looking to loosen their reliance on the varietal. "Obviously Sauvignon Blanc is what put New Zealand on the map, but we're working quite hard to show what else we can do," says Seifried Estate Winery manager Anna Seifried. While Seifried's top seller remains its Sauvignon Blanc ($16 a 750-ml.), competition with the bigger names' offerings can seem futile. "If people already have a favorite, it's hard to go in and knock someone else off its perch," she adds.
Pinot Noir's Progress
Many of the smaller, family-owned New Zealand wineries—including Dry River Wines, Millton Vineyards & Winery, and Felton Road—actually opt out of making Sauvignon Blanc. "We used to produce one, but pulled it in 2006," says Dry River chief winemaker Wilco Lam, explaining that as Marlborough Sauvignon Blanc grew in popularity and started to take over the supermarket space, with prices decreasing as a consequence, Dry River couldn't compete and shifted its focus to other varietals like Pinot Gris, Gewürztraminer, and Pinot Noir.
Gradually, U.S. wine consumers are becoming aware of New Zealand Pinot Noir. "It's a huge part of our New Zealand portfolio," says Thomas Smith, wine buyer at California retailer K&L Wine Merchants. The three-unit store carries 43 New Zealand Pinot Noirs—compared to only 27 Sauvignon Blancs—with customer favorites including the 2018 Matt Connel Rendition ($30 a 750-ml.), the 2014 Te Whare Ra ($30), and the 2017 Akitu A2 ($25).
At Millton, Chenin Blanc is the winery's top seller, but its Pinot Noir ($30 a 750-ml.) is an anchor. "Due to our proximity to the south Pacific Ocean, we have cooling sea breezes—much like Sonoma, Carneros, and Santa Barbara—so we can grow the grapes successfully," says Grounds of Craggy Range. And Felton Road—located in Central Otago—currently has five different Pinot Noirs on offer, retailing from $60-$90.
The big names are also active in the varietal. Kim Crawford's Pinot Noir ($20 a 750-ml.)—launched in the U.S. in 2002—accounts for a tiny percentage of sales, but is seeing growth. "In New Zealand, our Pinot Noirs are generally appreciated for their freshness and lush aromatics—compared to the riper flavors of California Pinot Noirs—thanks to a hotter growing climate," notes Kim Crawford's head winemaker, Anthony Walkenhorst.
Grounds of Craggy Range says Pinot Noir is the "epitome" of what winemakers hope to achieve. "I've seen New Zealand Pinot Noir become quite a significant category in recent years," he says. "Maybe not by volume yet, but definitely by awareness—the global appetite is high." Craggy Range's Te Muna Pinot Noir retails at $45 a 750-ml. and its Aroha Pinot Noir at $105.
Pinot Noir is also seeing progress in the on-premise. At Terrace, a New World wine bar in the Times Square Edition Hotel in New York City, the 2015 Seresin Leah ($110 a 750-ml.) is particularly popular with customers. "People are now willing to try different grape varieties from New Zealand as they embrace more modern regions," says wine director Amy Racine. Customers also favor New Zealand Pinot Noir at The Musket Room in New York City, whose options include the 2013 Seresin Estate Rachel ($20 a 5-ounce pour), the 2014 Mountford Estate ($17), and the 2014 Cloudy Bay Te-Wahi ($20).
At Memphis-based retailer Doc's Wine, Spirits, & More, general manager Mike Jones is similarly noticing the emergence of New Zealand Pinot Noirs, led by offerings from Kim Crawford ($18 a 750-ml.) and Hillersden ($25). "Sauvignon Blanc certainly leads all New Zealand wine sales," he says. "But Pinot Noir is an up-and-coming category, and sales are high."
Premium Positioning
The growth New Zealand wines show at retail comes despite their higher prices. "These wines retail at the $15 price point and higher, and they're outselling the under-$10 wines," says Sparrow's Luis. "People are willing to spend more because the category is attractive."
E. & J. Gallo's upscale Saint Clair Family Estate performs well, with its Origin Series Sauvignon Blanc retailing at $28 a 750-ml. "We've seen consistent double-digit growth in the super-premium New Zealand Sauvignon Blanc category in recent years," says E. & J. Gallo Winery's vice president of marketing, Molly Davis. Observing the consumer willingness to pay more, Kim Crawford launched its Signature Reserve Sauvignon Blanc in 2018, retailing at $25.
Craggy Range has always played in the luxury arena, and continues to make gains there. "We had a deliberate strategy from the start that we would only position ourselves at premium and above," says Grounds. Super-premium Craggy Range offerings include Le Sol Syrah ($105) and Sophia Bordeaux Blend ($75). Being at the high end has lent Craggy Range success in the on-premise, especially at Michelin-starred restaurants.
"We're always focusing on quality, which leads to wines getting higher price points," says Dry River's Lam. Dry River produces limited releases including the Craighall Selection Riesling ($40 a 750-ml.) and Craighall Tempranillo ($50); only 450 of each are made, and they're sold directly to wine club members. And Greywacke Winery—whose flagship Sauvignon Blanc retails at $23—recently debuted the 2017 Wild Sauvignon Blanc at $29. "It's got a price premium, due to the fact that it takes us 18 months to produce," says proprietor Richard Ellis, who describes the wine as a softer, richer, and more savory style of the varietal.
K&L Wine Merchants—which caters specifically to the higher end—sees consistent customer interest in quality, and only carries products from upscale producers. "We look for a certain type of producer that's focused on quality, operates at a higher price point, and is driven by small-scale winemaking," Smith says, pointing to Tongue In Groove Wines, Greystone Cellars, and Mount Edward Winery as some of those makers.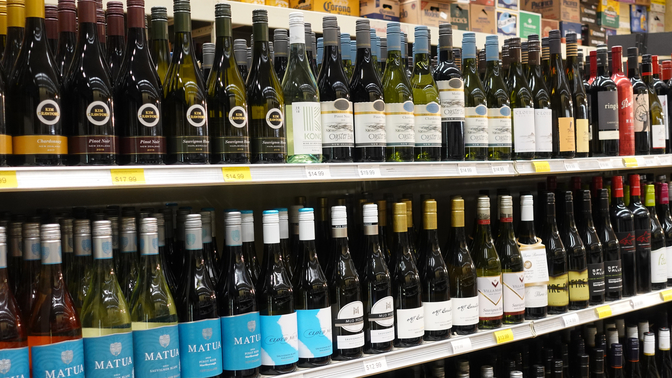 The Innovation Element
New Zealand wine brands are also looking toward innovation, with more and more big brands releasing a variety of packaging alternatives. In late 2019, Kim Crawford added canned wines to its range, retailing at $13 a 2-pack of 250-ml. cans. E. & J. Gallo's Whitehaven and Starborough brands also offer new packaging formats; Whitehaven launched a 375-ml. option in January, retailing at $14, and Starborough offers a 2-pack of 250-ml. cans at $14.
New Zealand's producers have modernized from the start by choosing screw caps over corks. "The screw caps are definitely a factor of New Zealand's success," says Sparrow's Luis. "People gravitate toward them since they're easier to open." Racine of Terrace concurs. "New Zealand uses screw caps for everything, which speaks to more modern consumers," she says.
In terms of marketing, Kim Crawford employs TV and digital advertising, as well as social media and experiential programming. It launched the "Make It Amazing" campaign last year, and partnered with the United States Tennis Association as the official wine of the U.S. Open. E. & J. Gallo's Whitehaven brand, meanwhile, launched its "Your Haven Awaits" campaign last year across print and digital platforms.
Smaller New Zealand brands, of course, rarely have the budgets for such major marketing efforts. "We utilize social media, as it gives us a global reach, but we mostly like our growth to be organic so we can remain sincere," says Millton. Greywacke also uses social media, but mostly relies on recommendations by restaurateurs and sommeliers, while also holding wine dinners and tastings. Dry River connects with existing customers through mailing lists and at tastings and road shows. "When it comes to our brand, authenticity is key," says Dry River business manager Sarah Bartlett. "We focus on talking about our wine and all it takes to make it, from the fruit to the terroir to the people."
Sustainability Advantage
Sustainable vineyard practices are second nature to New Zealand's winemakers. Under the Sustainable Winegrowing New Zealand program, winemakers must employ environmentally responsible methods. "Sustainability is a major value in New Zealand—for all producers," says Millton, whose winery was the first verified organic and biodynamic wine estate in the Southern Hemisphere. "Since our vineyards are dry-farmed, we don't use any irrigation—so no energy is used to grow our vines."
Dry River upholds similar eco-friendly values. "We're very conscious about our farming style," says Lam. "We try to enhance health and life in our vineyards so we can pass on a piece of land to the next generation in a better state than we found it." Dry River embraces biodynamics and kaitiakitanga, a Māori principle referring to guardianship of the land.
Seifried relies on something else to stay sustainable—sheep. "We bring in around 3,500 lambs twice a year," Seifried explains. "During winter, after all the grapevines have been pruned, we get sheep to clean up the weeds and grass and fertilize as they go, rather than using a tractor." The sheep also eat grape leaves, opening up the canopy to sunshine and thus thwarting pest problems that would have required sprays.
Felton Road has been a zero-gross winery for 15 years. "We're committed to never produce more than our regular production, which is about 12,000 cases a year," says proprietor Nigel Greening. "That's all we'll ever make, to maintain our environmental credentials." The winery also works on longer-term viticultural plans, like adapting soil particles to the vineyard's macro-biological ecosystem. "Things like that are quite technical, but they're geared to the idea of paying attention to what's going on under our feet," Greening explains.
These sustainable attitudes translate over to sales, as organic wines generally appeal to health-conscious and environmentally friendly wine consumers. At Terrace, Racine offers a wine list of solely sustainable offerings, including the 2018 Huia Sauvignon Blanc ($72 a 750-ml.) and the 2017 Kumeu River Village Chardonnay ($95). And The Musket Room's menu offers customers education on how wines can be biodynamic, organic, and sustainable.
Moving Forward
While frontrunners like Kim Crawford continue to rule the New Zealand wine category, smaller players are banding together to share insights on everything from vineyard practices to distribution technicalities. "In terms of international competition, we're all in the same boat," says Seifried. "We're all facing the same challenges of shipping times and exchange rates and finding trade partners that we can work with from the other side of the world."
This team effort to build upon New Zealand's wine industry should endure. "There's good collaboration, which is healthy," says Millton. "We have cooperation and diversity, rather than competition and control." He adds that New Zealand's presence in the U.S. market should only flourish. "With the efforts of dedicated winemakers, people are now far more aware of just how much this country has to offer outside of Sauvignon Blanc," he notes.
New Zealand still has plenty of runway for growth. While its Sauvignon Blanc has become a star in the U.S., its retail sales pale in comparison to those of other wine regions. "Most of our Sauvignon Blanc SKUs are from California, with handfuls from South America, South Africa, or Australia," says Jones of Doc's. And Westport's Zaborowski notes that New Zealand Sauvignon Blanc still trails far behind the U.S. and France. The country's winemakers know there's ground to cover. "There's still work to be done," says Seifried. "It's just a matter of getting New Zealand wines out there and getting a glass in people's hands."