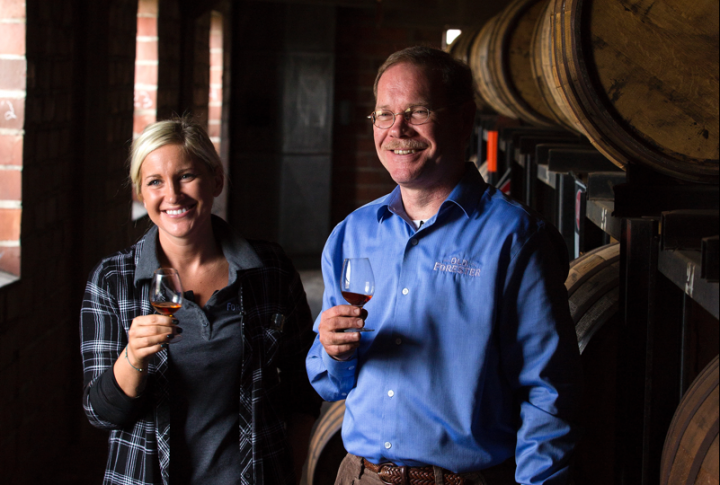 For Bourbon lovers, the fall season brings a slew of special releases, including Sazerac Co.'s Buffalo Trace Antique Collection and Old Rip Van Winkle range, Four Roses Limited Edition Small Batch, and Parker's Heritage Collection from Heaven Hill Brands. Released annually on September 2nd—the birthday of company founder George Garvin Brown—Brown-Forman Corp.'s Old Forester Birthday Bourbon kicks off the season of highly anticipated new whiskies. This year marks the 15th anniversary and 16th release of the limited-edition Bourbon.
Each Old Forester Birthday Bourbon is made from a batch of whiskey that's distilled on a single day at the Brown-Forman distillery in Shively, Kentucky. Over the years, batch sizes have ranged from as few as 20 barrels for the inaugural release in 2002 to 98 barrels in 2009. In 2003, the company offered a Birthday Bourbon in both the spring and fall, but it has since reverted to a single annual release. Employing a vintage date rather than an age statement, the whiskey is typically 12 years old, although some releases have been as young as 8 years old.
The 2016 Old Forester Birthday Bourbon comes from 93 barrels distilled on June 4th, 2004. Brown-Forman master distiller Chris Morris has chosen every batch since the label was created, and this year, Old Forester global brand ambassador Jackie Zykan joined him in the selection process. The pair also decided on the bottling strength, which clocks in at 46.5-percent abv. The 2016 Birthday Bourbon has a suggested retail price of $79.99, and only 1,200 nine-liter cases are available across Brown-Forman's distribution network.
As Bourbon's star has risen in the last few years, consumer frenzy over sought-after labels has become the norm, and fears of a whiskey shortage have run rampant. The September 2016 issue of Market Watch features a full report on the current state of Bourbon—including some promising outlooks on the category's future. Subscribe to the print edition of Market Watch here and follow us on Facebook and Twitter for updates.