California wine continues to rule the U.S. market, with its volumes dwarfing those of imports. According to Impact Databank, California table wine, at 206 million cases in total last year, accounted for 71% of the U.S. market's table wine consumption in 2018 versus imports' 23% share. In the on-premise, California also shows its prowess, maintaining its dominance on drinks lists across the country. "California is an approachable category—most American drinkers find it easy to understand since it's from a familiar place," says Nathaniel Muñoz, general manager and sommelier at Bar Avalon in Los Angeles.
California's strength lies in its wide variety. "There are traditional offerings like Chardonnay, Cabernet Sauvignon, and the sparklers," says Taylor Shaver, general manager at FireLake Grill House & Cocktail Bar in the Radisson Blu Mall of America in Bloomington, Minnesota. "But there's also Zinfandel, Pinot Noir, and much more—everything, from light to heavy."
California wine's on-premise dominance was largely built by baby boomers, and today's winemakers are working to build relationships with younger generations. "Generations Y and Z have established an interest in the category," asserts Pete Przybylinski, senior vice president of sales at St. Helena-based Duckhorn Vineyards. "They have disposable incomes and like to go out to eat and order wine."
At J. Lohr Vineyards, which has facilities in Paso Robles and San Jose, CEO Steve Lohr says that while boomers remain his estate's core consumers, millennials are becoming increasingly relevant, especially in the on-premise. "They don't have decades of wine drinking experience to guide their choices, so we're trying to stand out and teach them about the true enjoyment factor of California wine," he notes.
Tom Steffanci, president of Deutsch Family Wine & Spirits, which owns Josh Cellars, says Josh works to establish emotional connections with younger consumers. "Our marketing campaign is less about advertising and more about honest storytelling," he says. "We've boiled down our founder's stories and shared them, and they build meaning with consumers." Josh Cellars offers those stories through digital video on Hulu, NBC on Demand, YouTube, and Instagram. Kendall-Jackson is also taking to social media to connect with younger consumers, appealing to them by running contests through dating apps.
Competition At The Bar
While California wine's presence in the on-premise remains far-reaching, cocktail culture and the rise of hard seltzers have put a dent in its market share. "Wine in general is in competition with cocktails and alcoholic seltzers in an increasing number of states," notes Sam Bon, national sales manager at Bogle Vineyards.
But Deutsch's Steffanci believes that California wine coexists well with cocktails in the on-premise. "Consumers might start their evening with a Rye Old Fashioned before enjoying a California Cabernet Sauvignon with their steak," he notes. Dave Derby, senior vice president of marketing at Trinchero Family Estates, has a similar take. "Wine and cocktails are complementary," he says. "On-premise accounts want to present guests with a well-rounded experience."
Duckhorn's Przybylinski sees many younger on-premise consumers experimenting with craft cocktails at the bar. "I'd rather they were drinking wine, of course, but craft cocktails are high-end and high-quality, and that search for quality and experimentation with flavors ultimately creates a nice fit with wine," he says.
Korbel Champagne Cellars is one brand that's tapping directly into the cocktail boom, posting numerous wine cocktail recipes on its website. "We offer several cocktails, both classic and trendy, depending on the concept," says Korbel president and owner Gary Heck. Among them are the Agave Avenger, mixing Korbel Sweet Cuvée with El Jimador Blanco Tequila, lemonade, and pomegranate juice; the Holiday Honey, comprising Korbel Brut and Jack Daniel's Tennessee Honey flavored whiskey; and the Ruby Rose, featuring Korbel Brut Rosé, Chambord liqueur, and cranberry juice.
FireLake's Shaver dismisses the cocktail threat. "Reading through a craft cocktail menu—you don't know what that taste profile is going to be," he says. "If I'm only going out to have one drink, I want to make sure it's something I'll enjoy, especially with food, so I'm going to order a California wine."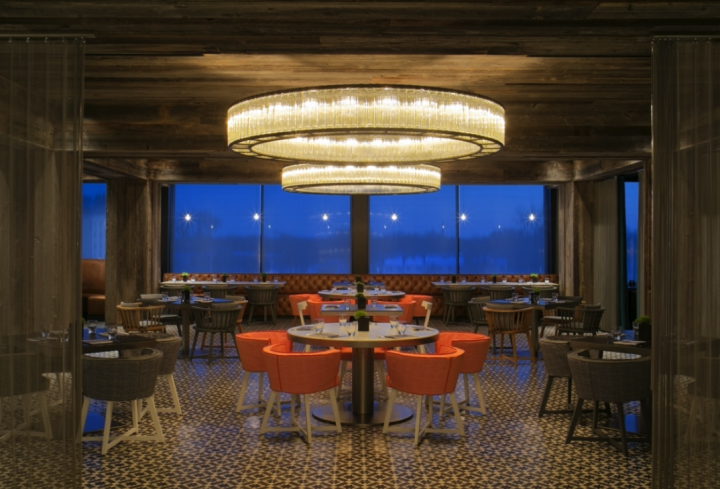 Close Collaboration
Because of their presence as domestic players, California winemakers have a bit of a home-field advantage in terms of working the on-premise. At Terranea Resort on the coast of Los Angeles' Palos Verdes peninsula, beverage director and sommelier Alicia Ajolo partners with a number of different wineries, including La Crema, Grgich Hills Estate, and Dragonette Cellars, working closely with their winemakers to build out the wine menu. Bar Avalon, meanwhile, works with Tablas Creek Vineyard, Gran Fondo Wine Co., Antalya Imports, Azienda Agricola Cirelli, and Champagne Val'Frison; many of the winemakers visit the menu to host tastings. "Having the winemakers visit encourages a passion for their wine," Muñoz says. "Guests always walk away with a bottle, along with a smile and excitement to learn more about wine."
Outside of the Golden State, California still enjoys ample on-premise success. FireLake in Minnesota lists 68 California wines on its menu of 122 total selections. Shaver offers a rotating featured wine to excite guests; recently, he chose Conundrum Blanc de Blanc from Wagner Family of Wine, which hadn't yet hit retail shelves at the time. FireLake also pours the hard-to-find vintage Caymus Special Selection Cabernet Sauvignon. "I've been able to work directly with some wineries to get products that aren't necessarily widely distributed," Shaver explains, noting that the special access functions as a debut of sorts for some wines.
Although some brands, like J. Lohr, favor independent venues, others prefer the wide placement that chain accounts afford. Duckhorn's Przybylinski cites Landry's, Bloomin' Brands, and Ruth's Chris Steak House as key national partners, while Justin Wines teams up with national chains like Landry's, Darden Restaurants, Roy's, and Ruth's Chris, and Josh Cellars works with Chili's, Long Horn Steakhouse, Red Lobster, Joe's Crab Shack, and TGI Friday's. "The chain and independent restaurant concepts attract many of the same consumers who are helping fuel California's growth in the off-premise," notes Josh Cellars' Steffanci. "Growing on-premise, especially by the glass, remains our top priority."
Maggie Curry, director of brand marketing for Kendall-Jackson, sees consumers moving away from chains and toward independent restaurants. The company is using that trend to its advantage in working with the chains. "People aren't going to the fast casual chains as often," Curry explains. "So those chains are now leveraging Kendall-Jackson—they'll have a good deal on a happy hour and opt for Kendall instead of a well offering. It's bringing something of value to encourage people to come in."
Derby notes that Trinchero recently realigned its national accounts team to ensure that it supports both big and small on-premise businesses. "We've been particularly successful in building on-premise programs that work with smaller independent partners," Derby says. He adds that Trinchero often works with strategic partners, like meat supplier Snake River Farms and grill manufacturer Weber, so as to appeal to venues with full-package offerings.
Products And Pricing
While California offers wines at all price points, producers are always looking for ways to premiumize. "Younger drinkers are willing to pay more for good drinking experiences," says Duckhorn's Przybylinski. The 2016 Duckhorn Napa Valley Three Palms Vineyard Merlot and the 2014 Duckhorn Napa Valley Howell Mountain Cabernet Sauvignon (both $100 a 750-ml.) are both successful in the restaurant scene and sell out quickly. "Those offerings work well for independent white tablecloth accounts," Przybylinski explains.
Kendall-Jackson offers Jackson Estate as an exclusively on-premise label in order to avoid conflicts with its off-premise presence. "People are hesitant to order, say, our Vintner's Reserve Chardonnay in a restaurant because it's in every grocery store," says Curry. "But they're willing to take our Jackson Estate Chardonnay from Santa Maria Valley, available only at restaurants." Jackson Estate wines are typically priced between $50-$70 a bottle or $10-$16 by the glass on-premise.
Derby of Trinchero says the key is to offer products across the pricing spectrum. "Our portfolio spans suggested retail prices of $5-$200 a bottle, which gives us a great selection from which to cover a variety of on-premise accounts," he says. Some of Trinchero's top-sellers in the on-premise include the flagship Trinchero Napa Valley ($50-$200 a 750-ml.), as well as offerings from the Mason, Bravium, and Neyers brands ($19-$110).
Amid generational shifts and competition from other categories—as well as impending tariff changes and climate change concerns—California wine's future in the on-premise isn't without its challenges, but restaurateurs and the winemakers see a bright future ahead. "The next generation of winemakers is breaking the boundaries of what the expectation of wine is," says Ajolo. "There's a lot of exploration going on. We're in a new height, it's a new decade, and we're about to see another renaissance."