Bourbon takes center stage at Bourbon Steak, located in downtown Nashville's JW Marriott, where Michael Mina, a Michelin-starred chef, pays homage to the classic American steakhouse. Offering steak, seafood, and bartender Ryan Pendergast also takes guests on a one of-a-kind whiskey and cocktail experience. "Given that we are a destination restaurant, a large part of our clientele comes from out of town, and they want to immerse themselves in our regional culture by trying Bourbons that aren't readily available in their home markets,"says Pendergast. "In addition to selecting our own single barrels from iconic distilleries like Old Forrester, Huber's Starlight, and Woodford, we work diligently with local purveyors to source highly allocated spirits to add to the Bourbon Steak experience."
Bourbon Steak's traditional cocktail list includes an Old Fashioned made with Buffalo Trace Bourbon, as well as the specialty A5 Wagyu Smoked Old Fashioned made with Blanton's Bourbon. The American whiskey menu runs the gamut from Angel's Envy Cask Strength ($35 a 1-ounce pour) to Michter's 20-year-old Bourbon ($250). The restaurant's staff includes a number of Bourbon experts, similar to sommeliers, who work closely with guests looking to expand their palettes. "When guests order Bourbon or whiskey, they're often evenly split between brand preference and curious exploration," says Pendergast.
Despite a flood of new brands and distilleries that have cropped up over the past decade, demand for Bourbon is stronger than ever. Last year, Bourbon and Tennessee whiskey consumption in the U.S. reached 27 million 9-liter case depletions, up from 13.6 million case depletions two decades ago, according to Impact Databank. The total whisk(e)y category grew 6.5% in 2021 to reach more than 44 million cases in the U.S. While the top ten leading Bourbon and Tennessee whiskey brands posted a solid 4.6% growth rate to more than 20 million cases overall, smaller craft brands showed promising growth with a 6.4% rise to about 6.7 million cases in the U.S.
The largest Bourbon and Tennessee whiskey brands on the market have maintained solid growth trajectories. Jack Daniel's Tennessee whiskey grew nearly 10% last year to more than 16.6 million case depletions worldwide. Brown-Forman's other leading brand, the super-premium Woodford Reserve, posted double-digit growth in 2021 to add nearly 160,000 cases.
Kentucky Maintains Its Edge
Bourbon is defined as a whiskey made from at least 51% corn and aged in new oak charred barrels. But within those guidelines, distilleries in Bourbon's home state of Kentucky are discovering ways to innovate during the whiskey-making process to create new takes on a traditional spirit.
Woodford Reserve has become a formidable player in the Kentucky Bourbon space, achieving an average annual growth rate of 20.2% over the past five years and soaring past 1 million cases in 2021, according to Impact Databank. Brown-Forman has invested substantially in the Versailles, Kentucky distillery over the past decade, which has allowed Woodford to keep up with demand as it branches out with new releases. "Our 'five sources of flavor' production philosophy allows us to innovate within the Bourbon standard of identity and provides us with a disciplined process to work within," says Chris Morris, master distiller for Woodford Reserve. Those five sources of flavor—grain, water, fermentation, distillation, and maturation—are apparent across Woodford's extensive lineup of whiskies, which includes not only Bourbon, but rye, malt, and wheat whiskies, as well as experimental whiskies within its Distillery Series and Master's Collection.
In June, Woodford Reserve introduced the latest release in its Distillery Series, Toasted Oak Oat Grain ($60 a 375-ml.). From a base of its Oat Grain Bourbon, originally released in 2018 within the Master's Collection as the first Kentucky Bourbon to have oats in the recipe, the latest edition undergoes a second maturation in toasted new oak barrels. "We continue to investigate how a double-oaked barrel finish impacts different mashbills," says Morris.
Nashville-based Sweetens Cove is also exploring beyond the boundaries of traditional Kentucky Bourbon with its latest whiskey, Kennessee Bourbon ($59 a 750-ml.). The blend of Kentucky Bourbon and Tennessee whiskey was created by master blender Marianne Eaves to honor both classic styles of whiskey. Founded in 2020, Sweetens Cove is named after a golf course in Marion County, Tennessee that was bought in early 2019 by Payton Manning, Andy Roddick, Tom Nolan, Rob Collins, and real estate developers Mark Rivers and Skip Bronson. With a distribution footprint of 14 states, Sweetens Cove is focused on interesting limited releases rather than mass produced whiskies. "Like our acclaimed golf course in rural Tennessee, our approach to Bourbon is centered around really great products instead of being everywhere all at once," says Rivers.
With a sugar maple finish reminiscent of Tennessee's Lincoln County process of filtering whiskey through sugar maple wood charcoal, Kennessee's unique flavor profile is created with toasted sugar maple wood spirals added to the blend in American oak barrels. "Why wouldn't we combine Kentucky and Tennessee Bourbon, being the two best Bourbon states in the country," says Rivers, who notes being a smaller craft distiller allows for more opportunity to be flexible and inventive with Bourbon.
Beam Suntory's extensive range of legendary Bourbons has been keeping pace with smaller brands on the innovation front. Last August, the Fred B. Noe Distillery opened, dedicated to seventh generation Beam master distiller Fred Noe. Hardin's Creek debuted this June as an annual release of limited-edition whiskies that includes Jacob's Well, a blend of 15-year-old high-rye content Bourbon, and Colonel's whiskey, which is made by distilling the mash to a lower proof to high- light flavors from the fermentation process. The Hardin's Creek Bourbon range retails for $80-$150 a 750-ml.
The Beam Suntory Bourbon portfolio is designed with a range of consumers in mind. "Our Bourbon portfolio is focused on having a brand and an expression for every legal-drinking-age consumer, no matter what their level of knowledge or love of American whiskey is," says Jon Marks, senior director of global small batch whiskies at James B Beam. He notes that someone who isn't a regular drinker of American whiskey would be drawn to Basil Hayden's, with its light flavor profile and spicy finish, while Knob Creek offers an older age statement to showcase its depth of flavor. Exploring innovations in cask finishes can be found in brands like Legent and Basil Hayden. "Cask finishes have been a hallmark of Scotch and Japanese whiskies for years and have been one of the most interesting ways they develop unique flavors out of their base spirits," says Marks. "Blending is another lever we've explored, as we've looked to brands like Little Book or Legent, which marries Kentucky Bourbon making with Japanese blending techniques."
Innovations On The Rise
As the oldest Bourbon-style whiskey maker in Texas, Garrison Brothers Distillery's small team continues to learn and innovate new processes for unique takes on the spirit. This July, the Hye, Texas-based distillery rolled out its second annual release of Guadalupe Bourbon, a limited release, 53.5% abv Bourbon finished in imported tawny port casks. "Each new release of Garrison Brothers Bourbon is born from what the barrels are telling us, with [master distiller] Donnis Todd and his team tasting dozens of barrels and checking on their progress in the Texas heat," says Rob Cordes, head of marketing at Garrison Brothers Distillery. "In the case of Guadalupe, Donnis began keeping track of a set of barrels with exceptionally fruity, floral notes, and looked for ways to bring those flavors even more to the forefront." After experimenting with barrels from the Texas panhandle, the distilling team settled on tawny port barrels from Portugal's Douro Valley.
In addition to the distillery's Texas Straight Small Batch Bourbon and Single Barrel options ($85 a 750-ml.), Garrison Brothers also innovates with HoneyDew ($70). At the request of Dan Garrison's wife, the distilling team set out to make a honey-forward Bourbon without the use of added sugars or flavors. Using barrels with strong honey notes, Todd developed a patented finishing process for infusing flavor without adding honey itself. The distillery says HoneyDew has been flying off the shelves ever since. "Ironically, most of the innovative processes involved come directly from the restrictions on the Bourbon-making process itself. We have to constantly think outside the box while staying within the legal regulations," says Cordes.
Pernod Ricard's Bourbon portfolio is packed with innovative options for consumers. Jefferson's Bourbon features an Ocean Aged at Sea Bourbon ($70 a 750-ml.), which travels aboard ships crossing the ocean for a unique sea-aging process. Louisville, Kentucky-based Rabbit Hole Distillery recently released its Nevallier Founder's Collection Straight Bourbon aged with French oak ($895). West Virginia's Smooth Ambler produces Contradiction Bourbon ($40) as a blend of whiskies from Tennessee and Indiana. "Within the parameters of what constitutes Bourbon, there is so much room for creativity," says Kaveh Zamanian, Rabbit Hole founder. "Rabbit Hole Dareringer is a great example of taking a beautiful wheated Bourbon to another level by finishing it in Pedro Ximénez Sherry casks."
Hillrock Estate Distillery, located in New York's Hudson Valley, has been taking a unique, grain-to-glass approach to its whiskies since its founding in 2010. Hillrock's tailored line of terroir-driven whiskies includes a Solera Aged Bourbon finished in Oloroso Sherry casks ($85 a 750-ml.). Innovating with the solera aging method, typically used for aging ports and Sherries, Hillrock's Bourbon offers a complex high-rye content Bourbon unlike others in the market. "Within Bourbon, we see a focus on smaller producers like us, who have something a little more unique to offer, like with wine finishes on Bourbon," says Jeffrey Baker, who founded Hillrock with his wife, Cathy Franklin, and late master distiller Dave Pickerell. "We also see consumers gravitating toward the savory side of whiskies, so we've moved our Bourbon up from 30% rye content slowly."
Hillrock also notes demand for cask strength whiskey and single barrels has grown since the pandemic. Barrel collectors are gravitating toward Hillrock's unique cask finishes for both, with demand picking up when on-premise accounts were closed during Covid-19.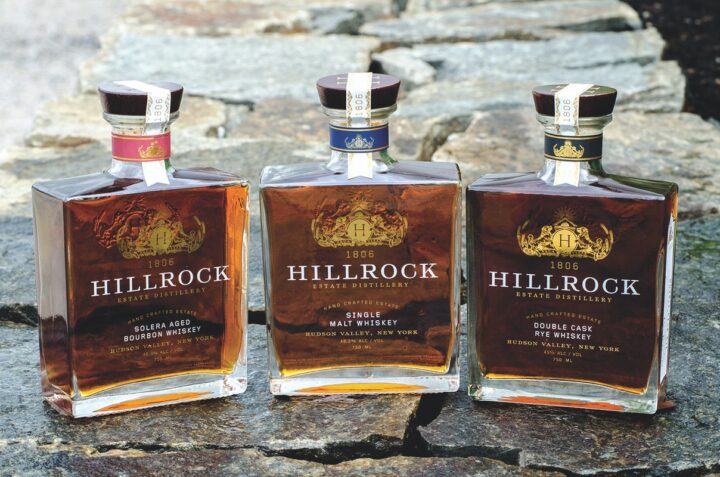 Redefining Bourbon
As more Bourbons come to the market and existing brands continue to push the envelope on innovation, more consumers will continue to flock to a category expanding into new flavor profiles. "Over the past decade, craft and emerging brands have been innovating in the space with their products and methods, driving change and pushing boundaries in a category that to-date has been focused on heritage and set rules that resulted in very little variation or change," says Craig Johnson, vice president of marketing for the American Whiskey Collective at Pernod Ricard USA. "More brands are opening up outside of Bourbon's traditional Kentucky home, and that expansion will only continue."
As Bourbon's popularity is being driven by consumer demand for premium whiskies, some see the category as having more distance to travel to become a leading world whiskey. "Bourbon is still underdeveloped globally versus other whisk(e)y categories like Scotch, but its versatility, mixability, and sweet flavor profile up its appeal to many palettes globally," says Beam Suntory's Marks. "Bourbon volumes in the U.S. are still well short of their historical peak in the 1970s, so the untapped potential is enormous."