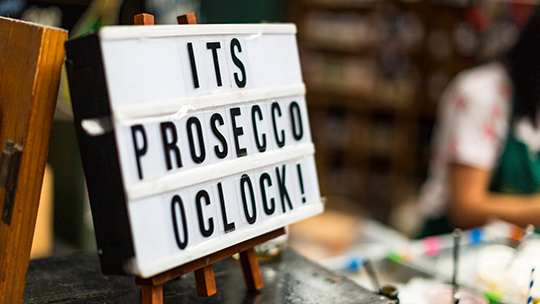 Wine retailers plan to capitalize on Prosecco's momentum this holiday season with elevated inventories, giant floor displays, seasonal pricing specials, weekly advertising, and more. Prosecco, after all, has held steady as one of the fastest growing wine segments in the U.S. over the past five years. With an average retail price of $13 a 750-ml., Prosecco grew 14.3% in dollar sales on an 11% volume gain for the 52-week period ended July 14, according to Nielsen. The category has more than doubled in volume since 2013, and is now more than three times the size of Champagne in the U.S.
"The festive nature of Prosecco makes the holiday season a great time for us to stand tall for the category as a retailer," says Matt Delly, manager of wine merchandising at Total Wine & More. "It sets the mood for the entire store."
Since 2013, Total Wine—which has 191 stores in 23 states—has doubled its Prosecco assortment, and merchandising space has grown in kind. "Prosecco has managed to fill a gap in the sparkling wine category," Delly explains. "The quality of product has improved, and its fruit-forward flavor profile is a perfect fit for the American consumer. It's an affordable luxury."
In all, Total Wine stores carry 84 Prosecco offerings. Delly notes that while the Northeast is the retailer's strongest region by sales volume, its most prolific growth markets are in the West. "We are also seeing a consumer trend in brunching, and Prosecco is the perfect base for Mimosas," he adds. This holiday season, Total Wine plans to create large Prosecco displays at the front of its stores and expand inventory.
Argonaut Liquor in Denver, Colorado, which carries 54 Prosecco offerings, has also seen steady growth for the category. "People are drinking Prosecco during brunch and many of our customers are traveling to Italy, where they can visit Prosecco producers," says Sheila Carey, wine buyer at Argonaut. "Prosecco will only grow as more young adults move away from beer and into sparkling wines."
Argonaut held a large tasting event featuring its sparkling wines, including Prosecco, in September and will hold another on December 1, with a series of informal tastings leading up to the New Year. "During the holiday season we always have Ruffino ($14 a 750-ml.) and La Marca ($17) on the floor," Carey says. Other popular Proseccos sold at Argonaut include Natale Verga ($15) and Lunetta ($12). "We do a lot of bottle deliveries to office buildings ahead of the holidays, and many will order Prosecco in a 5.5-gallon keg as well," Carey adds.
Prosecco is primarily sold in 750-ml. bottles but is widely available in 187-ml., 375-ml., and 1.5-liter bottles as well. The 187-ml. single-serve package, also known as a split, is the category's fastest-growing size format, according to Nielsen. "Similar to the industry, we have seen an increase in sales of small sizes and expect this trend to continue," Total Wine's Delly notes. "We're developing solutions that will make it easier to shop this emerging category."
Prosecco cocktails are also inspiring growth. Traditional advertising channels and social media alike are discussing the mixology trend and providing recipes for consumers. And for retailers like Delly, the Italian sparkler's growth shows no signs of slowing. "We believe Prosecco is here to stay," he says. "It's festive and easy to drink. The 2018 harvest was strong, and so we have no concerns about supply and corresponding pricing in 2019."