For decades, the brandy category has consisted of two distinct parts—value-driven brands on the domestic side, and Cognacs and other high-end spirits on the import side. But with the rise of craft spirits and heightened interest in classic cocktails, a growing number of American producers are creating new opportunities for brandy and redefining what premium American brandy can mean.
"Three years ago, no one spoke about something called American brandy," says Joe Heron, co-owner of Louisville, Kentucky–based Copper & Kings American Brandy Co. The company is widely considered a pioneer in the American brandy renaissance and recently sold a minority stake to Constellation Brands. "When we first looked at brandy, we saw a very large and entrenched category, very limited innovation, very traditional in position, and very polarized in price points from inexpensive value brands to luxury, without anything in the middle." Copper & Kings, now present in 30 states and the District of Columbia, offers a broad portfolio ($30 to $60 a 750-ml.) of apple- and grape-based brandies, as well as absinthe and gin, led by its flagship American Craft brandy ($35), which accounts for about half of the company's sales.
On the surface, the new excitement over American brandies can be difficult to discern. In 2016, the total domestic category, excluding flavors, expanded by 1.2 percent to 6.9 million nine-liter cases in the U.S. market, according to Impact Databank. That modest increase followed a steady decline from a peak of just under 7.5 million cases in 2009. Despite a flood of interest from craft distillers in recent years, three American brands—E. & J., Paul Masson and Christian Brothers—command an aggregate 88 percent of category volume share. While category leader E. & J. was essentially flat at 3.4 million cases last year, second-ranked Paul Masson grew nearly 9 percent to 1.6 million cases, and No.-3 Christian Brothers declined 3.1 percent to 1 million cases.
As with the overall U.S. spirits market, brandy's resurgence is emanating from the category's high end. According to the Distilled Spirits Council, 16 percent of brandy and Cognac growth in 2016 came from super-premium offerings, the largest increase across all segments, while the value segment climbed by less than 1 percent.
While American brandy has been making a splash with the revival of classic cocktails in the on-premise, retailers are noticing the momentum as well. "We've seen growth at nearly every level of the category," says Nima Ansari, spirits buyer for New York City's Astor Wine & Spirits. "What looks like a pretty simple and straightforward category on the surface is actually incredibly dynamic, bubbling with potential and seemingly limitless possibilities for growth."
Gallo's Brandy Moves
E. & J. Gallo is the longtime leader in American brandy, with its E. & J. brand largely defining the category prior to the recent flurry of craft entrants. E. & J.'s growth in recent years has derived from its flavor portfolio, led by Peach, Vanilla and Apple expressions ($13 a 750-ml.), although E. & J. VS ($12) remains its most popular option, followed by VSOP ($13) and XO ($15). Lately Gallo has been investing in the category on a number of fronts. Last August, it acquired high-end California craft player Germain-Robin, whose portfolio retails at about $48 and above. "Germain-Robin's inventory, distillation methods and unique cellaring process have put it on the map as the finest expression of California brandy and have earned it advocacy from the most discerning consumers and critics," says Rob Ruijssenaars, vice president of marketing at E. & J. Gallo Spirits. "American and California brandy are in their infancy in terms of consumer awareness, but they're no longer invisible to the American spirits drinker."
Widely considered to be California's first luxury brandy, Germain-Robin was founded in 1982 by Ansley Coale and Hubert Germain-Robin, the latter's family having been Cognac producers since 1782. The brand made a name for itself by using traditional Cognac methods mixed with California winemaking heritage and grapes, including unconventional brandy varieties like Pinot Noir and Zinfandel.
In a further step into super-premium brandy, E. & J. Gallo has also launched Argonaut, a new label whose portfolio includes the entry-level Argonaut Speculator ($50 a 750-ml.) and scales up to Argonaut The Claim ($230), a limited release. Right now the brand is only available in San Francisco, but Gallo is looking to expand in the near future. "Argonaut and Germain-Robin both offer a variety of expressions, allowing us to showcase the range, depth and distinctiveness of California brandy," Ruijssenaars says.
Although American brandy volumes remain relatively small, Gallo points to several reasons behind its recent flurry of activity. Burgeoning enthusiasm for brown spirits is showing signs of expanding into new frontiers like brandy. And the relatively unfamiliar nature of American brandy is among its major advantages, with today's drinkers on a constant search for new experiences. "We see a growing curiosity for every level of brown spirits, but especially in premium spirits," Ruijssenaars notes.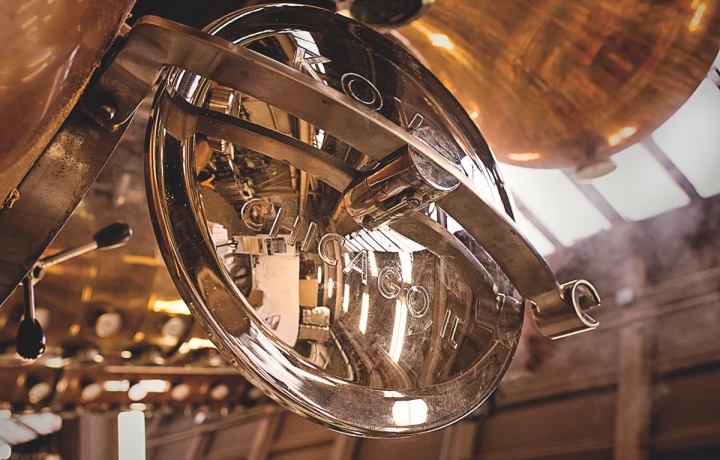 Growing Craft Options
The opportunities in American brandy haven't gone unnoticed by many craft players. Some distillers, like California's Osocalis and St. George Spirits, New Jersey's Laird & Co., and Iowa's Cedar Ridge, have been making brandy for many years, but others such as New York's Neversink Spirits, Texas' Tate & Co. and Tennessee-based Corsair Distillery have more recently entered the category.
Rhine Hall Distillery, owned and operated by a father-daughter team, began producing a line of Austrian-inspired fruit spirits in Chicago's Kinzie Industrial Corridor in 2013. While playing professional hockey in the 1970s in Austria, Charlie Solberg developed a passion for brandy that remained when he returned home to the suburbs of Chicago. Several years later, his daughter, Jenny Solberg Katzman, began noticing a resurgence of craft spirits while living in San Francisco. "A few producers were making brandy, but it was usually a secondary or tertiary product to their core lineup," Solberg Katzman explains. "Most of the time, it wasn't really a focal point of their distillery."
Rhine Hall sources most of its fruit from local farms in the Great Lakes region. The brandy portfolio is rooted in the tradition of Austrian schnapps—many of the company's spirits are unaged and aim to capture the essence of the underlying fruit's flavor. Rhine Hall has explored wide-ranging fruit bases such as Plum brandy ($56 a 750-ml.) and Apricot brandy ($58), with Cherry and Mango (both $56) especially popular. Still, the Apple brandy—available both as a white spirit ($52) and an aged version that spent 12 months in new oak ($56)—remains Rhine Hall's flagship offering. "It's been a lot of fun expanding with different types of fruit while still sticking to the way we make the products," Solberg Katzman says. Rhine Hall's portfolio is currently available in eight states, with most of its sales on-premise in cocktail-focused accounts.
When Steve McCarthy founded Portland, Oregon–based Clear Creek Distillery in 1985, the American brandy category was virtually nonexistent on a broad scale. Inspired by what European farmers were doing with over-abundant fruit harvests, McCarthy began using European distilling techniques at his family-owned pear orchards at the base of Oregon's Mt. Hood as an additional source of income, as well as a sustainable way to use all the orchard's fruit. "Whether you call it farm-to-table or ingredient-conscious, people care about what they put in their mouths," says Clear Creek national sales manager Jeanine Racht.
Now owned by the historic local company Hood River Distillers, Clear Creek produces a variety of clear and aged brandies, as well as McCarthy's single malt American whiskey. Its Pear brandy ($45 a 750-ml.)—made with Hood River Valley Bartlett pears—leads sales, followed by the aged Apple ($30). More esoteric choices like the Douglas Fir eau-de-vie ($50 a 375-ml.) have also found an audience, especially among mixologists. One of its most notable brandies is the Pear-in-Bottle—made in the tradition of a French eau-de-vie with a whole pear grown inside the bottle.
Koval Distillery in Chicago was born from master distiller and cofounder Robert Birnecker's family heritage of Austrian brandy distilling. While Koval also produces whiskey, gin, vodka and a variety of liqueurs, brandy remains a core product. Koval's specialty brandy line, Susan for President, includes a Barreled Peach brandy and Prune brandy (both $49 a 375-ml.), and the company plans to introduce more variants in coming years. "The category was largely dead when we entered the market in 2008," says Sonat Birnecker Hart, president of Koval Distillery and Robert's spouse. "Since then, we've seen it grow. In general, there's a greater interest in unique products, and brandies are able to offer something different."
New American Styles
While much of the recent boom in brandy-making is founded on traditional European techniques and practices, some players have taken a decidedly different approach. "When it comes to aged grape brandy, there are generally two camps—the older pioneers that have one foot firmly planted in the Old World, like the great brandies from Osocalis, and then the new kids on the block like Copper & Kings, who are directly appealing to the cocktail culture and American whiskey drinkers," says Astor's Ansari.
Despite being located in the Bourbon-centric state of Kentucky, Copper & Kings is forging a new path within a traditional category that appeals to current tastes for expressive spirits. "We use our base in Louisville's Butchertown neighborhood as a way of anchoring ourselves in an American distilling tradition and not a European distilling tradition," explains Copper & Kings' Heron. "We firmly believe that American oak, and Bourbon barrels specifically, are the finest vehicles for aging brandy."
Copper & Kings is committed to innovation in the American brandy category through a continual stream of limited-release brandies, as well as its Cr&ftwerk lineup, in which the company partners with craft brewers across the country for brandies aged in beer barrels. Past partnerships include the Sierra Nevada, Oskar Blues, Jack's Abby and Against the Grain breweries. Barrel finishes are also a key part of the company's approach to experimentation with its brandies, which are made from apples or grapes. One such example is the limited-release 3 Marlenas Apple Brandy, finished in Tequila barrels. "Innovation is our vehicle for brand expression and how we demonstrate our capabilities and credentials," Heron says. The company's innovation goes beyond brandy as well: Its American Dry Gin is produced with distilled apple wine as the base.
Baltimore Whiskey Co. has gotten creative in its approach to brandy as well. The craft distiller currently produces the mezcal-inspired Charles Street Apple brandy, with apple juice fermented and distilled on apple peels and apple pomace smoked with cherry and oak woods to evoke mezcal's signature smokiness. Baltimore Whisky Co. also produces an apple brandy in a Pechuga mezcal style, redistilled over pawpaw fruit, persimmons and black walnuts, and an apple brandy macerated with ginger and spices. Meanwhile, Delaware's Dogfish Head Distilling Co. has experimented with the limited-release Esprit Malade—French for "Sick Spirit"—an apple brandy blend that includes Dogfish Head Sick Cider and raw apple cider. And California-based Frísco is an unaged American grape brandy inspired by Peruvian Pisco.
While new expressive avenues are coming out of the American brandy category from every direction, some producers are seeing that energy rub off on more traditional imported brandies. French Cognac house Martell introduced Martell Blue Swift ($50 a 750-ml.)—Martell Cognac VSOP finished in Kentucky Bourbon casks—in late 2016. Rémy Martin, meanwhile, has been refocusing its Cognac portfolio to highlight its VSOP-and-above offerings, in line with the U.S. market's premiumization trends.
With awareness growing around American brandy, many see a category only just beginning to discover its own potential. "Consumers have a growing curiosity about premium spirits. They're exploring well-established brown spirits more deeply than ever, and they're also exploring other, less familiar brown spirits like brandy," says E.&J. Gallo's Ruijssenaars.
As the category gains new entrants and existing brands expand their offerings, Koval Distillery sees newfound opportunity. "There are going to be more brandy options because you can make so many different kinds of brandy," Birnecker Hart says. "We've even made brandy out of sunchokes."
Simply put, U.S. consumers want to discover something new, and, according to Copper & Kings' Heron, "brandy is the new story."